HDB's February 2021 Build-to-Order (BTO) sales exercise will feature four projects comprising a total of 3,740 units. McNair Heights is one of two mature estate BTO projects that will be launched at Kallang/Whampoa, with 626 units spread across 2-room, 3-room and 4-room units.
Here's 99.co's detailed review of the Feb 2021 BTO at Kallang/Whampoa, McNair Heights:
Project Name: McNair Heights
Location: Along Balestier Road and Mcnair Road
Classification: Non-mature estate
Number of units: 626 units (including 104 3-room units and 386 4-room units)
Blocks: 3 residential blocks ranging from 24 to 40 storeys in height
HDB's estimated completion date: Q2 2026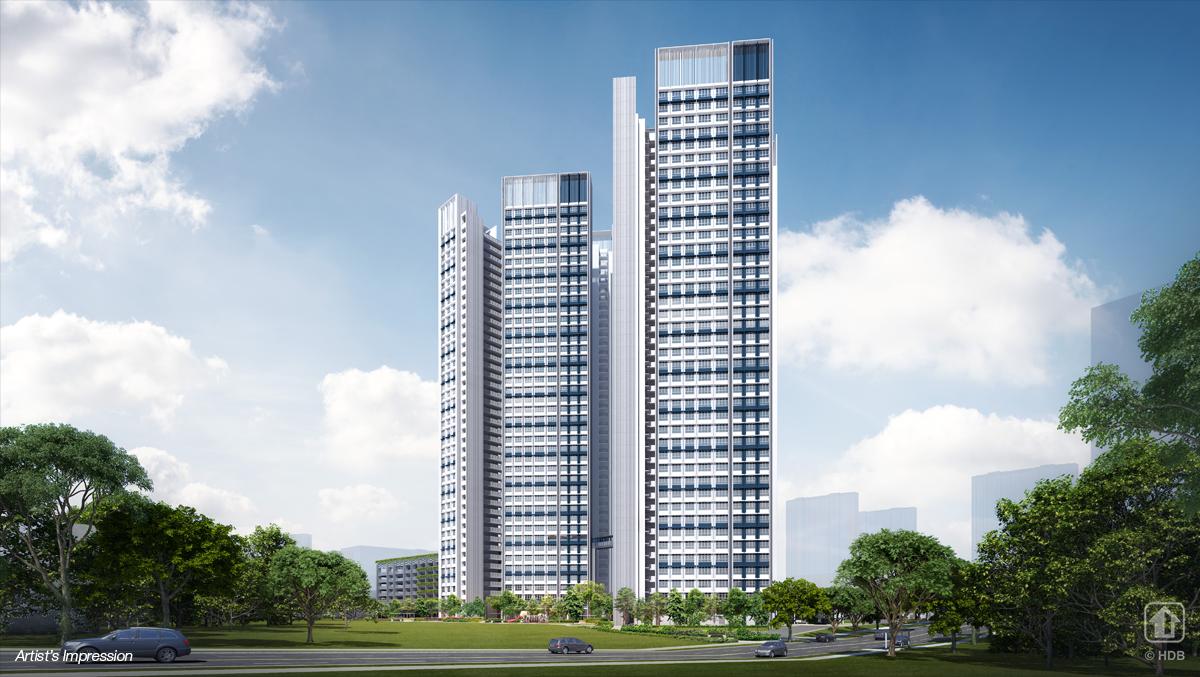 Official indicative price range* (excluding grants):
2-room Flexi (Type 1, 38 sqm): $117,000 – $136,000
2-room Flexi (Type 1, 48 sqm): $139,000 – $182,000
3-room (68 sqm): From $359,000 – $453,000
4-room (93 sqm): From $532,000 – $672,000
Introduction:
After a two-year hiatus, HDB is once again offering BTO units in the Kallang/Whampoa estates. The previous two launches held in 2019 saw massive oversubscriptions – the February launch saw 7,084 applicants for the 850 BTO units available, while the May launch saw 6,011 applicants for 583 units – so we can expect the same amount of enthusiasm for this upcoming sales exercise.
Let's dive in to the pros and cons of the Feb 2021 Kallang/Whampoa BTO project:
Feb 2021 BTO McNair Heights – The Pros:
The site will be a six- to eight-minute walk to Boon Keng MRT. This is a slightly longer walk compared to the previous launches at Kallang/Whampoa (such as Towner Crest and Kempas Residences), as residents will have to go around Kwong Wai Shiu Hospital before walking down to Exit B of the MRT station. The walk will not be fully sheltered as well.
Alternatively, residents can take the bus to Boon Keng MRT. Those from the stack facing Singapore Khalsa Association can board bus 125, while those facing McNair Road can take a short zebra crossing for Bus 21. Both are two stops away from Boon Keng MRT.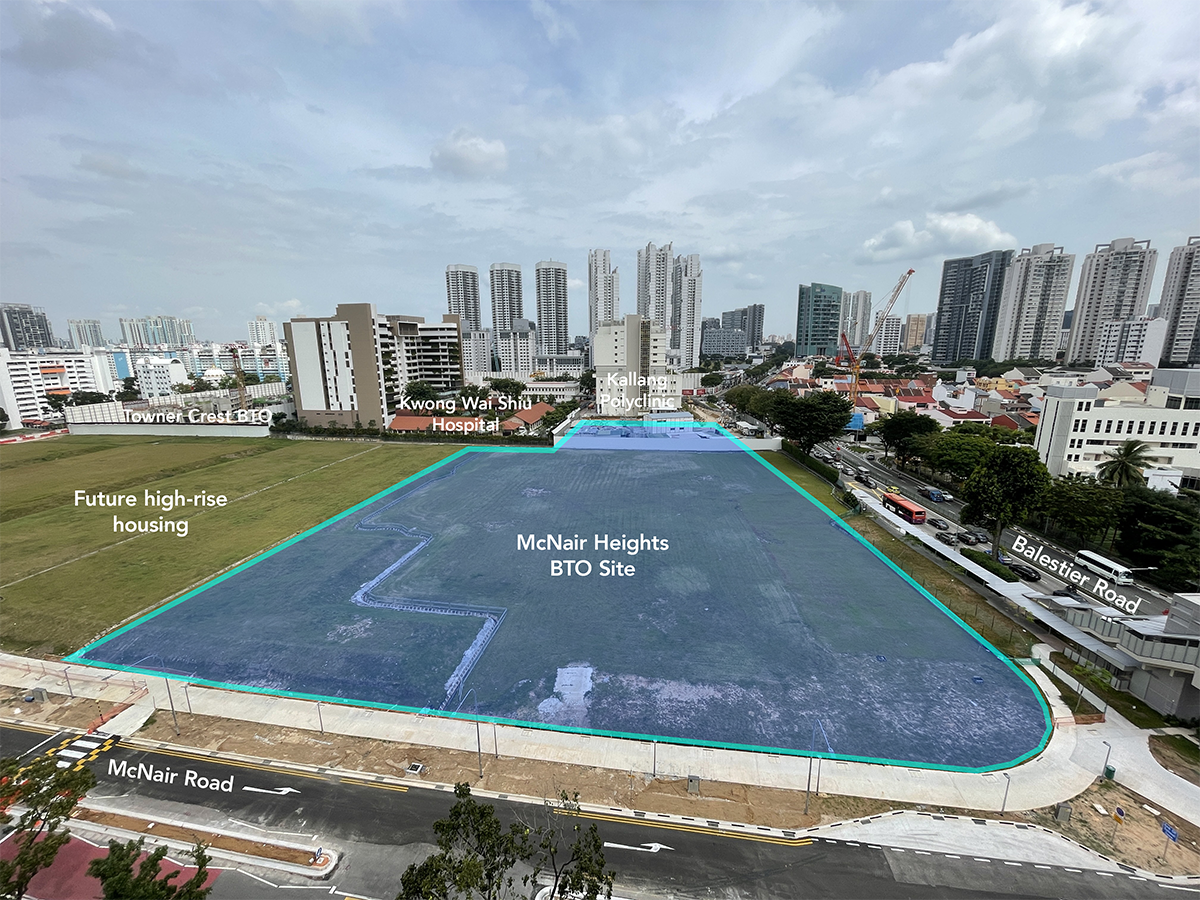 Thanks to its city-fringe location, getting around Singapore will be a breeze. Boon Keng MRT, a North East Line station, is connected to FIVE other MRT lines. It is three stops to Circle Line at Serangoon station; two stops to Downtown Line at Little India; three stops to North South Line; and six stops to East West Line as well as the upcoming Thomson-East Coast line at Outram Park.
The BTO site is a short distance to several bus stops with bus services to areas Bugis, River Valley, CBD and Harbourfront. For instance, taking bus 145 from the bus stop right at your doorstep will get you to City Hall in 26 minutes. Taking bus 130 from the same bus stop will get you to One Raffles Quay in 30 minutes.
There is no shortage of food and amenities here. In the immediate vicinity, there is a minimart and coffeeshop at Block 122 McNair Road across the street. There is also a Sheng Siong supermarket about seven minutes' walk away. For more options, take a seven-minute walk to Towner Road where there is a bakery, fast-food restaurants, banks, a post office, and clinic.
At the open-air Bendemeer Shopping Mall located next to Boon Keng MRT, you'll find several bakeries, food courts, fruit stalls, hair salons, household goods stores, and clothing stores. The Bendemeer Market and Food Court is also right around the corner. Granted, this is not a pretty, modern air-conditioned neighbourhood mall like Yishun's Northpoint City or Tampines' Century Square, but we guarantee you'll find all your daily necessities here.
Due to its superb and mature location, you can expect a healthy potential price appreciation when you are ready to sell your flat. Newer HDB flats around the area are already fetching quite a high price. This four-room HDB flat on Bendemeer Road, which has 90 years left on its lease, is selling for $730,000.
Residents will have access to quite a number of healthcare facilities, with the nearest one being the upcoming Kallang Polyclinic and Long Term Care Facility right next to the BTO site. The site is also a three-minute drive to Farrer Park Hospital and a four-minute drive to Tan Tock Seng Hospital, KK Women's and Children's Hospital, and Health City Novena.
There are three primary schools within 1km: Bendeemer Primary School, Farrer Park Primary School and Hong Wen School, and the latter is within a seven-minute walk. Only slightly farther away are St Joseph Institution (Junior), Farrer Park Primary School and St Andrews Junior. The nearest Secondary School is Bendemeer Secondary School.
There will be a childcare centre as part of the development. The second nearest childcare centre, the YWCA Child Development Centre, is a three-minute walk away.
The two playgrounds that are part of the development seem fairly large and will be great for families with kids.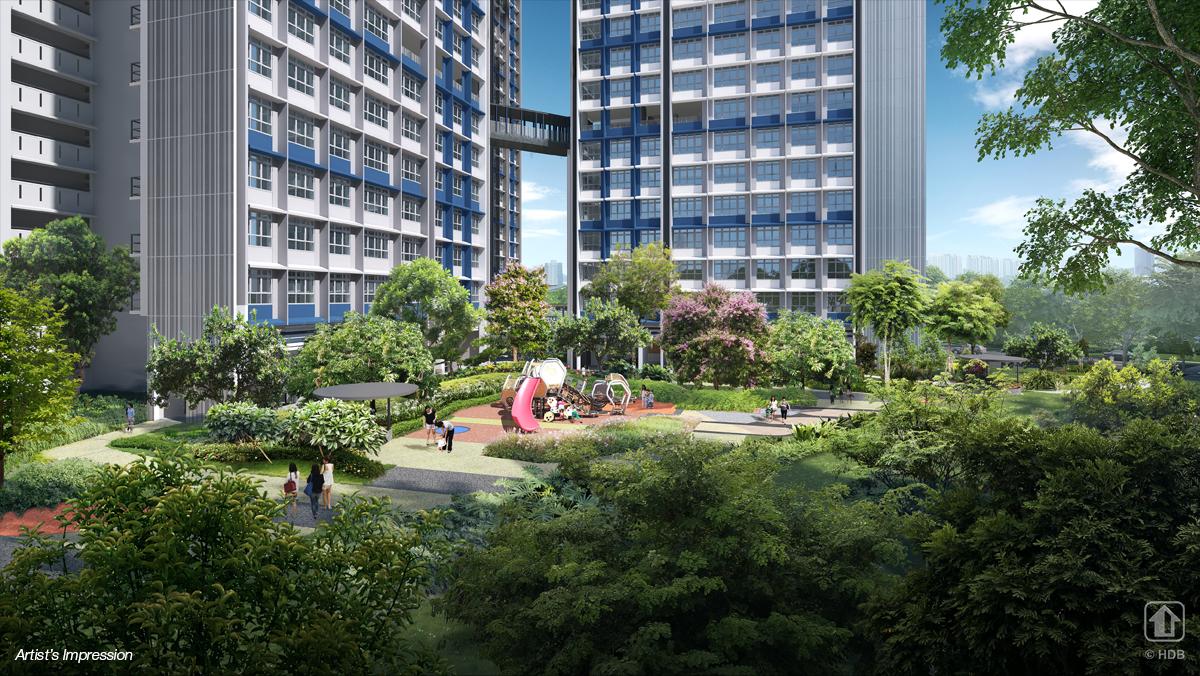 There will be a collection of shops and F&B outlets as part of the 1953 condominum development across the road, so residents won't have to travel far to find a place to hangout.
There are plenty of recreational amenities in the area. It's a five minute walk to Civil Service Club @ Tessensohn; you'll find a badminton court, rock-climbing wall, gym, bowling alley, futsal field and more here. It's also 2-minute drive or 9-minute bus ride to Jalan Besar Sports Centre ­– where there is a stadium and swimming complex – and a 3-minute drive and 12-minute bus ride to the St. Wilfrid Squash & Tennis centre. The Singapore Sports Hub and Singapore Indoor Stadium is a 10-minute drive away.
It's a three-minute car ride to Kallang Riverside Park (great for water sports) and a 15-minute cycle to the Whampoa Park Connector. You can access Toa Payoh Town Park from this connector.
Residents who prefer shopping and cafe hopping will be happy to know that City Square Mall, Mustafa (for late night shopping), and Bugis Junction are all under five minutes' drive. Hip cafes along Jalan Besar and Tyrwhitt Road, such as Chye Seng Huat Hardware and Wimbly Lu are also only two-minutes' drive, or a short walk away.
Magnificent, permanently unblocked city views for high floor, south-facing stacks, because these units directly overlook low-rise buildings and shophouses across from Balestier Road.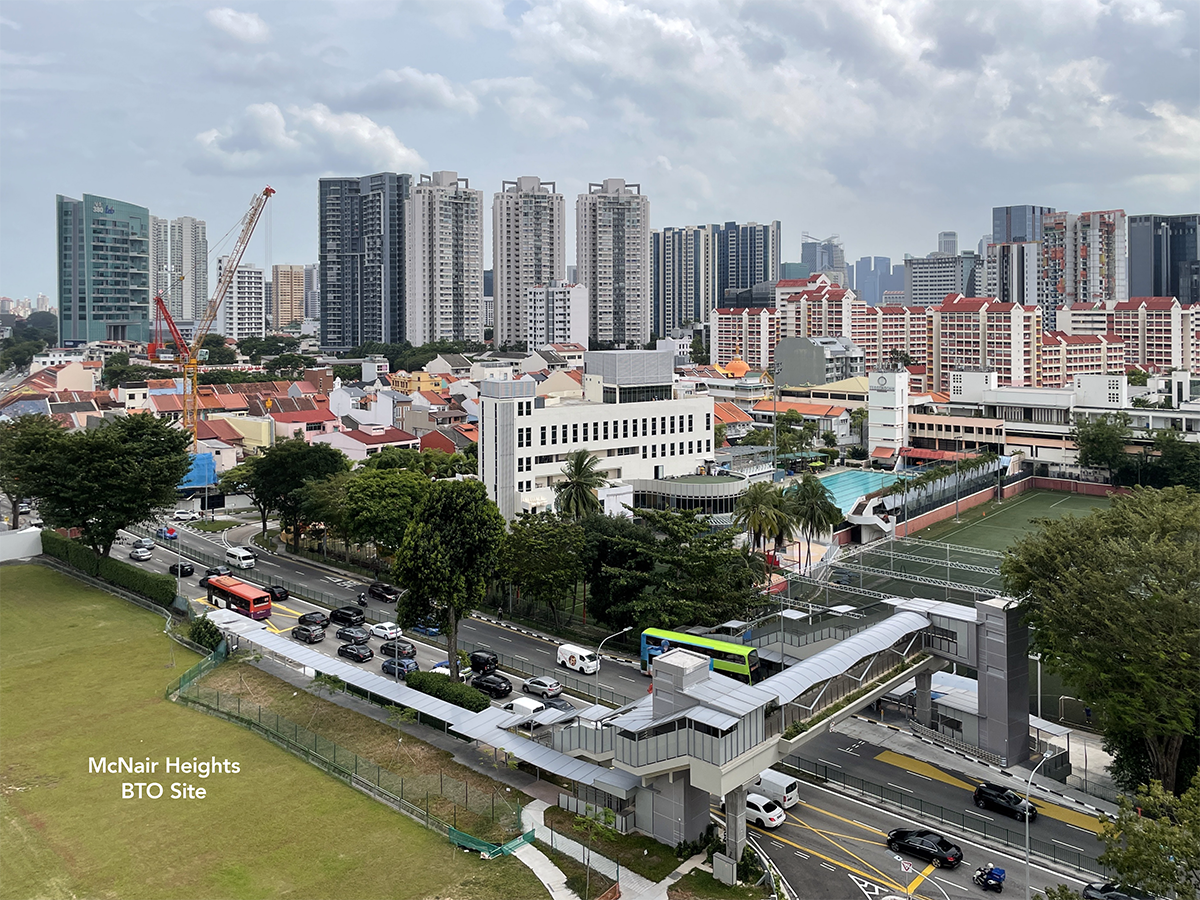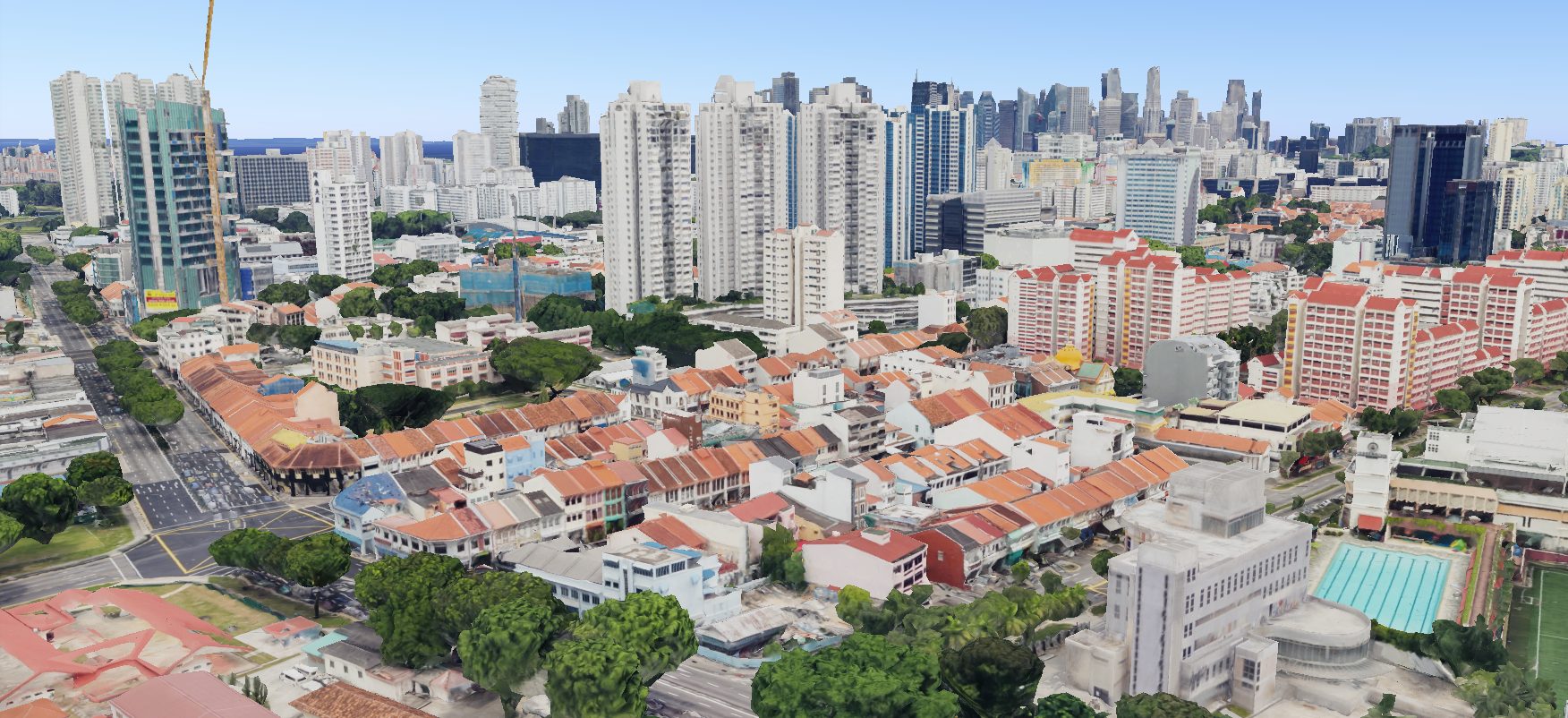 Very few stacks/units directly facing the busy Balestier Road, which is a huge plus. For instance, stacks 66 and 68 of Block 141B face Balestier Road but are buffered by the neighbouring block as well as more than 50-metre distance separating the stacks and the main road.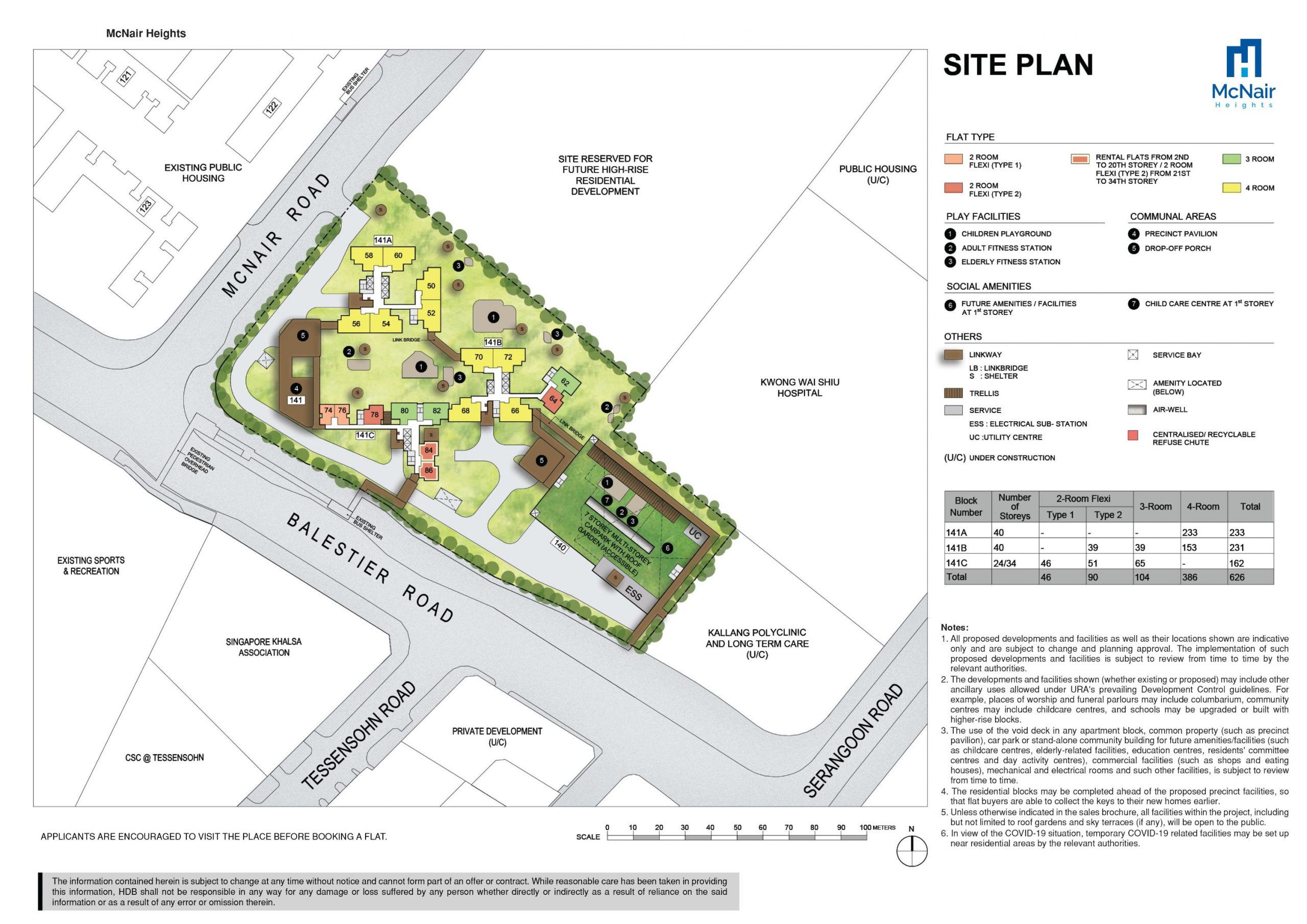 Stacks that are facing one another are quite far apart (about 27 metres apart).
The blocks are designed to be situated further away from Kwong Wai Shiu Hospital and the upcoming polyclinic, which is good for residents' privacy.
The majority of stacks are north-south facing, avoiding direct window exposure to the dreaded afternoon sun. (Applicants must still be aware that a west-facing wall absorbs heat from the afternoon sun, which will be released into the home the evening.)
4-room units have larger-than-usual master bedrooms. There is ample room for a king-sized bed and plenty of wall length for a wardrobe.
All living room and bedroom windows are ¾ height, which is great for views and natural light.
Feb 2021 BTO McNair Heights – The Cons:
McNair Heights is likely to be the most oversubscribed project of the Feb 2021 BTO. Unless you're extremely lucky, you might not get the queue number you desire, if at all.
While the blocks are set back from Balestier Road, there will still be some degree of noise and dust pollution, so it might be prudent to get an air purifier.
Certain north-, northeast-, and east-facing stacks (58, 60, 50, 52, 62, 70, 72) will have their views partially blocked by a similar high-rise residential development also rising up to 40-storeys (likely to be a BTO project) in time to come. Residents of these stacks might also be exposed to construction dust and noise, if building works occur after they move in.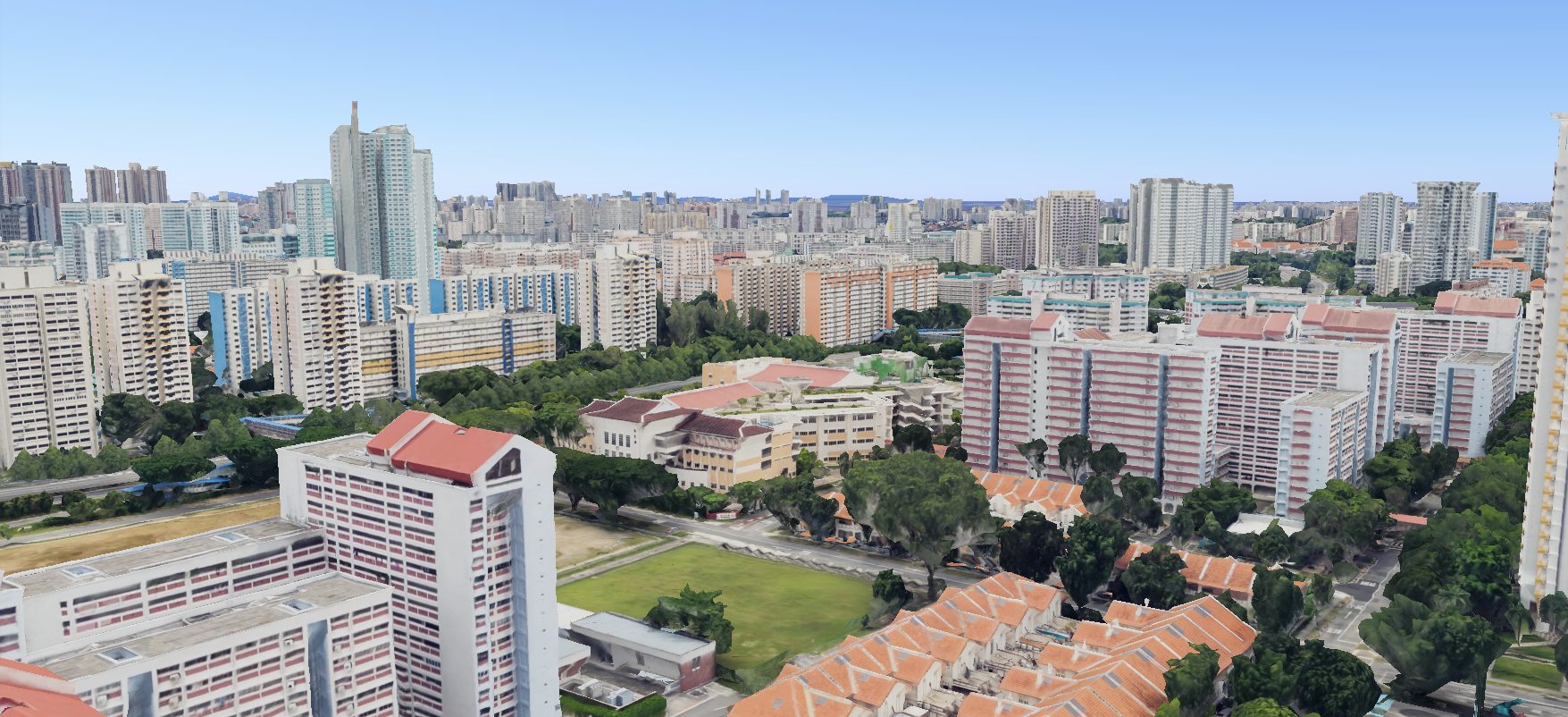 3-room and 2-room units don't have as great a facing and view, compared to the 4-room units. (Design-wise, assigning the best facing and orientation for four- and five-room flats is usually the case for most BTO projects nowadays.)
3-room unit layouts consist of a longer-than-usual central corridor, which reduces the useable space within the unit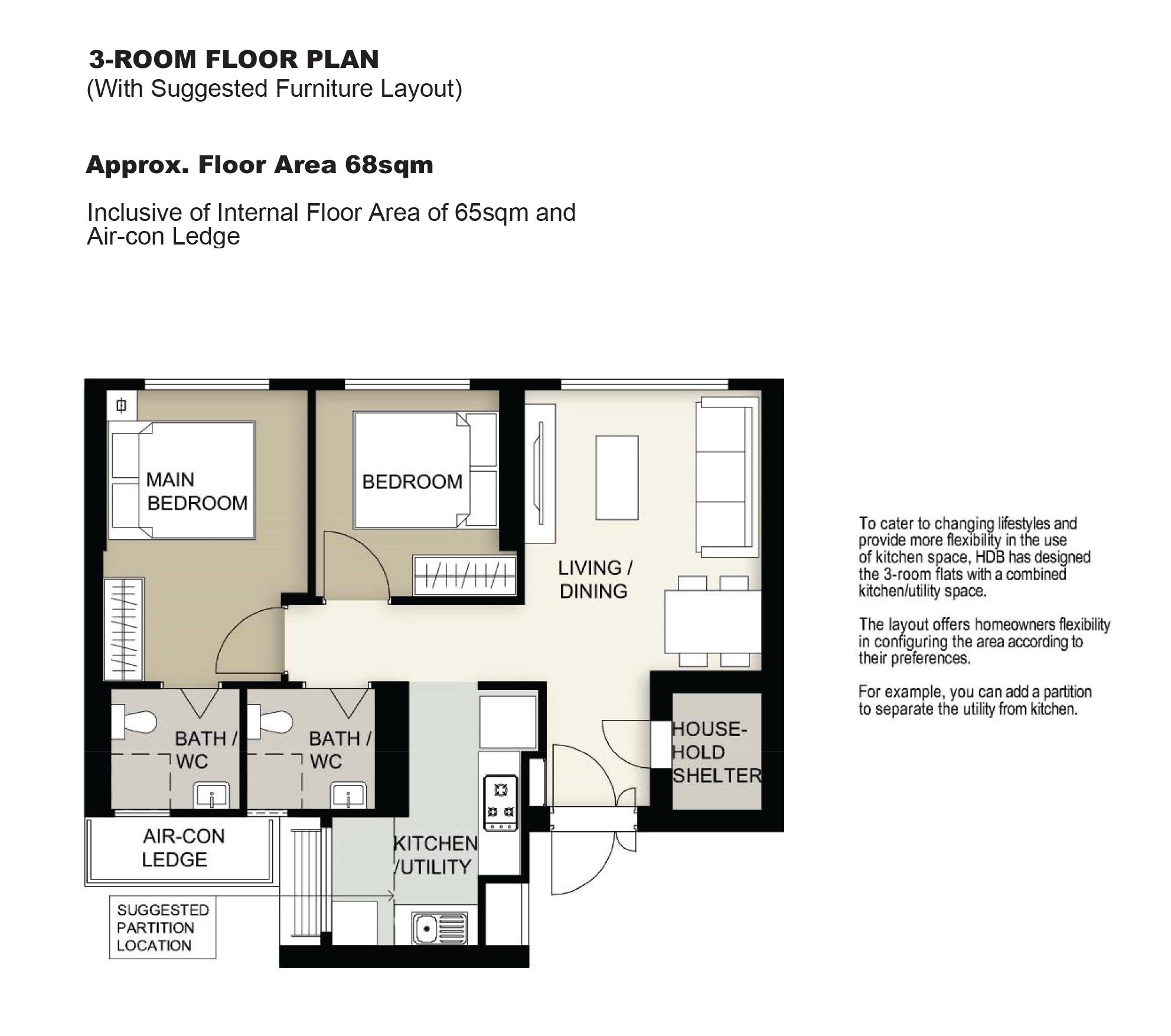 4-room units have smaller than usual kitchens. However, it is possible to remedy this through interior design, by reconfiguring and combining the kitchen and dining space.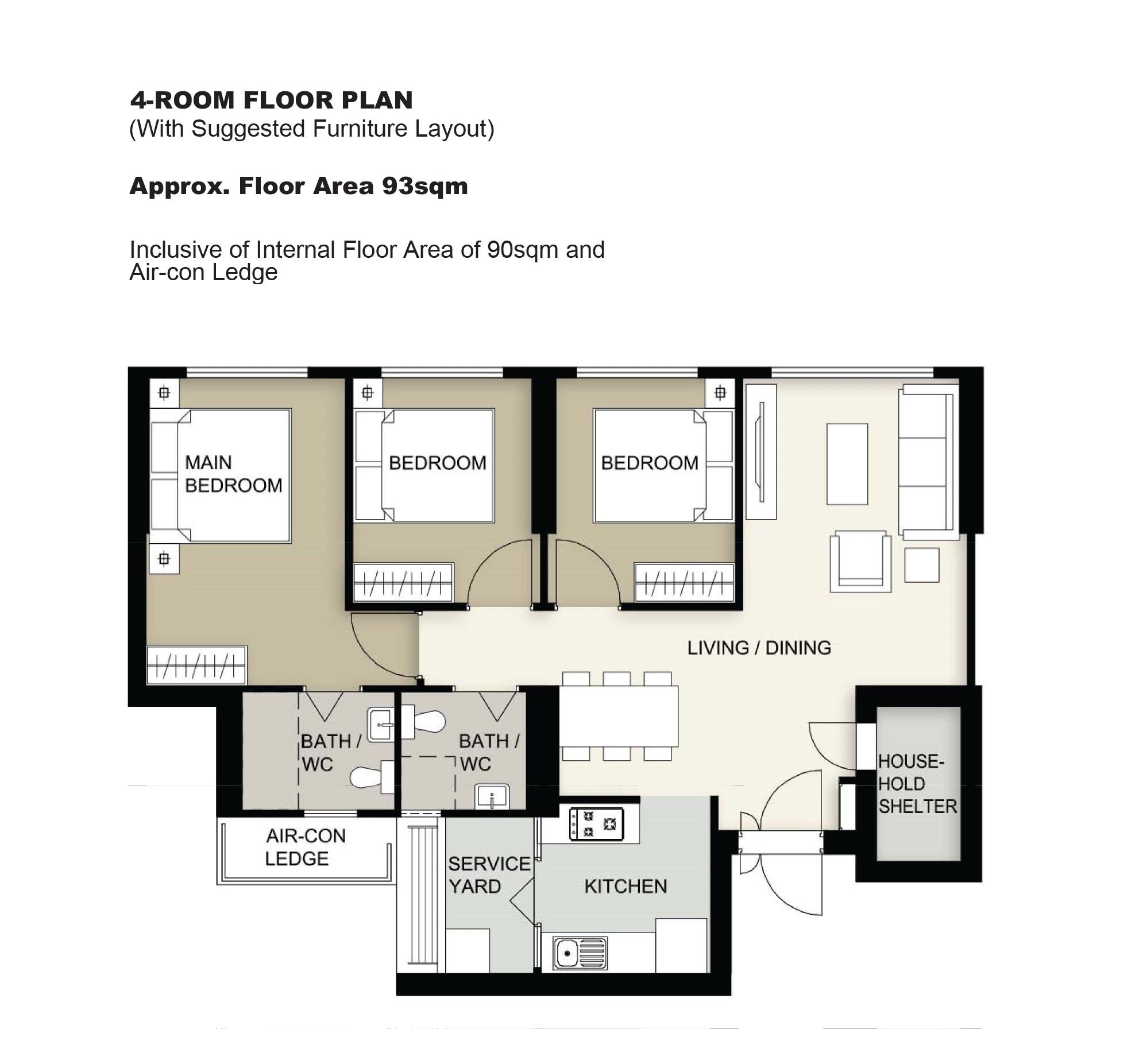 Boon Keng is a very old estate, so don't expect the surrounding buildings and amenities to be in pristine condition. There are also more old folks than there are young residents here. So if you prefer a youthful estate vibe with lots of family-oriented amenities, then this might not be the ideal location for you.
Drivers take note: the section of Balestier Road in front of McNair Heights has a tendency to get jammed up quite often.
Getting onto the CTE is also quite frustrating, as a lengthy five-minute detour involving a U-turn at the junction of Lavender St and Bendemeer Road is needed.
What else we noted about McNair Heights:
The area is home to many places of worship, including several churches and Chinese, Hindu and Sikh temples. This means you can admire a variety of interesting architecture around the area, but there could also be elevated noise levels during festivities or special occasions.
Out of the 620 units offered in the Kallang/Whampoa BTO site, 30 will be rental units. These units will be located only in one block: 141C. Incidentally, there are no four-room units in that block.
Blocks 141A and 141B are directly connected to the multi-storey carpark via link-bridge.
The Boon Keng neighbourhood may be uber-mature right now, but it could undergo some gentrification – which could be a pro or a con, depending on your preferences. Plans to transform Kallang itself, stated in the URA Master Plan 2019, is already underway. Upcoming amenities located near the National Stadium, to be launched in 2025, include the Youth Hub and Velodrome for track cycling and Benaan Kapal Green.
There's also Kampong Bugis (only a three-minute drive from the BTO site), which is an upcoming residential and recreational precinct whose main features are environmental sustainability and a soon-to-be-revamped Kallang Riverside Park.
[Related article: URA Master Plan for Property Buyers: How to understand it]
Our verdict on the Feb 2021 Kallang/Whampoa BTO:
Ease of transport, accessible to shops and dining options, and a plethora of recreational spots in the area? This Kallang/Whampoa BTO is undoubtedly situated in a great location, especially for non-drivers.
We also like that there is a chance for a healthy price appreciation in the future, especially considering the new amenities in the pipeline in the Kallang area.
The site itself is also strategically positioned on the edge of a low-rise shophouse district, enabling permanent unblocked views for higher-floor units of certain stacks. This gives the units a competitive advantage in the resale market.
However, do take note that the living environment and surroundings here is slightly gritty and very different from living in the heartlands where there's less road traffic and more open public spaces. If you intend to raise a family with kids, do weight the pros and cons between McNair Towers and such as the Bidadari BTO projects in the same sales exercise.
McNair Heights Feb 2021 Kallang/Whampoa BTO: Should you apply?
With only 620 units on offer, your chances of getting a ballot number is pretty low. Four-room flats here will get snapped up quickly, so you might stand a better chance if you apply for a three-room flat.
Or, if you can afford to wait awhile longer before applying for a flat, we suggest waiting for the upcoming Geylang BTO that will launch in the May 2021 BTO sales exercise. It's a similarly great location in a mature estate, and with more units to offer. There's also a 610-unit Queenstown BTO slated for August 2021.
Put-off by the hefty price tag? Consider your lifestyle and financial situation. It would help to weigh the cost of paying a premium for a city-fringe location against the cost of buying a car (and getting a more affordable flat). The Kallang-Whampoa estate also has resale flats priced cheaply, because of their age. Check them out here!
If you liked this Feb 2021 BTO review, check out the other mature estate projects (also in the same launch) at Bidadari, and stay tuned for the Tengah and Bukit Batok Feb 2021 BTO reviews to be published on 6th and 7th February 2021 respectively!
Looking for a HDB resale flat? Explore your options on Singapore's most intelligent property portal 99.co!
The post HDB Feb 2021 BTO In-Depth Review: Kallang/Whampoa (McNair Heights) appeared first on 99.co.