The upcoming HDB February 2021 Build-to-Order (BTO) sales exercise will feature projects in four towns comprising a total of 3,700 units. The Tengah BTO is one of two non-mature estate projects that will be launched, with 767 units spread across 2-room, 3-room and 4-room flat configurations.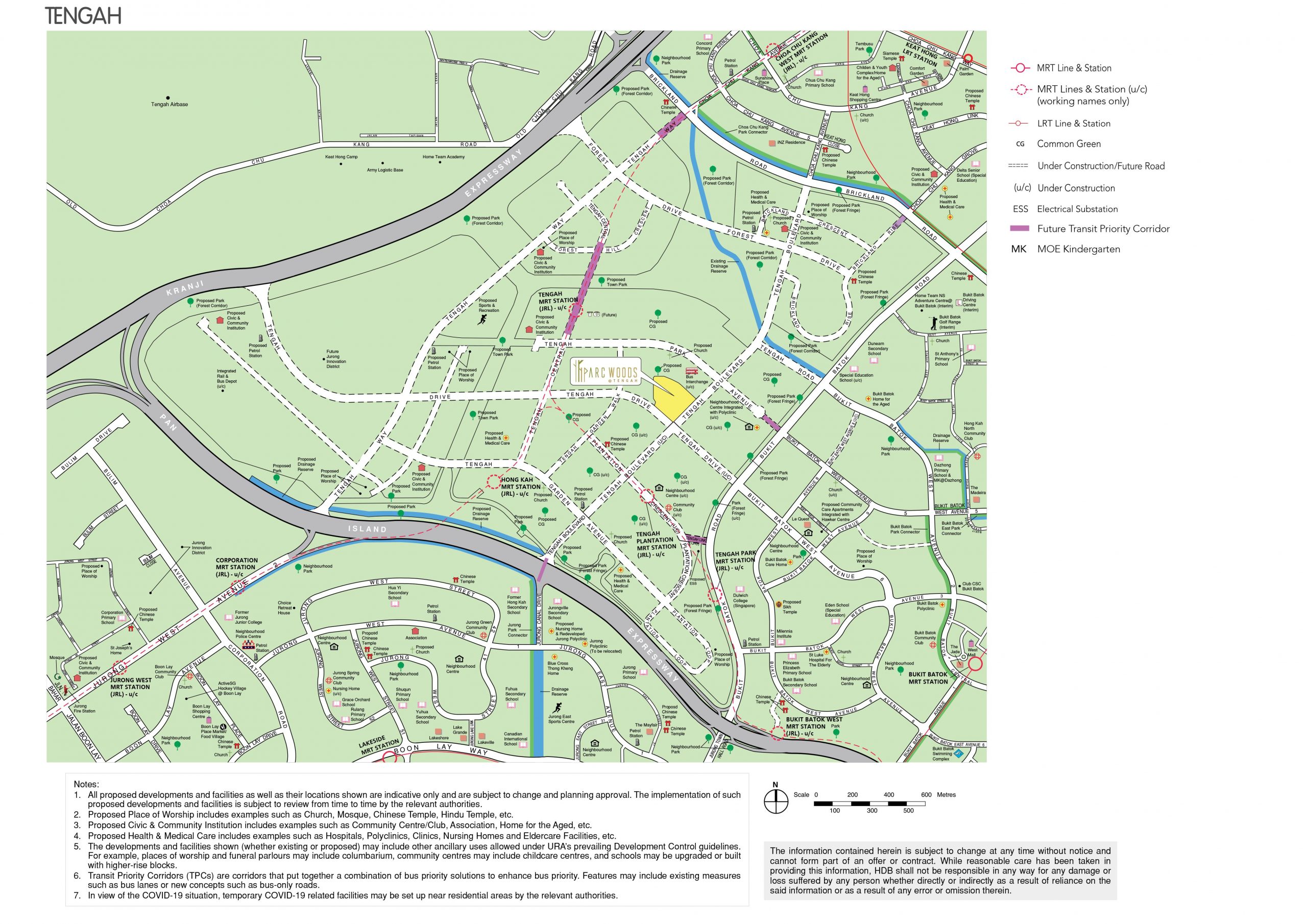 Here's 99.co's detailed review of the Feb 2021 Tengah BTO:
Project Name: Parc Woods @ Tengah
Location: Along Tengah Boulevard and Tengah Drive
Classification: Non-mature estate
Number of units: 767 units
Blocks: 5 residential blocks ranging from 12 to 14 storeys in height
HDB's estimated completion date: Q1 2025
Official indicative price range* (excluding grants):
2-room Flexi (Type 1; 40 sqm): From $110,000 to $138,000
2-room Flexi (Type 2; 49 sqm): From $133,000 to $167,000
3-room (71 sqm): From $209,000 to $239,000
4-room (94 sqm): From $298,000 to $359,000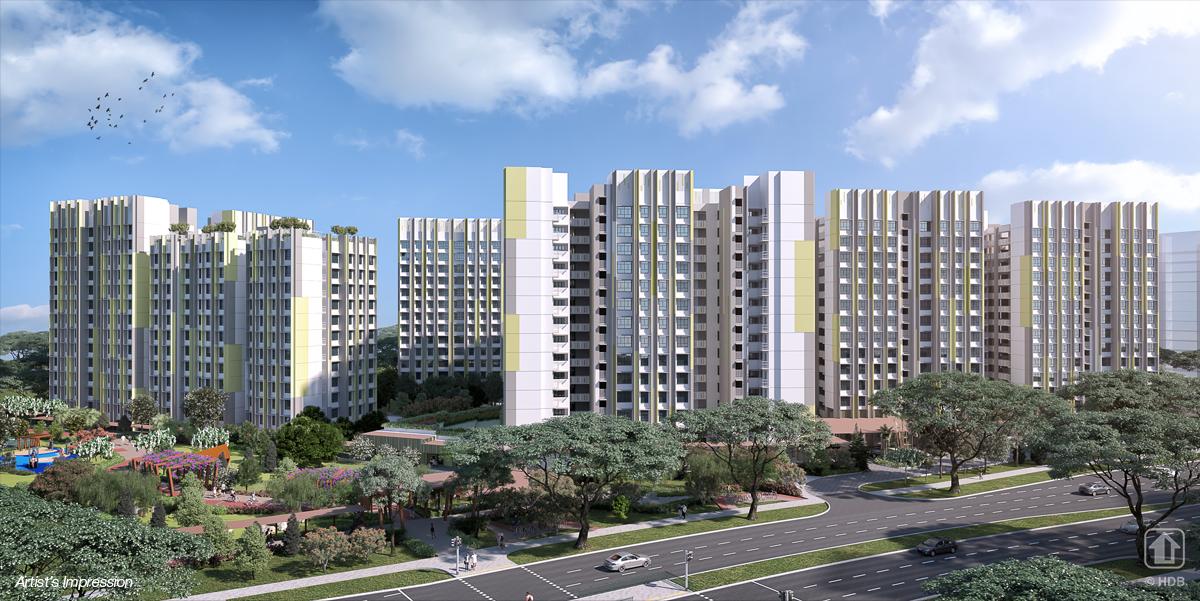 Let's dive in to the pros and cons of the Feb 2021 Tengah BTO project, Parc Woods @ Tengah:
Parc Woods @ Tengah – The Pros:
Located within a 5-minute walk to commercial amenities at Tengah Town Centre and a 7-minute walk to Tengah MRT station on the Jurong Region Line (JRL). Although residents are also within a 7-minute walk to Tengah Plantation MRT station.
Tengah Plantation and Tengah MRT station is respectively four and five stops away from Jurong East MRT interchange, where residents can access the wide variety of amenities at Jurong East Central or switch to the East-West Line (EWL) to head towards the city. Tengah MRT station offers a more direct train route to Jurong Industrial Estate and Boon Lay as it serves as an interchange between two branches of the JRL.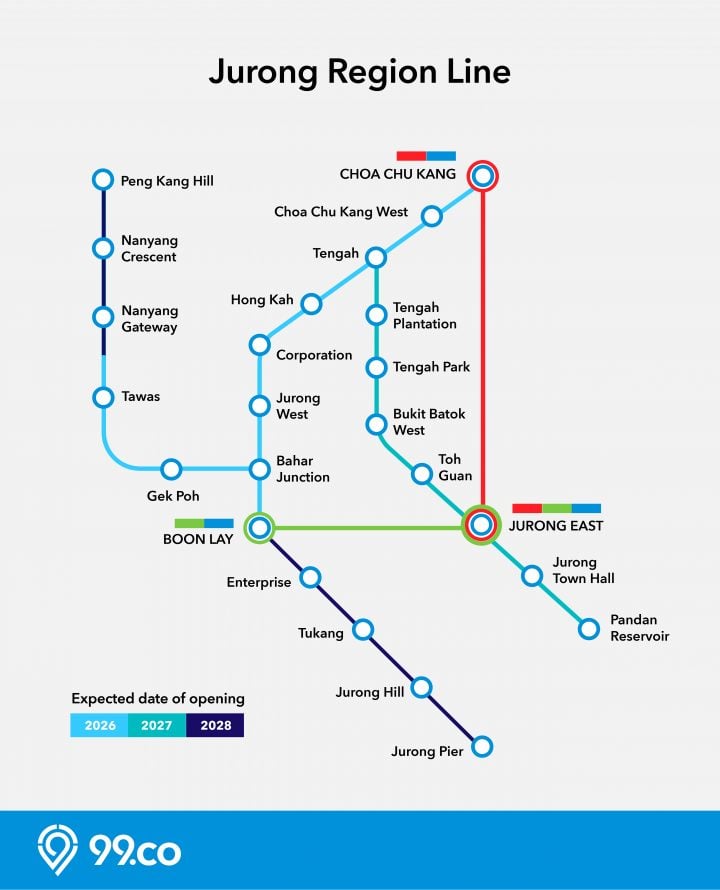 The future commercial amenities of Tengah Town Centre are accessible via a short walk across the common green and Tengah Park Avenue.
This BTO location is highly pedestrian and cyclist friendly, as it's located along a chain of Common Greens that connect with other parts of the town.
Via the Common Green, residents are a short walk or bike ride away from Tengah's largest park (Tengah Forest Park), which will include a man-made lake.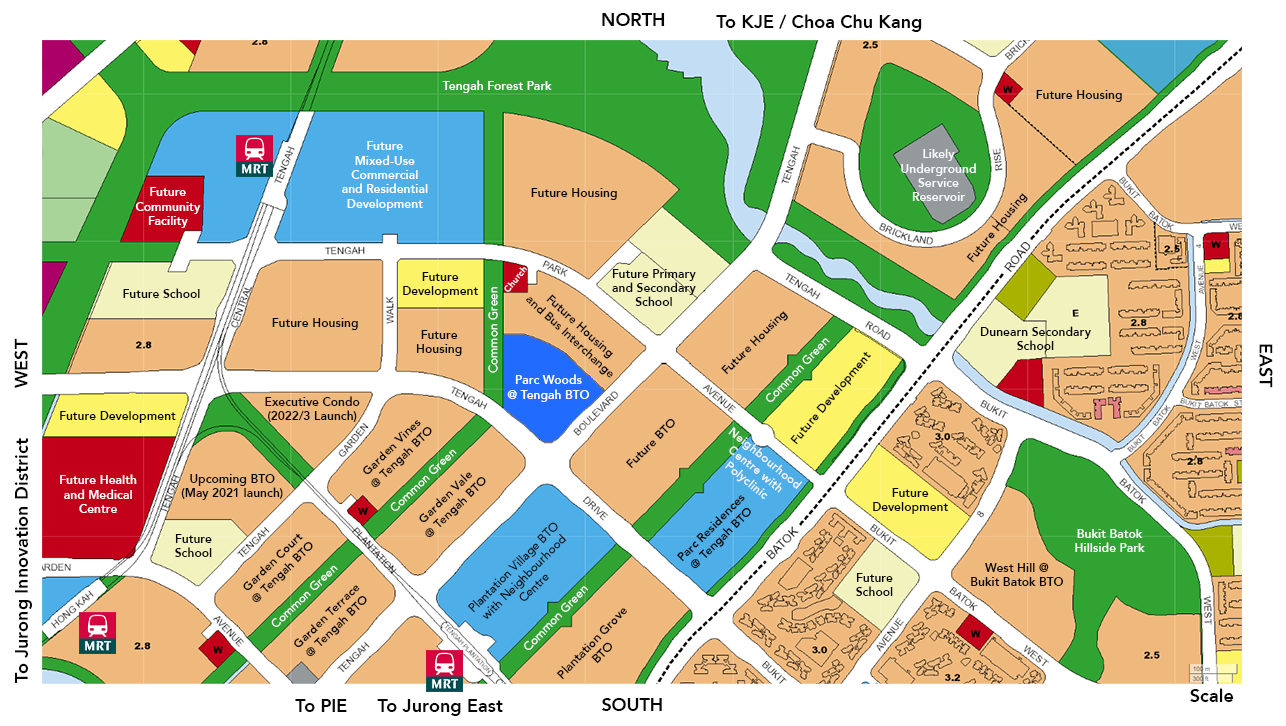 The BTO site is right next to an upcoming bus interchange. Depending on the bus services that will eventually be available, this could be prove more convenient for residents than the MRT station, which is further away. Those who work in the city or Jurong Industrial Estate will be hoping for express bus services.
Tengah's Transit Priority Corridor (TPC) will make travel in an out of the town faster and safer. Via the TPC, Tengah residents can access amenities in Bukit Batok and Jurong East, including Jurong Lake Gardens and Jurong East Sports and Recreation Centre, Swimming Complex and Stadium.
This Tengah BTO is within a 7-minute walking distance to a neighbourhood centre at Parc Residences @ Tengah BTO, where the Tengah polyclinic will be located. Residents can also expect amenities such as a supermarket and kopitiam in the neighbourhood centre.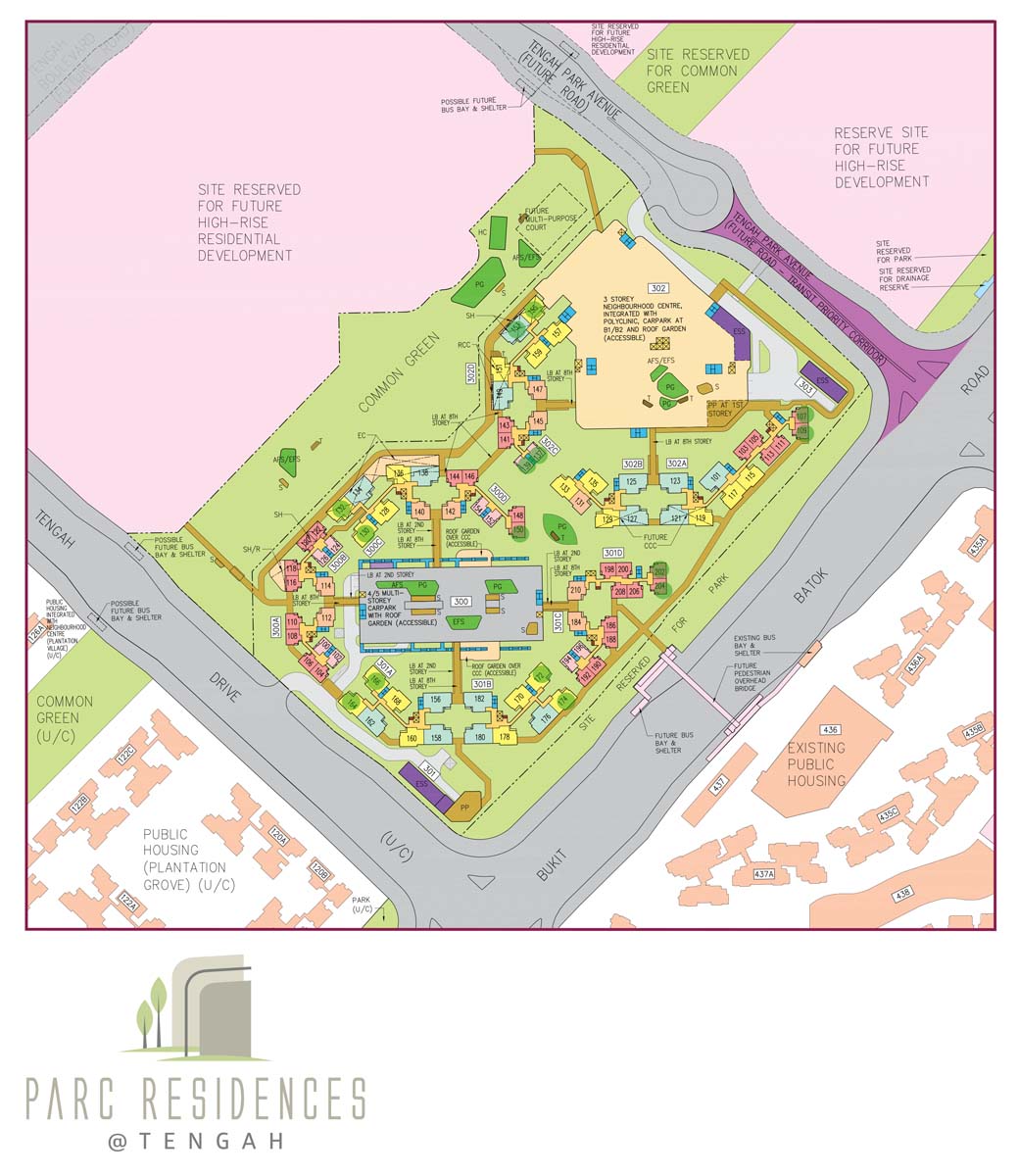 In future, there will be a primary school and secondary school within walking distance, which is across the road from the bus interchange. Within 1km, there'll likely be at least two primary schools, one of which might be located in Bukit Batok.
There will be a childcare centre as part of the project, but stacks that are closest to it may be subject to some noise, especially after class when the children adjourn to the playgrounds near the childcare centre.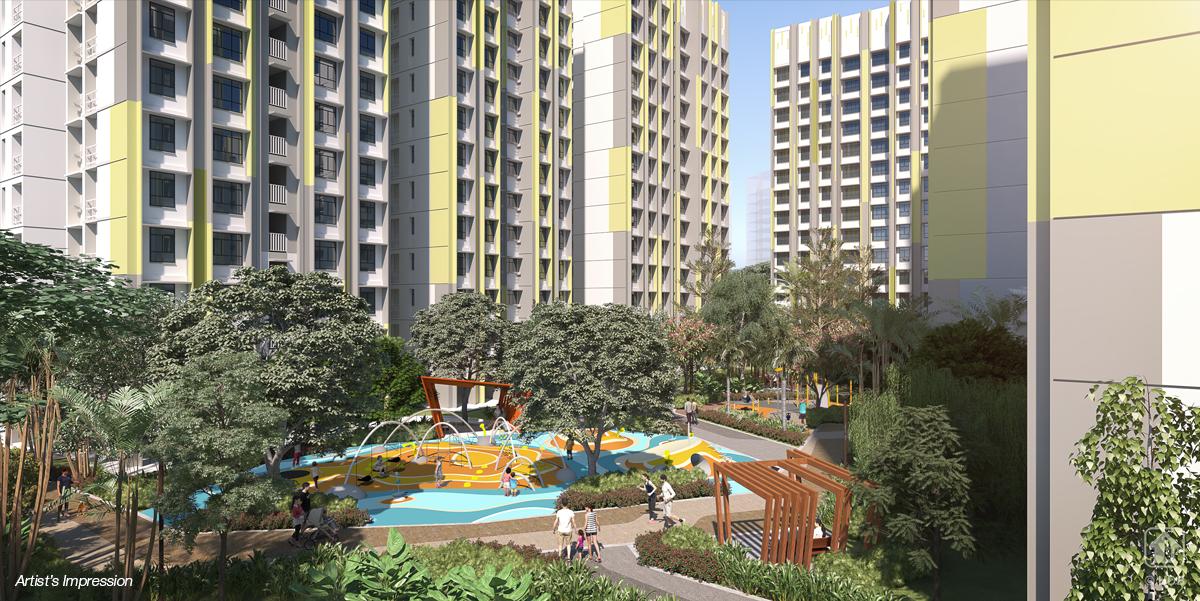 Parc Woods @ Tengah – The Cons:
No 5-room units offered in this BTO launch.
Units facing the common green of Block 323B are directly west-facing and are subject to the full force of the afternoon sun. They are also near to a potentially noise-generating children's playground. Avoid these stacks!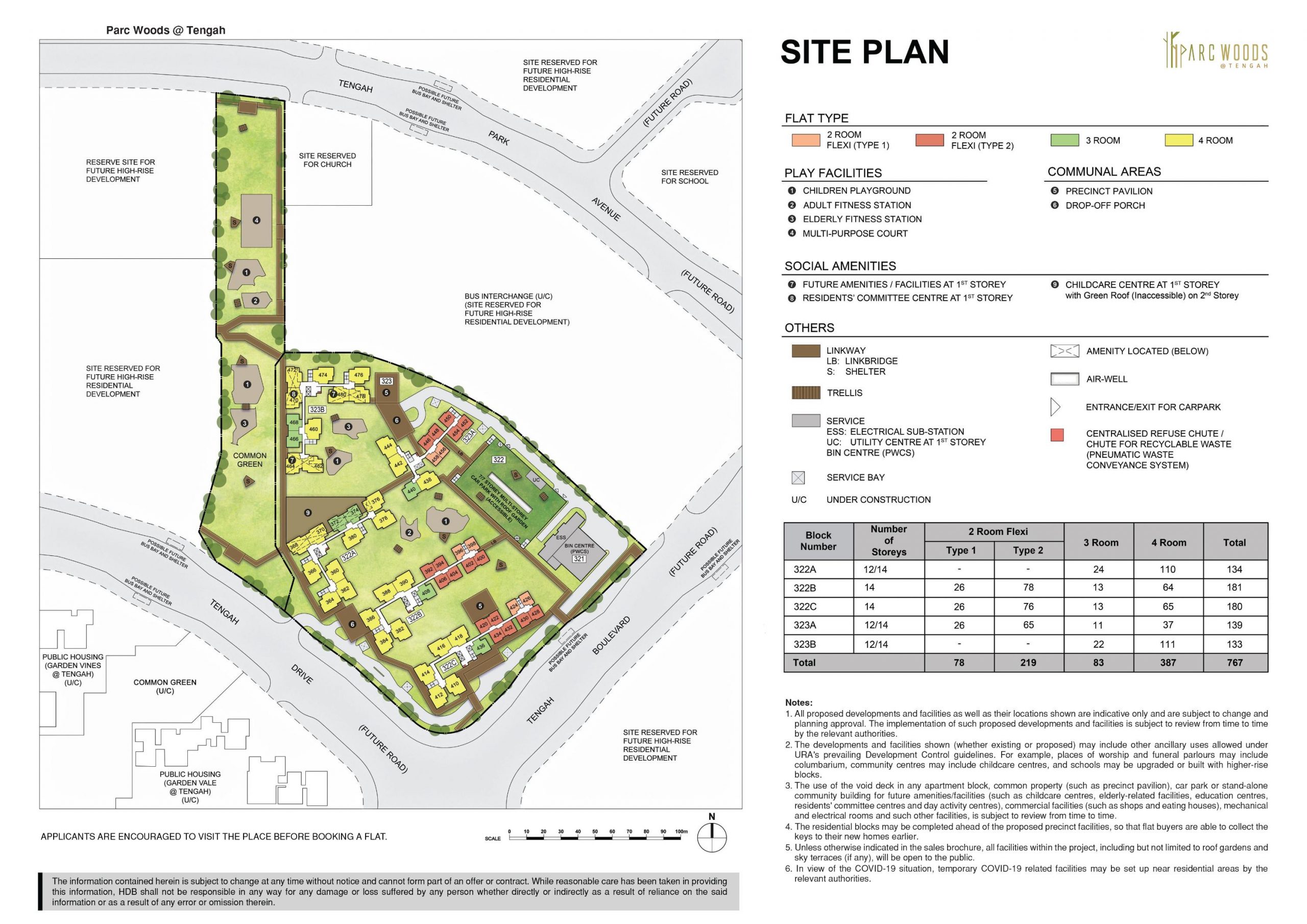 A handful of units in other blocks are also west-facing. Those in Blocks 322A/B/C have the additional disadvantage of being subject to noise from vehicles along Tengah Drive, which is expected to become a busy road.
Quite a few 2-room Flexi units will either face the busy Tengah Boulevard or be directly looking into the multi-storey car park (i.e. not a good retirement plan).
Whichever stack you choose, you won't get much of a view because Parc Woods @ Tengah BTO will be boxed in by high-rise housing and developments.
We feel there are simply to few lifts serving each block, especially for Blocks 323B/B and 322A with only two lifts serving each level. (There are 11 units on each level.)
Expect a bit of noise and dust pollution from the site's proximity to the upcoming bus interchange, especially for stacks located close to it. That being said, there are clues that the bus interchange will be located closer to the junction of Tengah Boulevard and Tengah Park Avenue and away from most blocks at Parc Woods @ Tengah, judging by the entrances indicated on the site plan. That makes Block 322A at Parc Woods @ Tengah the closest block to the interchange.
Stacks near the junction of Tengah Drive and Tengah Boulevard will also have to deal with more dust and noise from road traffic.
Residents may have to wait a few years for Tengah Town Centre and Tengah Forest Park to be up and running after they've moved in, since no concrete plans for these have been announced yet and the man-made lake has yet to be dug.
In general, Tengah BTO residents will also have to bear with inconveniences for the first few years of moving in, given the volume of construction work that will happen around residents and the lack of amenities. Bear in mind that, just because HDB planned for neighbourhood centres with retail amenities, doesn't mean that businesses will flock to set up shop there. Enough people must have moved into Tengah for that to happen.
Notably, the Jurong Region Line (JRL) will only be ready in 2028, at least three years after the flats are completed. In the meantime, residents will have to rely on bus services, which have yet to be announced. Demand for private hire cars in the area will also exceed supply, so it's reasonable to think many residents will see little choice but to drive their own car.
Expect strong competition when trying to sell the flat after the Minimum Occupation Period (MOP) is up, because there will also be hundreds of Tengah flat owners intending to cash-out/upgrade.
What else we noted about Parc Woods @ Tengah:
Home owners at Parc Woods @ Tengah can subscribe to have air conditioning provided from a centralised cooling system.
Although flat sizes in Parc Woods @ Tengah are 2 to 3 square metres larger than usual, the long corridors for the 3- and 4-room layouts nullifies this advantage.
Only two blocks (323A and 322B) have linkbridge access to the multi-storey car park.
The site is only slightly over a kilometre away from the up-and-coming Jurong Innovation District, a high-tech manufacturing and research hub that will support more than 95,000 jobs.
Our verdict on the Feb 2021 BTO, Parc Woods @ Tengah
In terms of convenience and amenities, Parc Woods @ Tengah at least matches up with other Tengah BTO projects, thanks to its proximity to the future Tengah Town Centre, Tengah Forest Park, Tengah Polyclinic and the bus interchange that'll be right next door.
We like that residents will have options for connectivity; they will be able to choose between commuting via bus or MRT. Although further from the PIE, this plot is better for those who rely on public transportation.
But despite Tengah being touted as a forest town, tranquillity appears to be in short supply at Parc Woods @ Tengah, given its location next to two major roads and a bus interchange. So, if you have to pick, we'd recommend the inward facing stacks, especially the three-room stack 440 and four-room stacks 360, 362 and 438, which are our favourites for this project.
We also can't help but think that this BTO will play second fiddle to the flats that will eventually be sited right next to Tengah Town Centre or Tengah Forest Park.
And one thing's for sure, residents at Parc Woods @ Tengah won't have any fantastic, unblocked views to boast about.
It is for the above reasons that applicants who may be open to living in Tengah will skip this together, especially since there's concurrently a cheaper BTO alternative nearby at Bukit Batok—one that's actually next to a park.
But if you truly buy into the promise of Tengah, Parc Woods @ Tengah is, in our opinion, still a better bet than the next Tengah BTO launch in May 2021. While there's the promise of unblocked views for the May 2021 site, the elevated train tracks of the JRL wrap around the site and could prove an eyesore and source of noise for residents.
Feb 2021 Tengah BTO: Should you apply?
Ultimately, the answer to this comes down to how you would answer this other question: Do you believe that living in Tengah will eventually be more awesome than living in Bukit Batok, to the extent that it justifies a price tag that is $30,000 to $40,000 higher?
Eventually, we believe that new flats at Tengah will be valued higher than new flats at Bukit Batok, but whether that equates to a more pleasant living environment is another matter.
You see, more amenities don't necessarily mean better. For all the hustle and bustle of Tengah, you might find that your needs can be fulfilled to the same extent at Bukit Batok's West Hill BTO, which already boasts a very decent neighbourhood mall (Le Quest), as well as an upcoming hawker centre within walking distance.
We'd go as far as to say that HDB shot itself a little in the foot in this BTO sales exercise for launching the Bukit Batok location alongside Tengah while pricing Tengah well above Bukit Batok.
In fact, the only reason we would opt for Tengah over Bukit Batok is the shorter time to completion. Applicants of Parc Woods @ Tengah can expect to collect their keys in Q1 2025, but those who applied for West Hill @ Bukit Batok will have to wait until 2026.
Then again, if you really don't like waiting, why not consider a resale flat instead? For the price of a four-room flat in Tengah, here's what you can get. With the plethora of choices for a resale flat, you can get the best of all worlds. And remember, the maximum grant amount for resale flats are higher, check them out here.
Check out our other reviews for the HDB Feb 2012 BTO sales exercise!
Bidadari
Kallang/Whampoa
Bukit Batok
Looking for a property? Find your dream home on Singapore's most intelligent property portal 99.co!
The post HDB Feb 2021 BTO In-Depth Review: Tengah (Parc Woods @ Tengah) appeared first on 99.co.