For most homeowners, the decision to purchase depends on whether everything feels right once they step into their potential home. Serene Tan, 31, and Eddie Chen, 36, opted for the unconventional path. Their focus was on the home's potential, not its immediate feel.
The Building Blocks
Right from the get-go, one of the major priorities for the couple, who have been married since 2018, was to find a home that was spacious. While the number of rooms was important they were also interested in the structural layout and how they could break down and rework the space to create the home they envisioned. 
As interior designers, Serene and Eddie wanted their home to be their own masterpiece, which could also double up as a showroom. The couple saw it as an excellent opportunity to show potential clients their expertise.  
"We were really looking forward to getting and building our own space, and to use our expertise to create a home which we could show clients too," Serene says. 
When it came down to searching for a place, the Chens did not want to move away from Tampines. Having stayed in Tampines for all of their lives, Serene and Eddie could not see themselves living anywhere else. Furthermore, they wanted to remain close to their families.
As the plan was to rework the entire place from scratch, they would have to put aside a substantial amount for renovation. After considering the expected renovation costs, they set a budget of $500,000 for a 5-room resale flat. With these factors in mind, the Chens utilised PropertyGuru's search filters to find a home that would fit all their wants and needs. They also found the photos of each home on PropertyGuru to be very helpful in envisioning the space.
Serene and Eddie then started reaching out and requesting the floorplans of the houses they thought would fit the bill from the extensive list of options. 
Eddie remarks, "We did it the opposite way from most people. Most people visit a house first before they make the final decision. But for us, we actually looked at the floorplan first."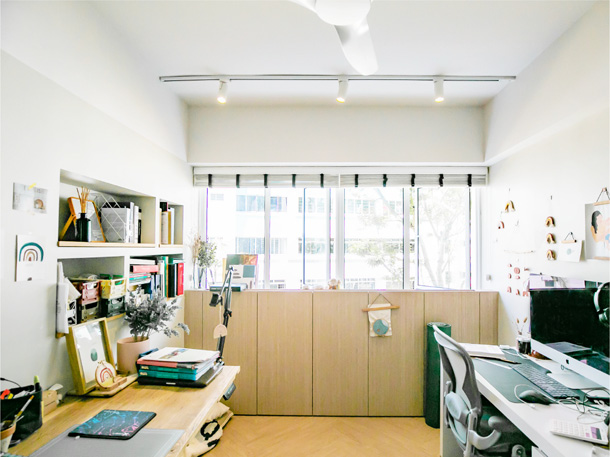 When taking a look at the floorplans, their creative juices started flowing on how they could turn each space into a home they could call their own. But before they got too ahead of themselves, they knew they had to physically view homes to see if they could restructure the place to fit their unique ideas. 
"We didn't really care how the place looked when we stepped into the house. We were more focused on the structural plans, like whether there was a beam at a certain area that we wanted to convert a room into. Once all these things satisfied our needs, we made the decision very quickly," Eddie recalls. 
And indeed they did. Out of the five floorplans they viewed, they quickly eliminated options that didn't quite work before settling on just one. All it took was just a single viewing for Serene and Eddie to know they had found their perfect home in Tampines East. 
Creating the Masterpiece
Once they decided on the apartment, then came the real work. On the off chance they would end up at loggerheads with one another during the renovation process, roles were set right from the start. Serene was in charge of the home design, while Eddie was responsible for the space planning and execution of the design and plans. 
"She likes to buy things, so she handled more of the styling," Eddie laughs.
After spending over $100,000 to renovate the whole unit their home's most unconventional feature is their semi-open concept bedroom, which was transformed from a balcony. The bedroom sits right in front of the couple's living room, and is concealed with clear sliding glass doors.  
Such quirky design ideas and concepts are what make Serene and Eddie stand out as interior designers and that's what they want to show their prospective clients.
"A lot of homeowners are very skeptical and safe. To have a bedroom in the balcony, we're sure a lot of people won't be able to accept that idea."
Related article: Can Renovations Affect Your Property Resale Value? Here's Our List of Do's and Don'ts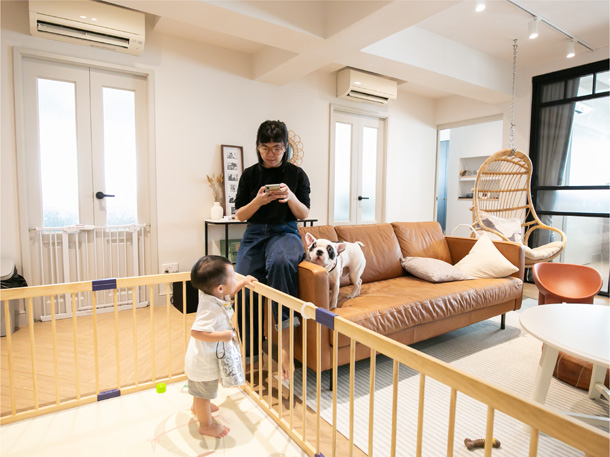 Two years in, the couple shares that their favourite part of the home is their large living room area — one of Serene's main wants in their home right from the start — as she and her family "love getting together". To Eddie, it does not feel like a living room but rather "like a communal space".
While Serene was disappointed that she could not entertain her loved ones during Singapore's Circuit Breaker period, she is grateful for the many other opportunities the lockdown presented. Firstly, the couple decided to take a leap of faith to start their own interior design firm. Currently they are sharing their designs on Instagram as @serene.t_design and @eddc.interiors.
More importantly, they were able to witness several milestones of their one-year-old son, Andre, take place in their favourite space, such as seeing him crawl and walk for the first time. 
Serene says, "Normally, parents do not get the chance to see their kids grow up and achieve certain milestones. We managed to have that opportunity during COVID-19, which is something we're forever thankful for."
Read stories of real people and their home journeys. Still searching for your dream home? Browse properties for sale on PropertyGuru or compare home loans on PropertyGuru Finance.
All images featured in this article are owned by PropertyGuru and should not be used without permission.