The pandemic may have brought several restrictions to our lives, such as socialising with our family and friends, and travelling. But staying at home has also gotten us to start something new or pick up a new skill.
One of the activities that we've seen more people take up is home gardening. Given its rising popularity, NParks has even given out free packets of seeds last June and earlier this March.
Likewise, more and more people are sharing their fruits of labour online (pun intended), including in Facebook groups such as Home Gardening Singapore.
Five home gardens caught our attention. So we ask their owners to share with us their gardening journey and tips.
Garden balcony that has birds flocking to it
Patricia shares with us that her dad, Mr Chan, couldn't continue with his aquarium hobby due to old age. So he started focusing on gardening.
But gardening on a balcony isn't easy. The potted plants have limited space to grow, and they require adequate water and nutrients. Proper maintenance of the garden is also needed.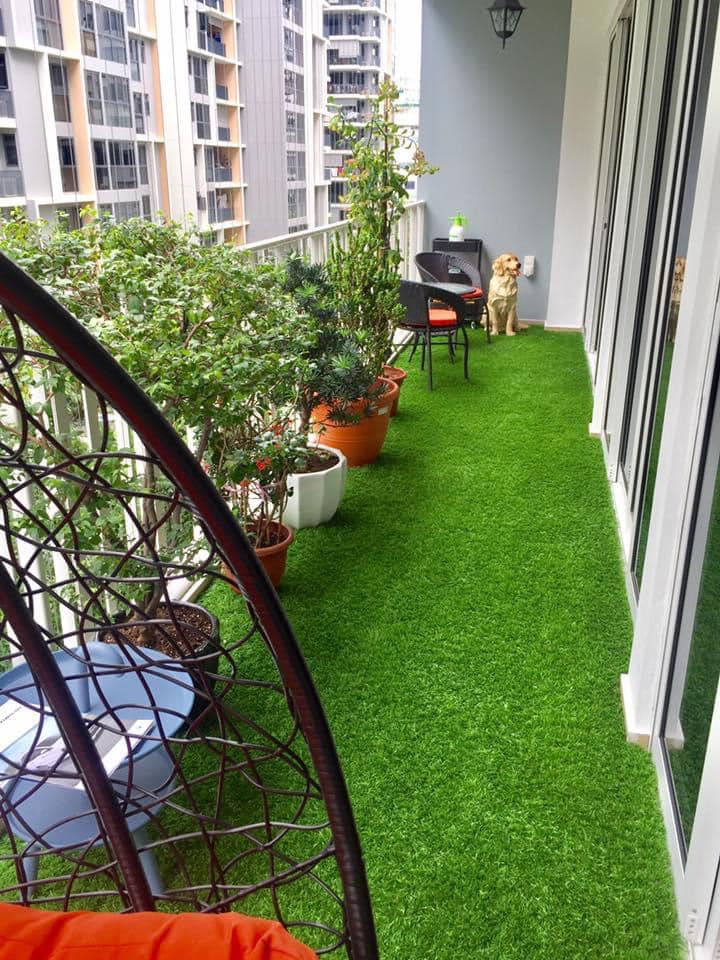 Any gardening tips?
"Water daily and fertilise at least once a month. Trim up the plants, remove dead or damaged parts and deadhead the flowers. Use clay pots as they tend to keep the soils cool."
Check out more pictures of the Chans' garden here. 
Organic rose balcony that helps to destress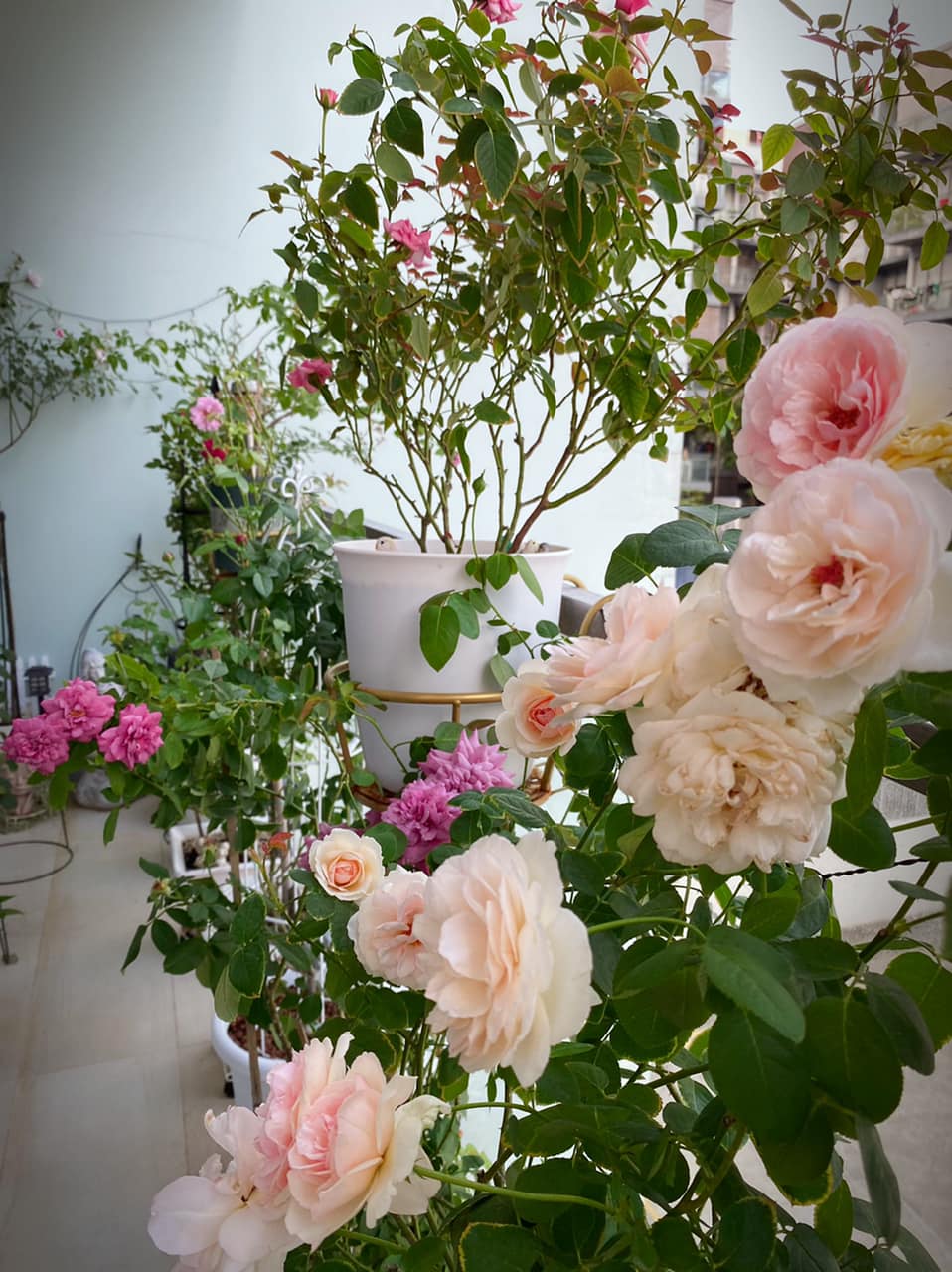 To Hanh Nguyen, gardening is just a hobby. But it's also one that keeps her sane as she spends a lot of her time at home.
One challenge for her is that roses need a lot of direct sunlight for four to six hours a day to grow. So the first thing Hanh looks out for when choosing a flat is the sun's direction.
Fertilisers and solutions are also needed to prevent insects from ruining the roses. So she uses microbio fertilisers, which are made of organic components and are very good for the roses.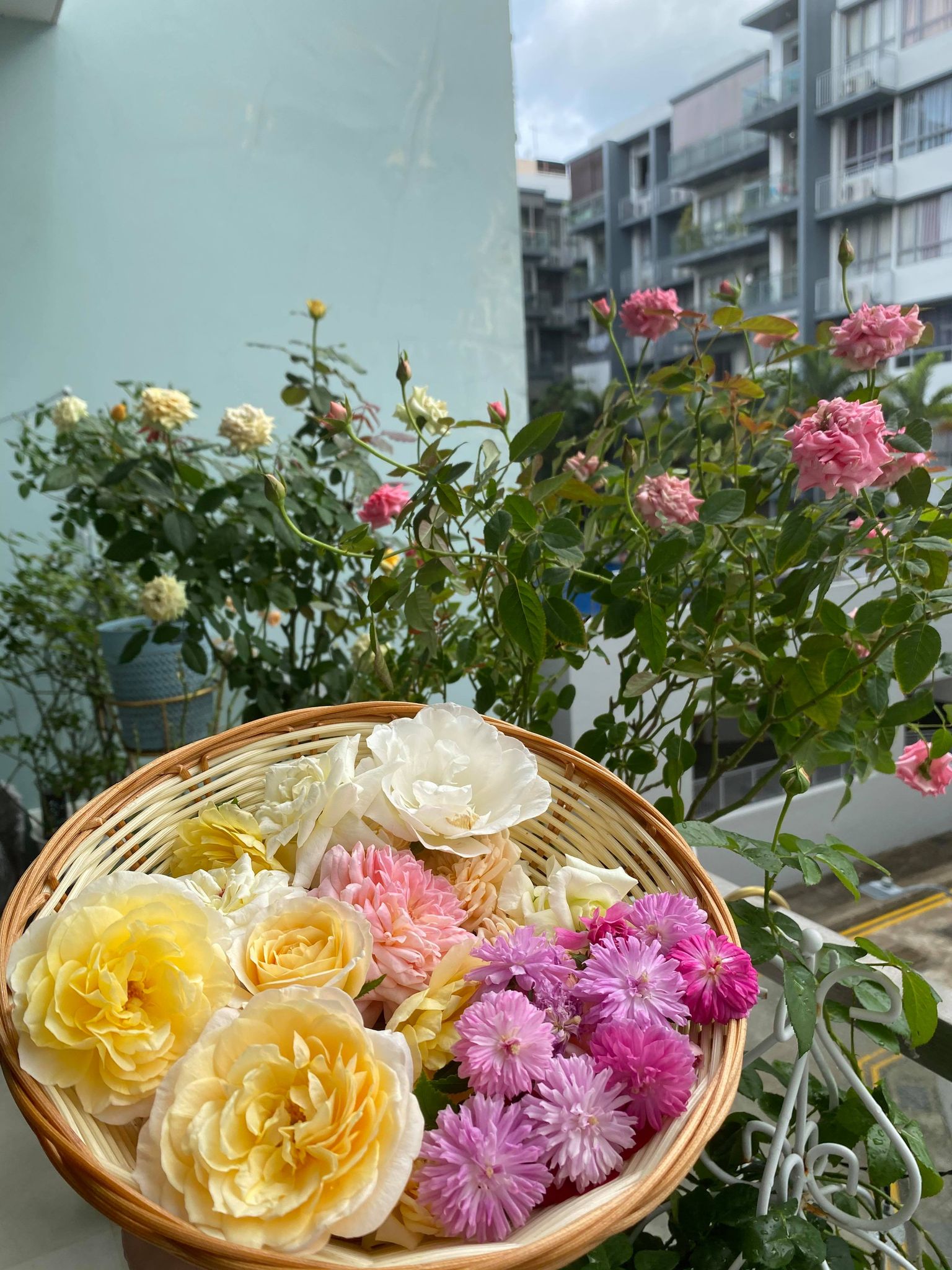 "I like to chill on the balcony at night; it helps me to reduce stress. Besides, since my roses are organic, I can use them to make rose tea and toner. This cannot be done with chemical fertiliser."
Check out more pictures of Hanh Nguyen's garden here.
Home garden that resembles a nursery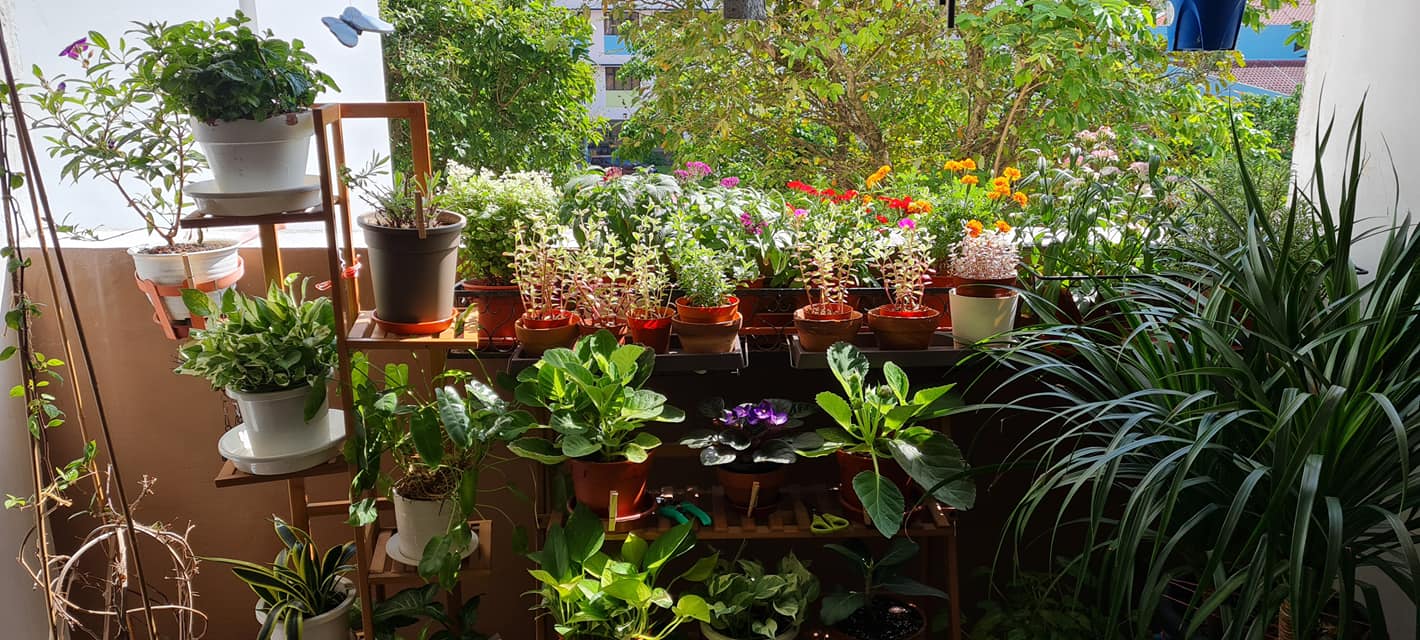 Rostam attributes his start in gardening to his mum, as she has green fingers.
"Also, recently I just started enjoying watching YouTube videos on plants and learning how to take care of them. I've been learning lots of important tips from other plant lovers as well."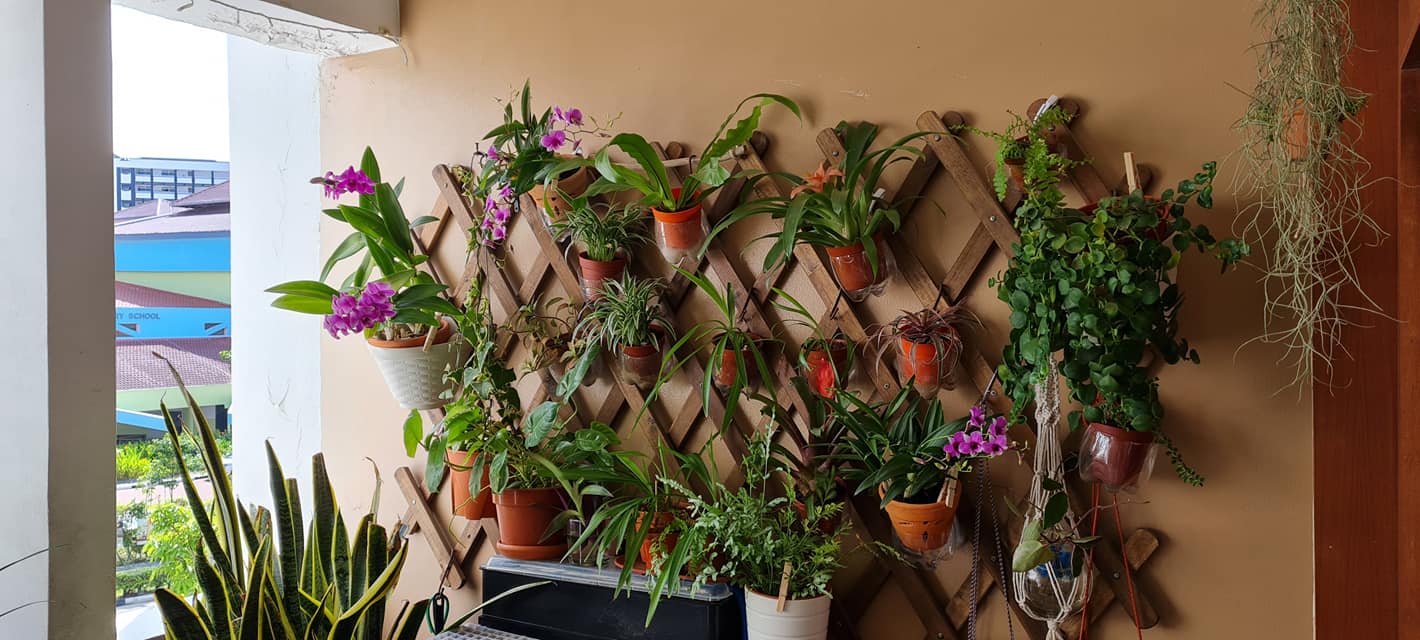 A challenge in maintaining a garden is insect infestation as it's the real killer for plants. So every morning, Rostam would check for this and see if the plants need watering or pruning. He also shares that a quick remedy is essential in preventing the infestation from spreading.
"You must love plants and enjoy taking care of them."
Check out more pictures of Rostam's garden here. 
High-rise farming with fresh vegetables and herbs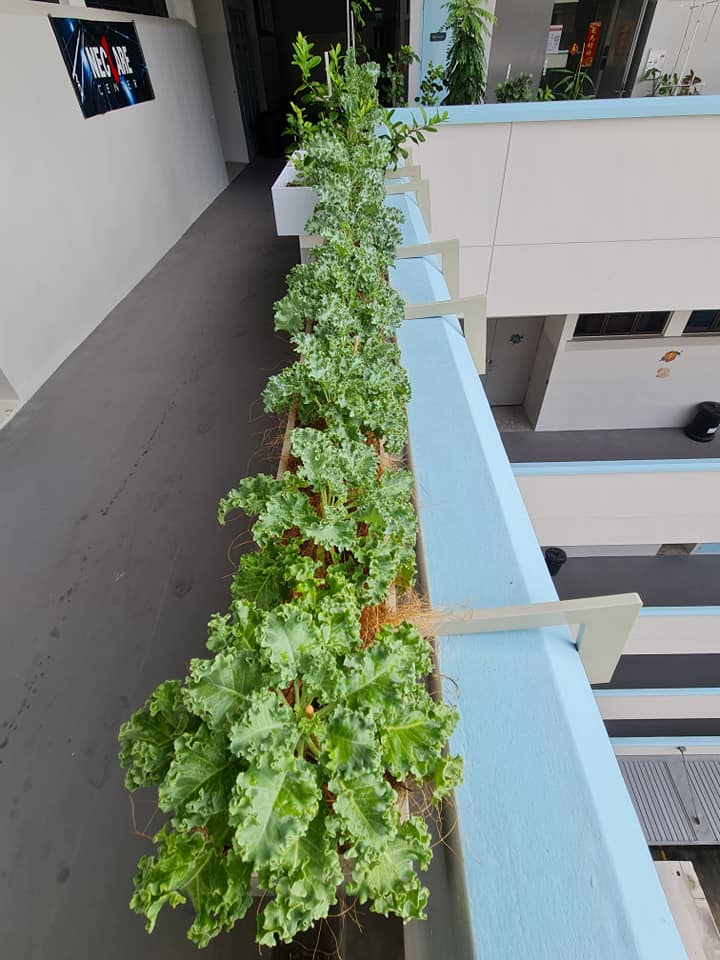 Like many residents in Singapore, what got Han into gardening was the CB last year, when he had some free time to play with. He decided to join in the fun after seeing his colleague start with some edible planting.
"Once I started, I got more interested in it. So I started applying for the SkillsFuture planting course to learn planting, visit community gardens and apply for NPark's free seeds."
Planting on a high floor comes with its challenges as well. This includes ensuring that all the plants get enough sunlight and knowing which type of plants don't require as much sunlight.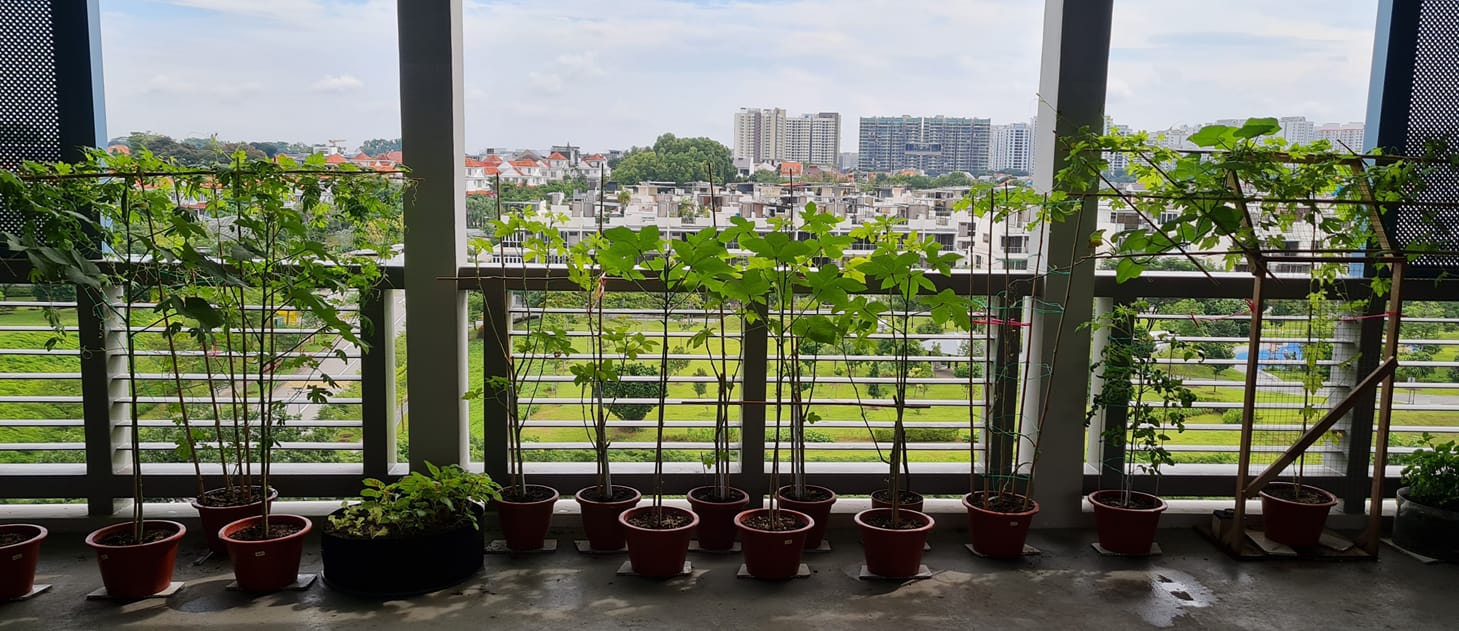 Windy and rainy days can also ruin the plants that can't stand the strong wind. So one way to deal with this is to create some support for the plants.
Given Singapore's humid and wet weather, it's important to do some pest control as well. This includes daily checking and ensuring that the environment is clean and clear.
As a newbie, Han shares that it's always good to ask when in doubt and keep an open mind to improve. Getting hands-on experience at every step of the gardening process helps as well.
Check out more pictures of Han's farm here.
Garden corridor that's treated like her own babies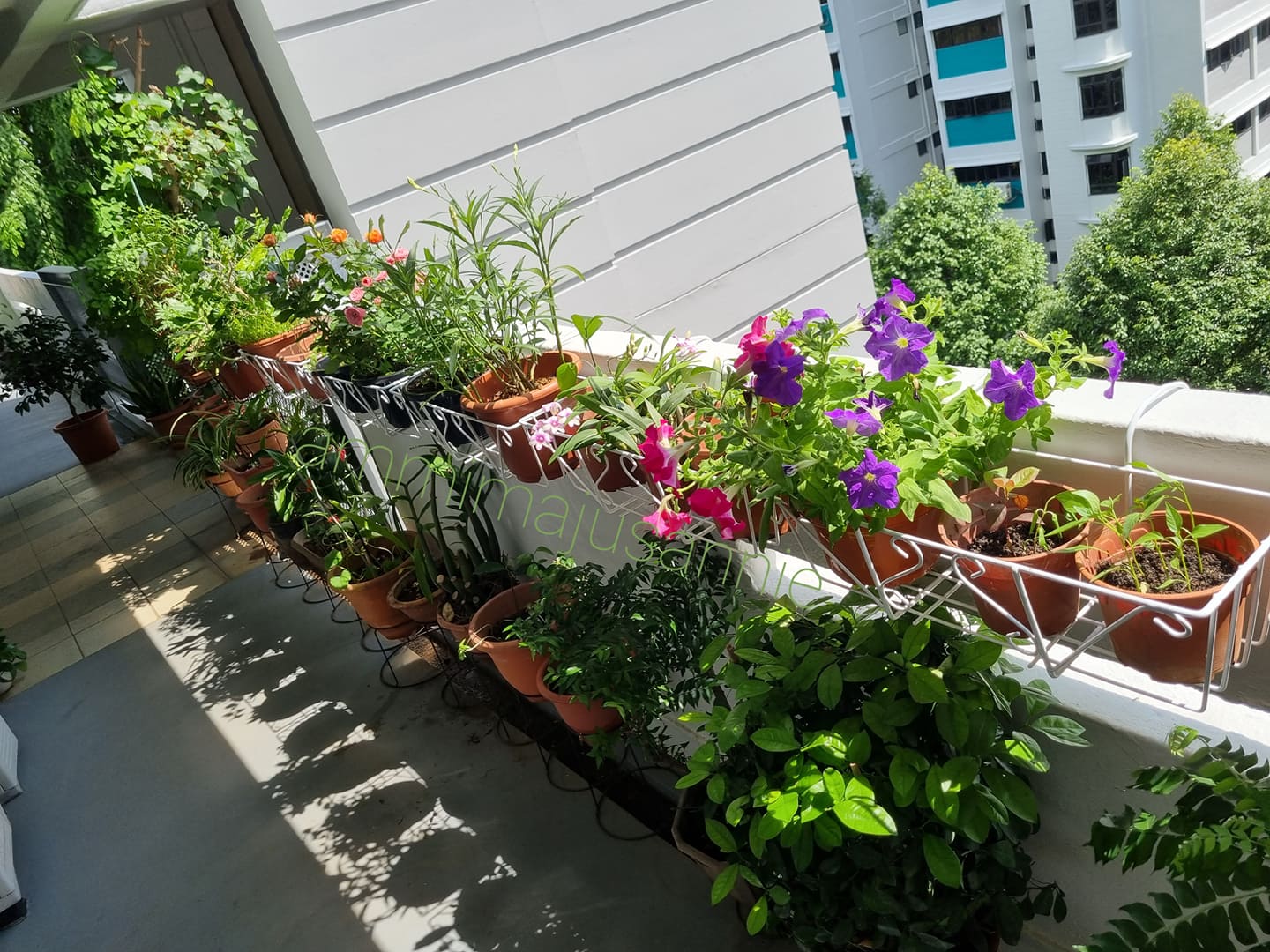 A love for nature and greenery is what got Annie Koh into gardening. Since young, she's always loved to walk in the garden. So after she and her family got their HDB flat, she decided to set up her own garden.
Weeds and pests are an issue when it comes to maintaining the garden, so Annie has to trim and fertilise the plants frequently. Watering is a must as well.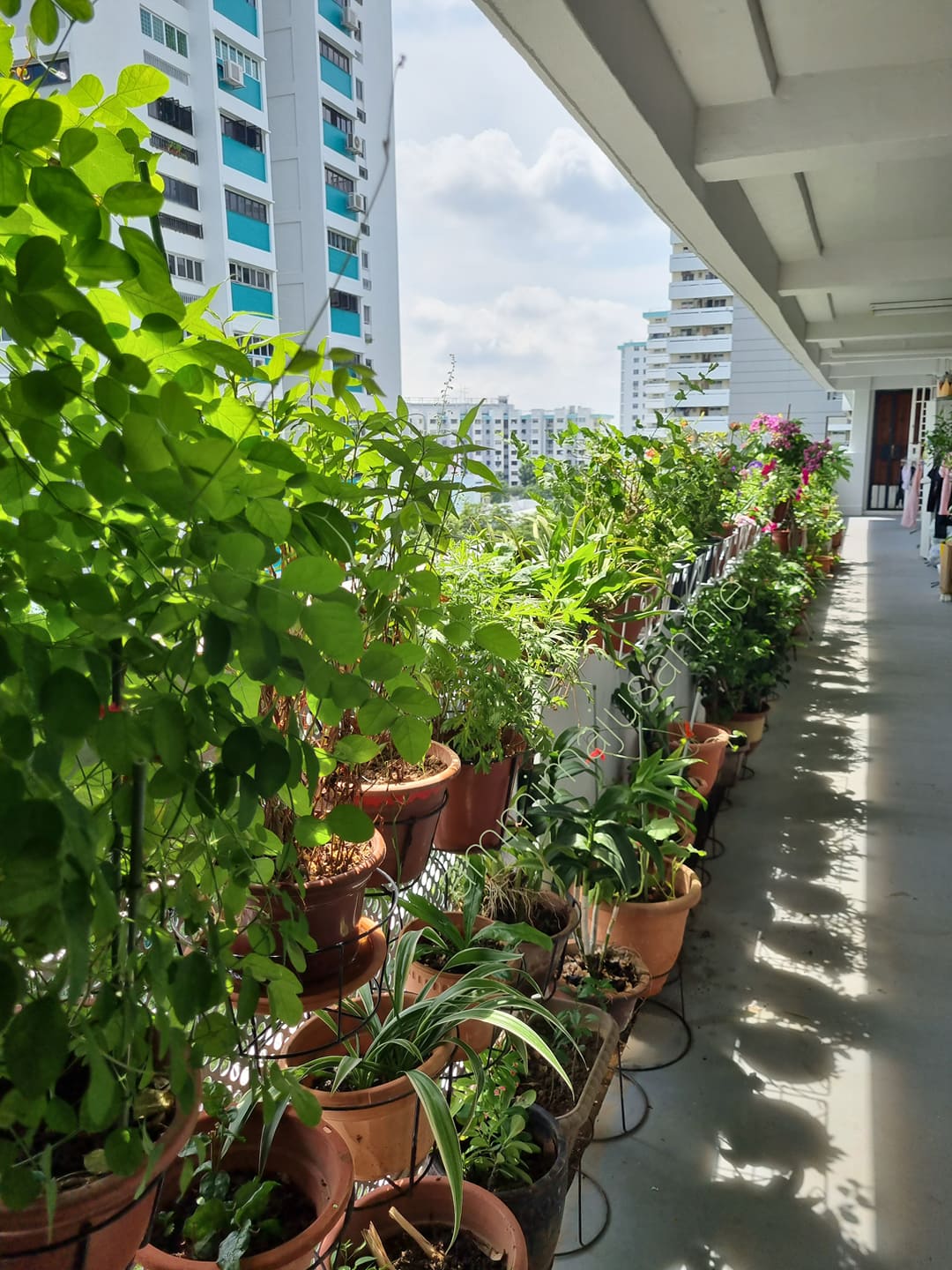 When asked for gardening tips, she says she doesn't have special ones to share.
"I treat them as my own babies and shower them with love and patience. They will return you with smiles of blooms."
Check out more pictures of Annie Koh's garden here.
—
If you found this article helpful, 99.co recommends Home facades in Singapore to frown or fawn over and These Are Why Your Indoor Plants Are Dying (and How to Stop It). 
Looking for a property to buy or rent? Find your dream home on Singapore's largest property portal 99.co! If you have an interesting property-related story to share with us, drop us a message here – we'll review it and get back to you.
The post 5 beautiful high-rise home gardens you need to check out + gardening tips  appeared first on 99.co.