I knew a family who once lived at the Botanic Garden Mansion apartment at Taman Serasi. Their flat was just 500 metres (7-minute walk) to Botanic Gardens and they're next door to Gleneagles Hospital.
Eventually, having grown fond of the neighbourhood (familiar food and entertainment haunts, family doctor, etc.), they sold the property and moved into a landed home in the nearby Maryland Estate GCB Area.
So it's not far-fetched to conclude that there's a select group of buyers for condos/ apartments in the fringes of GCB estates who someday aspire to own a bungalow or landed home nearby.
Not only that, there are ultra-high-net-worth individuals who own a GCB in the area who may want a second home, preferably a full-facility condo or serviced apartment nearby. Not every GCB homeowner wants to return to a big, empty house every night, right?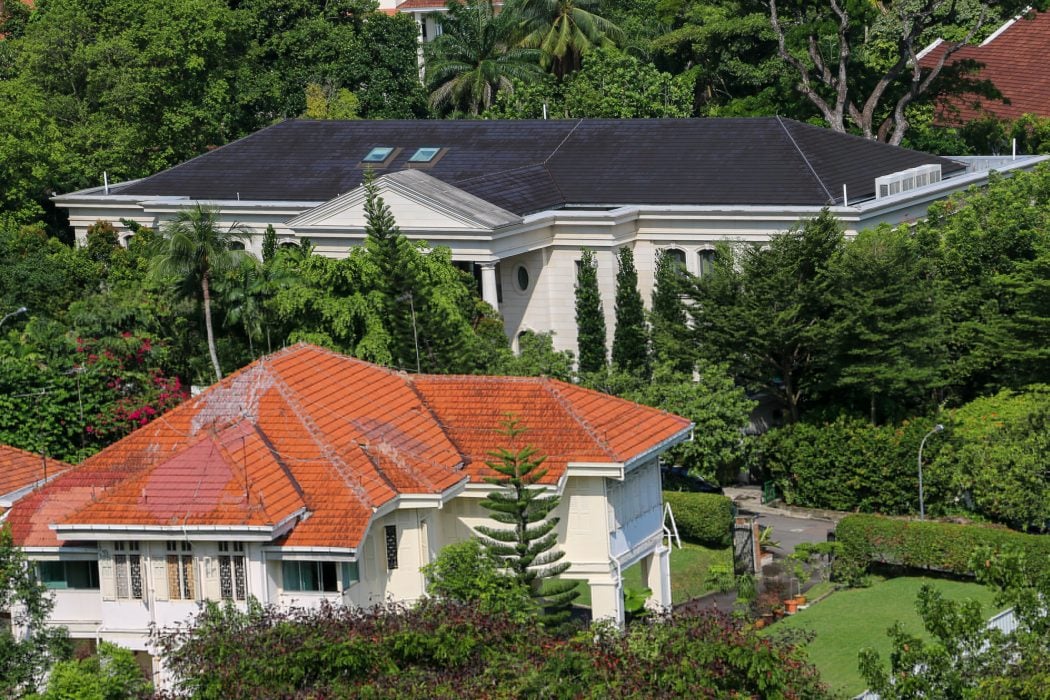 In Singapore, there are only 39 GCB Areas (GCBA), most of which are concentrated around the Dunearn/ Bukit Timah/ Holland Road areas.
While some of them include low-lying semi-detached and cluster homes, these neighbourhoods are called GCBAs mainly because of landed properties gazetted as Good Class Bungalows or GCBs. There are roughly 2,800 GCB land plots in Singapore. To be classified as one, these historical landed houses must occupy at least 1,400 square metres (approx. 15,070 sqft) of land area and is limited to a maximum of two storeys in height.
More importantly, GCB rarity has generated unfettered demand among ultra-high-net-worth (UHNW) individuals, which in turn, raises home values of the surrounding neighbourhood.
So to live within or around a GCBA is to live in an exclusive area where these UHNW individuals and their families reside, go to school, network, workout and chill out.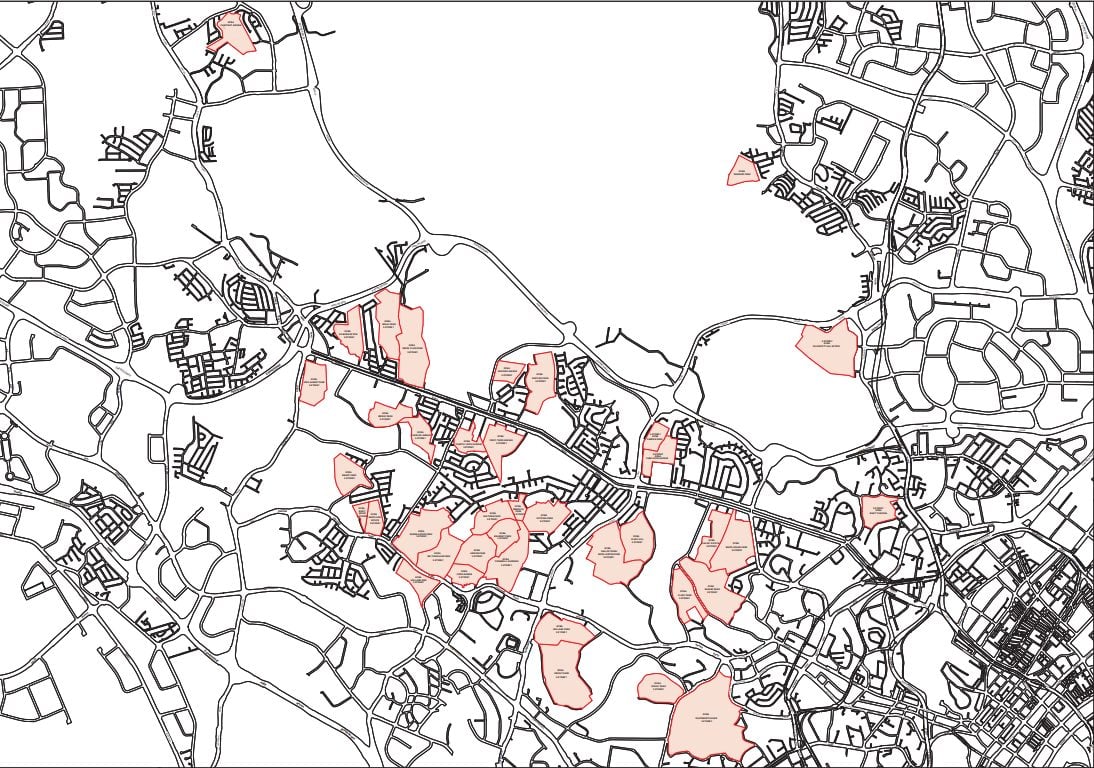 Note that while we use the term 'apartments/flats' and 'condos' interchangeably, there are clear distinctions between the two. The difference between apartments and condominiums is the minimum area size (1000 vs 4000 sqm) and the number of facilities (lesser for an apartment).
In this spirit, we thought it'd be interesting to look at some low-rise apartments and full-facility condos on the fringes of GCB Areas, starting with the largest GCBA cluster:
Bin Tong Park, Rebecca Park, Queen Astrid Park, Ford Avenue, Cornwall Gardens GCB Areas
One of the largest GCBA clusters is situated between Holland, Farrer and Coronation West Roads. While the properties listed are by no means exhaustive, it's clear that there are many condos and apartments flanking Holland Road where the Ford Avenue and Cornwall Gardens GCB Areas are.
Highlighted freehold properties along this stretch include The Ford@Holland (85 units), Urban Edge@Holland V (31), Van Holland (69, in development), Leedon 2 (72) and Jade Mansion. Leedon 2, a small 72-unit apartment completed in 1997, has seen its value rise 94.88% since 2006.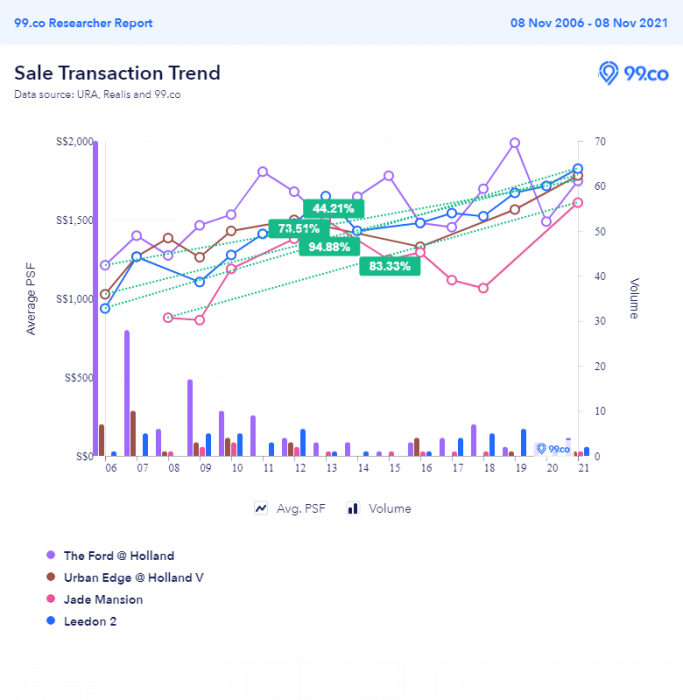 Between Farrer Road and the Cornwall Gardens GCB Area, we have The Cornwall (99 units), Holland Mansion (117), Leedon Residence (381), d'Leedon (1723) and Charming Garden (32). Among these, Holland Mansion is an extremely popular property for rent.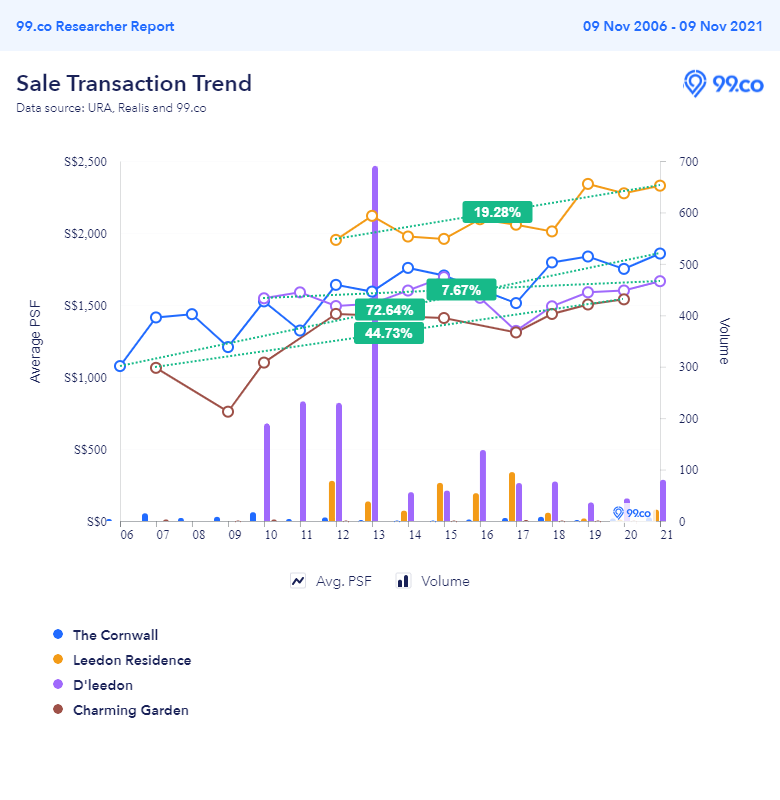 Farther north, Astrid Meadows (208 units) and Coronation Grove (24 units) between Coronation Road West and several GCB Areas have seen equally great price appreciations compared to their southern counterparts over time.
While we've only looked at one particular GCBA cluster, an apparent trend is that smaller, boutique apartments seem to show healthier average psf price appreciations over time. It's highly probable that some residents in these neighbourhoods prize smaller, boutique properties that offer greater privacy and exclusivity (especially when it comes to sharing facilities with fellow residents). It is also possible that some of these owners already own a landed property within the adjacent GCB Area and are renting these apartments out to selective tenants.
We'll see if this trend continues as we look at apartments and condos in other GCB Areas in subsequent parts in the coming days. Stay tuned.
–
What are your thoughts on living near a GCB Area? Let us know in the comments section below or on our Facebook post. 
If you found this article helpful, 99.co recommends Les Maisons Nassim penthouse sold for S$75m, possibly the most expensive apartment ever sold in Singapore and Good Class Bungalow (GCB) house-hunting: Confessions from agents.
Looking for a property? Find the home of your dreams today on Singapore's fastest-growing property portal 99.co! If you would like to estimate the potential value of your property, check out 99.co's Property Value Tool for free. Meanwhile, if you have an interesting property-related story to share with us, drop us a message here — and we'll review it and get back to you.
The post Condos and apartments on the fringes of Good Class Bungalow (GCB) Areas appeared first on 99.co.