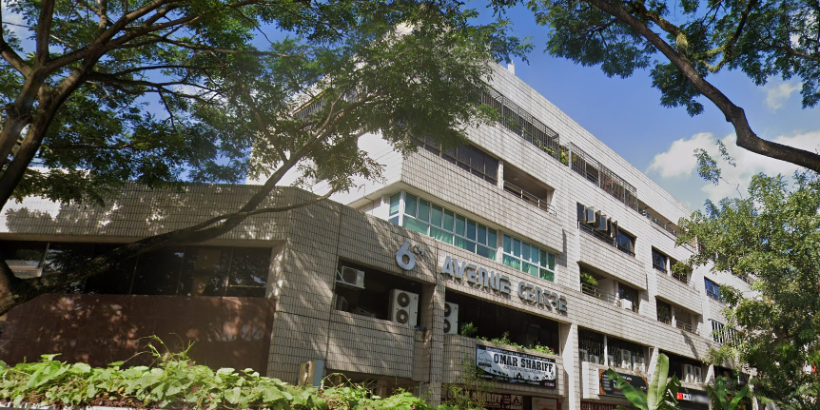 Located at 805 Bukit Timah Road, Sixth Avenue Centre sits on a 15,009 sq ft land plot. Source: Google Maps
Sixth Avenue Centre, a 40-year-old mixed-development at 805 Bukit Timah Road, has been put up for collective sale carrying a reserve price of $85 million, revealed exclusive marketing agent Cushman & Wakefield.
This works out to a land rate of $1,861 per sq ft per plot ratio (psf ppr), including the "nominal development charge payable to build up to plot ratio 3.0 and for the bonus balcony space".
Nestled at the junction of Bukit Timah Road and Sixth Avenue, the mixed-use building features seven retail shops and 18 residential units. It occupies a trapezoidal land plot measuring 1,394.4 sq m (15,009 sq ft).
Under the 2019 Master Plan, the site is zoned for "Commercial and Residential" use with a gross plot ratio of 3.0. The site has a maximum allowable gross floor area (GFA) of 4,183.20 sq m (45,028 sq ft), of which up to 40% can be developed for commercial use and the other 60% for residential use.
The marketing agent noted that the site had received approval from the Urban Redevelopment Authority (URA) in 2018 for its residential portion to be retained as serviced residences.
The future developer should also integrate a small portion of remnant state land at the splayed corner junction. Spanning about 85 sq m, this extra state land is expected to lower the average land cost to $1,788 psf ppr on the overall site.
"Sixth Avenue Centre presents a compelling opportunity for developers and investors to build and own an exclusive suburban boutique project with guaranteed robust demand for hip retail, lifestyle and residential concepts," said Christina Sim, Director of Capital Markets at Cushman & Wakefield.
"Located within the affluent suburbia precincts of District 10, coupled with a young population and high purchasing power, Sixth Avenue Centre will certainly be a prominent landmark and a limited edition offering."
Notably, the development is near the Sixth Avenue MRT Station on the Downtown Line, connecting the locale from Newton to Cashew.
The tender for Sixth Avenue Centre closes on 6 January 2022.
Looking for a property in Singapore? Visit PropertyGuru's Listings, Project Reviews and Guides.
Cheryl Chiew, Digital Content Specialist at PropertyGuru, edited this story. To contact her about this story, email: cheryl@propertyguru.com.sg.