By Lam Vy, CafeLand
Vietnam is a fast-growing market in Southeast Asia with great potential for foreign investors who are seeking to diversify their portfolios and increase returns on investment.
Why should you invest in Vietnam?
The annual growth rate of Vietnam averaged 5.9% from 2010 to 2020, becoming one of many countries growing at the fastest pace in Asia and worldwide. The result was remarkable in the context of widespread challenges, including a slowing global economy, the escalating U.S.-China trade war, high inflation, the Covid-19 pandemic, the supply chain crunch, and the Russia-Ukraine war.
In the long term, Vietnam strives to become an upper-middle-income country with an expected GDP per capita of US$10,000 in 2035. In the World 2050 report, PwC projected that by 2050 Vietnam could be among the Top 20 economies in the world and the Top 10 in Asia.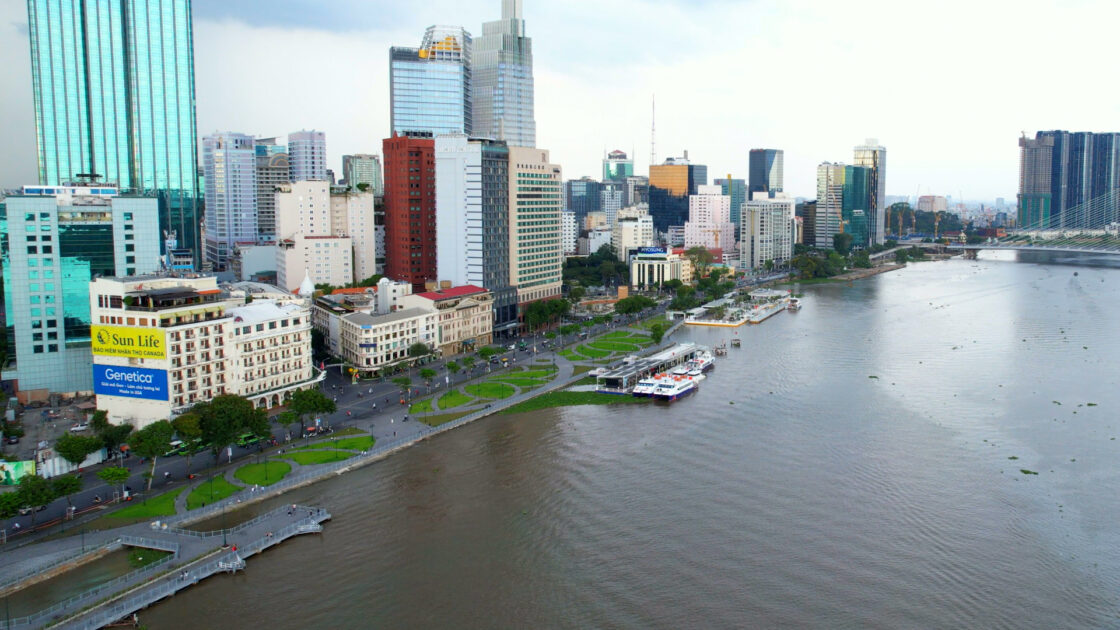 Besides having a bright economic outlook, Vietnam affirms its position in the international arena and is more open to foreign investment. Vietnam has 14 free trade agreements with more than 50 economies worldwide, including the EU-Vietnam Free Trade Agreement in 2019 and Regional Comprehensive Economic Partnership in 2020.
The total registered FDI capital during 2011 – 2020 reached US$278 billion, with the potential to soar after Covid-19 as many global enterprises have shifted their supply chain from China to surrounding countries in Asia to mitigate risks of the US-China trade war and China's Zero-Covid policy.
Given a growing educated and cost-competitive workforce and a current golden population structure of 45% under 30 years of age, Vietnam is poised to be a key beneficiary of global supply chain diversification.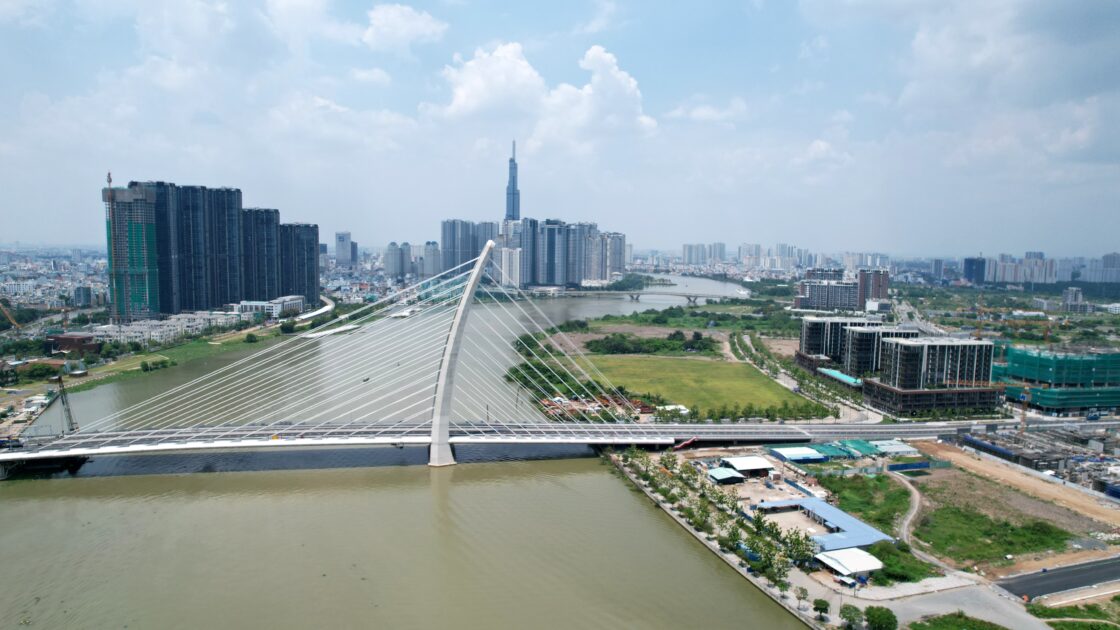 Last but not least, Vietnam's political stability is among the most attractive factors to international investors, ensuring consistency in policies to develop the economy and attract foreign investment capital, including administrative procedure reform and investment incentives stated in the Investment Law 2020 and Enterprise Law 2020. Vietnam is one of the most-selected investment destinations for investors from Japan, Korea, Singapore, and other ASEAN countries.
Singapore became Vietnam's most significant investor for two consecutive years in 2020 and 2021, overcoming Korea and Japan. As of March 2022, Singapore has 3,866 ongoing projects with a total registered capital of over US$67.5 billion, focusing on processing and manufacturing (706 projects, US $25.58 billion), real estate (190 projects, US $18 billion), and electric power (42 projects, US $11.8 billion).
The island state has invested in 51 of 63 provinces and cities of Vietnam. Ho Chi Minh City has received the most considerable investment capital with 1,493 projects and US$11.8 billion, followed by Hanoi with 460 projects and US$7.87 billion.
Over the last few years, the number of Singaporean investors entering Vietnam's real estate market has also increased significantly. They are confident about the market's long-term growth potential, given the young population and the growing middle-class with strong aspirations for home ownership, high urbanisation rate, and improving infrastructure. Many large-scale Singaporean developers, like Keppel Land, CapitaLand, VSIP, Sembcorp, Ascott, Mapletree, and others, have achieved great success in Vietnam.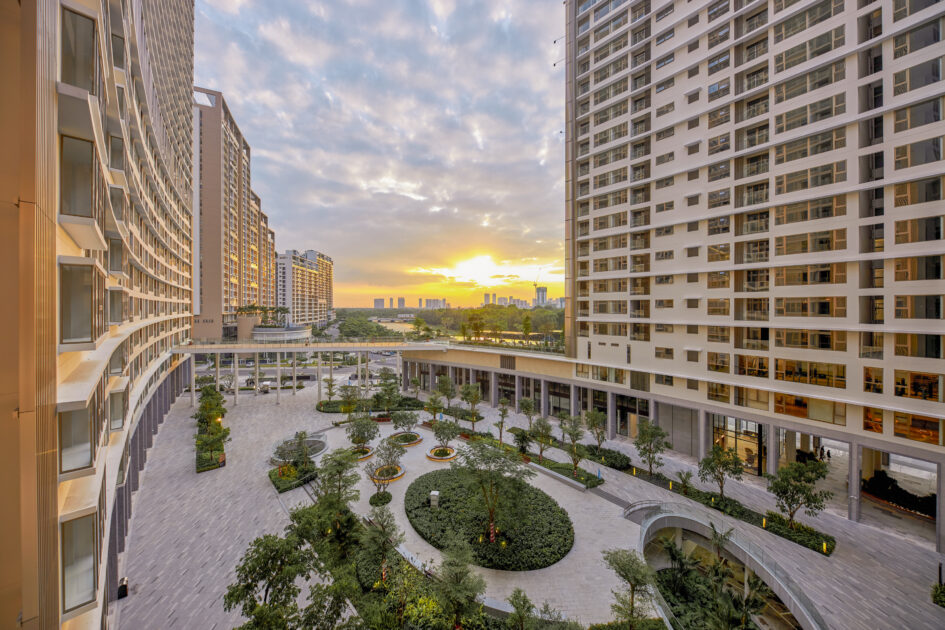 Overall picture
Informed by Cafeland.vn, a leading real estate news agency in Vietnam, the property market has developed rapidly in recent years and risen as a magnet for European and Asian investors, driven by favourable macro factors, strong economic growth, rapid urbanisation, and the rising middle-class.
This country is forecasted to be one of Southeast Asia's best investment destinations for industrial real estate for the next ten years and beyond. Meanwhile, its residential market is among the fastest-growing ones in the region despite pandemic-induced delays and disruptions. As informed by Mordor Intelligence, the market is expected to witness a CAGR of more than 15% in 2022 – 2027.
Along with the development of the infrastructure system, the improvement in the living standards, and a mass migration of populations from rural to urban areas, Vietnam is welcoming new high-quality housing products with a wide range of associated facilities to meet the higher demand of buyers, especially major integrated projects following a 15-minute concept to help citizens access daily necessities by walking or cycling from their homes.
According to the World Bank, the urban population in Vietnam reached 31.1% in 2011 and 37.3% in 2020. Knight Frank estimated that the number of ultra-high net worth individuals in Vietnam would experience the world's third fastest increase in 2025, at 64%. Vietnam's Ho Chi Minh City was ranked the 10th best place in the world for expatriates, according to the recently released 2021 Expat Inside Survey by InterNations, considered the most extensive global expatriate community.

All the mentioned factors have encouraged many foreigners to choose Vietnam as a place to live and a destination to invest in. As of April 2021, there were 101,550 foreign employees in Vietnam, most of them working in embassies, industrial parks, and multinational companies, with an average annual income of US$80,000-US$90,000 for those who live in Hanoi and Ho Chi Minh. Most foreigners from Europe, North America, Australia and Japan prefer to rent a house when they work in Vietnam. At the same time, those from mainland China, South Korea, Taiwan, Hong Kong and Singapore like to own their properties.
Furthermore, Vietnam's real estate market sounds more favourable than some regional countries where the governments have continuously implemented cooling measures to curb inflation. When it comes to pricing, CBRE estimated luxury homes in Ho Chi Minh City, the most expensive city in the country, to reach around US$7,000 per square meter in 2021, more affordable compared to other Asian investment destinations such as Singapore (where US$1 million can afford a luxury space of 35 square meters), Hong Kong, and Tokyo.
Therefore, Vietnam is currently seen as an emerging luxury residential market hotspot in the region for foreigners, who owned around 16,000 apartments from 2015 to 2020. According to a report by the Ho Chi Minh City Real Estate Association, 81% of the sold units were located in Ho Chi Minh City. In addition, foreign investors showed interest in holiday homes developed in the central cities like Da Nang and Nha Trang.

How to invest?
Legal framework
Upon Vietnam's amended Housing Law taking effect from 1 July 2015, foreigners are allowed to lease and own a maximum of 30% of a residential building or 250 houses within a ward area in 50 years. They have an option to renew the lease at the term's expiry without any additional payment, maybe up to 99 years, if approved by the government.
According to this law, foreigners can buy and own houses in Vietnam by holding a visa, even a tourist visa, and transfer and sub-let their homes. However, they are not yet allowed to buy and own land which is theoretically collectively owned by the people but managed by the government. Foreigners have another option to lease land from the government or to be granted an area for professional purposes.
Foreigners may also invest in Vietnam by forming a joint venture company with a local partner, a wholly foreign-owned company, or a Build, Operate, and Transfer (BOT) company.
Property registration in Vietnam often takes about 1.5-2 months from the start of the transaction to the issuance of title deeds (known as 'pink book' in Vietnam).
Taxes and fees
There are some taxes and fees applied to residential real estate transactions in Vietnam that investors should keep in mind:
Value added tax (VAT): Buyers should pay the tax worth 10% of the transaction value if buying apartments directly from developers in the primary market.
Capital gains tax: Sellers should pay the tax worth 2% of the transaction value.
Maintenance fee: Buyers should pay the fee worth 2% of the transaction value.
Stamp duty: Buyers should pay the tax worth 0.5% of the transaction value.
Sale commission (if any): Sellers should pay the fee worth 1-3% of the transaction value.
Promising markets
The subpage nhadat.cafeland.vn suggests many locations in Vietnam that are potential for foreigners' residential real estate investment, classified by property types and investment purposes. Mainly, Hanoi and Ho Chi Minh City are among the best in Southeast Asia for investment in luxury residential units, including branded residences.
Meanwhile, Da Nang, Nha Trang, and some emerging locations like Phu Quoc are more well-known for holiday home projects.
Ho Chi Minh City (HCMC)
HCMC is Vietnam's largest city, with a population of 9 million people by April 2019. Being the leading economic centre of Vietnam, HCMC attracts many foreigners to live and work there, ranking sixth in the top 10 cities for expatriates in 2021 according to the global survey by InterNations.
By the end of 2020, there were about 60,000 expatriates residing in HCMC, a 50% decrease over 2019 due to Covid-19. Most of them live in District 5 (the Chinese expatriates), District 7 (the Korean expatriates), and District 1 and District 2 (the Western expatriates).
The potential locations for real estate investment in HCMC include District 1 where there are lots of residential towers, offices and hotels; District 2 which offers the best facilities at high living standards in Vietnam; District 3 which features a wide range of bars, restaurants and entertainment facilities; District 7 which is considered as the living place of expats in HCMC; followed by District 5 and District 10 where the housing price are more reasonable.
Hanoi
Hanoi, the capital of Vietnam, offers many investment options for foreigners regarding real estate. The presence of embassies and international and domestic corporations and organisations contributes to luring high-heeled expatriates to Hanoi.
Tay Ho is considered Hanoi's most desirable living place. Similar to District 7 in HCMC, Tay Ho is the hub of expatriates in Hanoi, where they can enjoy the unique and peaceful atmosphere of West Lake with various upscale hotels, serviced apartments and facilities.
Therefore, house prices in Tay Ho are among the most expensive in Vietnam. Besides Tay Ho, Hai Ba Trung District, Hanoi's fastest developing area, and Dong Da District, one of the most populous in Vietnam, are also good options for real estate investment.
Da Nang
Da Nang is the largest coastal city in Vietnam and is an important economic, cultural, educational, scientific, and technological centre of the Central – Central Highlands regions. Da Nang is also one of the municipalities with the fastest progress in Vietnam.
Besides its strategic location on the international junction connecting the Central Highlands region with many Southeast Asia's countries, Da Nang is the centre of the Heritage Road through the ancient capital of Hue, Hoi An ancient town, My Son sanctuary and Phong Nha – Ke Bang national park. Da Nang is amongst Asia's 25 most popular tourist destinations.
There are a more significant number of branded residences and holiday homes in Da Nang than in Hanoi or HCMC, managed by prestigious international hoteliers like Marriott, Accor, Hyatt and others. Foreign investors can find upscale luxury properties featuring fantastic ocean views along the coast of Da Nang, with interesting rental pool programmes and attractive fixed returns.

Nha Trang
Nha Trang is a touristic city well-known for its award-winning beaches, scuba diving sites and natural reserves. It is considered one of the top 10 major tourism-service centres and blessed with favourable weather – which is suited for tourism all year round.
Like Da Nang, many international and domestic developers have cooperated with hotel operators to expand their footprints in Nha Trang, providing high-quality holiday homes and branded residences with attractive investment returns.
(This article is a collaboration with CafeLand.vn)
The post Vietnam: A Leading Destination for Regional Real Estate investment today appeared first on .