There's a certain prestige that comes with owning a shophouse. Built between the 1840s and the 1960s, shophouses here used to dominate the city centre.
Right now, they form the majority of the conservation buildings in Singapore. With only 6,500 shophouses available these days, they're among the rarest property types here.
And similar to buying landed property, buying a shophouse entails buying the land too.
It's also why shophouses are so attractive to property investors, including Aaron Wan. He recently made headlines for making a profit selling a shophouse, after buying it several months ago.
While he declined to comment on the sale, 99.co managed to find out more about how he started investing in shophouses, and asked for some property investment tips.
Why investing in shophouses makes sense
The opportunity to own a piece of land in land-scarce Singapore
Aaron highlighted that buying a shophouse entails purchasing the land.
"And in such a land-scarce city-state like Singapore, there's only a limited amount of square footage one can own," he elaborated, adding that shophouses are scarce.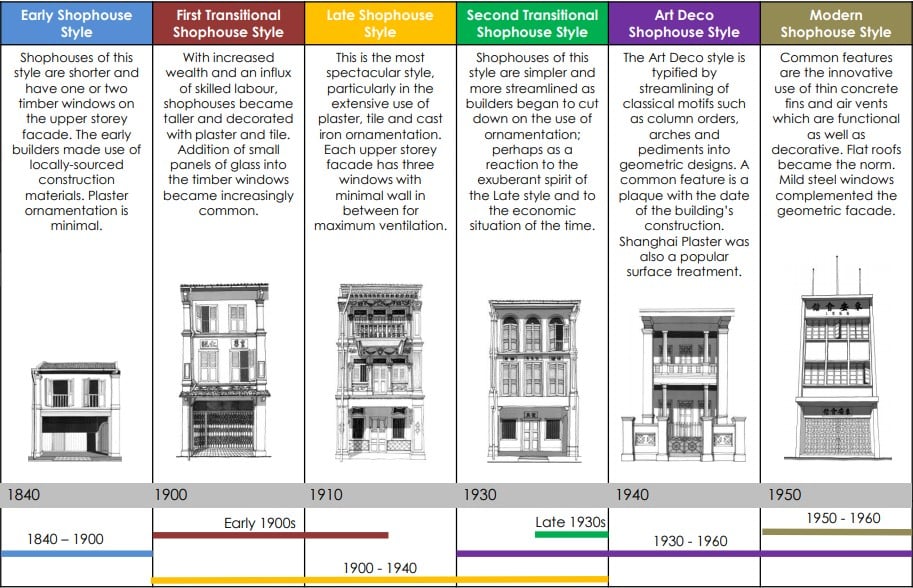 ABSD payment is not required for some shophouses
Another reason shophouses appeal to investors is that depending on the designated use, some do not require payment of the Additional Buyer's Stamp Duty (ABSD). 
According to the URA master plan map, shophouses here are zoned for either of the following uses:
Commercial
Commercial and residential
Residential
Residential with commercial on the first floor
Those marked for residential use require buyers to pay the ABSD. For those with the commercial space, the ABSD is prorated based on the residential area.
Aaron shared, "Instead of paying ABSD on a full residential property, with the same quantum – let's say S$5 million or S$10 million – I'd rather buy a mixed-use commercial property. So I'd only incur ABSD on the upper floors that are for residential use."
Another option would be to buy a shophouse that is zoned for commercial use, which he can sell to an investor or a foreigner in future.
Properties zoned for commercial use, including commercial shophouses, do not entail ABSD payment and can be purchased by foreigners. This is also one way for foreigners to own land in Singapore, besides buying landed property at Sentosa Cove.
Aaron explained there's one more type of shophouse that most people are unaware of. While the designated use is fully residential, the government allows businesses to be run downstairs.
According to him, these shophouses can be found at Guillemard Road, Tembeling Road and Joo Chiat Place. Examples of this include Fei Fei Wanton Mee at Joo Chiat Place and Fatty Weng Restaurant that was previously at Guillemard Road (it's since moved to Bukit Batok).
The shophouse Aaron owns at Koon Seng Road also falls under this category. He currently uses it as an office for his team of 250 agents under PropNex.
 

View this post on Instagram

 
"If I need to pay the ABSD, I'd rather buy a piece of land that allows me to run a business downstairs. That's how the whole idea of investing in shophouses started."
What does an investor look out for when buying a shophouse?
As with any property, the first thing Aaron looks for in a shophouse is its location.
Other factors include its entry price and affordability, especially since he prefers to invest in freehold or 999-year leasehold properties, even for residential properties.
Like many property buyers and investors, his preference for freehold properties is due to legacy planning.
"It's a piece of land that I can hold for the rest of my life, which my future generation can inherit and benefit as well. On the other hand, if it's a 99-year leasehold shophouse, they may not have enough funds to top up the lease when it runs out."
Last but not least, it's crucial to see the potential of the shophouse. Even if it's run down, Aaron would consider it if he sees that the space can be transformed after some work and rejuvenation.
For instance, the shophouse is located in an area where it could be run as a cafe or a pub, but is currently an old fruit stall or a bicycle repair shop. Investors can buy such a shophouse, spend a few hundred thousand dollars to renovate it and bring a new life to the space.
"And that's when the potential of the shophouse is realised. Rent will significantly increase as well," Aaron shared.
99.co understands that when he first bought the Kitchener shophouse (which he sold in less than a year), it was very run down. This led to a massive renovation, with everything inside torn down and remade.
The first floor currently houses San Laksa, a laksa steamboat restaurant, while the upper floors are now used as an office.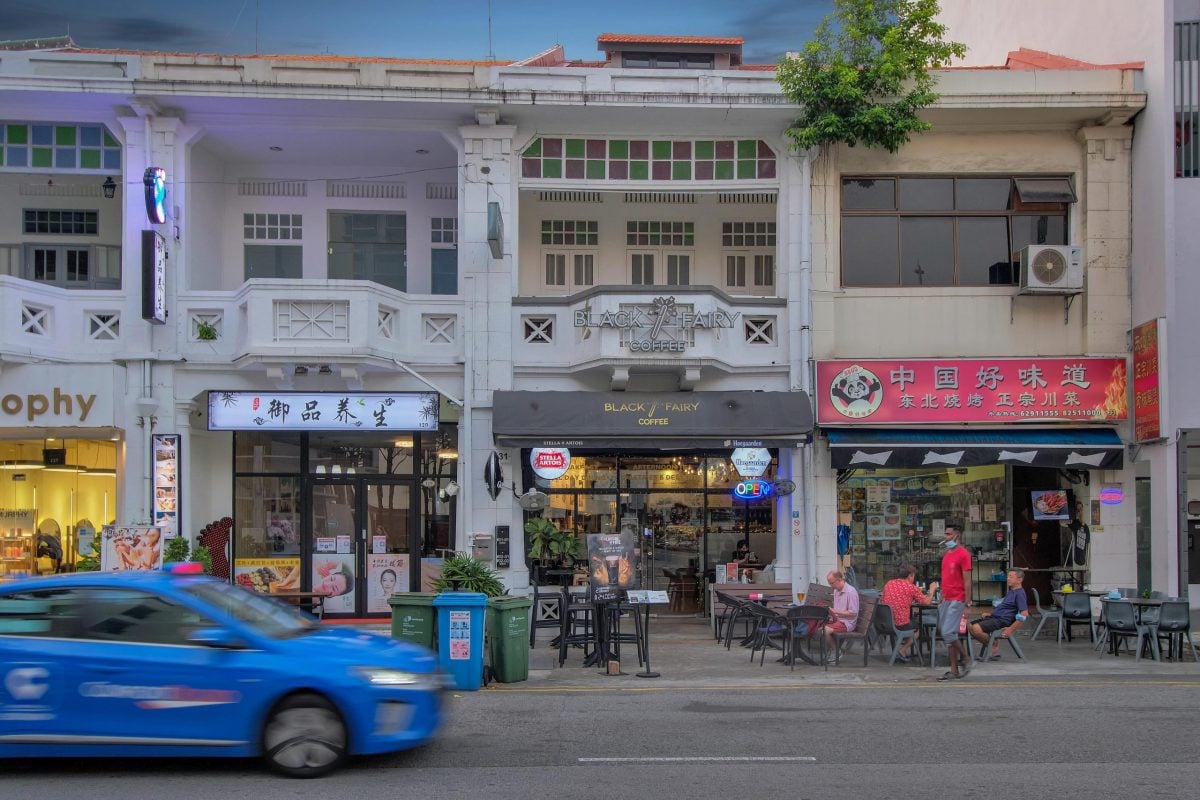 Advice on investing in a shophouse for the first time
When asked for any advice on this, Aaron giggled and quipped, "Engage me, and I'm happy to share more."
He then went on to share that investors have to be quick in deciding if they want to buy the shophouse, given its scarcity. While there is high demand for them, there are only a few listings available.
It also pays to be more careful when buying a shophouse. Bringing a structural engineer along is recommended as well.
"One should understand what he's buying, especially in the case of shophouses, as they are usually at least 100 years old. There may be building or structural defects that an inexperienced buyer may not be able to tell."
Aaron further shared that he's heard of friends and owners who had bought shophouses without his advice. They ended up having to fork out millions to reconstruct the shophouse due to structural defects and meet BCA's requirements.
The dream shophouse would be …
Right now, Aaron is on the lookout for shophouses and buildings for investment purposes, adding that he recommends to his friends and clients which ones to buy as well.
While he doesn't have a particular dream shophouse, he's always been attracted to those with a distinctive architectural design. These shophouses are rare, and tend to be 3- to 4-storeys high.
It would also be good if the shophouse has a lift (or can be installed with one) for his long-term use.
"I always feel that these conserved shophouses, with a nice balcony on the facade, look very majestic, especially with all the Peranakan look and tiles. The more details they have, the richer in history they are."
As someone who values rare properties such as shophouses, a rare find would be a corner unit with F&B approval located in the prime districts 1 or 2. Aaron envisions such a unit could house a beautiful cafe on the first floor, and an office for his agents on the upper floors.
The Midtown
The Midtown
$3,600,000
Chong Pang Green
Chong Pang Green
$2,200,000
Blangah Garden
Blangah Garden
$2,000,000
Tanjong Pagar Road
Tanjong Pagar Road
$15,000,000
Kampong Glam Conservation Area
Kampong Glam Conservation Area
$8,000,000
Sun Plaza Green
Sun Plaza Green
$4,334,000
Guillemard Road
Guillemard Road
$3,799,999
Garden Hill
Garden Hill
$3,180,000
Everton Park
Everton Park
$2,000,000
Kampong Glam Conservation Area
Kampong Glam Conservation Area
$12,000,000
Would you consider investing in a shophouse? Let us know in the comments section below.
If you found this article helpful, 99.co recommends 7 reasons why shophouses are the most underrated properties in SG and Can you buy a commercial property before you complete your HDB MOP? Apparently yes. 
The post EXCLUSIVE: We asked the property agent who recently sold a shophouse for property investment tips. Here's what he said. appeared first on .