20th September to 26th September 2022
The Singapore Land Authority (SLA) has unveiled the revised land betterment charge (LBC) rates for the period 23 September 2022 to 28 February 2023. Meanwhile, the number of Housing and Development Board (HDB) resale flats sold for at least $1 million during the first nine months of this year has exceeded those sold for the whole of last year.
1) Land betterment charge rates for non-landed residential use raised by 12.9%
The Singapore Land Authority (SLA) has unveiled the revised land betterment charge (LBC) rates for the period 23 September 2022 to 28 February 2023.
The revisions included significant hikes for non-landed residential, landed residential, commercial and industrial use groups from the previous rates.
The biggest increase was for non-landed residential use at 12.9% on average. Notably, 116 of the 118 geographical sectors registered LBC rate hikes of between 6% and 20%, with rates for the other two sectors unchanged.
For landed residential properties, the LBC rates were raised by an average of 10.2%.
Tricia Song, Head of Research for Southeast Asia at CBRE, said the hike was "largely within expectations, with resilience observed in the broader landed residential market and GCB segment where average prices held firm despite a slowdown in sales activity and macroeconomic uncertainty".
The LBC rates for commercial use also increased by 5.4% on average. Song believes the hike signals "optimism in the recovery of both the office and retail sectors, following the full reopening of Singapore's borders and return to office arrangements".
Meanwhile, the LBC rates for industrial properties climbed by 2.3% on average.
2) More million-dollar HDB resale flats sold in first nine months of 2022 than whole of 2021
The number of HDB resale flats sold for at least $1 million during the first nine months of this year has exceeded those sold for the whole of last year.
Related article: Million-Dollar HDB Resale Flat vs a Condo in Singapore: Which Is Worth Buying? (2022)
HDB data showed that there have been 266 million-dollar HDB resale flat transactions as of 25 September 2022, surpassing the 259 units registered in 2021, reported The Straits Times.
Unsurprised by the hike in million-dollar HDB transactions, Professor Sing Tien Foo, Director of the Institute of Real Estate and Urban Studies at the National University of Singapore, attributed it to the rising price momentum within the HDB resale market.
The most notable difference for this year is the number of non-mature estates registering million-dollar HDB transactions.
Out of the 266 transactions, 12 were situated within the non-mature estates of Hougang, Bukit Batok, Punggol, Woodlands and Yishun.
This comes as home buyers "who have flexible work arrangements or do not need to go to the Central Business District often may not mind living farther away in the suburban areas where units are larger and more affordable" said Christine Sun, Senior Vice-president of Research and Analytics at OrangeTee & Tie.
3) BTO flat prices to breach million-dollar mark?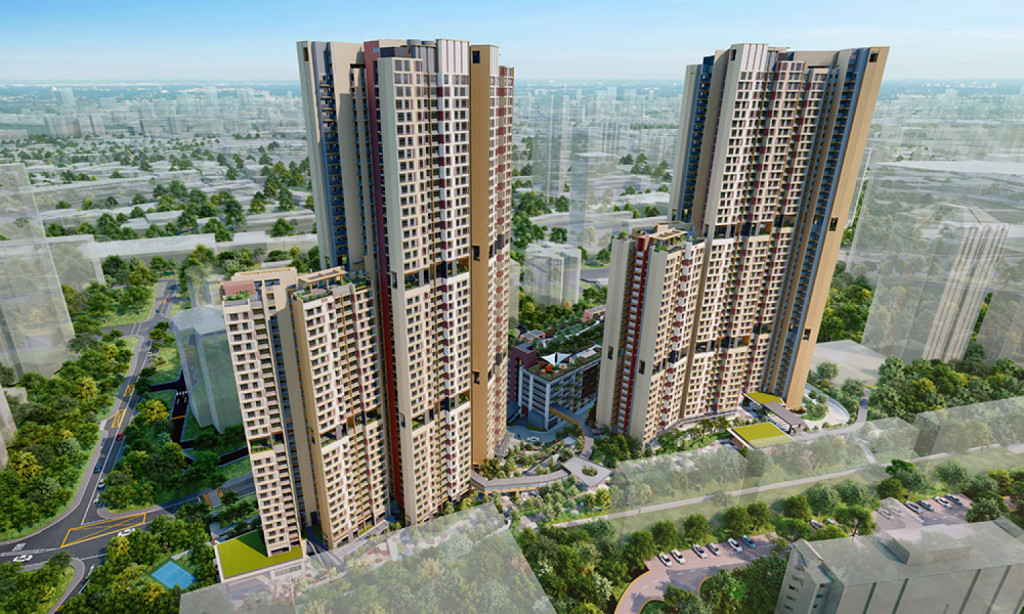 Prices of Build-to-Order (BTO) flats have been on the uptrend since 2015 in view of the buoyant HDB resale market, increasing construction costs and more BTO project launches within pricier, central areas, reported TODAY.
In fact, prices at the recently launched Central Weave @ Ang Mo Kio BTO almost touched $900,000, with a five-room flat costing up to $877,000.
Since BTO flats' valuation is tied to the prices of surrounding resale flats, BTO prices increase in tandem with the resale market, explained OrangeTee &Tie's Head of Research and Consultancy Christine Sun.
And with more resale HDB flats selling for $1 million, it is "only a matter of time" before the city-state registers its first million-dollar BTO flat, said ERA Realty's Head of Research and Consultancy Nicholas Mak, albeit he does not expect such a scenario to happen in the near future.
Property analysts expect BTO flats launched within prime and central locations such as Bishan, Bukit Merah and Greater Southern Waterfront to be the first to breach the million-dollar mark when it happens.
Related article: Nov 2022 HDB BTO Launch Review: Bukit Batok, Kallang/Whampoa, Queenstown, Tengah, Yishun
4) Prices for properties near new MRT stations on Cross Island Line to increase
Property analysts expect the completion of six new MRT stations on the Cross Island Line (CRL) – namely, Turf City, Maju, King Albert Park, West Coast, Clementi and Jurong Lake District – to boost property prices within these areas, reported CNA.
Older condominiums may also benefit from higher en bloc sale potential, they said.
Transport Minister S Iswaran said the six new stations will be built under Phase two of the CRL, with construction expected to start next year and their opening slated in 2032, reported CNA.
Lee Sze Teck, Senior Director for Research at Huttons Asia, expects property prices within the Clementi, King Albert Part and West Coast areas to register a slight hike of up to 3% and more gains of up to 5% once the stations are completed in 2032.
Christine Sun, OrangeTee & Tie's Senior Vice-President of Research and Analytics, noted that the announcement will also give buyers a clearer timeline on the expected completion date of the stations, helping them arrive at more informed decisions.
To be constructed in three phases, the CRL is the city-state's eighth MRT line and also the longest fully underground line at over 50km.
5) Carpark, nearby green plot in Pasir Ris to be developed into public housing
A carpark within Pasir Ris Park is set to make way for public housing as part of a 2.9ha site, along with another 1.7ha plot located next to it.
The Straits Times reported that an approved amendment to the Urban Redevelopment Authority's (URA) 2019 Master Plan showed that the two land parcels have been assigned a plot ratio of 2.0.
Notably, a plot ratio determines the maximum gross floor area of development at a particular land parcel.
Pasir Ris Park's Carpark B contains around 10 lots for motorcycles and 20 for cars and takes up about a third of the 2.9ha parcel. The rest of the land parcel is presently forested.
The 1.7ha site, on the other hand, is not situated within the park and is also forested.
Both land parcels have been identified for public housing development in 2017 under the Housing Board's Remaking Our Heartland plans for Pasir Ris.
Related article: Government Land Sales (GLS) Programme Guide (Updated With GLS Sites for 2H2022 Singapore)
6) Government urged to build more executive condos, expand pool of eligible buyers
The Government has been urged to increase the supply of executive condominium (EC) sites to meet the growing household formation as well as the desire of people to live within condominiums.
The Business Times reported that the number of resident households within the city-state is surpassing the growth in the resident population.
Between 2010 and 2021, Singapore's resident population increased by 5.7%, while resident households grew by 21.4%. The number of resident households staying in HDB homes climbed 15.4%, while those living in private condominiums rose 73.6% over the same period.
"Letting private developers build more ECs may also help alleviate somewhat the pressure for the HDB to build more flats to meet rising housing demand," said BT.
The report also urged the Government to expand the pool of eligible EC buyers.
This can be done by allowing singles below the age of 35 to acquire new ECs as well as by increasing the monthly household income ceiling for new EC buyers.
And while doing so may see developers raising the selling prices of new EC, the government could mitigate it by releasing more sites for ECs, added the report.
Related article: Executive Condo Singapore (2022): 4 Upcoming ECs We Can Expect
7) New private home sales to slow down for rest of the year
With interest rates continuing to increase, property analysts expect buying choices for homes to continue to decline, resulting in slower sales of new private homes, reported Singapore Business Review.
Tricia Song, CBRE's Head of Research for Southeast Asia, anticipate new home sales to hit 9,000 units this year, down from last year's 13,027 units.
"Transaction volume is expected to moderate for the rest of the year as interest rates continue to rise and dampen buying sentiment," she said while noting that private home prices are forecasted to increase 5%.
Edmund Tie's Research Head Lam Chern Woon, on the other hand, expects the number of units sold to be slightly higher to 10,000 units.
"Private residential price growth is projected to ease to about 8% for the whole of this year, following last year's 10.6%. However, the market upcycle remains intact given the healthy labour market conditions, strong household balance sheets and the tight demand-supply dynamics," he said.
8) UOB and DBS temporarily cease offering fixed-rate home loans
Local lenders DBS Bank and UOB said they will temporarily cease their fixed-rate housing loans as they review the interest rates for such packages, following another significant hike from the United States Federal Reserve, reported The Straits Times.
According to a UOB spokesman, the bank will cease its two-year and three-year fixed rate packages for now.
Related article: Fixed vs Floating Rate Home Loans in Singapore: How to Pick the Right One (2022)
He added that the bank continuously monitors market conditions and will review housing loan packages to ensure they meet the needs of homeowners while remaining competitive.
Home Loan Whiz Director Wayne Quek shared that he received a notice stating that the UOB packages will be unavailable after 5 October 2022.
Two months ago, UOB raised its rates for the two-year package to 2.98% per annum, and to 3.08% per annum for its three-year package.
DBS is also reviewing its rates for fixed rate packages, which have already been removed from its website.
The bank upped its rates for two-year and three-year fixed rate packages to 2.75% in June, while removing its five-year fixed rate package for HDB flat buyers, in which it offers loans at 2.05%.
9) Price gap between city-fringe, central region condos narrows to 14.9%
Property analysts observed that prices of new non-landed homes within the Rest of Central Region (RCR) have been climbing closer to those located within the Core Central Region (CCR).
Related article: Singapore District Map: Defining the CCR, RCR and OCR by the 28 Districts
Huttons Asia noted that the median price per sq ft (psf) gap between CCR and RCR homes narrowed to 14.9% in August, after moving to 25.07% in April, reported The Business Times.
Lee Sze Teck, Senior Director of Research at Huttons, noted that such a gap stood at about 42.7% in the last 10 years.
With RCR psf price on the uptrend since June, the median price for new non-landed homes in RCR has exceeded that for CCR units. In fact, buyers paid $2.47 million for new non-landed homes within the RCR in August, up 10.8% than in the CCR.
In another report, Business Times noted that new launches within the Outside Central Region (OCR) have been registering robust take-up rates, with Lentor Modern selling 84% of its units and Sky Eden@Bedok shifting about 75%.
Despite the strong demand for suburban condos, the recent state tenders for OCR sites received a lukewarm response.
"Perhaps developers, knowing that the property market moves in cycles, are signalling in their land bids that private home prices are peaking," said the report.
10) Cost of running a business rising faster in Singapore than in Hong Kong
The costs of running a business are growing at a faster pace in Singapore compared to its rival financial hub Hong Kong, which registered more modest price hikes, reported Bloomberg.
Office rents in Singapore's central business district, for instance, have continued on an upward momentum, increasing for the third quarter.
JLL Singapore noted that while the rental cost within the city-state remains below that in Hong Kong, the gap is narrowing.
Chua Hak Bin, an economist at Maybank Investment Banking Group, also pointed out that the faster reopening and 'living with Covid' strategy of Singapore versus "Hong Kong's 'zero Covid' strategy is driving the divergence and higher increase in manpower and rental costs".
Moreover, Singapore witnessed its latest electricity inflation rate climb to its highest level.
The rising prices, however, have not stopped the rate of new business formation in Singapore from hitting a 17-month high in August.
Hong Kong, on the other hand, saw new business formation held roughly steady with last year's pace.
Looking for a property in Singapore? Visit PropertyGuru's Listings, Project Reviews and Guides.
Cheryl Chiew, Digital Content Specialist at PropertyGuru, edited this story. To contact her about this story, email: cheryl@propertyguru.com.sg.