21st February to 27th February 2023
Freehold luxury project Terra Hill sold 102 units or 38% of its 270 units at an average price of $2,650 per sq ft (PSF) during its launch. Meanwhile, about 30 residential projects are facing a critical sales deadline this year, when they will need to sell all unsold units or pay a hefty stamp duty.
1. Terra Hill sells 38% of units on launch weekend
Terra Hill, a freehold luxury condominium project at Pasir Panjang, sold 102 units or 38% of its 270 units at an average price of $2,650 PSF during its launch, reported The Business Times.
Among the units sold were seven of the development's Prestige Collection, which was transacted at an average of over $2,850 PSF, revealed joint developers Hoi Hup Realty and Sunway Developments.
Wong Siew Ying, Head of Research at PropNex Realty, said the $2,650 PSF average price is "reasonable" for a freehold project within the city fringe area.
She added that the take-up rate of more than one-third is also within their expectations, given the high interest rates.
Huttons' Senior Research Director Lee Sze Teck said buyers comprised a mix of investors and homebuyers mostly residing in the west of Singapore.
"Both groups of buyers were drawn to the proximity to the future upcoming Greater Southern Waterfront, which is starting to take shape," said Lee.
2. Nearly 30 residential projects face an Additional Buyer's Stamp Duty (ABSD) deadline in 2023
For this year, about 30 residential projects are facing a critical sales deadline, in which they need to sell all unsold units or pay a hefty stamp duty, reported The Business Times.
These projects have around 1,400 unsold units as of mid-February 2023, most of which are in the Core Central Region (CCR).
Projects that seemed to be most at risk include Cuscaden Reserve, which has 182 unsold units, The Landmark (173 unsold units) and Leedon Green (108 unsold units), which showed data consolidated by Huttons and ERA Realty.
Nicholas Mak, Head of Research and Consultancy at ERA Realty, said developers can avoid the stamp duty payment by offering discounts, higher commissions to agents, interior design or discounts for renovation works.
Developers may also sell the remaining units to a property fund, which can lease the units for recurrent income or sell them for profit, said Lee Sze Teck, Senior Research Director at Huttons.
Meanwhile, it may be more cost-effective for projects with lower take-up rates to pay the ABSD on the land price, said Edmund Tie's Head of Research and Consulting Lam Chern Woon.
3. Hong Heng Mansions goes en bloc with a $133 million price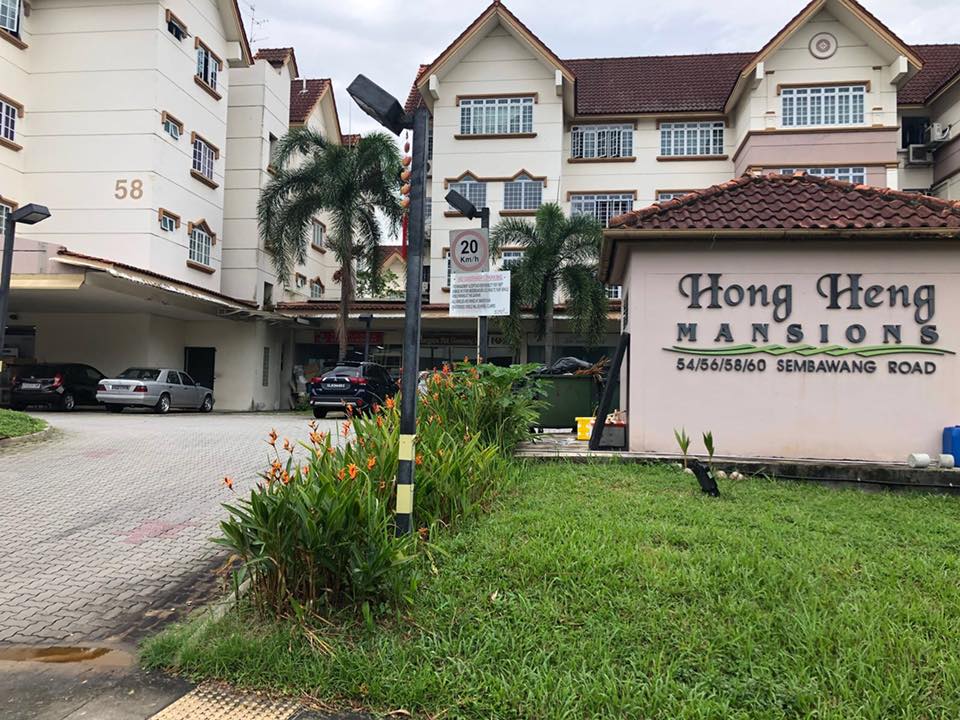 Hong Heng Mansions has been launched for collective sale with a reserve price of $133 million, reported The Business Times citing marketing agent ERA Realty Network.
Excluding the land betterment charge, the $133 million price works out to a land rate of around $1,208 PSF ppr.
Located along Sembawang Road, the freehold development in District 26 features 41 residential units and 17 commercial units. It sits on a 78,644 sq ft site that is zoned for mixed-use under the 2019 Urban Redevelopment Authority (URA) Master Plan with a gross plot ratio of 1.4.
ERA said the site could be redeveloped up to a gross floor area of around 110,102 sq ft, subject to the approval of relevant authorities.
The tender for Hong Heng Mansions closes on 18 April 2023.
4. Return of Chinese buyers not to affect Singapore property prices
While interest from mainland Chinese buyers for Singapore properties is anticipated to increase following the reopening of China's international borders, property analysts do not believe it will cause a significant impact on property prices since foreign buyers account for a small proportion of total transactions, reported CNA.
In January 2023, National Development Minister Desmond Lee revealed that Singapore citizens acquired 79.9% of private residential properties in 2022, while Singapore Permanent Residents (SPRs) and foreigners made up 13% to 16% and 3.5%, respectively.
Analysts pointed out that although Chinese buyers tend to account for a sizeable portion of foreign property acquisitions, they make up a tiny portion of overall transactions.
They noted that the ABSD of 30% and the uncertain economic climate will also limit demand.
Nonetheless, they expect the luxury property market to benefit from the expected surge in Chinese buyers. In fact, super-wealthy Chinese were said to be behind some of the acquisitions at the luxury condo project Klimt Cairnhill in January 2023.
5. Property agents do not expect resale HDB flat sellers to raise prices
Despite the hike in CPF housing grants for first-time buyers, property agents do not expect sellers of resale HDB flats to raise their asking prices as it may deter potential buyers.
This comes as buyers are generally price-sensitive, given the uncertain economic condition, they told TODAY.
PropNex agent Fahmi Hassan noted that it is still "too early to tell" the kind of impact the new measures would have on flat prices, adding it may take around two to three months before the effect would manifest.
"Personally, I don't think prices may even go up at all because if they do, first-time buyers may not be able to afford them. There will definitely be sellers who try to increase prices, but it won't be a drastic increase in the overall market," said PropNex agent Shiddique Asyraaf.
Moreover, demand for resale flats has decreased since the implementation of the last cooling measures in September last year, making it unlikely for sellers to raise prices, said Arasan of ERA Real Estate.
6. "No shame" in admitting a mistake, said Deputy Prime Minister and Minister of Finance Lawrence Wong on WP's 2019 paper on housing policy
The Worker's Party's (WP) 2019 paper on Singapore housing policy has been the subject of debate on 24 February 2023, with Mr Wong saying the WP had suggested cutting back on the construction of new HDB flats and should acknowledge it was wrong in its assessment, reported CNA.
He pointed out that if the Government had taken WP's advice, the situation with property prices would have been worse.
Mr Wong said the WP should show humility and that there is 'no shame' in admitting a mistake, noting that no one could have predicted what happened.
WP Members of Parliament (MPs), however, said the Government's interpretation of its 2019 paper was taken out of context.
WP Chief and Leader of the Opposition Pritam Singh argued that the paper was published in response to the Voluntary Early Redevelopment Scheme (VERS) and that its focus was on long-term housing dynamic trends.
He noted that the People Association Party (PAP) seemed to be silent on the paper's context and was using it to gain political mileage.
7. Lowering the land cost for HDB flats would destabilise the property market
Mr Wong said the Government cannot simply lower the cost of state land to reduce the price of HDB flats, noting that doing so would destabilise the property market, reported The Business Times.
Moreover, it would not address the underlying cause – which is the COVID-era supply issues.
"You cannot just change the way land is priced to bring down the selling price of flats," said Mr Wong in response to MPs who raised concerns and proposed solutions relating to public home prices.
"If you were to try to artificially 'reset' the housing market in this manner, you will risk destabilising the entire property market."
He explained that the root cause of high prices can be addressed by ramping up the supply of Build-to-Order (BTO) flats and catching up with the pandemic-induced delays.
And since it will take some time for supply to increase, the Government has addressed demand by introducing greater BTO priority for first-timer families with children as well as couples aged 40 and below.
The Government has also raised the CPF housing grant for resale flats to assist first-time families and singles with more urgent housing needs.
8. MPs voice concern over higher resale grants' impact, call for more support for families
MPs have voiced their concern over the potential impact of the higher housing grants offered to first-time buyers of resale flats and asked for more data and support, especially for families, reported The Business Times.
MP Gan Thiam Poh (Ang Mo Kio GRC), is worried that the hike in CPF housing grants may lead to a sudden increase in resale prices, affecting non-first-time buyers, including divorcees, and families who have fallen on hard times.
MP Gerald Giam (Aljunied GRC) said the Government should not rely on raising housing grants, but rather provide help to "empty nesters" who wish to sell their larger flats to secure 2-room Flexi flats and Community Care Apartments.
Non-constituency MP Hazel Poa, on the other hand, called for land sale proceeds to be treated as revenue and used to subsidise public housing.
Meanwhile, Mr Gan suggested extending the additional ballot for BTO application to families with two or more children. At the same time, Sengkang GRC MP He Ting Ru called for singles to be allowed to purchase new flats from the age of 28 instead of 35.
9. Rents for non-landed private homes to rise 10 to 15% in 2023
Huttons Asia expects rents for non-landed private homes to rise by 10% to 15% in 2023, following a 29.7% jump in 2022.
In an article posted in The Business Times, Lee Sze Teck, Senior Research Director and Mark Yip, Chief Executive Officer of Huttons Asia, attributed the rental hike in 2022 to several factors, including the active hiring of companies, hybrid work, tight supply of homes for rent, return of foreign students, co-living operators and rising interest rates.
They noted that the upcoming completion of 17,427 private homes this year may also contribute to higher rental prices.
"While there may be a large number of completed homes in 2023, this may only moderate the number of rent increases as new homes usually achieve a higher rent compared to older homes," they said.
Other factors that could contribute to the rise in rents include property tax hikes, interest rate movements, a slower economic environment and the influx of businesses from China.
10. One-third of HDB car parks to receive Electric Vehicle (EV) charging points by end of 2023
The Land Transport Authority (LTA) has launched the first six electric vehicle charging points under its large-scale tender, with the charging points located at two public car parks in Boon Lay and Telok Blangah, reported CNA.
Transport Minister S Iswaran described the deployment of the chargers as an important step in building the electric vehicle ecosystem in Singapore, saying it eliminates the range anxiety among drivers.
"By making charging points ubiquitous across the island, especially in our HDB (car parks), we hope to eliminate that range anxiety and therefore encourage greater adoption," he said.
LTA revealed that 2,000 more charging points will be deployed in more than 700, or one-third of HDB car parks by the end of 2023. This is in line with Singapore's target of deploying 12,000 EV charging points by 2025.
Meanwhile, LTA shared that it has set up a subsidiary, EV-Electric Charging Pte Ltd, to oversee the EV charging points' deployment.
The subsidiary will help coordinate the upgrade of supporting electrical infrastructure as well as plan the deployment of charging points.
Looking for a property in Singapore? Visit PropertyGuru's Listings, Project Reviews and Guides. 
Farhan Shafie, Digital Content Specialist at PropertyGuru, edited this story. To contact him about this story, email: farhanshafie@propertyguru.com.sg.