Associate District Directors at PropNex at 27, this dynamic couple walk the talk and display a maturity beyond their years.
All roads led to real estate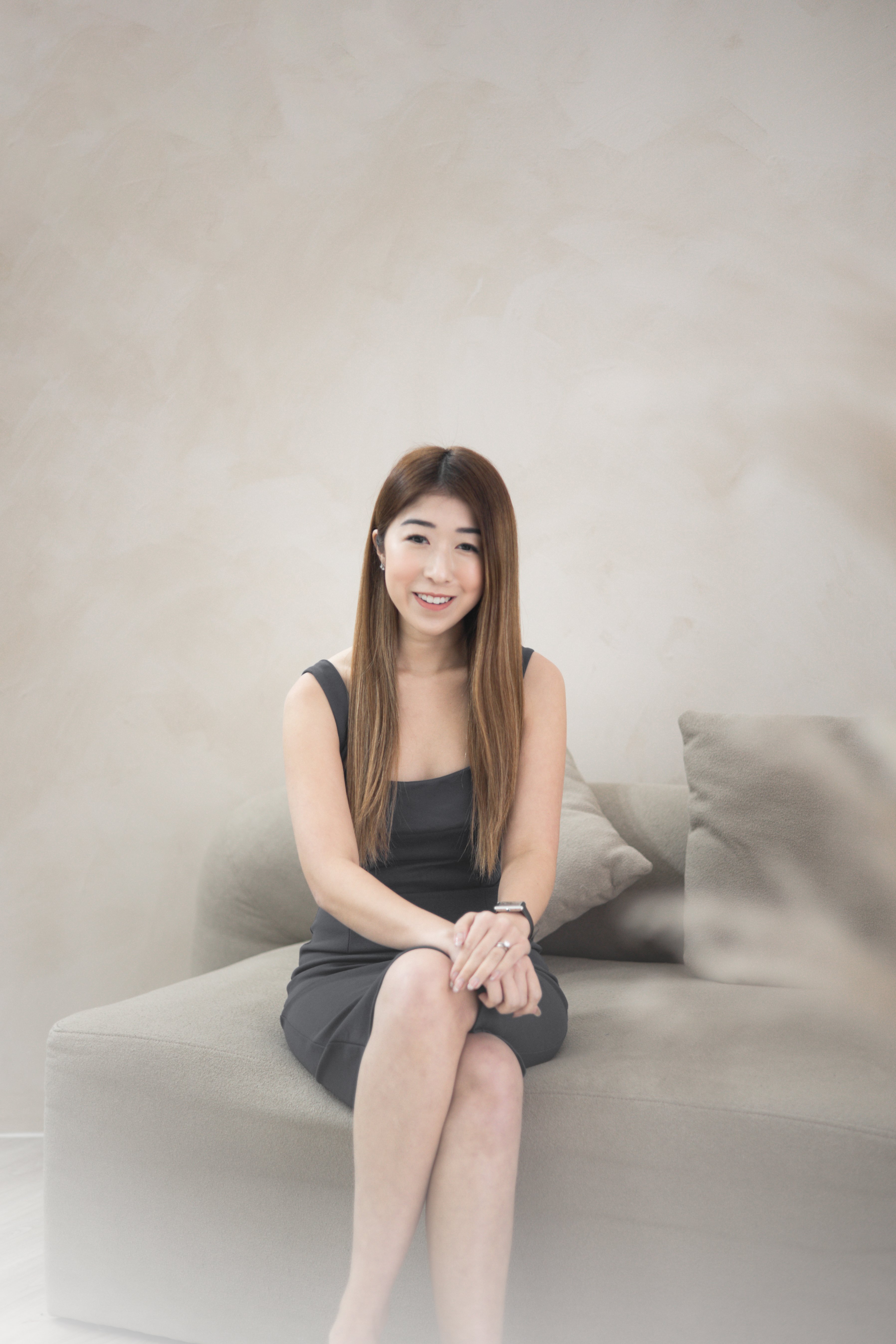 When Vevien graduated from the University of Birmingham with a degree in Business Management with Communications, she has always been drawn to a career that provides flexibility and allows her to take control of her own schedule. Growing up with parents who were avid property investors, Vevien was exposed to the world of real estate from a young age, having moved houses 8 to 10 times. Her firsthand experience of the buying and selling process, coupled with her passion for the industry, ignited her desire to pursue a career in real estate immediately after graduation.
While studying, Vevien worked in the F&B and retail industry focusing on guest relations, where she learnt valuable lessons that have proven useful in her real estate career. Her experience has helped her develop the ability to work well under pressure, cultivate tenacity, and hone her problem-solving skills.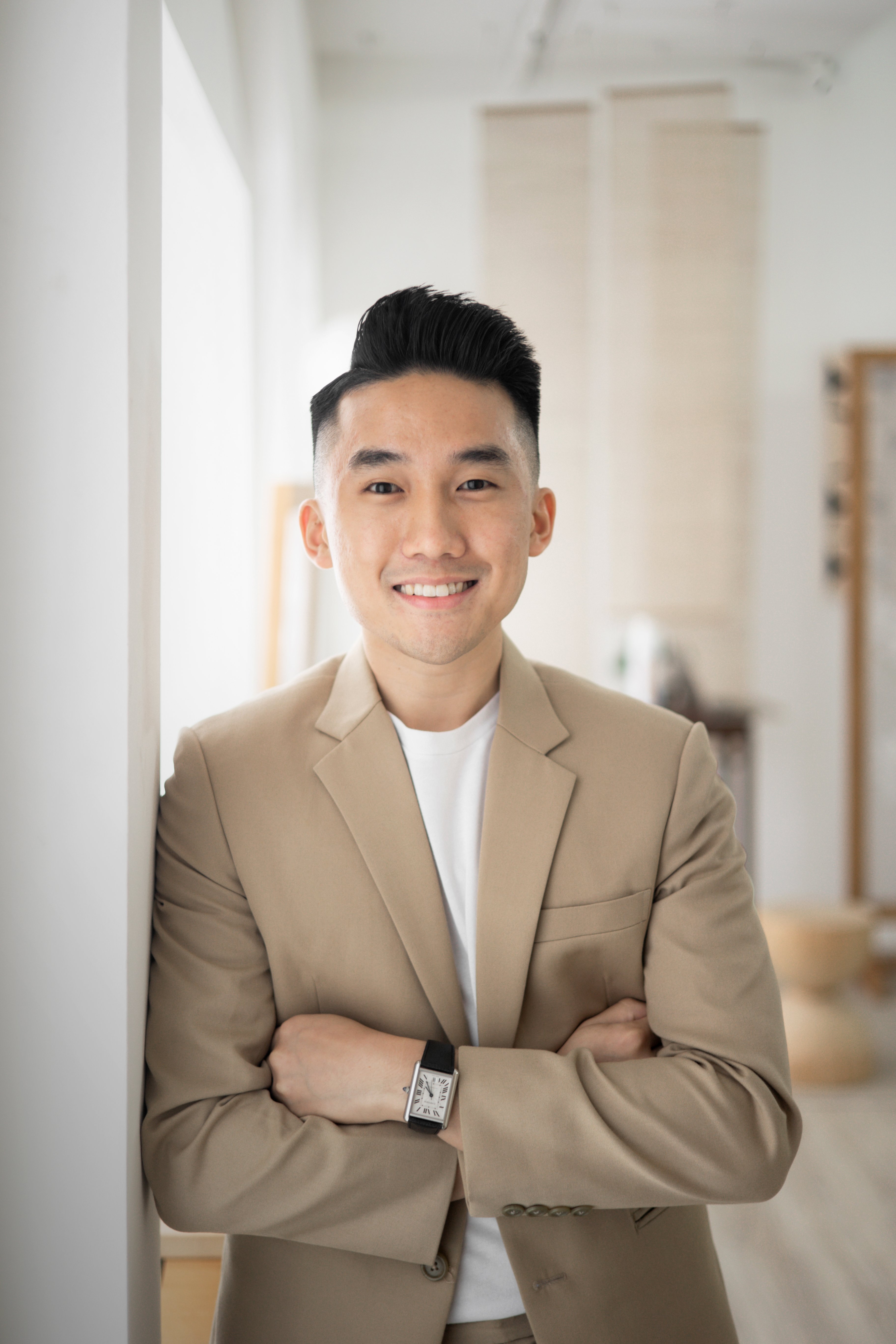 Bernard has been in the industry for 4 years, but his experience similarly extends before that – while pursuing his Bachelor's Degree in Economics & Finance, Bernard worked as a part-time agent and gained valuable insights into the industry. His early exposure to real estate has given him a solid foundation in the field and helped him develop a deep understanding of the market.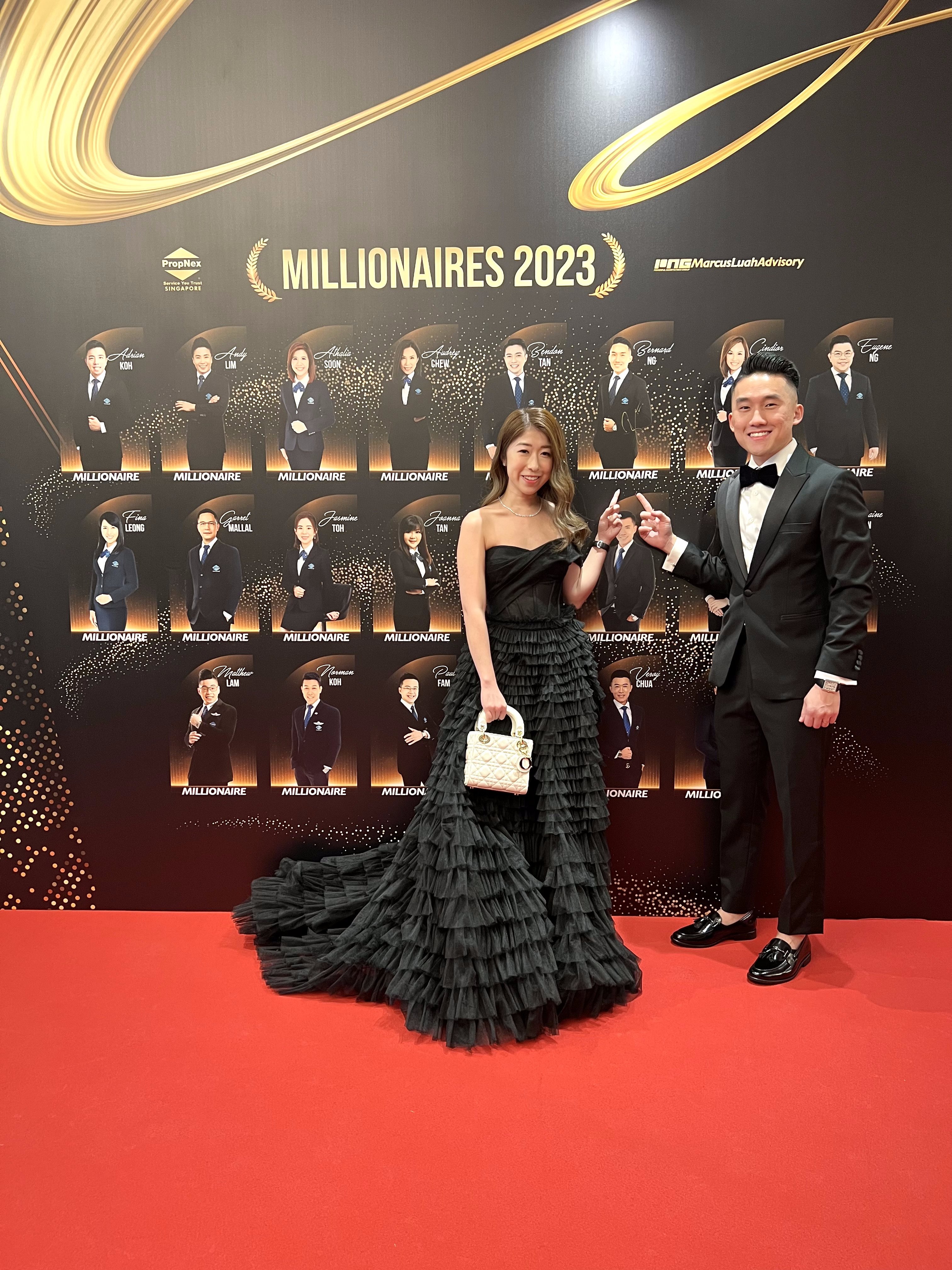 Vevien and Bernard, a dynamic duo in the real estate industry, have been together for 12 years. They have experienced all of life's milestones together, from their secondary school days to building their careers in real estate. Working closely with each other, Vevien and Bernard have honed their skills and strengths as partners in the industry. Vevien excels in market knowledge and providing top-notch service to her clients, while Bernard brings deep expertise in data analysis and numbers.
Building resilience and relationships from the beginning
One of Vevien's biggest challenges in the early years was learning to handle rejections and face disappointments. Over time, she allowed herself to embrace rejections and not take them too personally – Rather than seeing individual failures as setbacks, she now views them as opportunities to spur her on to achieve greater heights.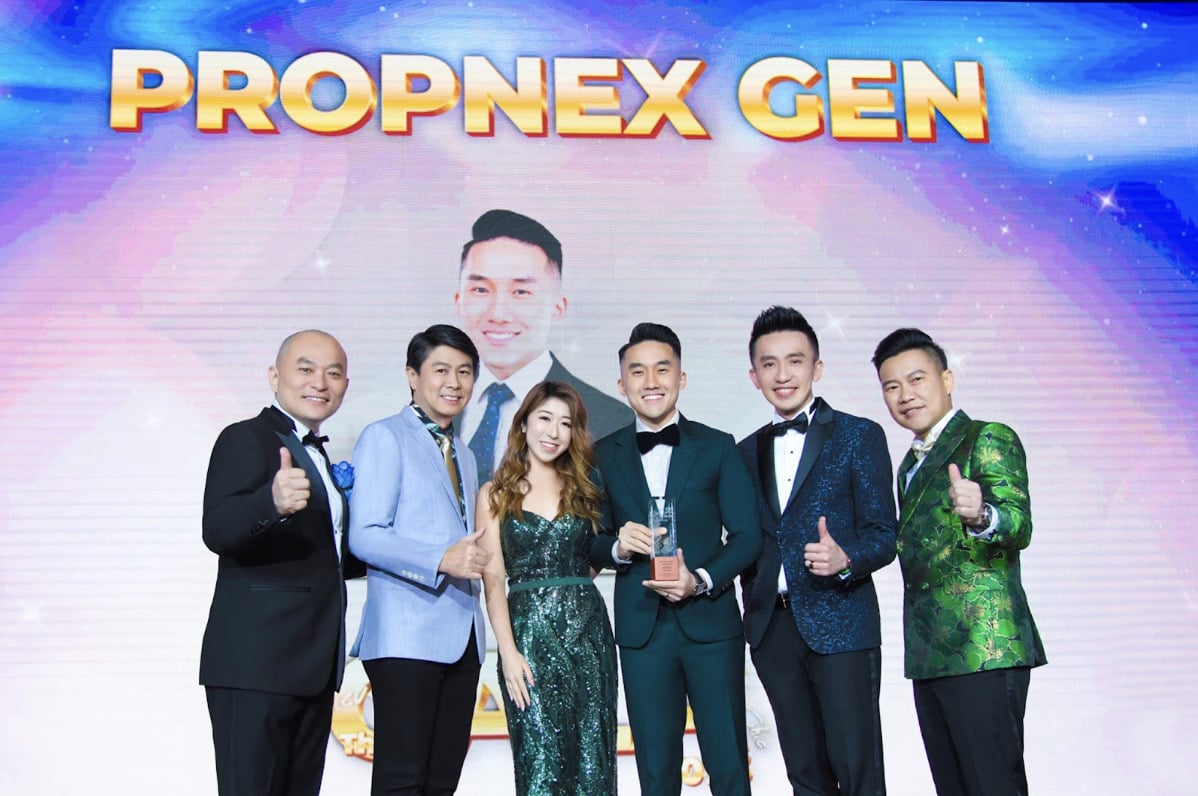 As young agents, another challenge they faced when starting out was having to build their clientele from the ground and working purely on cold leads in the first few years in industry. Being young, most of Vevien's and Bernard's clients are older than them. They often explain to their clients that age does not equate to experience and expertise. In fact, their clients think that their youthfulness can be an asset in the industry as they bring fresh perspectives and energy to the table.
Being highly analytical individuals, Vevien and Bernard pride themselves on a strong focus on research and analysis, bringing a level of expertise and professionalism to the industry that is unmatched. With that, their ability to provide their clients with the most up-to-date market insights and historical data to help them make informed decisions when it comes to their property and investment portfolios. Clearly, their approach is not transactional but relationship-driven; they set themselves apart from the crowd as knowledgeable agents with strong work ethics and a focus on building relationships with their clients and growing with them in the long-term. For them, their clients are not just customers; they are partners in their journey towards achieving their financial goals.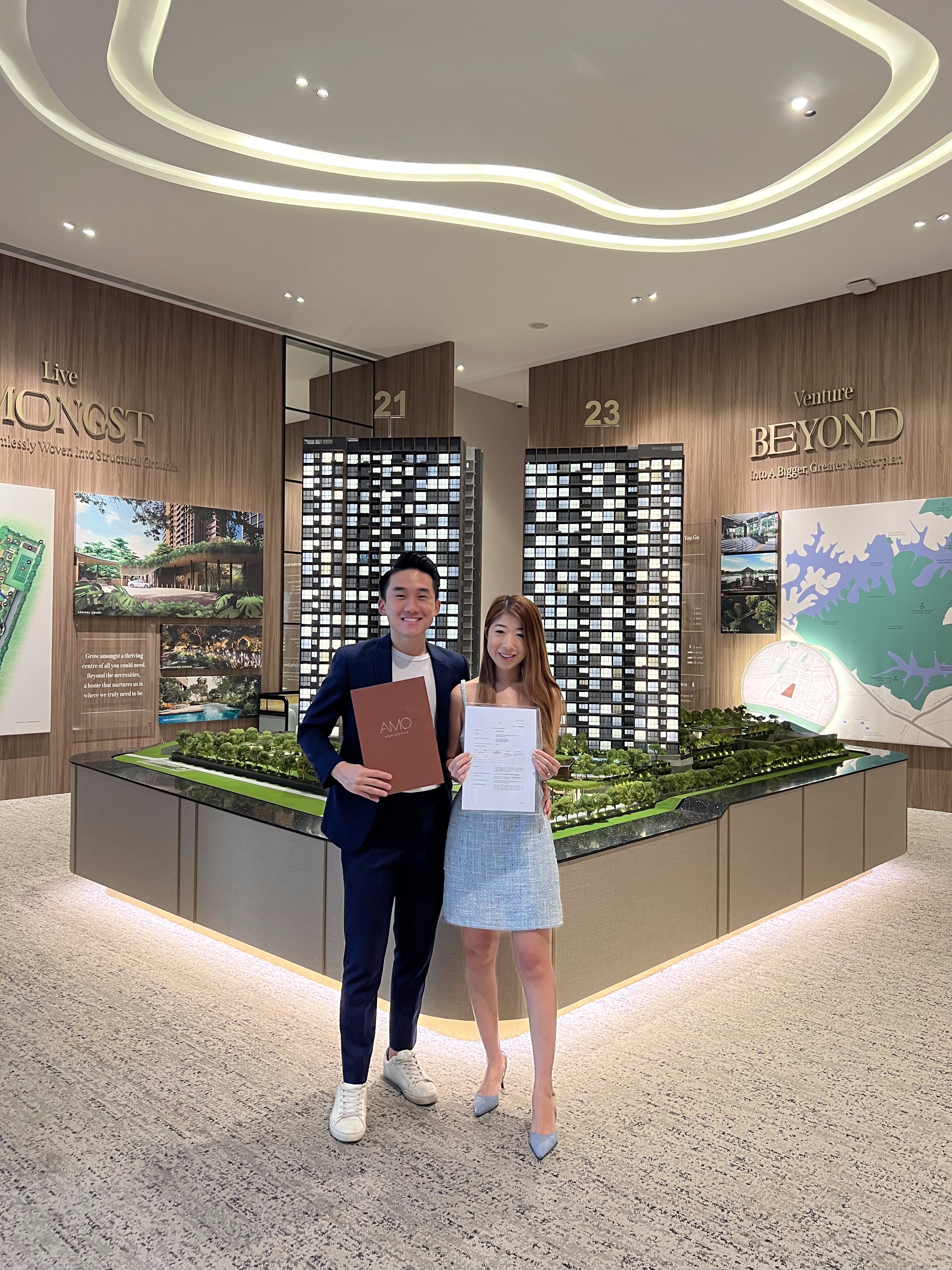 Specialising in residential properties across the country
From the start of their careers, Vevien and Bernard's main focus has been on residential properties. Covering all residential properties across the whole of Singapore, they are aware that clients from different regions have varying profiles and desires. They have thus developed a unique approach to serving their clients that is tailored to their individual needs. From financial computations, various housing options, statistical data and a clear property road map.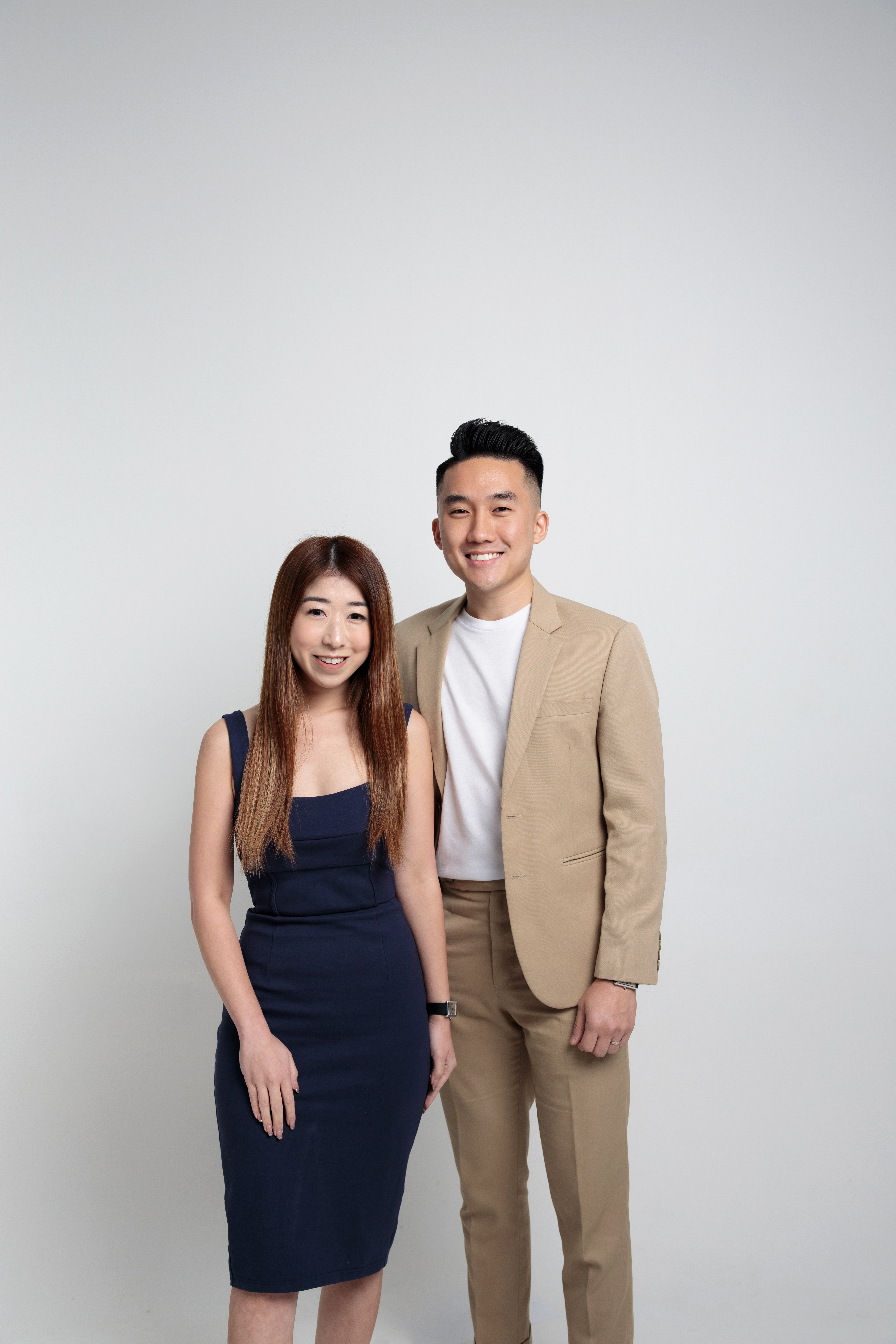 Over the past few years, they have seen the HDB upgraders' market growing, and this sector has been their area of focus right from the beginning. In the last year, part of the focus shifted toward the Core Central Region, comprising Districts 9, 10, and 11 around the Orchard, Newton, and Bukit Timah / Holland area.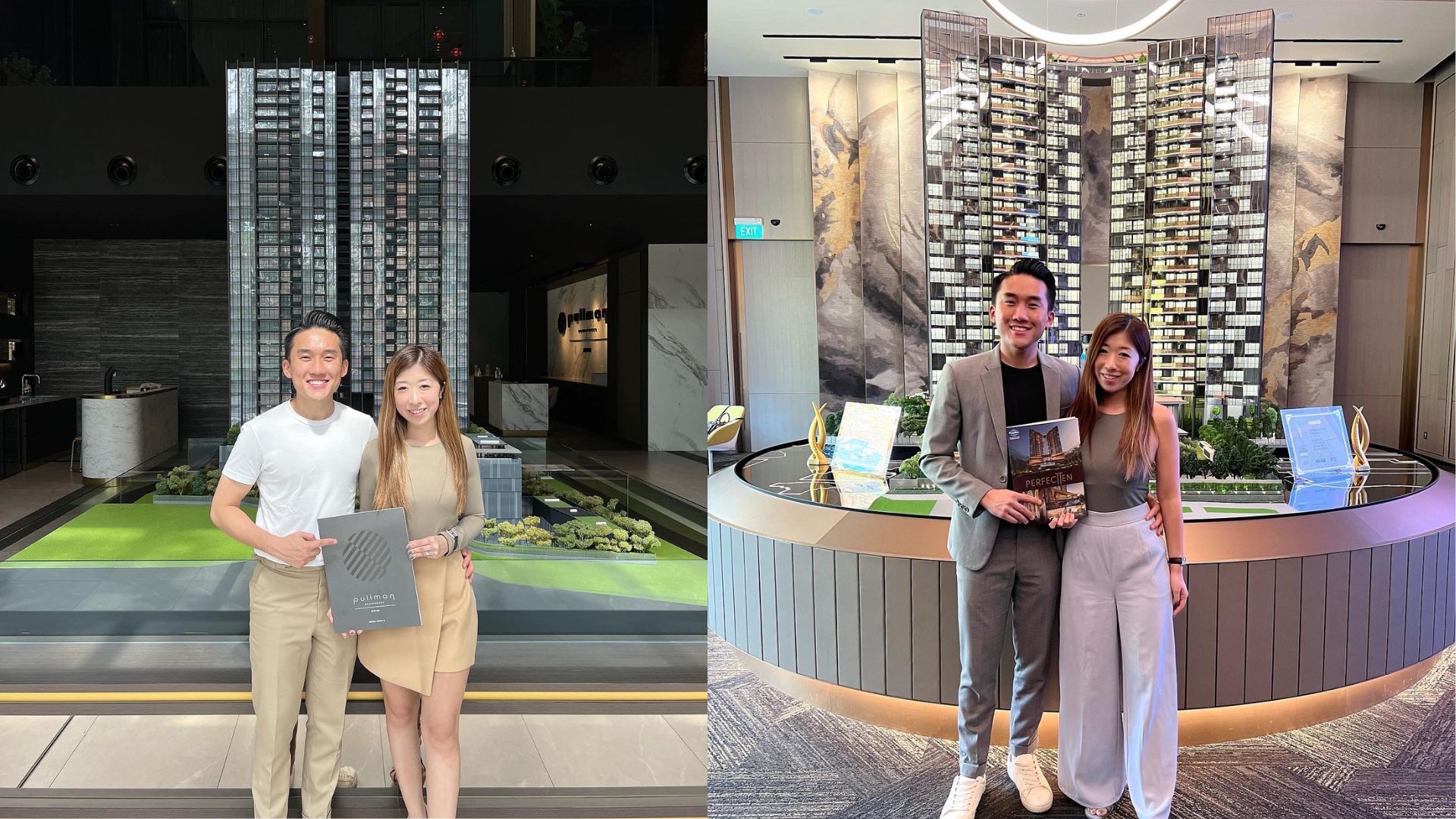 Achievements and Foresights of two Forward-Thinking Realtors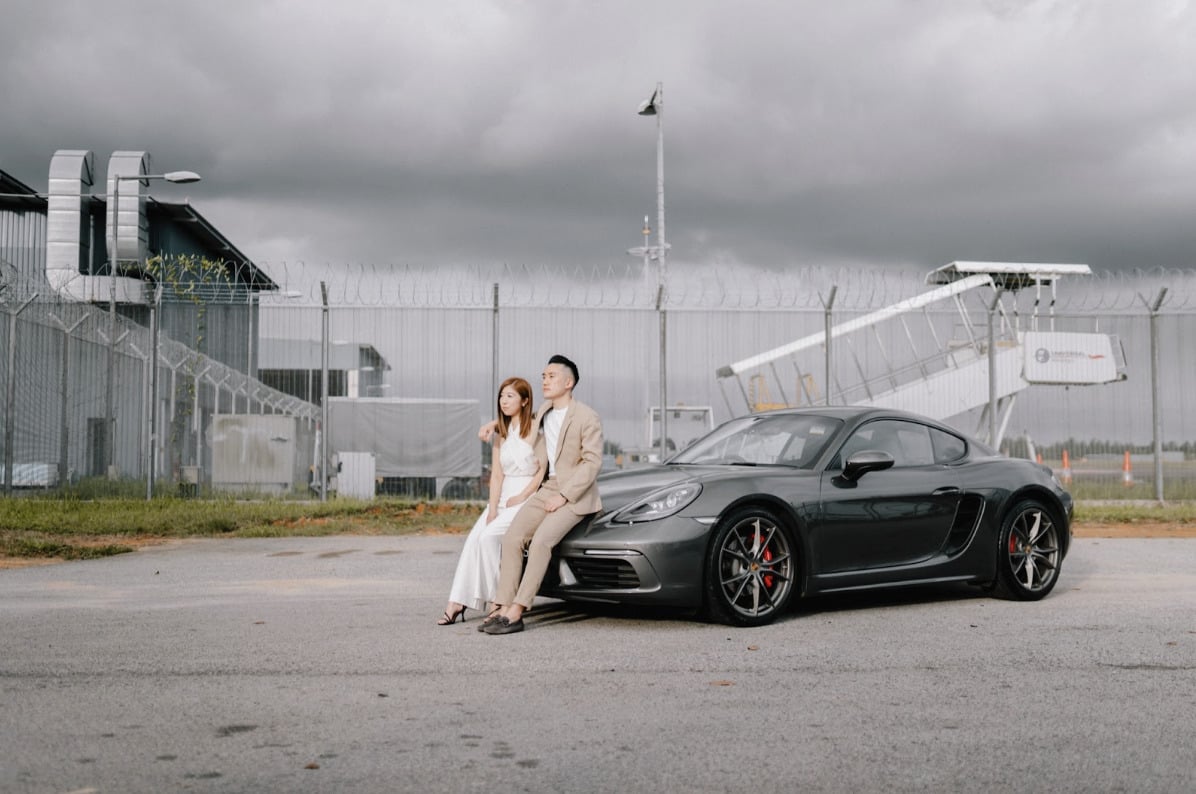 At the start of 2021, despite the challenges of the COVID-19 pandemic, Vevien and Bernard came in No. 1 in the PropNex Gen category and maintained this title for the year 2022. They have bagged a total of 16 Super Platinum and Platinum awards in just the last 2 years.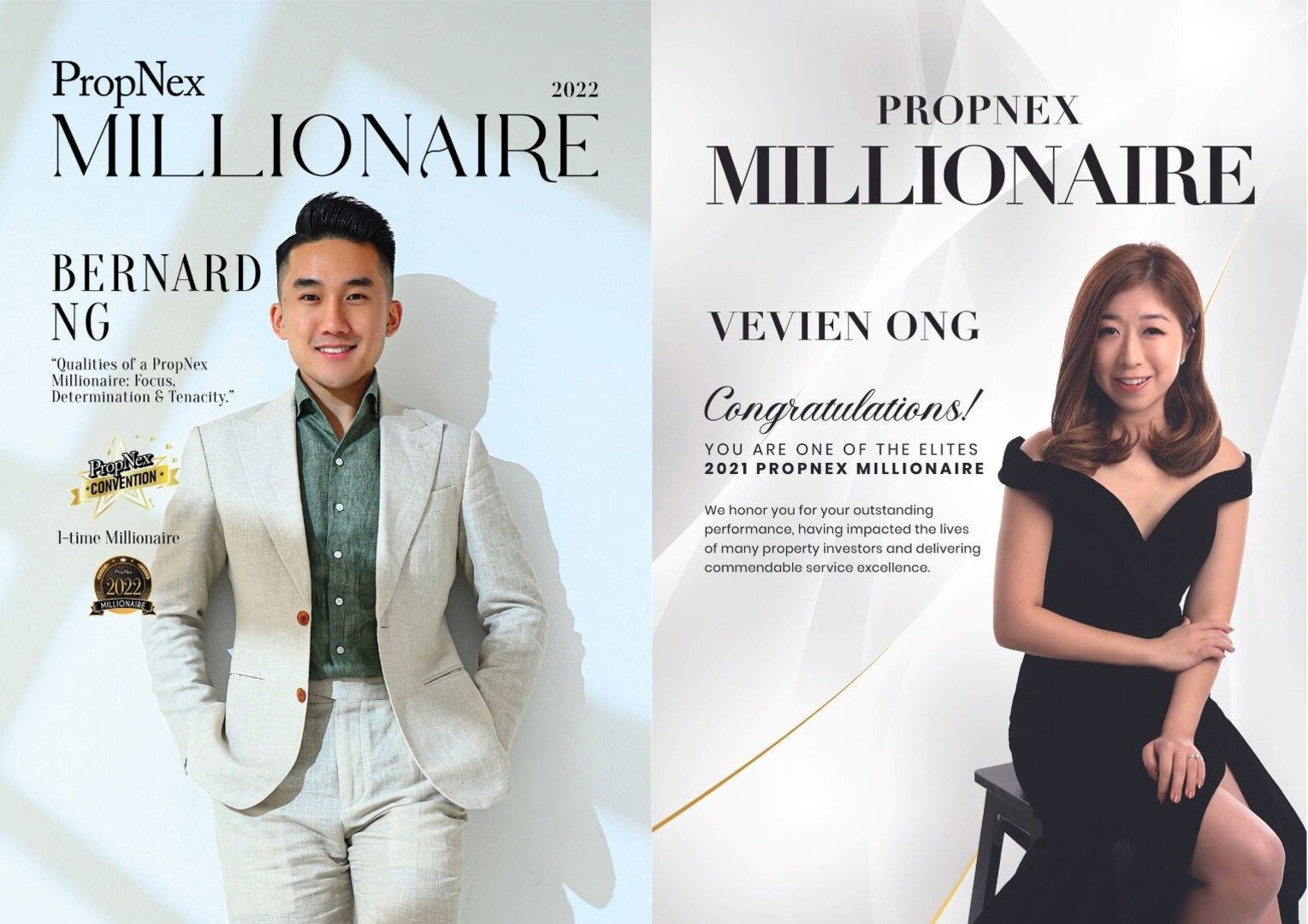 On an individual level, the couple are powerhouses in their own right. Vevien is the youngest female millionaire in PropNex and came in Top 20 agents in PropNex in 2021. She also emerged as the Top 10 Project Sales Transactor in the PropNex Annual Convention 2022. Bernard also attained the millionaire title in 2022, making the both of them a consistent top achiever belonging in the TOP 1% in the largest agency in Singapore and in the whole real estate industry.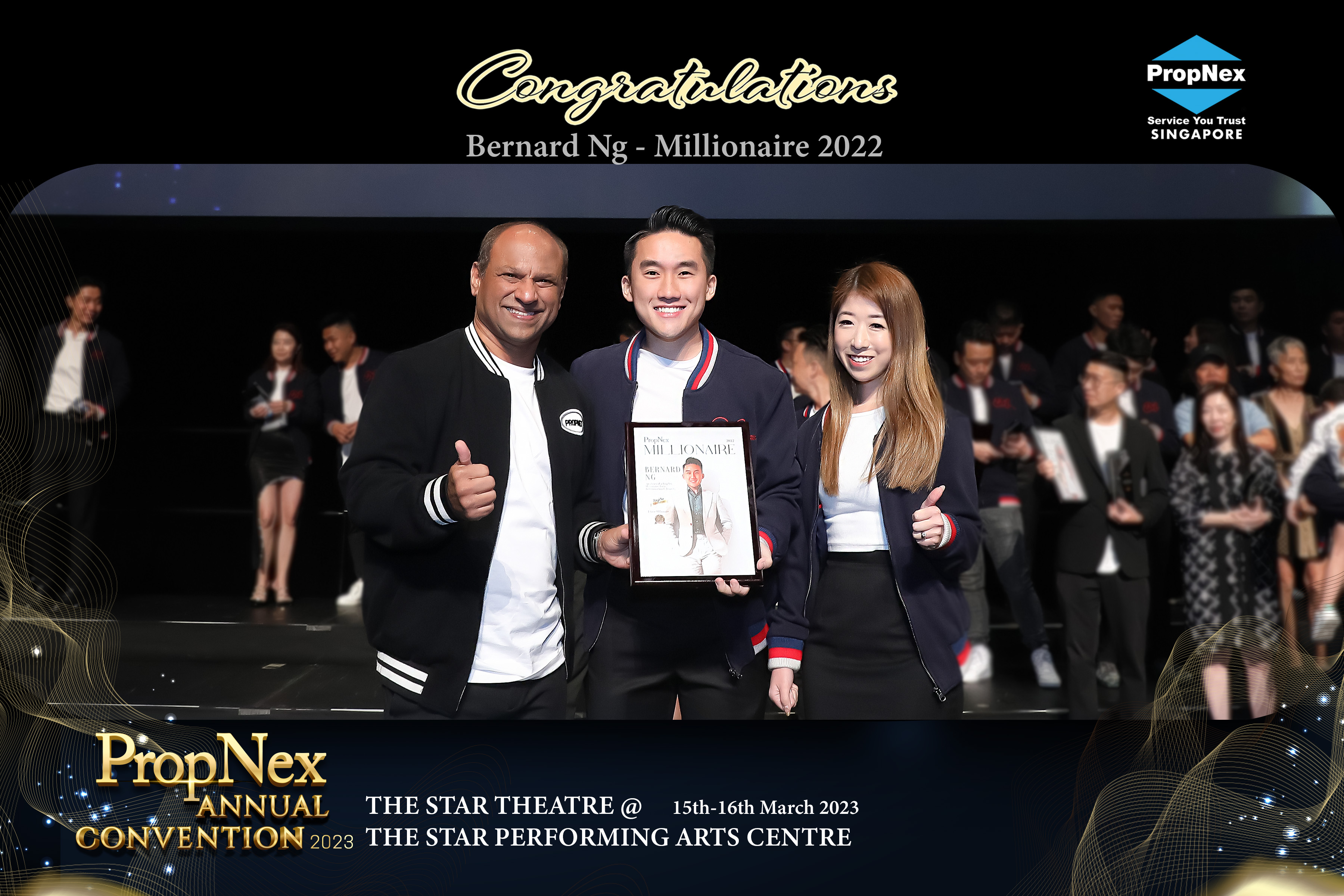 Within 2 years of entering the business, Vevien & Bernard at age 25 then, have managed to acquire a 2-bedroom investment property near River Valley that has generated more than 300k in profits. Not only that, they are also in the process of purchasing a second property. Their achievements highlight the importance of having a thorough understanding of the market and is a testament to their commitment to their craft and belief in the value of real estate in Singapore.
Learning lessons through small beginnings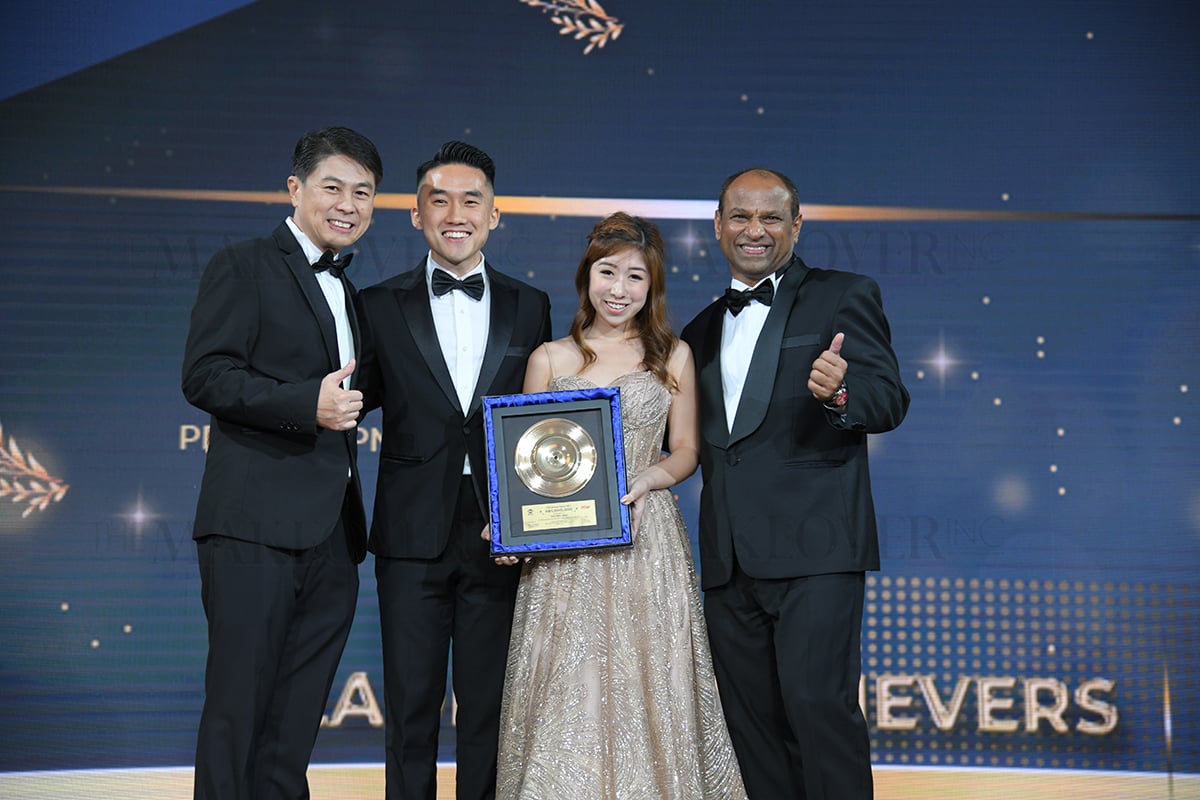 Despite their stellar achievements, they are most proud of one particular occasion involving a client, whom they met through a rental listing. Vevien had served him while he was a tenant, and maintained a strong relationship with the client. The transaction ended up growing from 1 rental to 3 sale and purchase transactions!
This happened because she had left a strong first impression when she was handling his rental transaction, leading him to approach her again when he was in the midst of selling his property. They successfully sold his property – and after the client cashed out $1 million worth of profits from the sale, they went on to assist him to buy 2 more properties, 1 for the client's ownstay, and another for investment purposes.
Vevien and Bernard feel that this is a powerful reminder that every deal, no matter how small, has the potential to lead to something bigger. By treating every client with the same level of professionalism and dedication, regardless of the size of the deal, you can build a reputation for reliability and excellence. From this, they gained a client-turned-friend. Until today, their relationship is strong, the client even attended their wedding and they would often catch up for meals.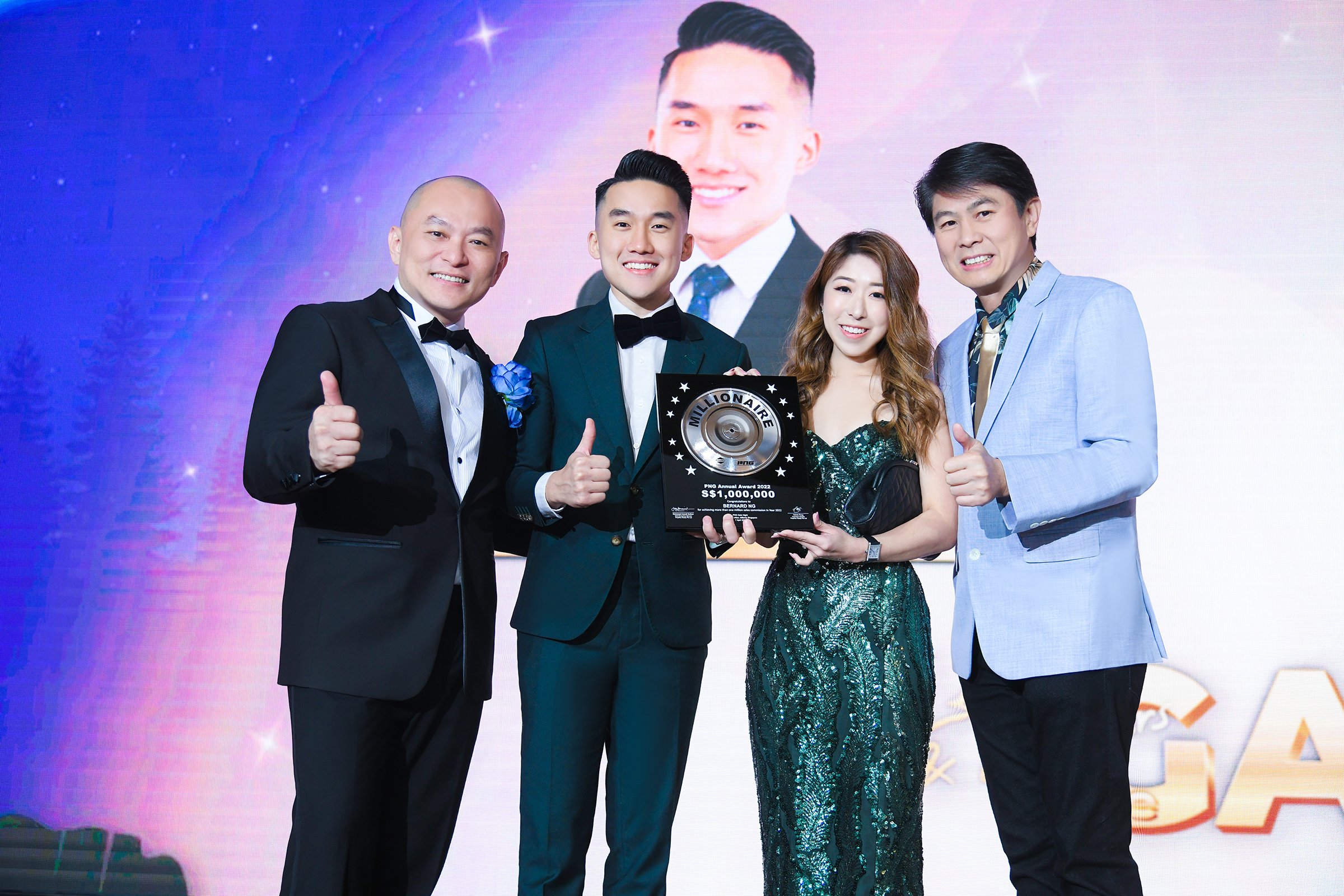 A natural progression to team-building
Team building came naturally for Vevien and Bernard. While they were initially focused on personal sales, team building was the next stepping stone as they believe it is a progression in their quest to build a legacy. Their team, VevienOngAssociates, started with just five agents in the early stages of 2021. Today, they are a team of almost 50 agents and have been promoted to Division level – VevienOngDivision. The team primarily consists of young agents, with the youngest being just 21 years old. They are dynamic, driven, and energetic, and pride themselves on being a close-knit team where everyone is considered a friend above mere team-mates as they work hard and play hard together.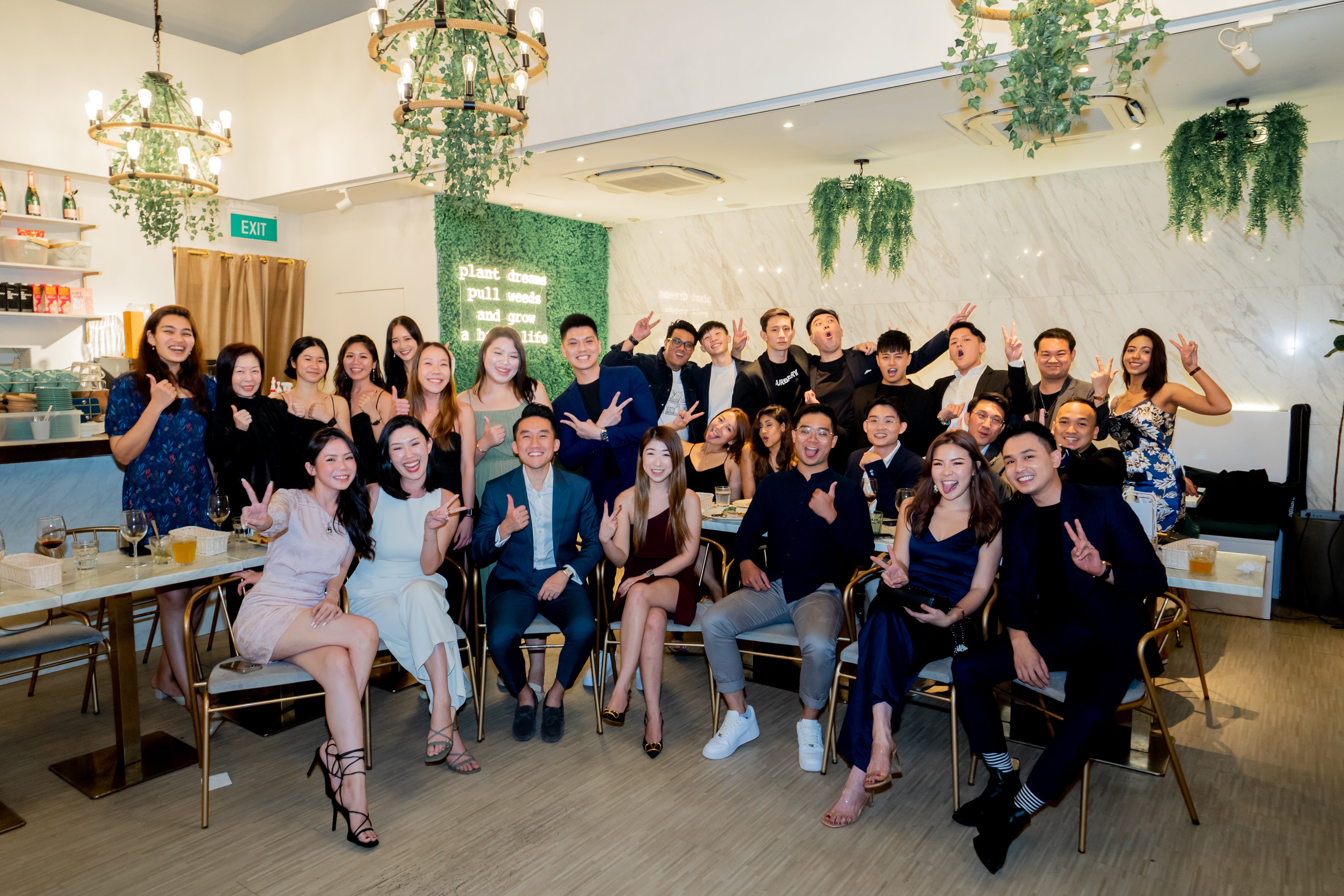 In fact, partnerships are common within the team, and members learn and share across the division. Results have proven with their leadership, with many of their rookie agents crossing 6-figures in their first year in the industry, and their top agent achieving close to 500k in just their second year in the business. They have also successfully groomed PropNex's top rookies for two consecutive years!
Vevien and Bernard truly believe that together, individuals can achieve more. They take pride in nurturing their team, helping them achieve their goals with a customized career road map, and creating a positive and supportive work environment. They believe that together as a team, new heights can be achieved, and they are committed to building a strong and successful team for years to come.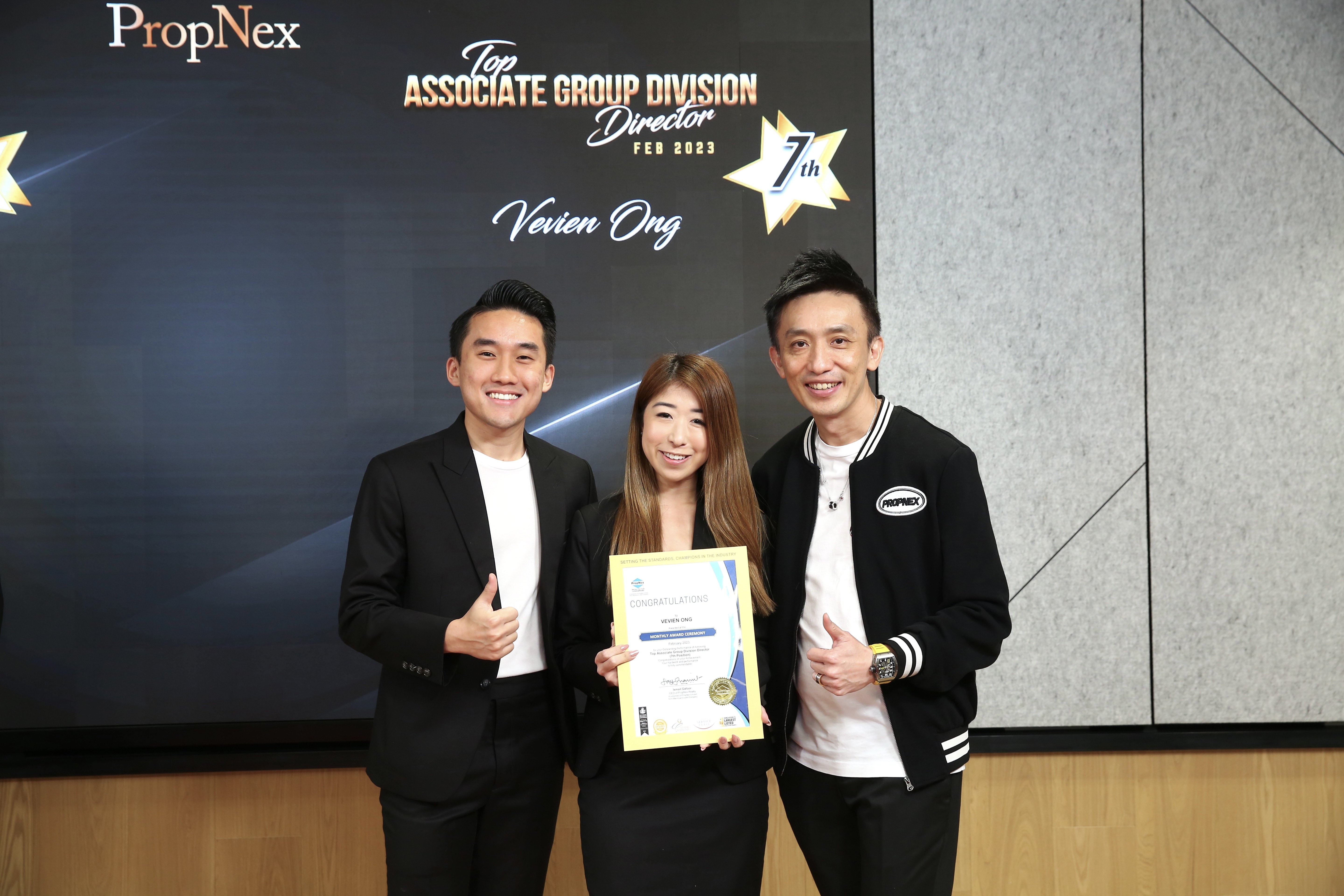 Fostering Success: Building a thriving real estate team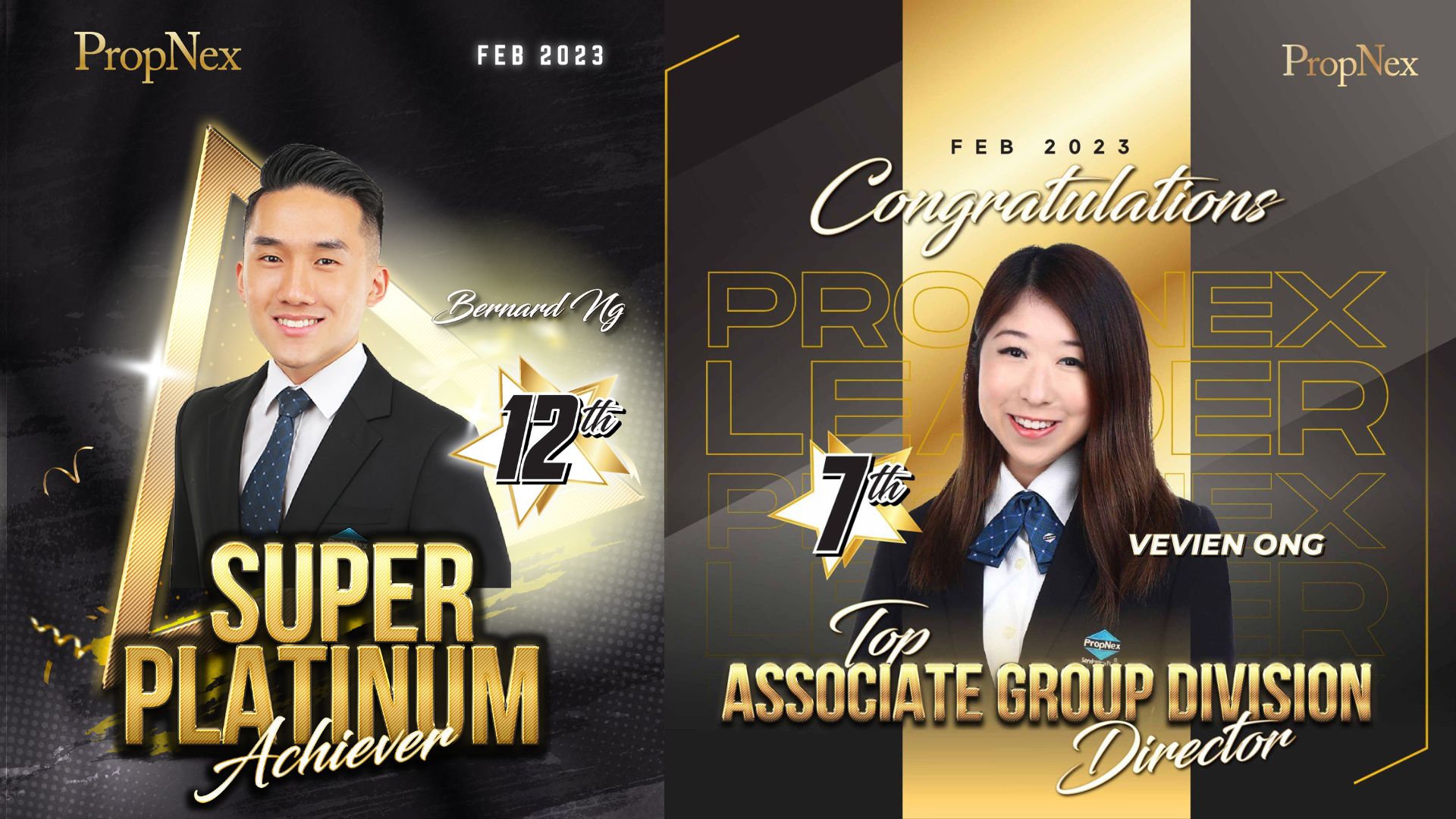 As they continue to grow their team, they are constantly on the lookout for individuals who have a hunger for success, a willingness to learn and share their vision of providing exceptional service to clients. The success in real estate is not just about technical skills, but also about having a growth mindset, a strong work ethic, and a commitment to building meaningful relationships with clients.
As such, Vevien and Bernard provide comprehensive training and mentorship to help new agents build the skills and confidence they need to succeed. With a focus on personalized coaching and 1-to-1 support, the team is committed to helping every member achieve their full potential.
A word for aspiring agents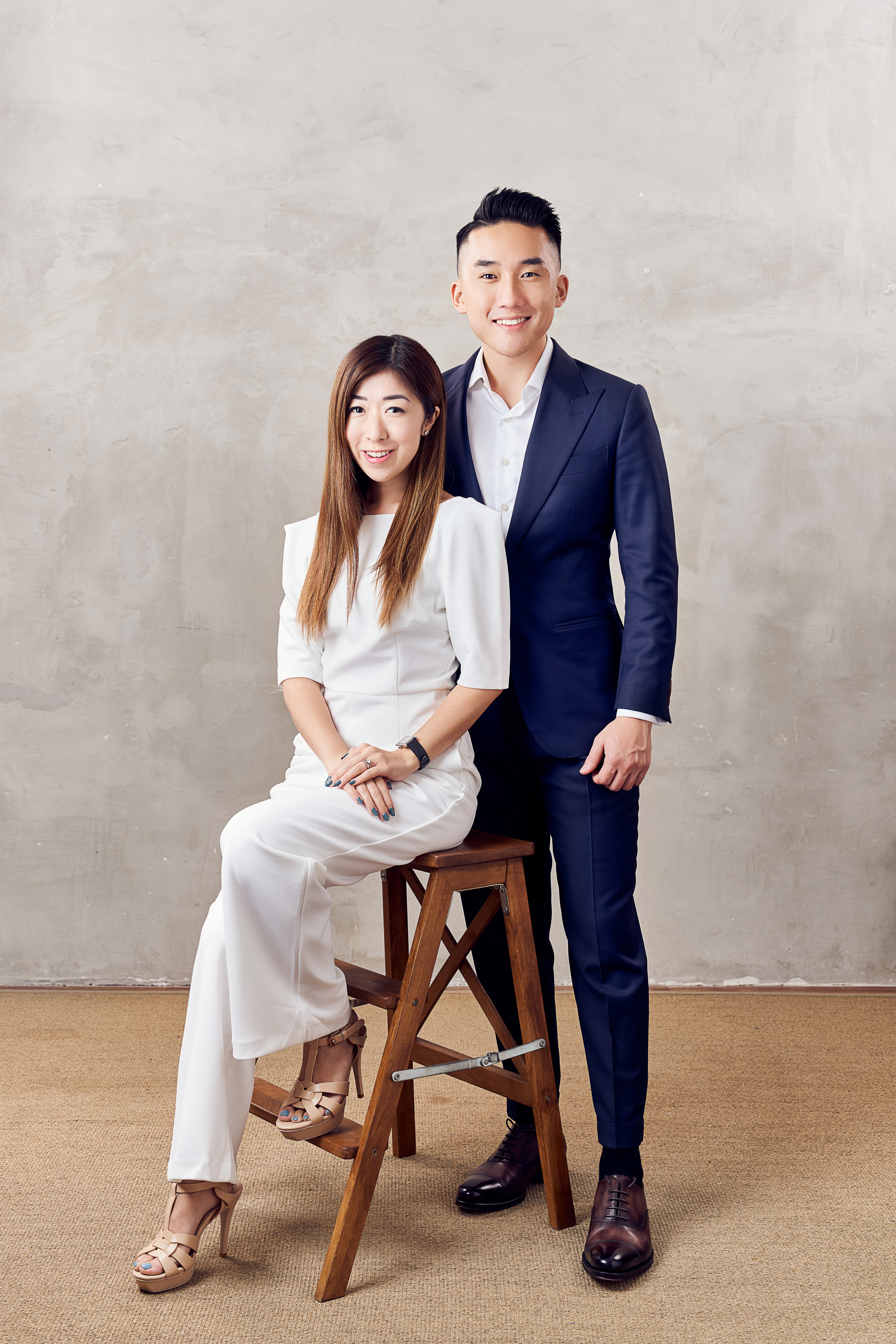 In their view, real estate is an industry that allows individuals to dream endless possibilities and reach new heights. The road to success in real estate can be long and winding but they believe that it is essential to stay focused on your goals, even when things get tough. Building resilience and maintaining a positive attitude can help overcome any obstacles encountered and keep you moving forward.
Above all, one should dream big and believe in their ability to achieve great things in the industry. With dedication, hard work, and a willingness to learn and grow, the sky is truly the limit in real estate.
The post Vevien Ong and Bernard Ng: PropNex Gen Champion Realtors & Youngest millionaire couple for two-consecutive years appeared first on .