The upcoming HDB February 2021 Build-to-Order (BTO) sales exercise will feature projects in four towns comprising a total of 3,700 units. The Bukit Batok BTO is one of two non-mature estate locations in the Feb 2021 BTO launch, with 1,131 units comprising of Community Care Apartments (the first of its kind in Singapore) at Harmony Village @ Bukit Batok and 2-room, 3-room, 4-room and 5-room units at West Hill @ Bukit Batok.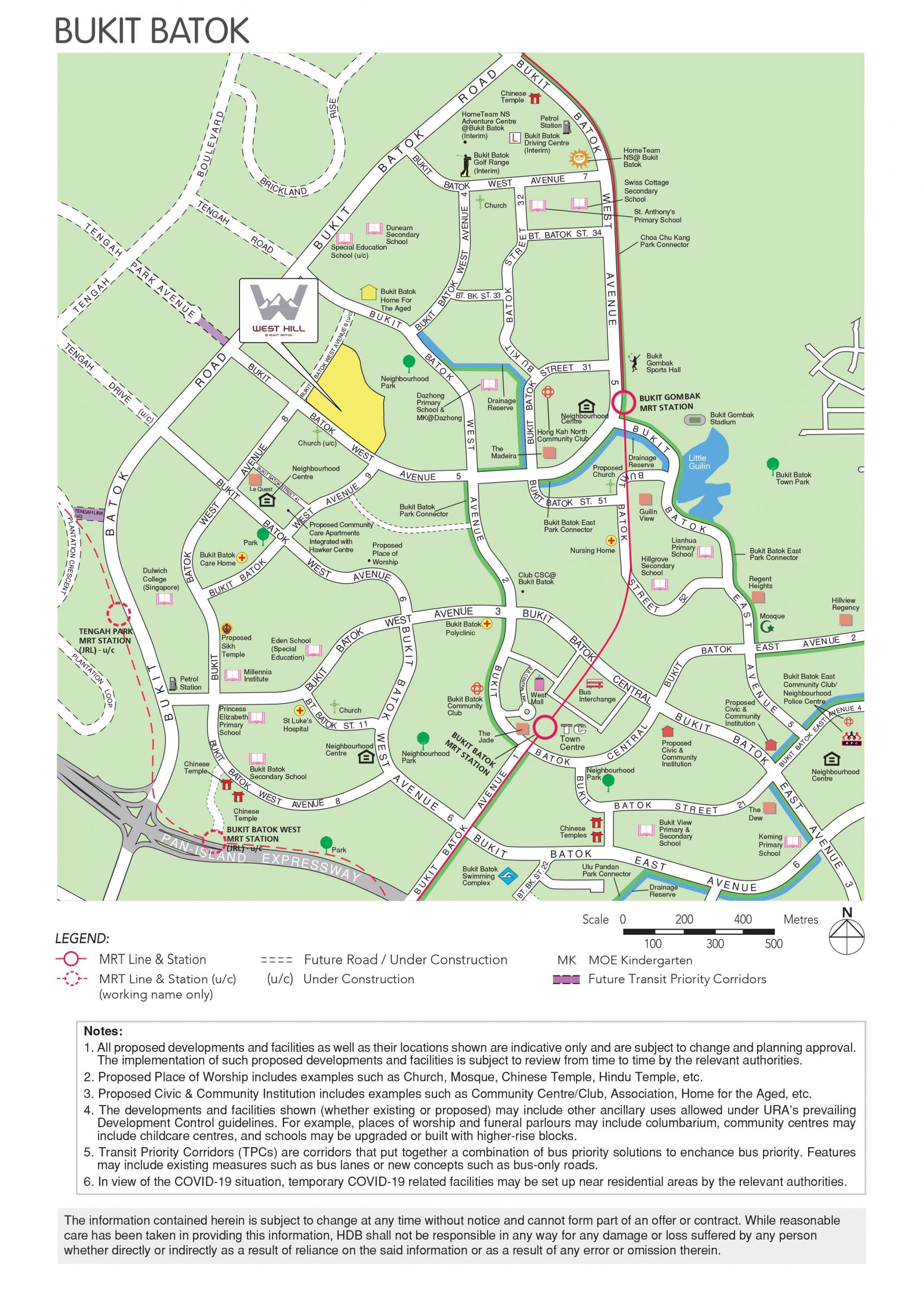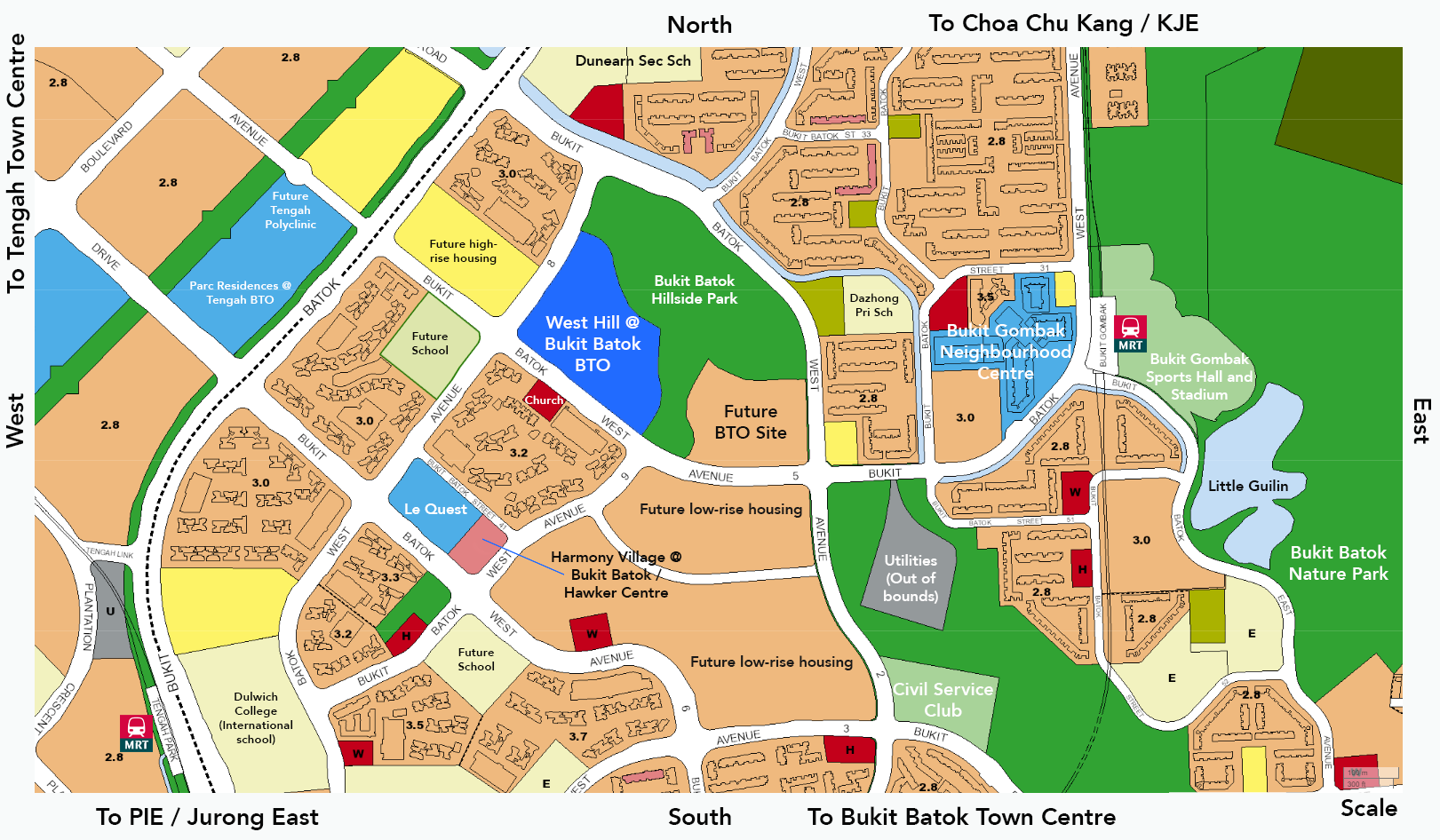 Here's 99.co's detailed review of the Feb 2021 Bukit Batok BTO:
Project Names: West Hill @ Bukit Batok, Harmony Village @ Bukit Batok (Community Care Apartments)
Location: Bukit Batok West Avenue 5 (West Hill @ Bukit Batok), and along Bukit Batok West Avenue 9 (Harmony Village @ Bukit Batok)
Classification: Non-mature estate
Number of units: 1,131 units across two sites (169 units at Harmony Village @ Bukit Batok)
Blocks:
West Hill @ Bukit Batok: 9 residential blocks ranging from 13 to 17 storeys in height
Harmony Village @ Bukit Batok: One block of 15-storeys
HDB's estimated completion date: Q2 2026
Official iIndicative price range for West Hill @ Bukit Batok (excluding grants):
2-room Flexi (Type 1; 38 sqm): From $101,000 to $115,000
2-room Flexi (Type 2; 48 sqm): From $119,000 to $144,000
3-room (68 sqm): From $175,000 to $221,000
4-room (93 sqm): From $260,000 to $334,000
5-room (113 sqm): From $384,000 to $460,000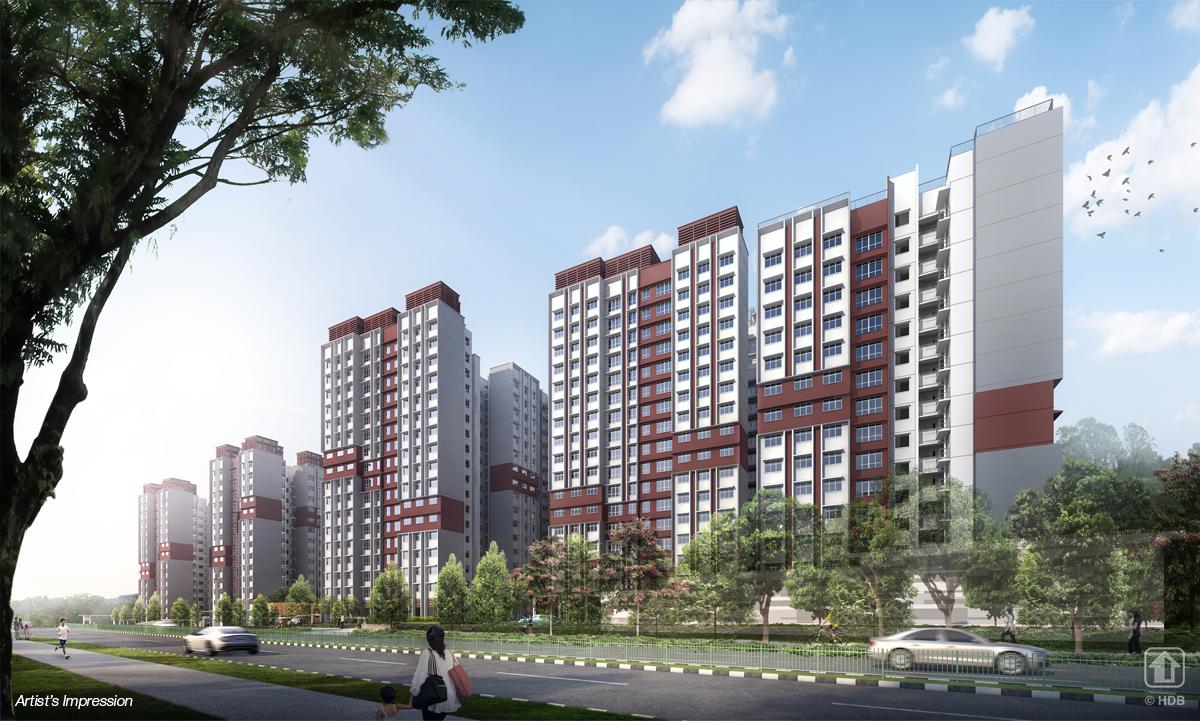 Official indicative price range for Harmony Village @ Bukit Batok:
Community Care Apartments: From $52,000 to $60,000 (Short-lease)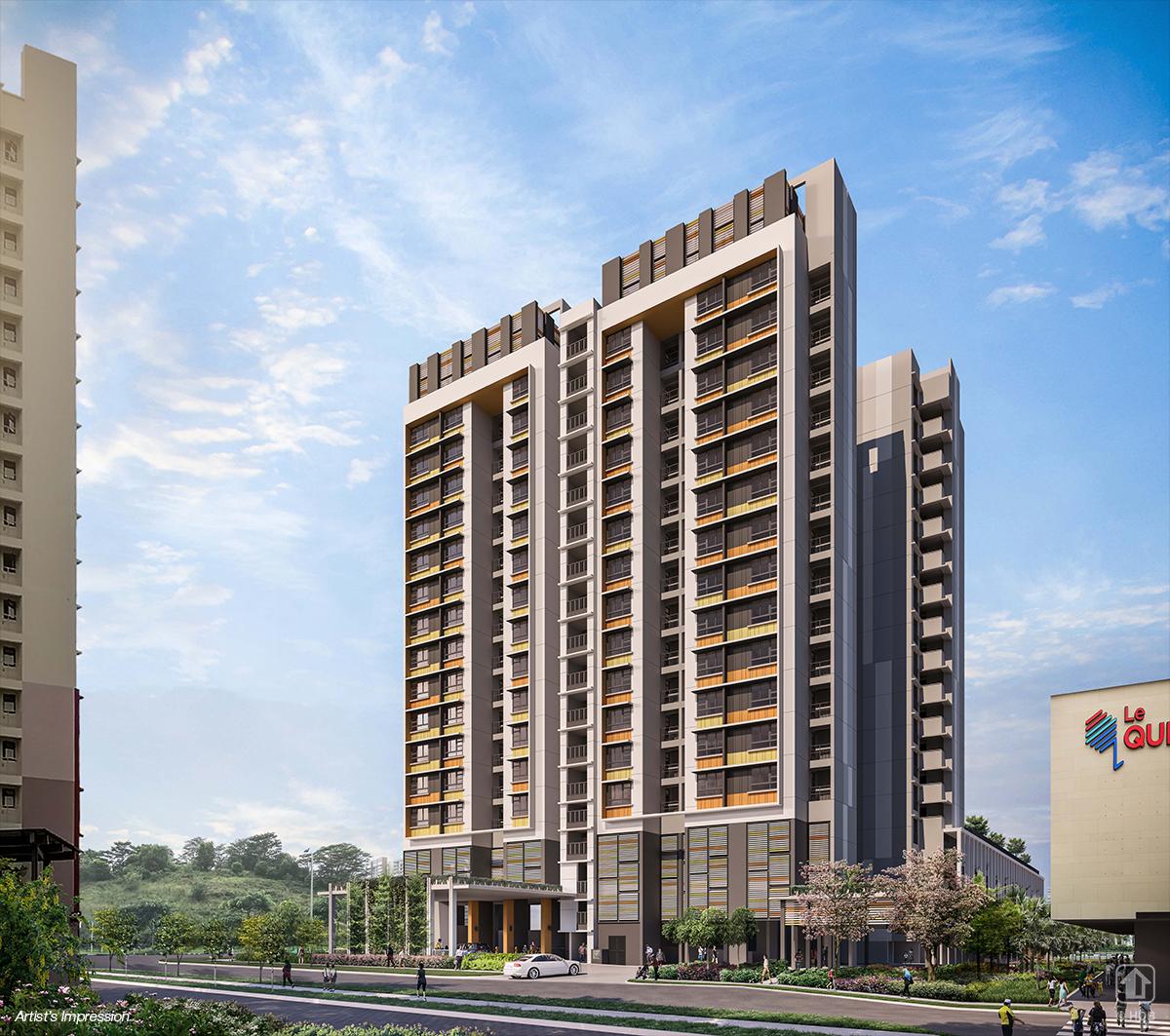 Introduction:
The Bukit Batok BTO launch comprises of two projects on separate sites, one of which is the 169-unit Community Care Apartment for seniors that were initially part of the May 2020 sales exercise that got postponed due to Covid-19.
Most applicants would be gunning for the two- to five-room units at West Hill @ Bukit Batok and we've reviewed the Community Care Apartment units in another article. So, for this Feb 2021 Bukit Batok In-Depth Review, we'll focus on the pros and cons of the 962-unit West Hill @ Bukit Batok:
West Hill @ Bukit Batok – The Pros:
This Bukit Batok BTO site is the cheapest out of the four being offered in the February 2021 sales exercise. It's even cheaper than Tengah, as the latter has been priced higher due to the use of new technologies in the estate such as the centralised cooling system.
It has 5-room flats, which the other non-mature estate BTO project at Tengah isn't offering this time round.
Endless supply of fresh air from the lush forests of Bukit Batok Hillside Park, and greenery views for the park-facing units.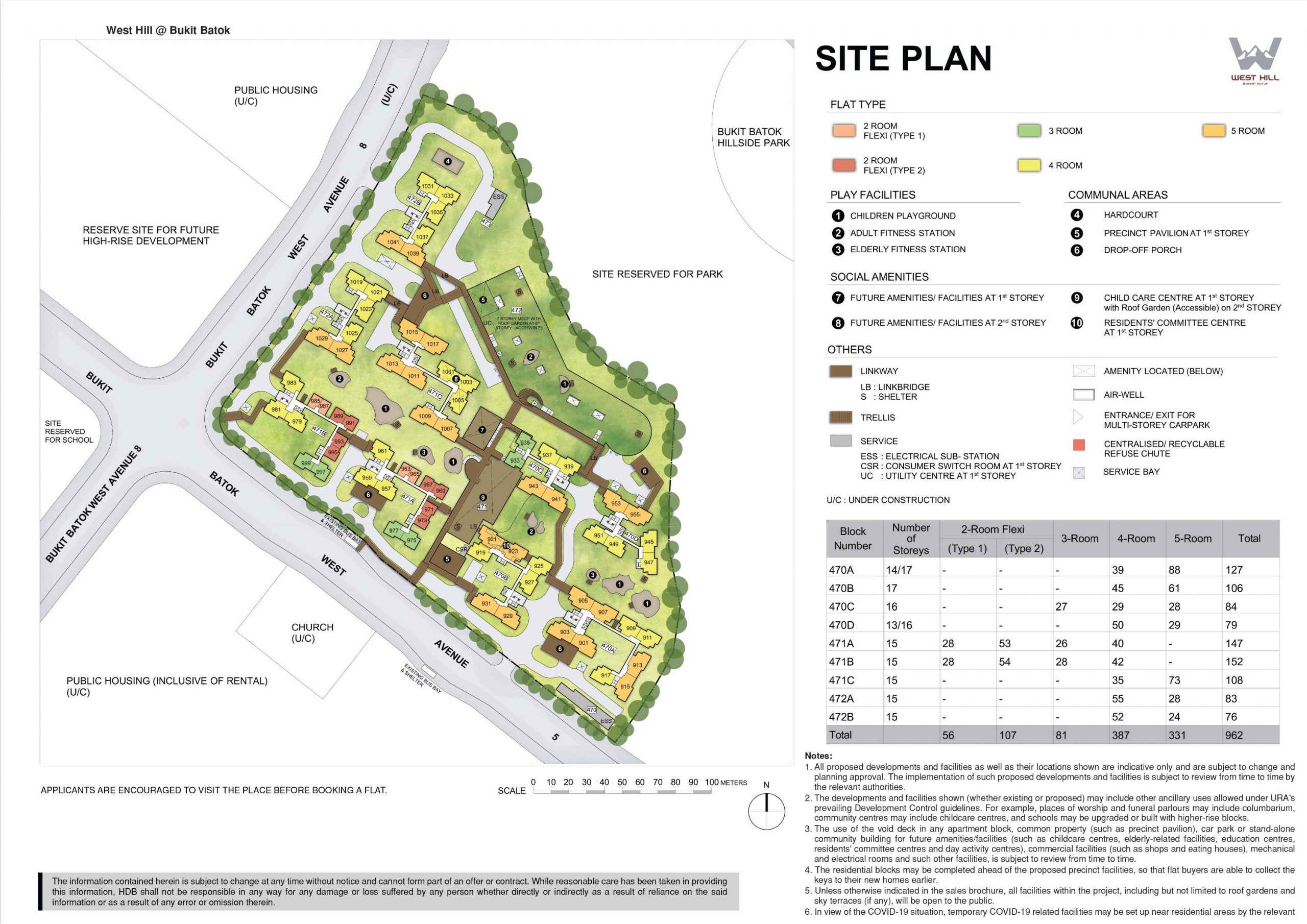 None of the stacks get direct exposure to the afternoon sun, as you can see from the site plan above.
The roof garden, located atop the multi-storey carpark and right next to the Bukit Batok Hillside Park, looks like it will be a great hangout spot for residents. Five of the nine blocks (470C, 470D, 471C, 472A, 472B) will have direct link-bridge access to the roof garden.
It is fairly near to the Pan-Island Expressway, which is great for residents who travel by car, especially if they work at Jurong Industrial Estate and Tuas.
West Hill @ Bukit Batok is a short five-minute walk to Le Quest, a recently-completed mixed-use condo/commercial development with amenities such as a supermarket (Fairprice Finest), food court (Koufu) and a good collection of shops, enrichment centres and eateries, including a McDonald's. Here's the full directory of retail offerings at Le Quest.
There will also be a new hawker centre next to Le Quest, to be built as part of the Harmony Village @ Bukit Batok Community Care Apartments project.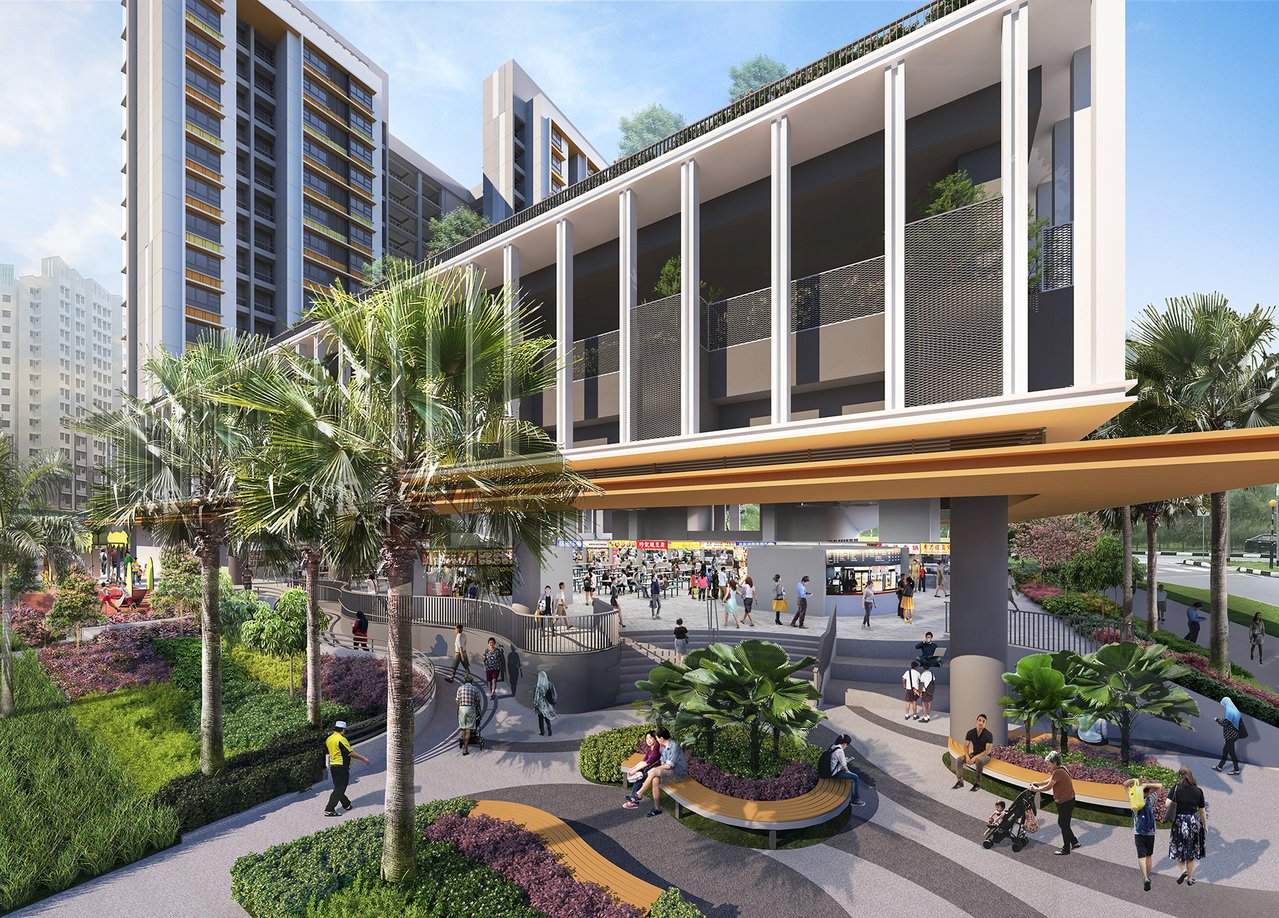 Want cheaper groceries? There's a Sheng Siong supermarket two bus-stops away at Blk 451 Bukit Batok West Avenue 6, and a 2-minute drive and 8-minute to the Giant supermarket at Blk 376 Bukit batok Street 31, which is near Bukit Gombak MRT. Not very convenient for those without a car, but residents can rely on private hires.
The site is also close to two Transit Priority Corridors (TPCs), which are designed to make travel by buses and bicycles to and from Tengah town faster and safer. Residents at West Hill @ Bukit Batok will be able to access Tengah's amenities, including the future Tengah Forest Park, easily.
Residents are within a 7- to 9-minute walk to an amenities cluster at the Parc Residences @ Tengah BTO project. The Tengah Polyclinic will be located here, which is great as the next nearest polyclinic (Bukit Batok Polyclinic) is located about a 15-minute bus ride away. The best news is that Parc Residences @ Tengah will be completed in 2025, so the amenities should be up and running by the time West Hill @ Bukit Batok residents move in.
There's a childcare centre within the development, which is absolutely necessary because of the lack of childcare options within walking distance.
There are two primary schools (Dazhong Primary School and St. Anthony's Primary School) within 1km of the BTO site, as well FOUR future sites for primary or secondary schools within 1km. One of these sites (likely to be a primary school because of its smaller size, is located across the road from West Hill @ Bukit Batok.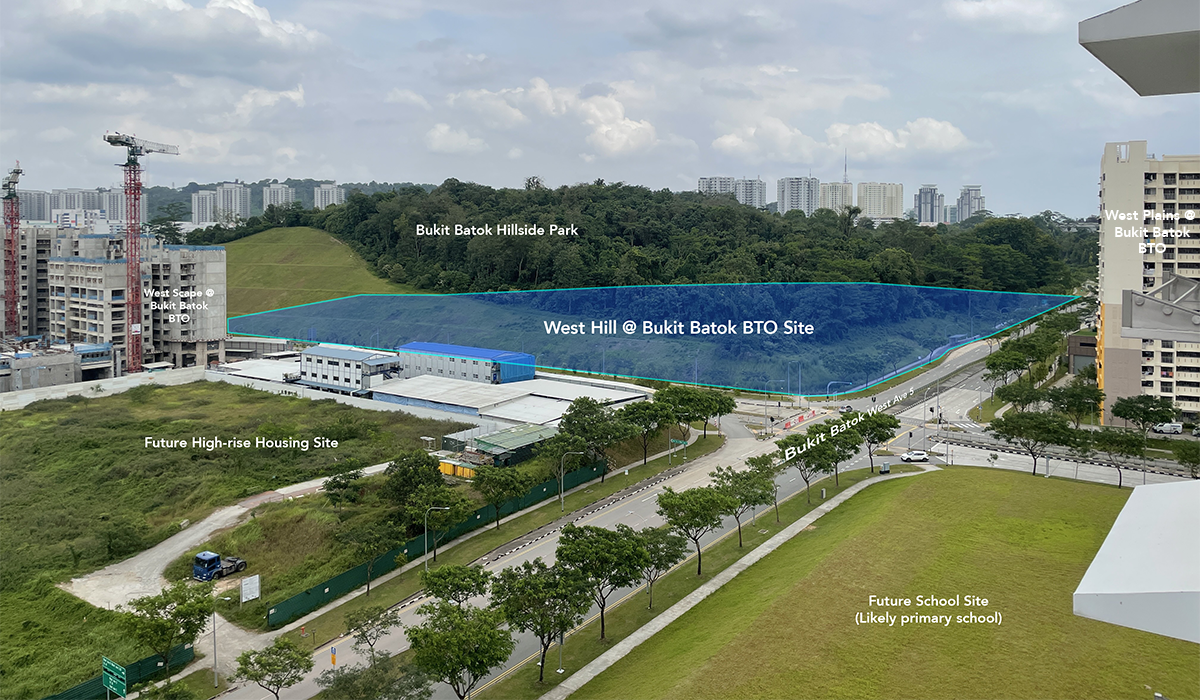 Nearby secondary schools include Dunearn Secondary School (within walking distance) and Swiss Cottage Secondary School.
There are plenty of recreational options for nature lovers and fitness junkies alike, the most accessible being the Bukit Batok Hillside Park that borders the north and east sides of the BTO project. Greenery is also available in generous amounts at Bukit Batok Nature Park/Little Guilin and the future Tengah Forest Park.
A good range of sports facilities are nearby. Next to Bukit Gombak MRT is the Gombak Sports Hall and Stadium. The for-members-only Civil Service Club @ Bukit Batok, where there is a swimming pool and tennis court, is a 2-minute drive or 10- to 13-minute stroll away.
West Hill @ Bukit Batok – The Pros:
Not within walking distance of an MRT station.
Long construction period that would likely go beyond Q2 2026 because the thick forest needs to be cleared and the hilly land flattened before building can commence.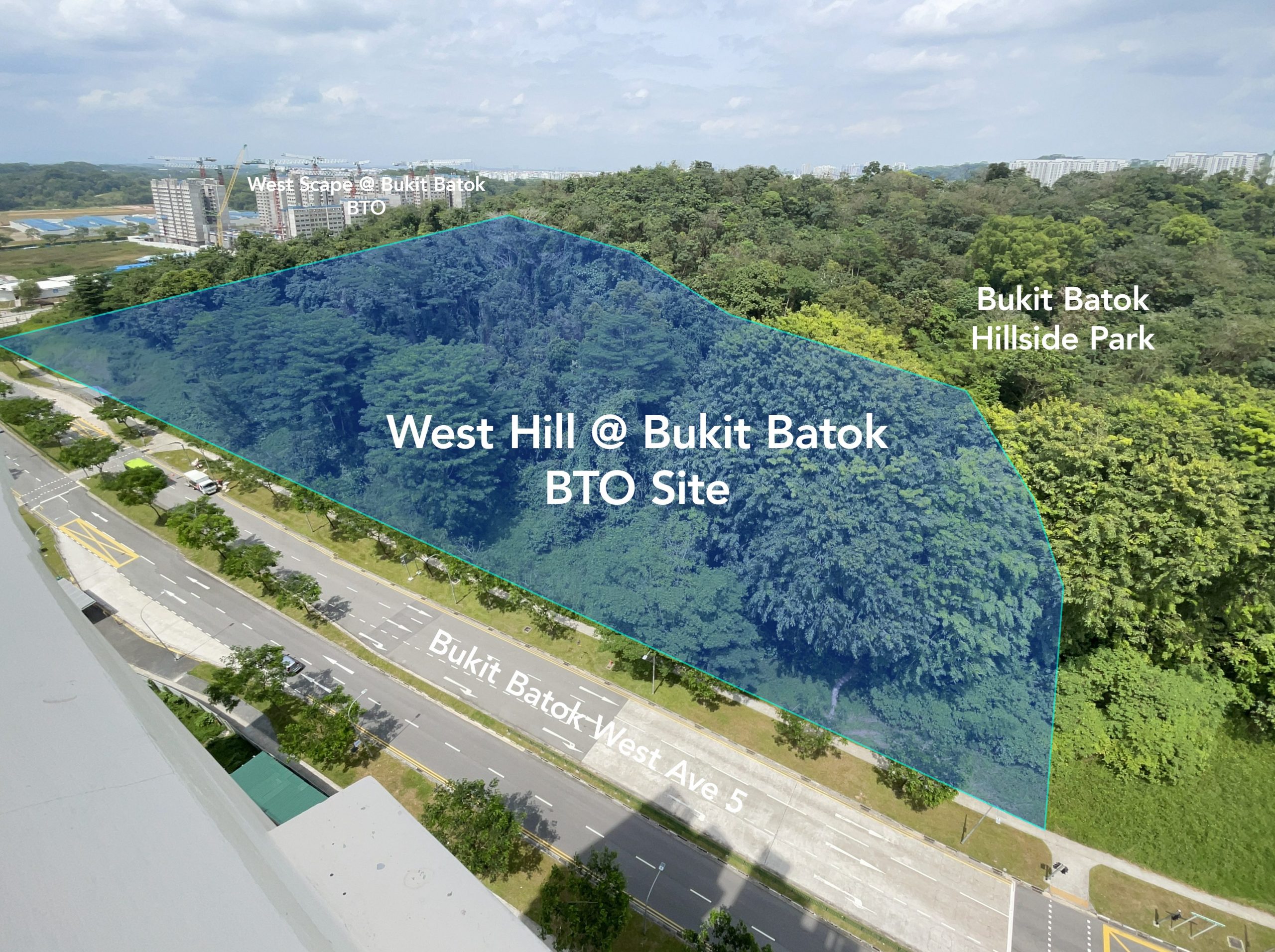 Save for the amenities at Le Quest, there are not many other amenities within walking distance. The amenities here will also already be servicing the current condominium residents and the future community care folk, so we reckon it will be quite a squeeze!
It's uncertain when the new primary schools will be up and running, without which the competition for places in the two existing primary schools within 1km will be intense, owing to the large number of new residents in surrounding BTO projects.
Bedrooms have standard half-height windows. Greater window coverage would've been nice, especially for park-facing units.
The church across the road could increase the volume of human and vehicular traffic in the area on days of worship.
Be prepared for wildlife intrusions from the naturalistic Bukit Batok Hillside Park bordering the BTO site, and expect to come across the occasional snake or wild boar.
Those living in stacks near/facing the park might also have to deal with an increased number of flying insects that enter through their windows.
The area needs more bus connections. Currently, just one bus (Service 991), plys the bus stop outside and opposite West Hill @ Bukit Batok along Bukit Batok West Avenue 5. The service is only really useful to get to Le Quest/Sheng Siong and Bukit Gombak MRT station because of the winding route it takes to get to Bukit Batok and Choa Chu Kang Town Centres. Hopefully, a new bus service will be created to provide residents with direct access to the future Tengah Town Centre, and a more direct route to Bukit Batok Central.
What else we noted about the Bukit Batok BTO site, West Hill @ Bukit Batok:
Some of the natural slope of the site's terrain will be retained, which means that residents of blocks situated further away from Bukit Batok Ave 5 will have to walk a few 1-2 storeys uphill to get to their lift lobbies. Luckily, the two-room flats that are more geared toward seniors are located in blocks closest to the road and bus stop.
For those hoping for views as far as the eyes can see, take note that the height of the trees at Bukit Batok Hillside Park rises up to roughly the height of the BTO blocks. So, even you manage to snag a unit on the highest floor facing the park, you might still be looking at a sea of green, which isn't exactly a bad thing.
If you want permanently unblocked views, your best bet is the high floor units of the 5-room stacks 913 and 915 (Block 470A), which overlook a part of the park that has a lower elevation as well as a future low-rise housing estate. Take note that these east facing units will be subject to the morning sun.
The recently-completed BTO across the road, West Plains @ Bukit Batok, has room designated for shops, a kopitiam and even a supermarket, all of which will be located right across the street from West Hill @ Bukit Batok. However, until this area becomes more built up, it's likely that these commercial spaces will remain vacant and untenanted.
Access to Bukit Batok Hillside Park isn't shown in HDB's site plan. Knowing which blocks have direct footpaths to the park would've been nice.
There's a BTO site of similar size, also bordering Bukit Batok Hillside Park, about 100 metres East of West Hill @ Bukit Batok and also along Bukit Batok West Ave 5.
This neighbourhood will likely be completely deserted at night, as non-residents will seldom pass through the estate.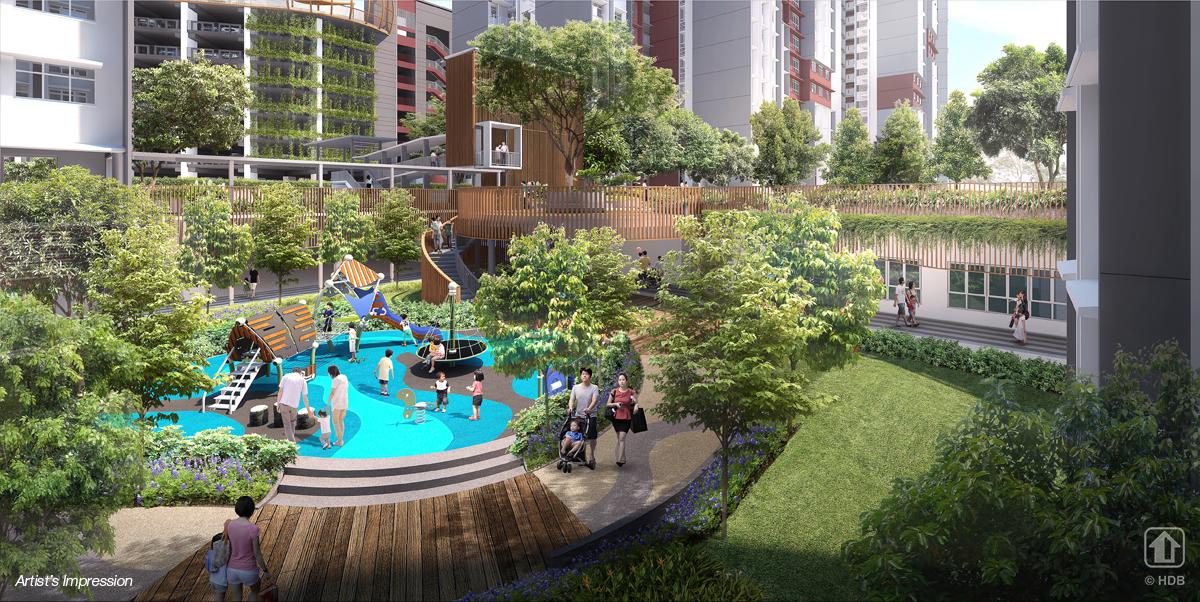 Our verdict on the Feb 2021 Bukit Batok BTO, West Hill @ Bukit Batok
Located in a newly developed part of Bukit Batok town, this BTO would've put off applicants if not for (1) it's cheap price tag and (2) the presence of a reassuring, air-conditioned shopping mall called Le Quest.
Still, residents might have to get their own transport to reap the full benefits of living in the area. Have your own car and you'll have the outsized amenities at Jurong East and Bukit Panjang within easy reach, but rely solely on public transport and you'll find yourself restricted to shuttling between Le Quest and Bukit Gombak.
That being said, it's only a matter of time before this place gets more critical mass to sustain more amenities such as kopitiams and childcare centres. Space has also been reserved within West Hill @ Bukit Batok for such amenities—a smart, future-proofing decision by HDB.
And if you've always wanted to live next to a huge park, this BTO gives you the chance to do so (at the expense of being partly responsible for the deforestation of the existing forest).
Not that Singaporeans would mind much, because the potential property value appreciation for BTO flats here is quite significant. We estimate that the 4-room flats here can potentially appreciate by at least 30% when the Minimum Occupation Period is reached.
So, if you're weighing between this and the BTO project at Tengah, it might be good to just let price influence your decision.
Feb 2021 Bukit Batok BTO: Should you apply?
Apply if you have your own mode of transportation (or plan to get one), or simply love the idea of living next to nature. It's also a good option for those who want an affordable 5-room flat.
If you want to live closer to the MRT, consider one of the many resale options in Bukit Batok and Bukit Gombak, such as this 84 sqm 4-bedroom HDB flat near Bukit Gombak MRT. If the older and cheaper flats don't float your fancy, then check out these Bukit Batok HDB flats that have just attained their MOP!
Check out our other Feb 2021 BTO reviews for Bidadari, Kallang/Whampoa and Tengah (to be released on 7th February 2021)!
Looking for a HDB home that's ready-to-move-in? Find your dream resale flat on Singapore's most intelligent property portal 99.co!
The post HDB Feb 2021 BTO In-Depth Review: Bukit Batok (West Hill @ Bukit Batok) appeared first on 99.co.