Even in the face of adversity — 2020 saw Singapore's worst recession since independence — UOL Group Limited has continued to demonstrate its ability to match market demands with an array of cross-segment residential launches and handovers over the past 18 months.  
About UOL Group
In 2019, the Group, founded by the Wee family, completed Principal Garden almost a year ahead of schedule and opened the doors to its landmark two-tower The Clement Canopy, the world's tallest concrete prefabricated pre-finished volumetric construction (PPVC) structure.  
UOL also launched its second PPVC project, the 1,074-unit Avenue South Residence. Selling 276 out of 300 units released at launch, the company's second PPVC project earned them the title of Singapore's top-selling project in September 2019. A few months later, UOL, through a 50:30:20 joint venture with frequent collaborators UIC and Kheng Leong Company, was awarded a prime residential site at Canberra Drive.  
These achievements, in addition to the Group's ongoing commitment to environmental, social, and corporate governance (ESG), inevitably caught the attention of the PropertyGuru Asia Property Awards (Singapore) 2020 judging panel. Building off its success at the previous year's event, including receipt of the coveted Best Developer (Singapore) and Best Developer (Asia) awards, UOL again staked its claim as one of the region's leading developers, collecting six Winner and two Highly Commended trophies at the ceremony held in November.  
Project Spotlight: Avenue South Residence
Avenue South Residence, in particular, took the top spots in the Best Mega-Scale Condo Development and Best Mega-Scale Condo Architectural Design categories in 2019. 
Sitting conveniently on the cusp on Singapore's CBD on District 2's Silat Avenue, the joint-venture development is ideally located for residents looking to combine accessibility with a leafy locale. The mega-scale condominium is set across two high-rise towers and five blocks of low-rise conserved SIT flats. Upon completion in 2023, the towers will be amongst the tallest residential buildings in the city, offering uninterrupted views from most of the residences. The 99-year leasehold property also boasts proximity to the highly-anticipated Greater Southern Waterfront, an unparalleled urban redevelopment project that will straddle 30 kilometres of coastline and comprise 2,000 hectares of land — about six times the size of Marina Bay.  
"Sky terraces inserted onto its façade offer a visual reprieve for onlookers laying eyes on the 56-storey twin towers Avenue South Residence by UOL Group, UIC Limited, and Kheng Leong Company," the judging panel noted. They added that "Garden-based recreation is abound in this nature-leaning residential development, which doesn't skimp on amenities such as exercise lap pools, kids' pools, barbecue pavilion, and infinity pools with an aqua gym." 
In addition to the premium placed on upscale lifestyle facilities, the property features cutting-edge architectural techniques and unique aesthetics. Designed to incorporate two vertical phases, the 56-storey twin towers sit on the upper-tier elevated by a landscape deck, while the conserved SIT flats occupy the lower zone. Sky terraces have been inserted onto the facade of the super high-rise towers, using vertical greenery to break down massing and take advantage of lush green views into the Rail Corridor. The facade, meanwhile, is articulated with sun-shading screens, large balconies, and pocket gardens.  
Project Spotlight: Clavon
Similar biophilic design techniques have been incorporated into another of UOL's award-winning developments, the Clementi New Town-based Clavon. Launched in December 2020, Clavon was the best-selling project of Q4 2020 and the entire 2020.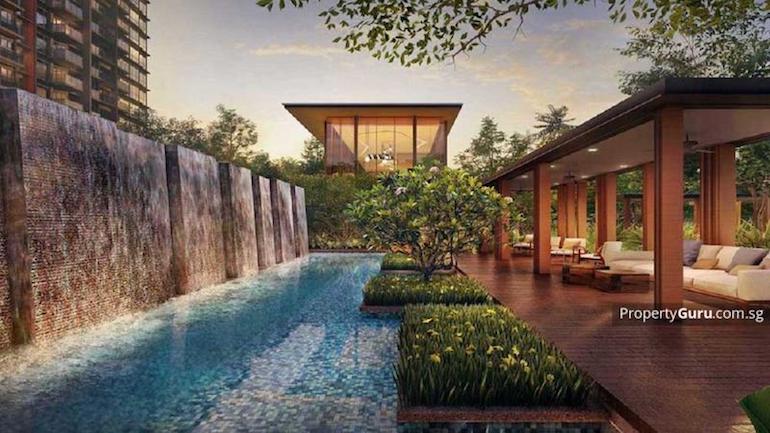 Clavon's 640 units, housed within two 37-storey towers, has been designed on the concept of twin forms levitating to form a sculptural composition.  
Each building is elevated above the first floor to provide units on lower levels with views of the surrounding landscape, while also allowing greenery, natural sunlight, and breezes to effortlessly flow through the base of the tower blocks. Architecturally, the two tower blocks are designed with clean, modern lines. Moreover, a series of vertical and horizontal fins add elegant proportions whilst also creating an interplay with light and shadows that shift constantly throughout the day. 
"Clean lines, soft grey tones of glass and a 'V'-crown accent define the façade of Clavon by UOL Group and UIC Limited," according to the judging panel. "The two slim tower blocks are firmly planted on a green plane blending them naturally with nature, while amenities and facilities that connect to the dramatically designed garden landscapes are sure to delight."  
A Developer 
With
 A Strong Sense Of Corporate Social Responsibility
One of UOL's core USPs is its focus on sustainability and environmentally-friendly living. In addition to its burgeoning real estate portfolio, it achieved substantial reduction of energy intensity across its commercial properties and hospitality business, respectively, by retrofitting existing buildings to improve water and energy efficiencies, as well as installing Building Management Systems, and energy and water-saving equipment in its hotels.  
Initiatives such as these contributed towards the judging panel's decision to select the company for Special Recognition for ESG. 
"With a deep commitment to diversity, equality, and sustainability, UOL Group is a developer with a strong sense of corporate social responsibility," the panel noted. "The group's energy and water-saving efficiencies, zero-waste practices, and self-sustaining landscaping methods are worthy of emulation, and its unyielding promotion of employees', clients' and communities' well-being are admirable, as well."  
Learn more about the Asia Property Awards 2020 and its winners here.  
For more property news, resources and useful content like this article, check out PropertyGuru's guides section. 
Are you looking to buy a new home? Head to PropertyGuru to browse the top properties for sale in Singapore.  
Already found a new home? Let PropertyGuru Finance's home finance advisors help you with financing it.