If you've been keeping up with the property news lately, there's been a lot of talk about new cooling measures. 
Despite the pandemic, property prices have been on the rise for the past several months. More specifically, HDB resale prices and condo prices have been climbing for the past eight and seven consecutive months, respectively. 
Reasons for the rising prices include lower interest rates, buyer confidence and more upgraders buying homes after the Minimum Occupation Period (MOP). 
Given this rising trend, Deputy Prime Minister and Finance Minister Heng Swee Keat and National Development Minister Desmond Lee have both commented last January that the government is monitoring the real estate market closely. 
Since then, their comments have sparked off talks about new cooling measures online. With that, we've picked out a few cooling measure suggestions that may or may not happen. 
Higher stamp duties and tighter financing
The more common ones suggested were increasing the stamp duties such as the Additional Buyer's Stamp Duty (ABSD) and lowering the Total Debt Servicing Ratio (TDSR). 
The last time the ABSD was increased was in July 2018, with an increase of 5% for Singaporeans and PRs buying their second property onwards. 
The TDSR was implemented in 2013, restricting people's monthly loan repayments to 60% of their monthly income. This prevents people from over-leveraging their income. 
Both ABSD and TDSR are seen to have been successful in deterring people from flipping property. In fact, ABSD has been able to slow down the rate of price increases.
On the other hand, the ABSD and TDSR may not be changed in the near future. 
One main concern about the ABSD is that it drives up the cost of buying a home, so increasing it even further may make housing less affordable. 
Likewise, lowering the TDSR would mean that those who are not cash-rich and need to take up a loan to buy a home (like most of us) would need to fork out more downpayment upfront. 
Longer MOP
Another popular cooling measure suggestion is extending the MOP for up to 10 years. 
Currently, those who have bought a new HDB or resale flat will have to live in the flat for at least five years before they can sell it off in the resale market. 
It was introduced to prevent people from selling it off quickly for a profit. It works on the premise that people would buy an HDB flat for a home to live in, and not for investment. 
So by having a longer MOP, it's hoped that people would be less likely to sell off their HDB flats right after the MOP for a profit. 
Since the higher resale prices tend to be in mature estates, some have suggested that the longer MOP be applied for the flats there. 
However, extending the MOP would also mean that fewer resale flats would be available in the secondary market. Those whose income is too high to buy a BTO or EC, but too low for a condo would find it harder to buy a home. 
Likewise, singles and PRs looking to buy a resale flat would have fewer options. 
Restrict cooling measures to HDB flats
This suggestion was pretty hyped up too, as many people thought that the million-dollar HDB flats trend was getting out of hand. 
In last year alone, a record number of 82 HDB flats have crossed the million-dollar mark despite the pandemic. And for the first two months of this year, 36 HDB flats were sold for at least $1 million. 
At the same time, HDB resale prices have hit an eight-year high last year, with prices increasing by 5%. 
Given these trends, people have been worried that HDB flats are getting more expensive and out of reach. So implementing cooling measures on public housing may help to keep the prices low. 
On the other hand, it may be too early to do so. Though HDB resale prices have increased by 3.1% in Q4 2020, it's still below the peak of 7.6% in Q2 2013 before more cooling measures were announced. 
Limiting the cooling measures to just HDB flats may be counterintuitive, making the flats less affordable and accessible for the intended demographic.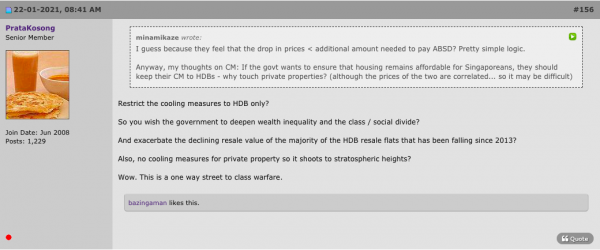 Implement cooling measures with immediate effect
Instead of giving notice, implementing the cooling measures immediately may help prevent people from rushing to buy property and increasing the price even further. Like what happened in July 2018 before new cooling measures kicked in. 
It may also prevent people from going through the loopholes to avoid the cooling measures, such as backdating the Option to Purchase (OTP) to avoid paying higher stamp duties. 
But having new cooling measures come into effect immediately is tricky, to begin with. Also, there might be some legal issues at play. 
And what happens if someone is signing an OTP as the new cooling measures are being implemented without warning? 
It may be too early to implement cooling measures. 
Although all these cooling measure suggestions are valid, they might not be coming as soon as we thought. 
What led to the new cooling measures in July 2018 were four consecutive quarters of price increases amounting to 9.1%, as well as higher expected Government Land Sales (GLS) bids and record-high collective sale bids. 
In contrast, the recent price increases have only been seen for the past two quarters so far, and they were not as high as in 2010. GLS bids were also normal or lower than expected, with collective sales being lower as well. 
Ultimately, while it's good to keep an eye out on the potential of new cooling measures coming, it may be too soon to tell if they'll be introduced in the near future. 
If you found this article helpful, 99.co recommends Ministers' statements on property market fuel fear of new cooling measures and Is the Singapore property market still a safe haven for investors?
Looking for a property to buy or rent? Find your dream home on Singapore's largest property portal 99.co!
The post Potential cooling measures (and why they might not happen) appeared first on 99.co.