Growing up as a toddler, Syaza Hidayah always had difficulty bathing, feeding or going to the toilet. It is not because she was being stubborn, but her condition required additional care and tenderness to ensure she didn't hurt herself in the process.
Syaza suffers from a degenerative neuro regression illness that impairs her eyesight and hearing. Her muscles contract involuntarily (dystonia), causing slow repetitive movements or abnormal postures. She also has dysphagia, which is the difficulty of swallowing certain food or liquids.
Instead of running in playgrounds or playing with other kids her age, for the hopeful girl, who recently turned 6, life has mostly been visits to Kandang Kerbau Hospital (KKH) and clinics. The "friends" she's become familiar with are doctors, nurses and physiotherapists.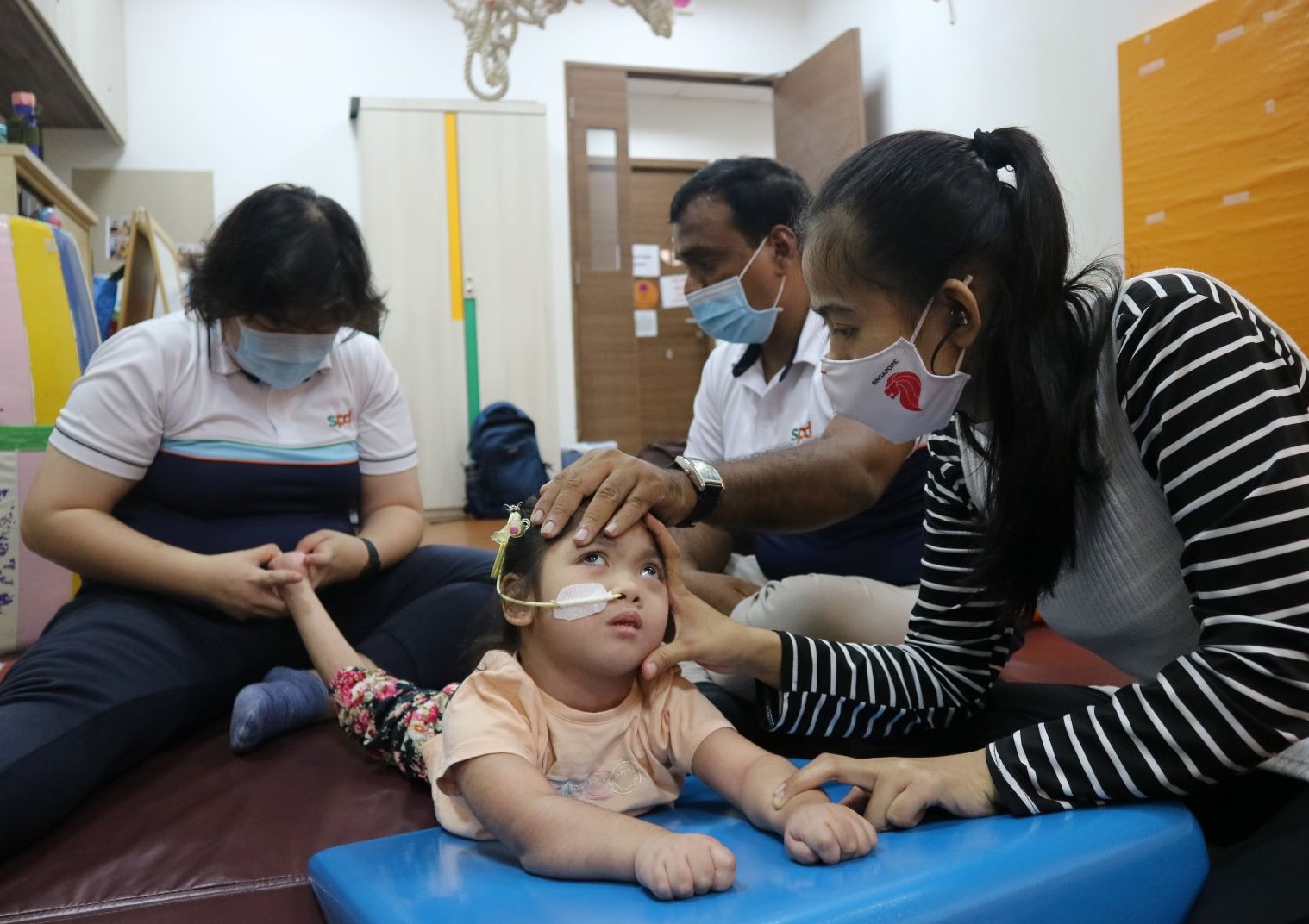 Syaza's mother, who is her primary caregiver, said that Syaza looks forward to seeing and communicating with the family members, by touch and hearing their voices. When Syaza hears them talk to her, singing or listening to music together, she feels happy and smiles.
To Syaza, home isn't necessarily the four walls and roof over her head. It's having all of her family members – her mum, dad, sister, brother, bibik (auntie) and grandmas – around her, talking, sharing and having her as part of their daily lives.
However, as she lives near the expressway, Syaza would look anxious or unhappy when the vehicles moving past her house are too loud. She's also wary when she moves around at home or when travelling by bus.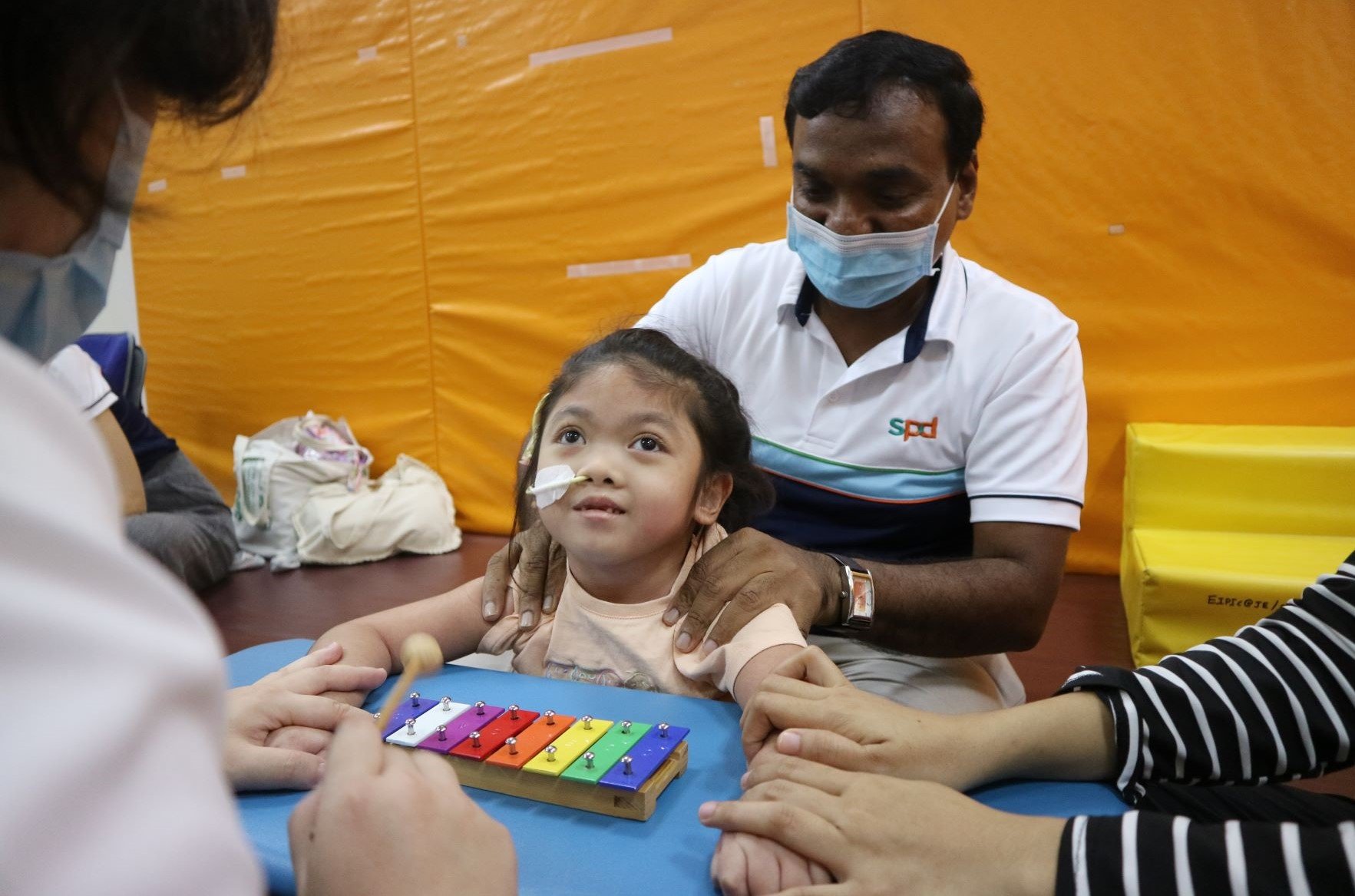 While Syaza's condition has not drastically improved for the past year, she has learnt to be more relaxed through medication and therapy.
This has inspired her family, including her mother, as they have to learn to cope with stress and find ways to feel motivated on a daily basis. Syaza's positive outlook and calm demeanour are definite motivators.
Over several years, Syaza attended the Early Intervention Programme for Infants & Children (EIPIC) at SPD@Jurong. Her physiotherapist would improve her neck control as she sits upright, and use devices to help with her ankle deformity and hip alignment.
Syaza's mother and helper were given caregiver training, so they know how to position Syaza, facilitate her movements and perform stretching exercises at home. With better neck control, Syaza will at least get to participate in activities by lifting her head to look around or listen to stimuli like songs and family conversations.
Thanks to the support and care from SPD's caregivers and physiotherapists, she's graduated from EIPIC and is now attending a special education school.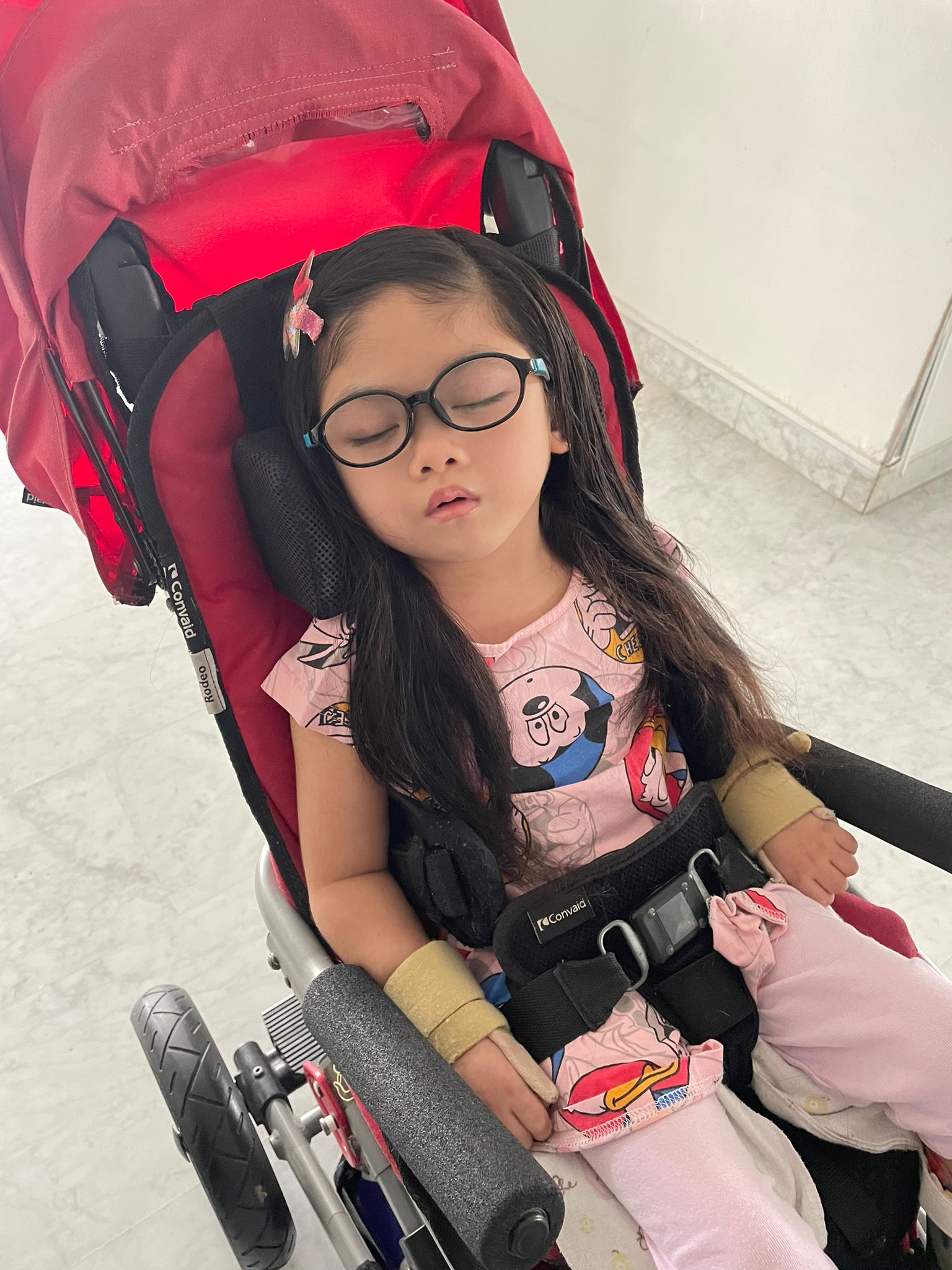 "As her mother, I do feel sad because Syaza is not like any other normal child. But with the strong support from our family, friends and teachers, I hope Syaza will get the best treatment and be treated like any other normal kid," said Syaza's mother.
As for Syaza's future, her mother hopes to continue caring for Syaza, giving her a good source of treatments, while continuing her education. "At some point in the future, her elder siblings will have to continue taking care of Syaza."
For Syaza's family, this is what home for them is really about – having a loving network of family members to care for and look out over one another, through thick and thin, and learning to grow as a united front.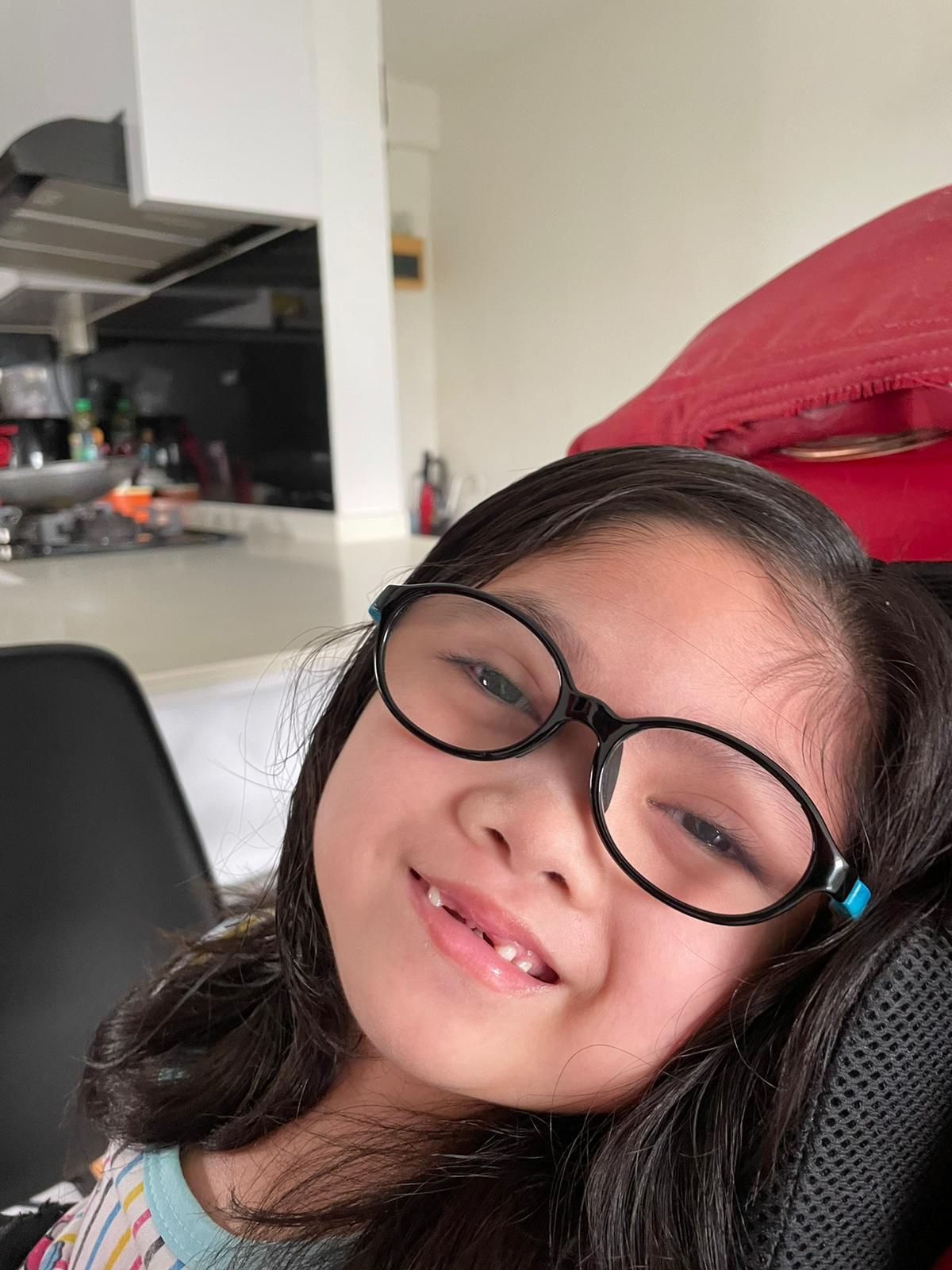 For Syaza, this sentiment is evident as she looks happiest when she has people she loves by her side.
–
Are you inspired to help others in need live a more meaningful life in society? Have you wondered how we can promote greater acceptance, inclusivity and accessibility for people with disabilities to thrive as individuals in our society?
Sustaining programmes, such as EIPIC, are important in helping those in need. However, they are often not sufficiently funded. You can support SPD and people with disabilities by participating and donating in SPD's Ability Walk & Run 2021 – Virtual Edition, which ends on 3 December 2021. This is SPD's 2nd virtual run following 2020's 1st virtual run success where 3,378 participants covered a total distance of 118,208km. Registration is free.
Every donation counts. Every charitable deed means a better Home for All for everyone.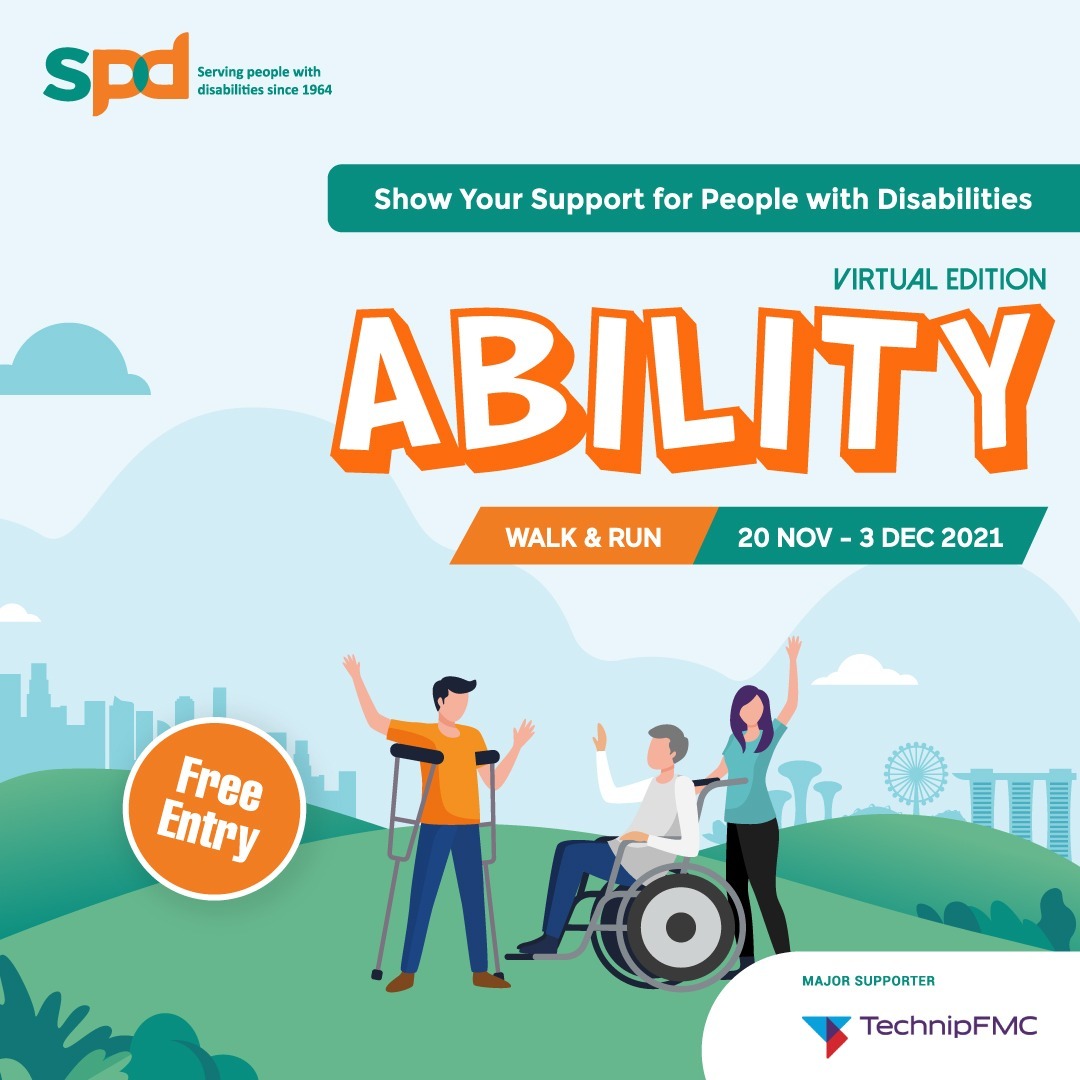 –
Syaza Hidayah's story is part of the theme 'Home for All', a campaign between 99.co and SPD to share how anyone, regardless of disabilities, can find a place to call home. This includes ensuring better facilities and programmes to help people with disabilities move about easily at home and commute between places without prejudice.
The post 6-year-old girl with disabilities inspires her family to grow stronger with her appeared first on 99.co.