Like many young couples, Nigel (26) and Charlene (25) had tried going for the BTO route for their first home ("We tried for a Tampines BTO and an SBF, both of which we did not get good numbers…")
The couple, both civil servants, wanted to have their own space as soon as possible, so they started looking for a resale flat on property portals such as 99.co in June 2021. A month later, they proceeded with house viewings.
The process of shortlisting the units was pretty easy for them as they were very clear on their criteria and location.
The couple's must-haves were:
Open kitchen
Three bedrooms and two bathrooms
A big living room space
Located in Pasir Ris, close to Nigel's parents (they're also familiar with the amenities in the neighbourhood)
Relatively not too far from the MRT
A corner flat
Not located on a floor that's too low so that the rubbish chute downstairs doesn't face the windows directly (like those flats on the third floor)
"But at the same time, it was slightly disheartening when the houses we shortlisted were not available," the couple shared with us.
5–room and executive flats weren't the only flat types they were looking at. They had also widened their options to 4-room flats.
"As long as the price was right for the size of the house, along with the other criteria, we were down for it."
Nigel and Charlene, who share their home-ownership journey on their shared Instagram account, then recalled viewing a 4-room flat that the couple were alright with size-wise. But the layout didn't allow them to turn their open kitchen dreams into reality. Even if they had wanted to, they had to spend extra to hack and erect the walls.
"It also had a corridor (that no one uses), so the light coming through the flat wasn't bright enough."
 

View this post on Instagram

 
The couple had even checked out low-floor units on the third floor, despite those being out of their initial requirements.
"There was one 5-room executive apartment; it's super big and the price listed was only S$530k. The space was even bigger than what we have now."
The dealbreaker? It was facing the rubbish chute. Its windows were also facing the corridor and the opposite block. They also felt that having too much space may not be good after all.
"And somehow, it just didn't give us enough of the 'Yes! This is it!' vibe to offset the low floor."
Found their first home on the third weekend of house viewings…
It was probably the third weekend of house viewings that Nigel and Charlene saw their current home: a 5-room resale flat in Pasir Ris. The flat was built in 1993, making it almost 30 years old.
"It was slightly like love at first sight and the feeling only grew as the agent brought us around the place.
"We loved the size of the flat, the squarishness of it (not like some flats which can be very long but not have much width), how the kitchen was already very open, and that they originally had a fourth room which was taken down, making space for a dining table."
As the couple walked around the house, they could already envision how each room would look.
They eventually bought the 1,377 sq ft resale flat in September or October 2021, with the sale completed in November. They paid S$550,000 for it without cash-over-valuation (COV).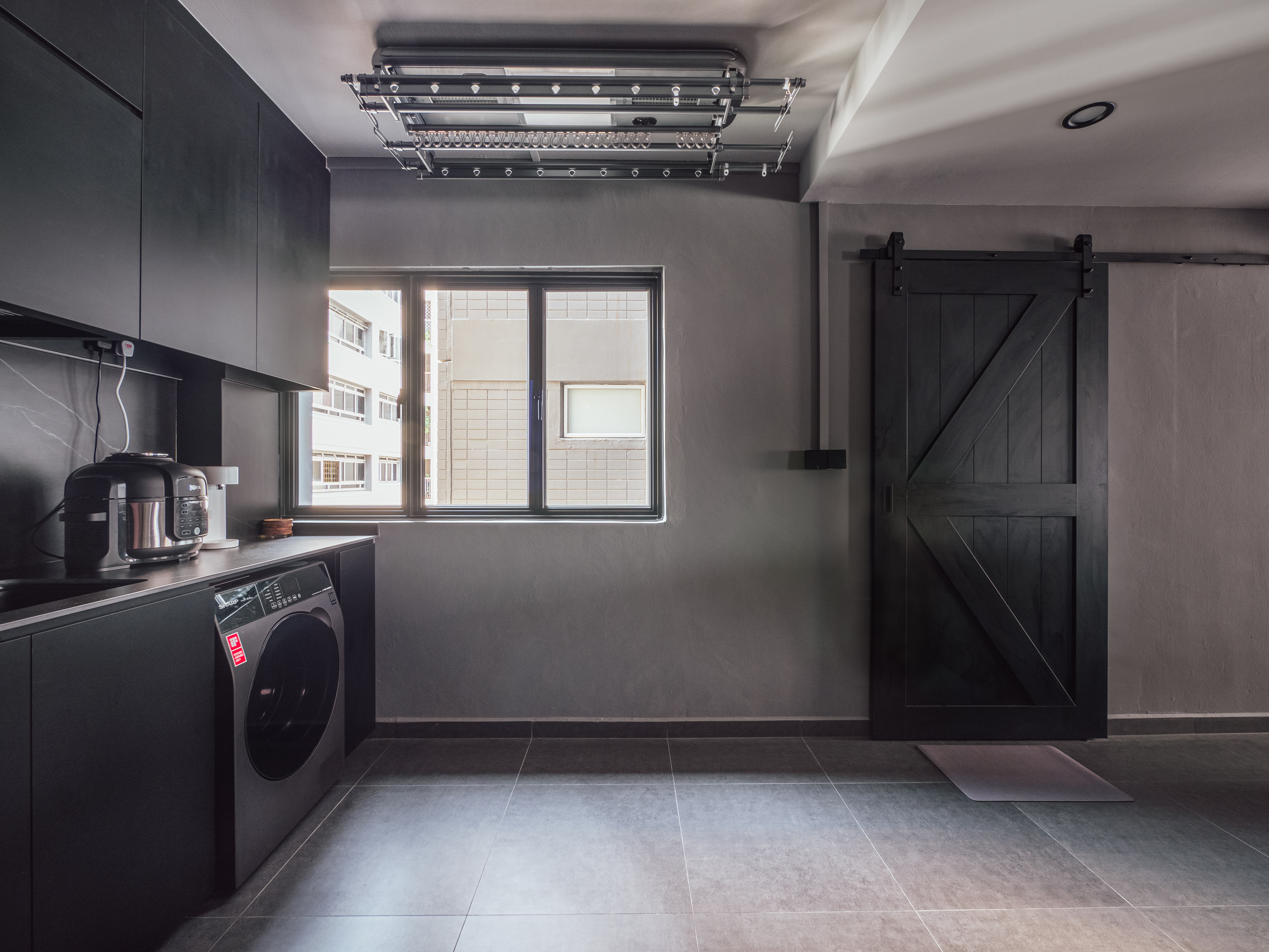 … without engaging a property agent
As first-time homebuyers, Nigel and Charlene took the route of buying their first resale flat without a property agent.
"(We're aware that we) have to pay the 1% commission, so the amount required to negotiate [to bring the selling price down] has to be worth more than that."
They also felt that they were able to handle and submit the HDB paperwork.
Despite not having a buyer's agent, they still got some help from the seller's agent.
"He just made sure that the process was smooth for us by telling us what to do etc, but the HDB [resale paperwork] was already foolproof.
"For him, we understood that he was doing so to ensure a smooth process on behalf of the sellers. We just happened to be the 'collateral benefits'."
Renovation process was quite smooth, but was a bit slow due to Covid and CNY
When it came to the renovation planning, Nigel and Charlene started with the floor plan and did a moodboard on Pinterest. They had also saved some projects and rooms on Qanvast.
 

View this post on Instagram

 
Afterwards, they showed these to the interior designer, who came back with renders and layouts. Satisfied with the work, they chose this ID to handle the renovation. In general. the couple found the process to be quite smooth.
"He was very reliable, but the process was a bit slow because of Covid and Chinese New Year, and also because we said that we were not in a rush when he asked."
They also added that the ID had managed to get the defects fixed as soon as he could.
The initial renovation cost was around S$87k, but it went up to S$93k after adding the electrical works.
Saved around S$1k on curtains…
One renovation tip Nigel and Charlene shared is to always cross check and compare prices and quotations.
"Not everything has to be this expensive."
The couple elaborated that there were curtain companies that would charge them around at least S$2,500 for curtains in the house. But they managed to get them cheaper at S$1,100.
"Check with friends and other homeowners who recently renovated as well, so you can see what deals or regrets they have. So you don't repeat the same mistake and save some money!"
… and S$3k-4k from buying fixtures from Taobao
Other aspects of the house Nigel and Charlene managed to save money on were the fixtures and furniture. By buying some of them from Taobao.
"We had many things that we felt were OK with getting from Taobao. Actually, many people get their stuff from there too."
 

View this post on Instagram

 
Here's a list of things the couple had bought from Taobao:
Lights
Switches
Sockets
Sofa
Coffee table
TV console
Fans
Bar stools
Toilet sink and vanity
Sink taps for the two toilets and the kitchen
Dining chairs
Vanity stool
A small rug
Shower mixer set
Sofa side table
A small cabinet
A couple of mirrors with backlight
Compared to buying from local stores, getting these things from Taobao helped them save around S$3k to S$4k in total.
Favourite parts of the house: From windows to the big living area
One thing the couple likes about their flat is the ¾ windows, allowing more light to come through. They also made it feel less suffocating.
More importantly, there was no wasted space.
For instance, the storeroom seems like an external space to them, so it does not take up a "weird space" in the house.
On top of that, there's a dedicated cabinet space for the master bedroom and bedroom 2. It doesn't take up extra space, so the house looks neater.
But the highlight of the house is the living area, formed by combining the living room, dining area and open kitchen ("The craaaaazy big living area").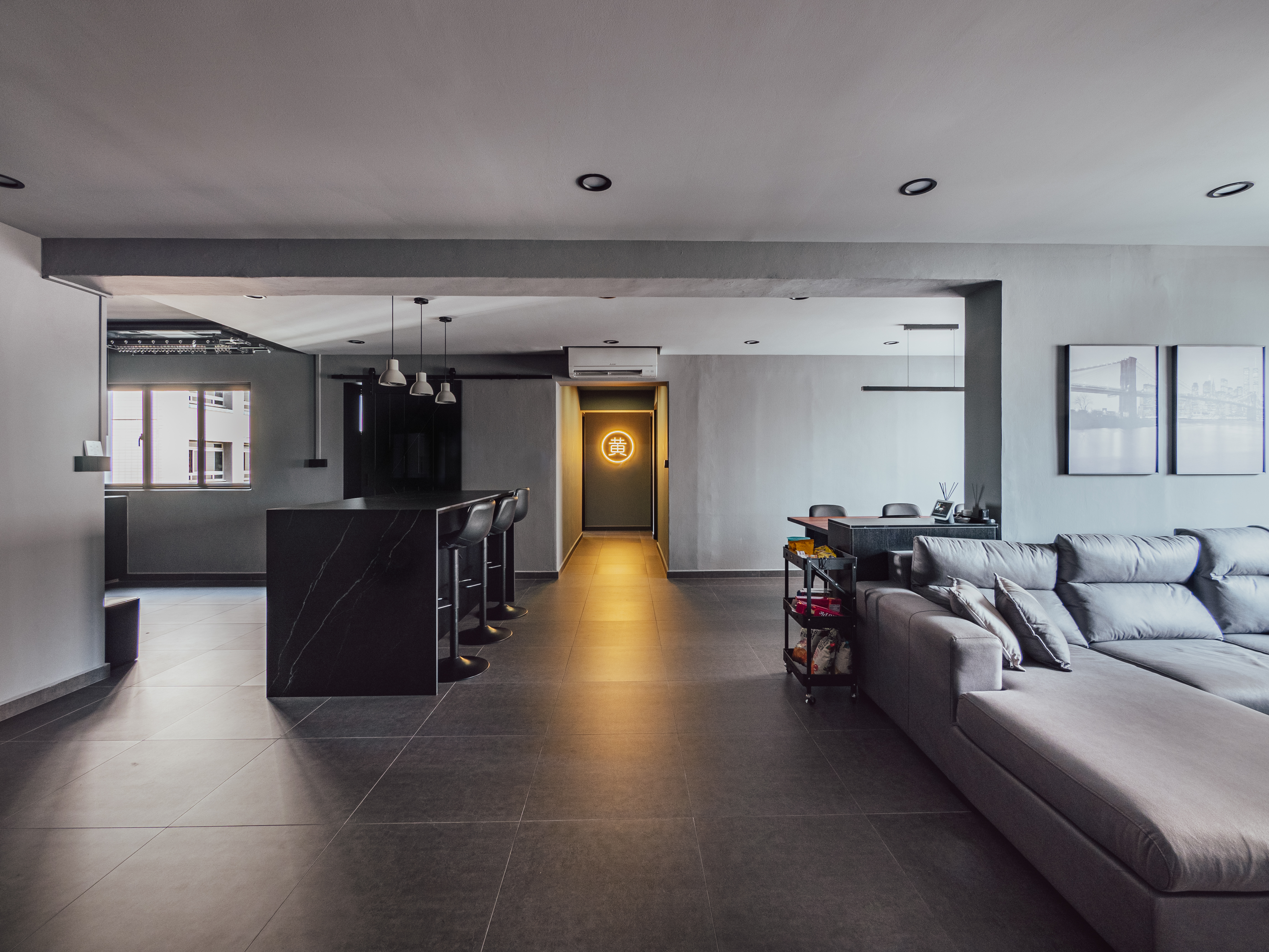 As the couple put it simply, "Cause big, feels good."
Insights and advice gained from the first home-buying journey
When asked for any advice to share with future homebuyers, this was the first thing Nigel and Charlene told us, "Definitely think longer term, as a house is probably one of the bigger purchases in life!"
Here are a few other insights and advice they shared.
Manage expectations
The young couple's original plan was not to get a 5-room flat, but an executive maisonette. But when they were finally ready to buy a house, prices had started to rise. So they learned to manage their expectations and forgo this option.
"When we were planning how much we needed to buy a house, a 5-room resale flat like this would have cost around S$450k to a low S$500k. Thankfully, we bought the place when it was still at the early stages of the price increase."
During the house-hunting journey, they also came across listings that seemed too good to be true.
"Some agents may lure you in with a pseudo flat that is way too good to be true. It's a good way for them to filter out potential buyers and recommend other flats that they have for sale. Nothing harmful for us though."
How to get a good deal
More importantly, the couple learned how to get a good deal, and suss out the good units from the bad ones.
"If you want a good deal, you gotta camp on the sites because they get snapped up really quickly.
"If you're scrolling through and see the same few houses still there after sometime, it's probably there for a reason. Proceed with caution!"
Don't discount the houses that aren't high on the list
At the same time, Nigel and Charlene added that buyers shouldn't hesitate to view houses that are not high on the list.
"[House viewings] give you a better idea of what you really like and dislike in a home, and looking at pictures online sometimes just won't cut it."
Anticipate the next stage of renovation at least 1 month in advance
As for the renovation process, Nigel and Charlene shared this tip: anticipate the next renovation stage at least a month in advance.
This helps owners to know what to prepare for the next phase and reduce time wastage.
"When the contractor or the next phase is ready, you are ready too."
 

View this post on Instagram

 
Next home: A house with stairs
While Nigel and Charlene didn't follow through with their initial plan of having an executive maisonette as their first home, they're not saying never to a house with stairs.
For their next home, they shared that it will probably be one with stairs, as they love the idea of having separate living and sleeping areas in the house.
"The design possibilities and aesthetics of a double-storey house are just endless. We get super envious of all the Instagram home accounts we see all the time!"
Have bought a house recently? Share with us your home buying experience in the comments section below.
If you found this article helpful, 99.co recommends Singaporean couple living apart during COVID outbreak gave up BTO flat selection to find a ready home through SBF and 4 tips on renovating a resale HDB flat without an interior designer + how to save on reno cost. 
The post Zillennial couple rejects executive apartment and opts for 5-room Pasir Ris resale without COV instead appeared first on .