Just recently, Singapore's Ministry of National Development announced additional funding of S$66m for the Cities of Tomorrow research and development programme. The fund is meant to research ways to upkeep Singapore's ageing infrastructure, create additional habitable space, and work on technologies for urban planning.
Half the new funding – about S$35m – will look at reducing the cost of creating underground and sea spaces to free up land. We covered this topic previously, including the possibility of reclaimed land along the East Coast for housing, so it seems that there's renewed interest in this.
As for the balance, S$18m will go into tech for urban sciences, data analytics and A.I., while S$13m will enhance and maintain Singapore's existing infrastructure.
While the S$66m will be distributed over the next five years, the programme already has S$110m allocated in March 2022 and S$150m since 2017.
As Singapore finds creative solutions to address future challenges, other countries seem to have put forward city planning proposals to address urban issues of their own. While we can't exactly say they aren't possible in Singapore, some of these ideas are truly out-of-this-world and may take a while before seeing the light of day.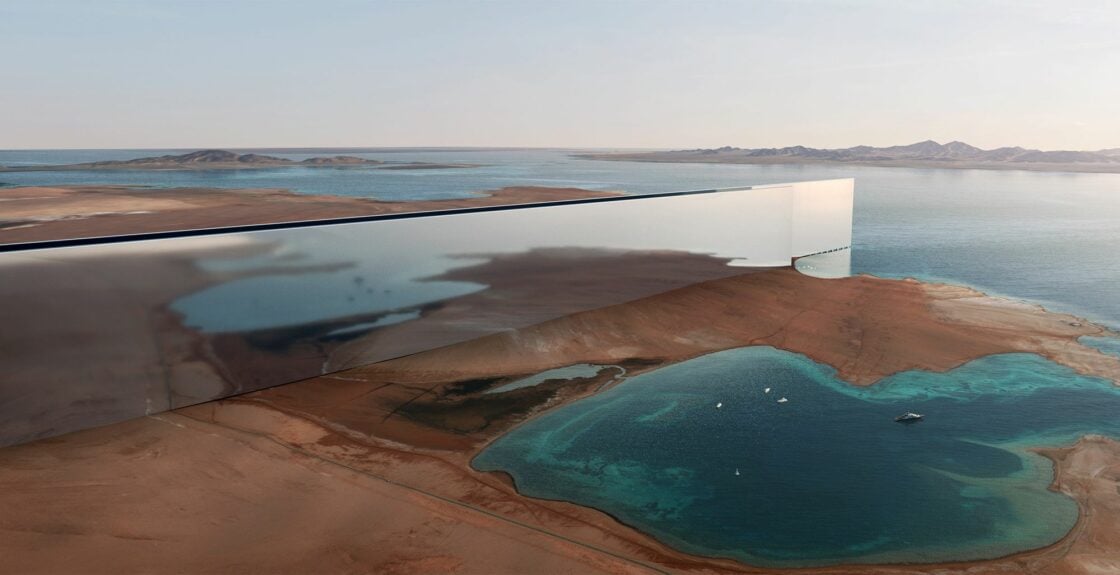 Saudi Arabia's The Line and Neom
Called The Line, the metropolis city idea conjured by Saudi Crown Prince Mohammed bin Salman will be 170 kilometres long, 200 metres wide, and 500 metres tall. The design comprises two elongated parallel buildings connected by walkways and filled with apartments aimed at housing up to 9 million inhabitants.
Despite the length, it would take only 20 minutes to travel via the "Spine", or the city's transport system, from one end to the other.
In fact, the vision behind this linear city is to hopefully match the grandeur of the Egyptian Pyramids or China's Great Wall, as a testimony of our achievement as a civilisation.
Hard to believe? Watch the videos:
Beyond being in the shape of a straight line, the city will have a mirrored wall facade (because it looks cool and reflects sunlight?) and form a desert community called Neom – which is based on the Greek word for "new" and the "M" in the prince's given name.
The estimated cost? US$500 billion. And it's got some big-name architects either still or previously attached to it – BIG, Foster + Partners and OMA.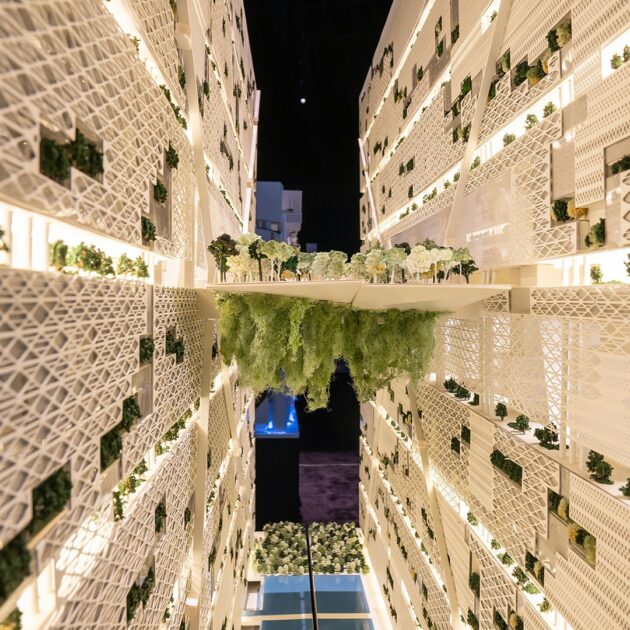 A visit to the Neom website will require some suspension of disbelief and a grasp of early teaser marketing, as the kingdom plans to build the city based on renewable energy, enhanced liveability, car-free districts, vertical farms, cloud seeding, and next-generation architecture. It will come with a floating cargo port called Oxagon and a ski community around a man-made lake called Trojena.
Understandably, the project, while still a computer-rendered Bladerunner-esque dreamscape, has seen its fair share of doubters.
Firstly, building such an immense megastructure across the desert that extends into the Red Sea could impact the ecological nature of different species in the region. No one really knows what such a structure would bring to migratory land animals and birds, let alone the desert itself.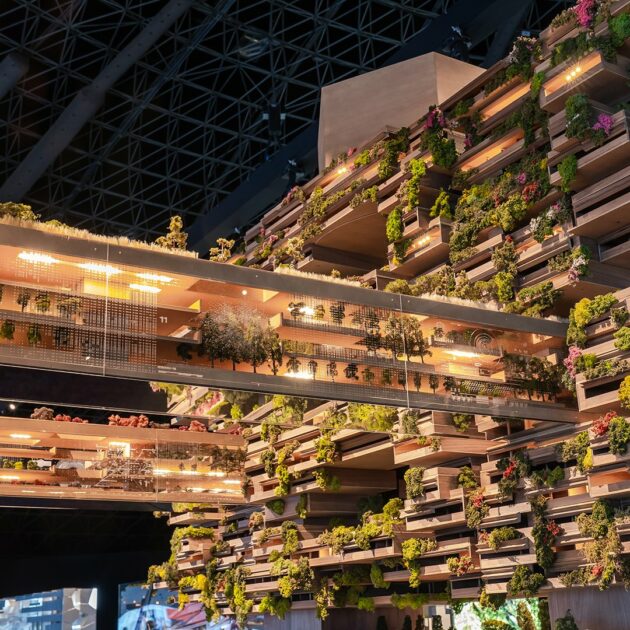 Secondly, most cities evolve in a circular way, so that people can live and travel closer or further away from the city centre. The vision behind The Line seems to promote the idea of "equitable views" where anyone living there can enjoy the same unblocked views of the desert, valleys, mountains and sea.
Beyond that, it's hard to figure out how city support structures like water reservoirs, recycling or waste incineration plants and power generation plants can co-exist in such a structure.
Having to figure all these out in a linear-shaped structure and have residents take a high-speed subway just to get "along town" would seem somewhat inefficient.
Oh, and thirdly, we're not sure who's going to polish and clean those mirrored walls every time a sandstorm hits. We'll just have to wait and see.
Anyway, here are a few other out-of-this-world or extraordinary city planning ideas we've seen recently:
USA's Painted Rock Smart City and Innovation Park
Before October 2021, cryptocurrency entrepreneur Jeffrey Berns, had planned to build a self-governing smart city powered by blockchain technology deep in USA's Nevada desert.
With help from architectural firms Ehrlich Yanai Rhee Chaney and Tom Wiscombe, Berns wanted to transform 27,113 hectares of land for 36,000 people to live and work. Residents can then bank, vote and store data without the scrutiny or involvement of governments or third parties.
Separate from the buying and selling of digital tokens known as cryptocurrencies, such as Bitcoin and Ethereum, blockchains are the underlying technology where digital records can track transactions in chronological format publicly. These decentralised ledgers are not tied to any governments or authorities.
What this meant was that the Innovation Zone within Painted Rock City would thus run at-scale blockchain-based technologies off-the-grid, like an early, self-contained Silicon Valley.
Notably, Berns made his fortune selling cryptocurrency in 2017, so he's reportedly paid US$170m to the US state for the land. His company, Blockchains Inc., had meant to serve as an incubator to support ventures and businesses using blockchain technology.
The proposed city would support communal living facilities with shared amenities, "massive workplace manufacturing hybrids", and civic centres and green courtyards. Autonomous and electric vehicles were also envisioned.
Unfortunately, due to unfavourable support from legislators in his county, Berns had to withdraw his smart city proposal in October last year. Before the withdrawal, some critics have also raised concerns about how Berns planned to provide a desert city of 36,000 residents with clean, running water.
Malaysia's BiodiverCity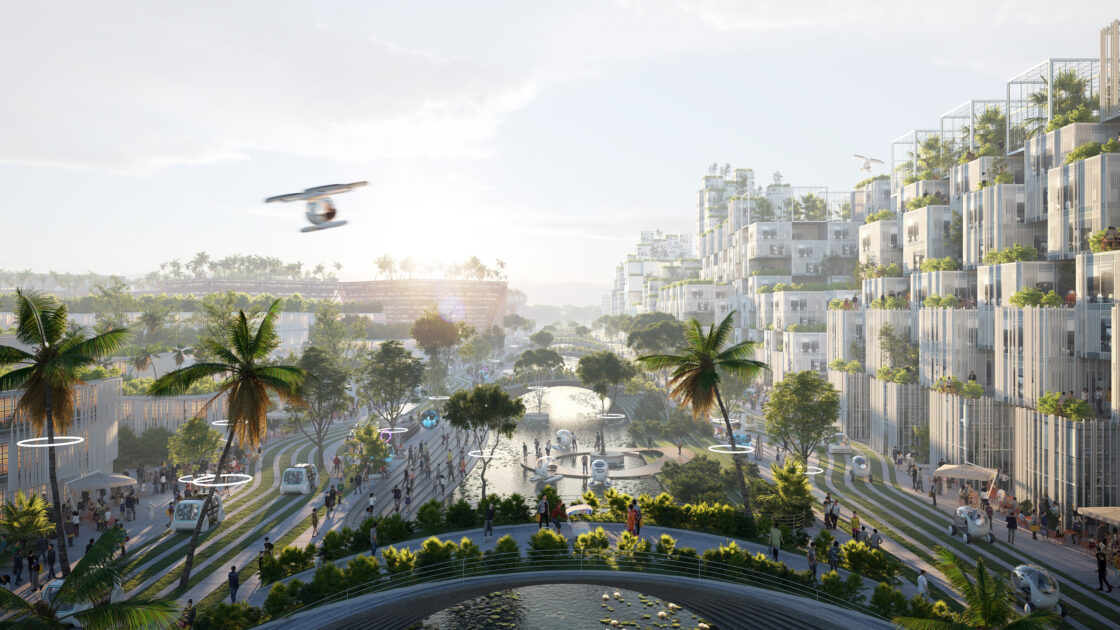 As part of Malaysia Penang Island's Penang2030 vision, the BiodiverCity masterplan proposal will provide Penangites with approximately 4.6km of public beaches, 600 acres of parks and a 25km waterfront.
Designed by architectural firm Bjarke Ingels Group (BIG), Hijjas and local firm Ramboll, BiodiverCity will comprise three artificial islands – the Channels, Mangroves and Laguna – built off the shore of the main island's southern coast. The vast land reclamation project – 1821 hectare-wide – will see each island take the shape of a lilypad.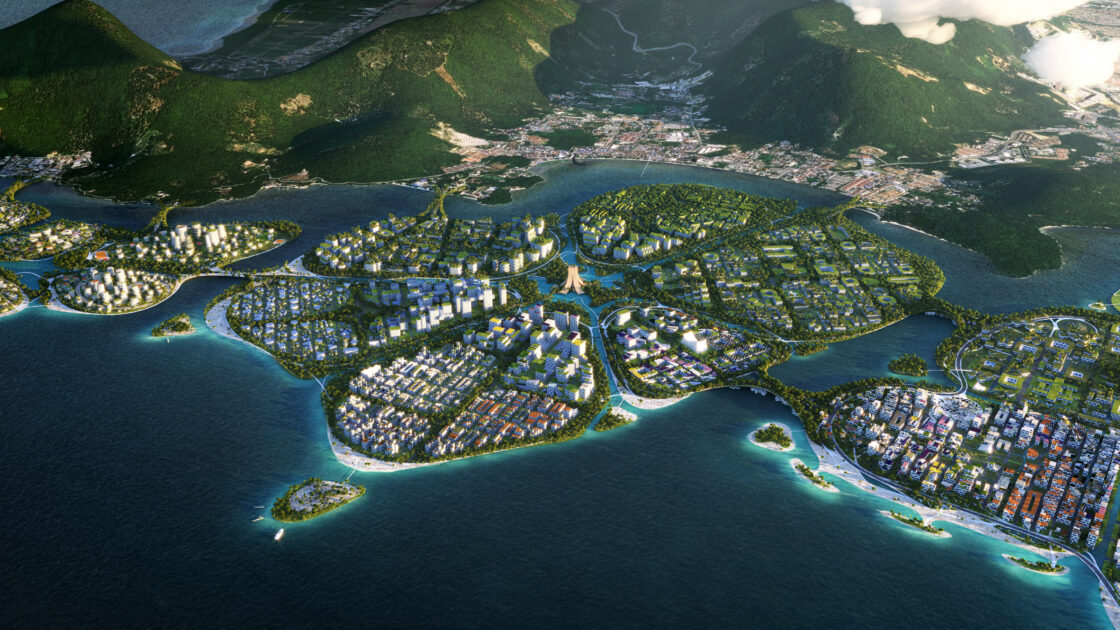 According to BIG, buildings will be constructed using a combination of bamboo, Malaysian timber and "green concrete" that uses recycled materials as aggregate.
Each of the three islands will sustain between 15,000 to 18,000 residents and rely on localised water resources, waste management and renewable energy. Transport-wise, there will be autonomous water-, air- and land-based networks to hopefully make BiodiverCity a car-free community for bikers and pedestrians.
Each structure on the island will also have a 50 to 100-metre "buffer", used to sustain nature reserves and parks (hence the term "biodiverCity").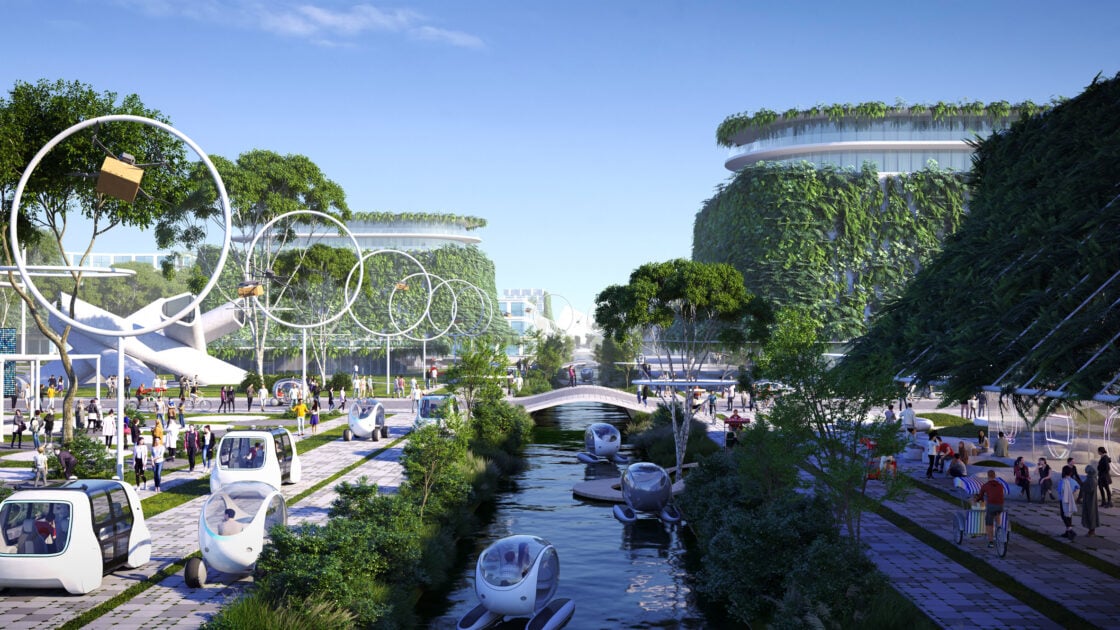 Maldives' Floating City
In an effort to combat climate change and rising sea levels, Maldives is partnering with architects from Waterstudio and developers Dutch Docklands to form a brain-shaped floating city for 20,000 people.
Scheduled for construction towards the second half of 2022, the city, which includes homes, schools, a hospital, offices, hotels, restaurants, boutiques and marinas, will be about 10 minutes by boat from Male, the capital.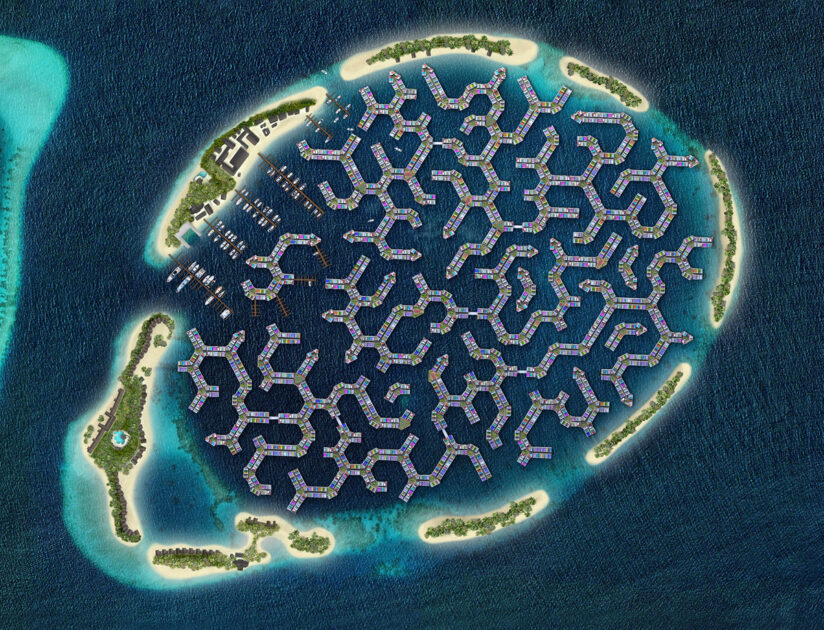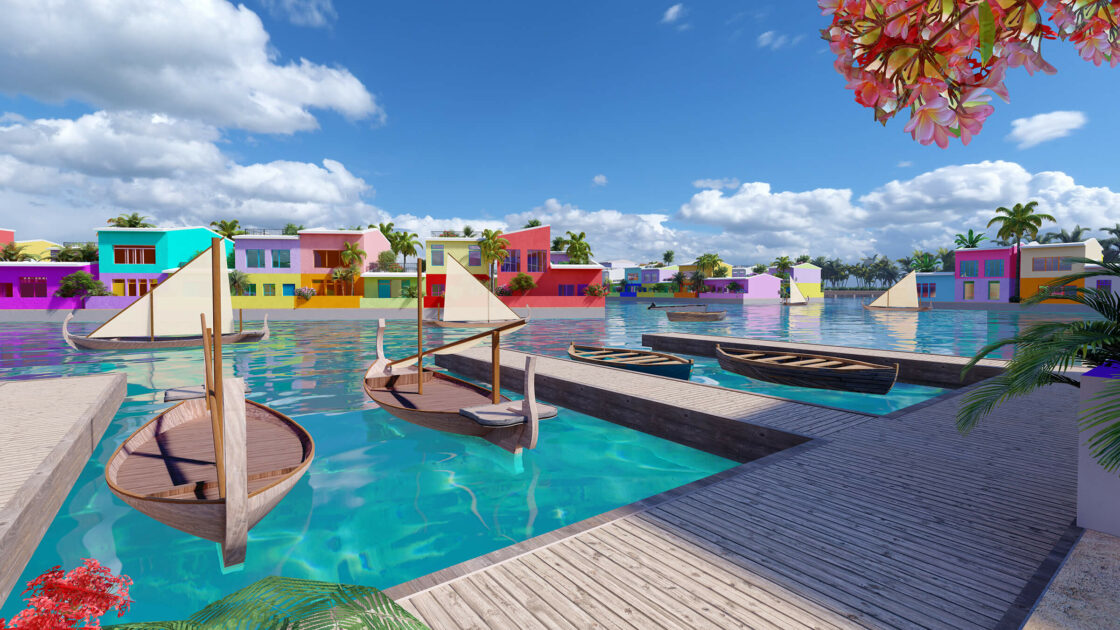 Consisting of 5,000 low-rise floating homes within a 200-hectare lagoon in the Indian Ocean, the city itself, since it's built on hexagonal-shaped floating structures, will rise if sea levels rise.
According to the Intergovernmental Panel on Climate Change (IPCC) Sixth Assessment Report 2022, small island nations like Maldives will be uninhabitable by the year 2100 as the world warms by two to three degrees this century.
"The world faces unavoidable multiple climate hazards over the next two decades with global warming of 1.5°C," as said by the United Nations climate change panel.
"Even temporarily exceeding this warming level will result in additional severe impacts, some of which will be irreversible."
The government aims to offer the floating city to current residents as early as 2024.
Canada's The Orbit
Located in the Canadian town of Innisfil, The Orbit is a proposed smart community of 37,000 people that combines the small agrarian town, its rural lifestyles and the latest in modern engineering. The latter covers technologies used for urban farming and renewable energy, including networking the entire grid with fibre optics and powered through data intelligence.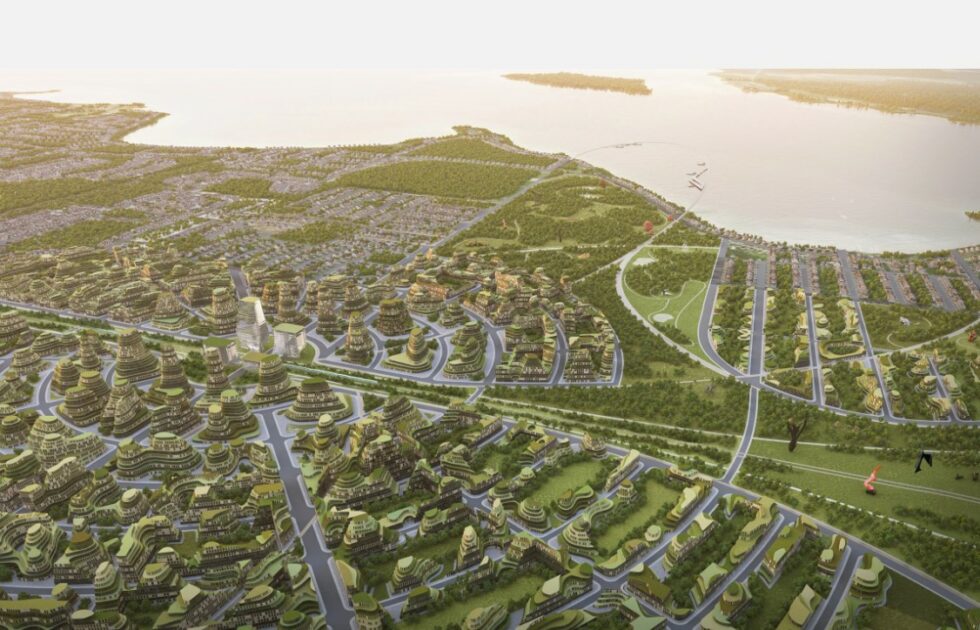 The Toronto-based architectural firm, Partisans, which is behind the project, also aims to have every rooftop planted with foliage and connect the city with drone ports and driverless cars.
The seed of this idea came about when the country's next-gen transit hub – the GO Metrolinx – was proposed for launch between 2022 and 2025. The Innisfil station will link the town to Toronto, just 60km away, and regional public transit areas like Greater Toronto and Hamilton.
"The city, inspired by the idea of an orbit, will ripple outwards from this hub in a circular pattern, containing development, while embracing Innisfil's agricultural roots," the architectural firm said. "Essentially, residents will be able to balance the benefits of living in an urban and rural community."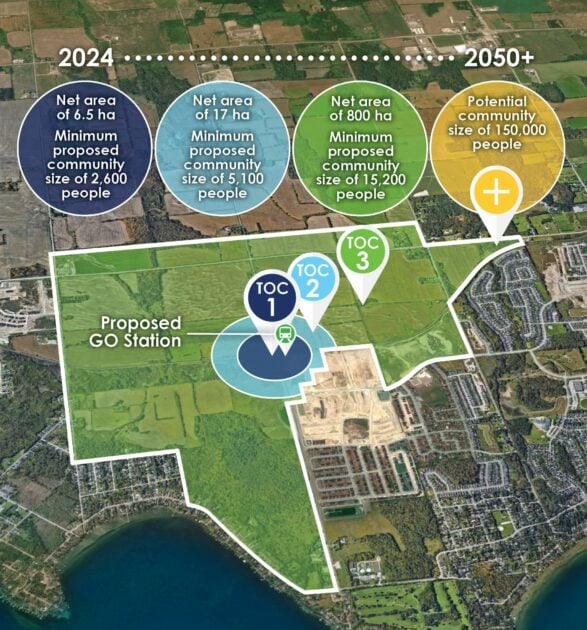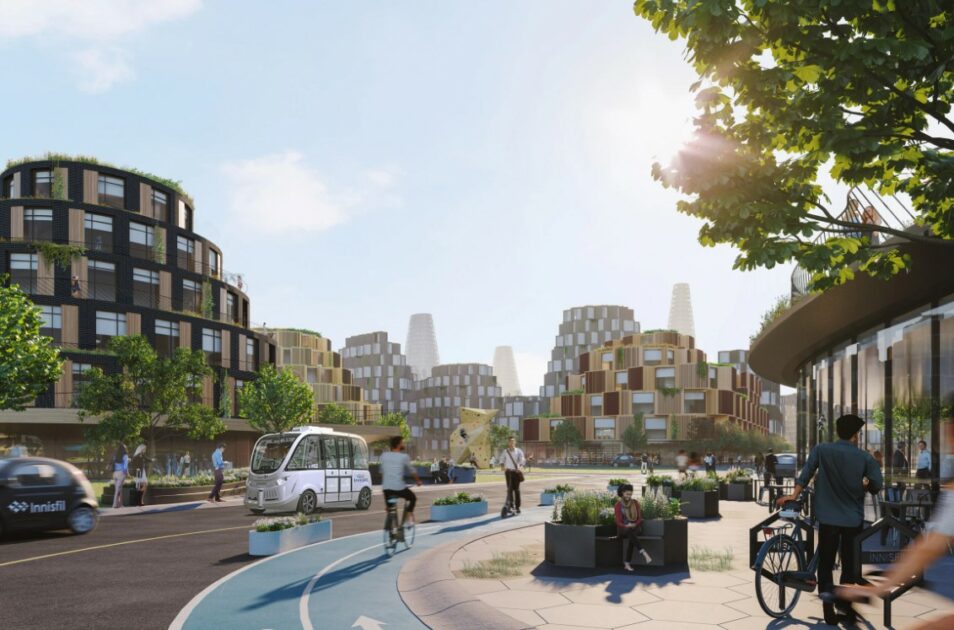 This transit hub will form the centre of The Orbit layout, featuring two mixed-use towers to house offices, retail spaces and homes. Roadways will then wrap around this central area and expand in size, forming "squircles" – a mix of circles and squares.
So circular streets will merge with the current grid of Innisfil, while being segmented into parcels, filled with grass and trees. Parts of the transit system will include driverless cars and ride-sharing, while access to walking trails, cycling paths and Lake Simcoe's waterfront will be woven in as well.
The Orbit will occupy more than 40 million square feet (4m sqm) of space and is designed to support a population of 30,000 to 150,000 over several years.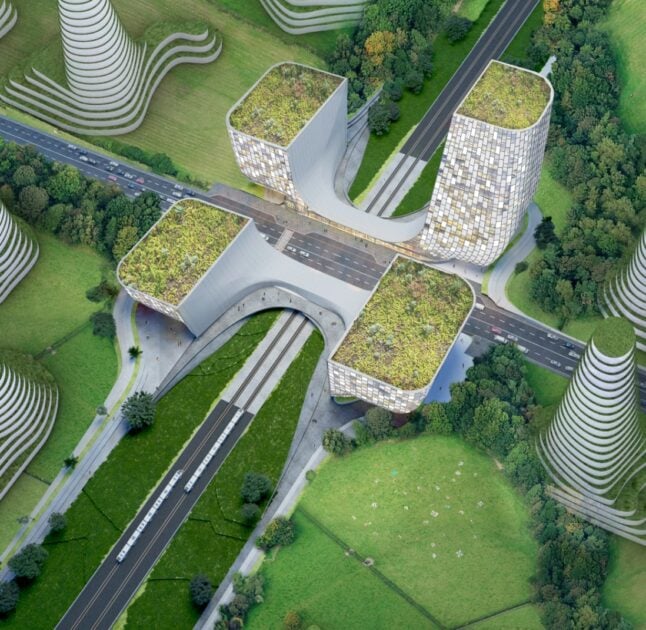 –
What are your thoughts about these city master plans? Let us know in the comments section below.
If you found this article helpful, 99.co recommends Would you be willing to live underground or out at sea if we ever run out of land? and Singapore's Long-Term Plan Review for the next 50 years and beyond.
The post Out-of-this-world city planning designs (probably won't happen in Singapore) appeared first on .