URA has released two sites – Bukit Timah Link and Hillview Rise – for tender.
They are from the Confirmed List of the second half of 2022 (2H2022) Government Land Sales (GLS) Programme. Combined, both sites can yield about 495 residential units.
Location
Bukit Timah Link
Hillview Rise
Site Area
4611.1 sqm
10,395.2 sqm
Land Use Zoning
Residential
Residential
Maximum Gross Floor Area (GFA)
13,834 sqm
29,107 sqm
Maximum Building Height
Max 20 storeys

Technical height:
153m Singapore Height Datum (SHD)

Technical height:
120m SHD
Estimated Number of Housing Units
160
335
Lease Period
99 years
99 years
Bukit Timah Link
The 4,611 square metres site is located next to Beauty World MRT station and across Beauty World Centre. Notably, it is located next to the mixed-use development at Jalan Anak Bukit, which was awarded via tender to Far East Organization and Sino Group in August 2021.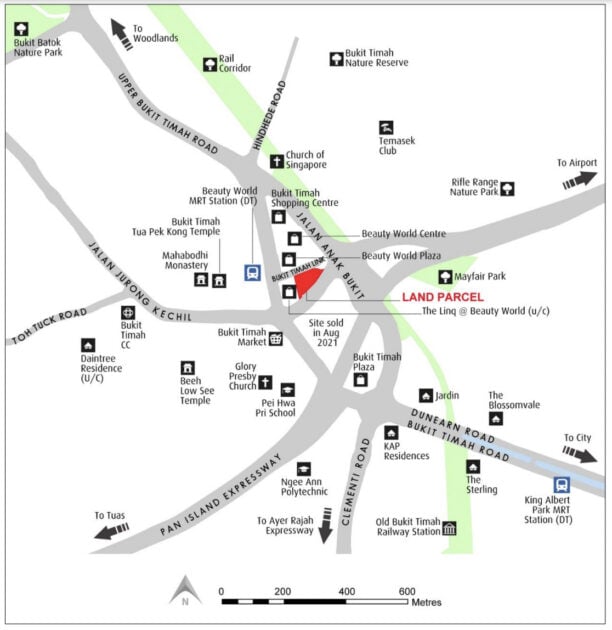 According to Ms. Tricia Song (宋明蔚), Head of Research, Southeast Asia, CBRE, the site "is set to benefit from upcoming rejuvenations in the vicinity."
This is because the adjacent mixed-use Jalan Anak Bukit site will have an integrated transport hub with a bus interchange on the second storey, with civic and commercial spaces across the first three storeys, as well as an underground pedestrian link that will connect to Beauty World MRT Station on the Downtown Line.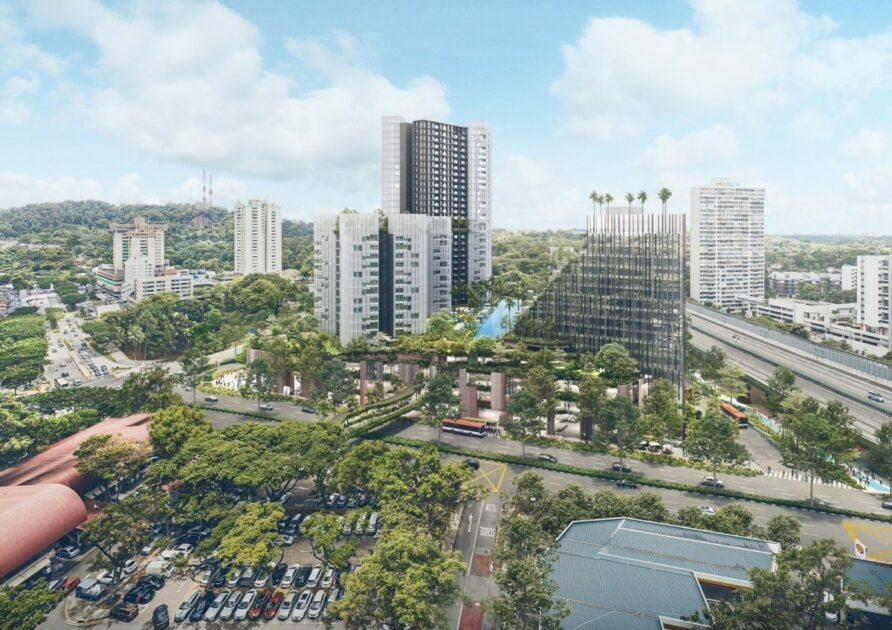 The adjacent mixed-use Jalan Anak Bukit site was awarded in a Concept-and-Price tender in August 2021 for S$1.28b or S$989 psf per plot ratio (ppr).
"In addition, Pei Hwa Presbyterian Primary School is a short walk away, and there are five schools found within a 2km radius of the site, including the popular Methodist Girls' School," Song shared in a statement.
The site is also near two new 99-year leasehold launches. According to Song, the 171-unit Mayfair Modern and the 215-unit Mayfair Gardens are 96% and 99% sold, respectively. They were launched in April 2019 and September 2018, respectively. They achieved year-to-date 2022 median prices of S$2,148 and S$2,059 psf, respectively.
Other nearby residential developments include The Linq@Beauty World, which was launched in 2020. It sold 99% (119 units) of its total 120 units at a median price of S$2,171psf. The sales were largely attributed to its freehold tenure and for being part of a mixed-use development with a direct link to Beauty World MRT station.
Considering the number of units for the newly released GLS site is a palatable 160, Song forecasts 8-12 bids and a top bid of S$195 – 208 million (S$1,300-1,400 psf ppr). Song also shared developers could look to launch at S$2,200-2,300 psf for the site.
Hillview Rise
As for the Hillview Rise site, it is located within an established residential area, where the Hillview Community Club is.
The location makes it easily accessible via major roads such as Upper Bukit Timah Road. Furthermore, it is in close proximity to Hillview MRT station under the Downtown Line and commercial centres such as HillV2 and The Rail Mall.
This site could build up to 335 units.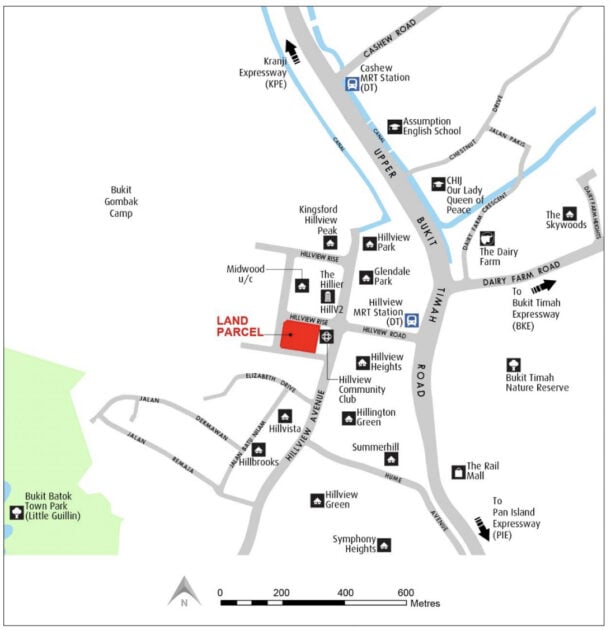 The newest launch near the site is the 564-unit Midwood, which sold its last 18 units in May 2022. Song shared that the project had a slow start at its launch in Oct 2019, but gradually gained momentum in late 2021, achieving a median selling price of $1,710 psf in 2022 year-to-date.
The most recently-sold GLS site nearby was the Dairy Farm Walk site, which drew seven bids and was awarded to Sim Lian for S$347.0 million or S$980 psf ppr in March 2022.
Other older condominium projects nearby have transacted between S$1,336 to S$1,535 psf in the year-to-date.
The nearest existing project, 99-year leasehold The Hillier (TOP: 2016), traded around S$1,324-1,599 psf in 2022-to-date. Another 99-year project, Kingsford Hillview Peak, also completed in 2016, trades at S$1,267 – 1,472psf in 2022-to-date.
Most analysts expect 6-8 bids for this tender. CBRE's Song also projected a top bid of S$338 – 360 million or S$1,080-1,150 psf ppr, with developers looking to launch at S$1,900-2,000 psf for the Hillview Rise site.
The tender submissions for both sites will close by noon on 3 November 2022.
–
Will you be planning to stay at any of these sites? Let us know in the comments section below.
If you found this article helpful, check out our H2 2022 GLS: First condo in Marina South, second EC in Tengah and more sites at Lentor and Buyers are willing to pay up to 27% more for OCR integrated developments.
The post H2 2022 GLS: Two Government Land Sales confirmed sites – Bukit Timah Link and Hillview Rise – have been released for tender appeared first on .