Developer sales fell by 47.6% in August 2022, as 437 new units excluding executive condominiums (EC) were sold last month. Year-on-year, new home sales dropped by 64.1%.
Given the Hungry Ghost Month, developers have held back new launches, with only 134 units launched for sale.
According to data released by URA on Thursday 15 September, a majority of the new homes sold in the month were from the CCR, with 220 units (50.3%). Meanwhile, 127 units (29.1%) were sold in the RCR, and 90 units (20.6%) were sold in the OCR.
The best-selling projects in the month were:
Hyll on Holland
Riviere
Perfect Ten
The Hyde
Leedon Green
The Gazania 
One Pearl Bank
Tricia Song, Head of Research, Southeast Asia at CBRE, said, "Including the 4,222 new homes sold in H1 2022, preliminary new developer sales (excluding ECs) year-to-August now stand at 5,493 units, 40.8% below the 9,277 units sold over the same period last year."
Narrowing price gap between CCR, RCR and OCR
Lee Sze Teck, Senior Director (Research) at Huttons Asia, pointed out that last month marked the first time since October 2017 that CCR sales exceeded 50% of monthly sales. A possible explanation could be the narrowing price gap between CCR and RCR homes.
"Buyers are shifting their focus to the CCR as the median price per sq ft between the CCR and RCR has narrowed to 14.9% in August 2022 compared to 41.6% in January 2022," Lee added.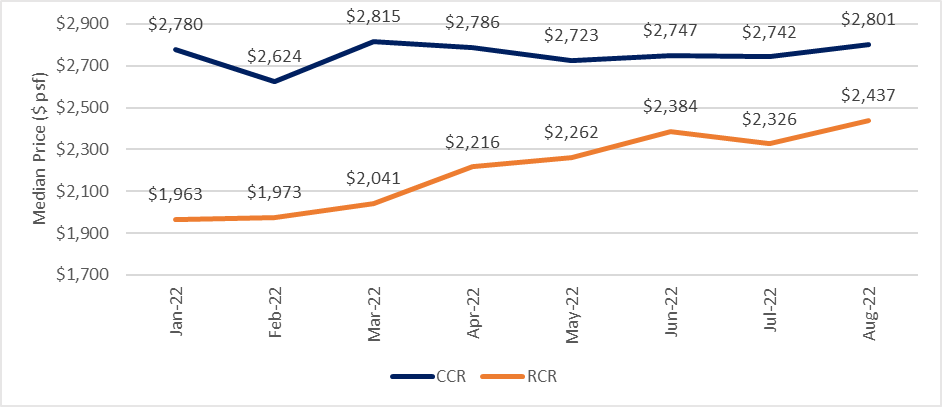 Song added that nine of the 10 top-performing projects last month came from the CCR and RCR, which could indicate that buyers are seeing the value in these two segments. This is as the price gap narrows against recent OCR launches, which have crossed the S$2,000 psf threshold.
Increasing purchases by foreigners
The data also revealed that 59 new homes were bought by foreigners last month, up from 42 units in July.
Experts have pointed out that the proportion of foreign purchases of new homes has shot up to 13.3%, with Lee adding that it is the highest since March 2016.
In comparison, the proportion was 5.1% in July.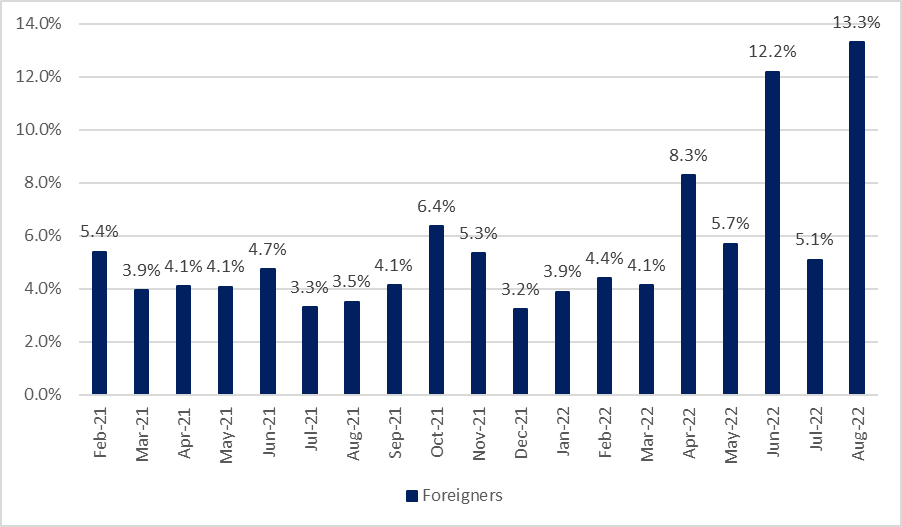 Christine Sun, Senior Vice President of Research & Analytics at OrangeTee & Tie, said, "Year-on-year, the proportion of foreign purchases increased by 9.8 percentage points from 3.6% (40 units) in August 2021."
As expected, the new homes bought by foreigners were mainly located in the CCR.
New launches with the highest number of purchases by foreigners include The Hyde with eight units, while Haus on Handy, Hyll on Holland, Midtown Modern, Perfect Ten and Riviere each saw four units sold.
Largest proportion of new homes sold was between S$1.5m – S$2m
According to Song, the largest proportion of new private home sales remained in the S$1.5 million to S$2 million range, at 36.0% of the month's transaction volume. This was followed by the S$3 million to S$5 million price bracket at 20.3%.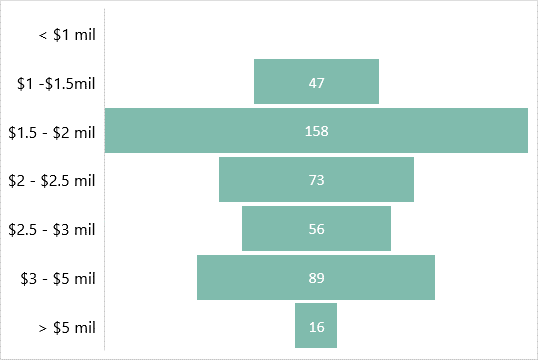 Outlook
Experts expect new home sales in September to rebound as major projects such as Sky Eden@Bedok and Lentor Modern are launched this month. Sky Eden@Bedok saw 75% of its units sold on the first day at an average price of S$2,100 psf.
"Even at higher price points, units are being snapped up in these two projects. Their successful launches testify that affordability is not an issue for some buyers and people are willing to pay for projects with good locations and attractive product attributes," Sun added.
Upcoming launches in October include Gems Ville, K Suites, Mattar Residences and Sophia Regency.
Two new ECs, Copen Grand (the first EC in Tengah) and Tenet, are also expected to launch by the end of this year.
Experts estimate that around 9,000 new homes will be sold this year, with Huttons predicting a price increase of up to 8%.
Song, however, believes the price growth will moderate in the second half of the year as interest rates rise and macroeconomic headwinds could crimp affordability, especially for over-leveraged buyers.
"Barring a severe global economic downturn, CBRE Research expects private home prices to increase by 5% for the full year 2022."
New launch condos for sale
The Gazania
5 How Sun Dr · D19
4
3
$3,105,000
The Gazania
5 How Sun Dr · D19
2
1
$1,430,000
The Gazania
5 How Sun Dr · D19
3
2
$2,150,000
The Gazania
19 How Sun Dr · D19
3
2
$2,120,000
Haus on Handy
30 Handy Rd · D9
2
1
$1,810,000
Haus on Handy
28 Handy Rd · D9
2
1
$1,659,000
Haus on Handy
30 Handy Rd · D9
3
2
$2,718,000
Haus on Handy
28 Handy Rd · D9
3
2
$2,599,000
Piccadilly Grand / Piccadilly Galleria
5 Northumberland Rd · D8
3
3
$2,358,000
Lentor Modern
Lentor Ctrl · D26
1
1
$980,000
Would you be buying a new launch condo this year? Let us know in the comments section below.
If you found this article helpful, 99.co recommends Will Lentor Modern sell out on day 1? and 3 bids for Lentor Central, 2 for Lentor Hills Road (Parcel B) and 4 for Bukit Batok West Avenue 5 (EC) GLS sites. 
The post New private home sales fell in August 2022, highest proportion of purchases by foreigners since March 2016 appeared first on .