If you've been following 99.co, you'd know that we started visiting new launch condo showflats in 2022 and have written comprehensive reviews of them. From these visits, we've noticed several provisions that are becoming increasingly common in new launches.
It's also evident that developers have been taking notes from other new launches and getting to know their buyers better. And this is a move we welcome because it means more convenience for homebuyers. 
Here's a list of things we've seen in recent new launch condo showflats that just make sense to buyers.
1. Flexible spaces in units
The Covid-19 pandemic has changed the way we look at our homes. Many buyers' habits have changed with hybrid work arrangements, and more people prefer to stay home.  
According to the 2021 Global Buyer Survey by Knight Frank, around 70% of Singaporeans valued having more indoor space and a home study/office when it comes to choosing the type of property to live in after Covid-19 restrictions. 
61% of respondents also valued having more flexible living spaces and multiple-use rooms. 
That's probably why several developers have started providing additional spaces for flexible use in units. 
With these flexible spaces, buyers are able to turn them into whatever they wish to – a hobby room, study room, home office, art studio or even an additional bedroom.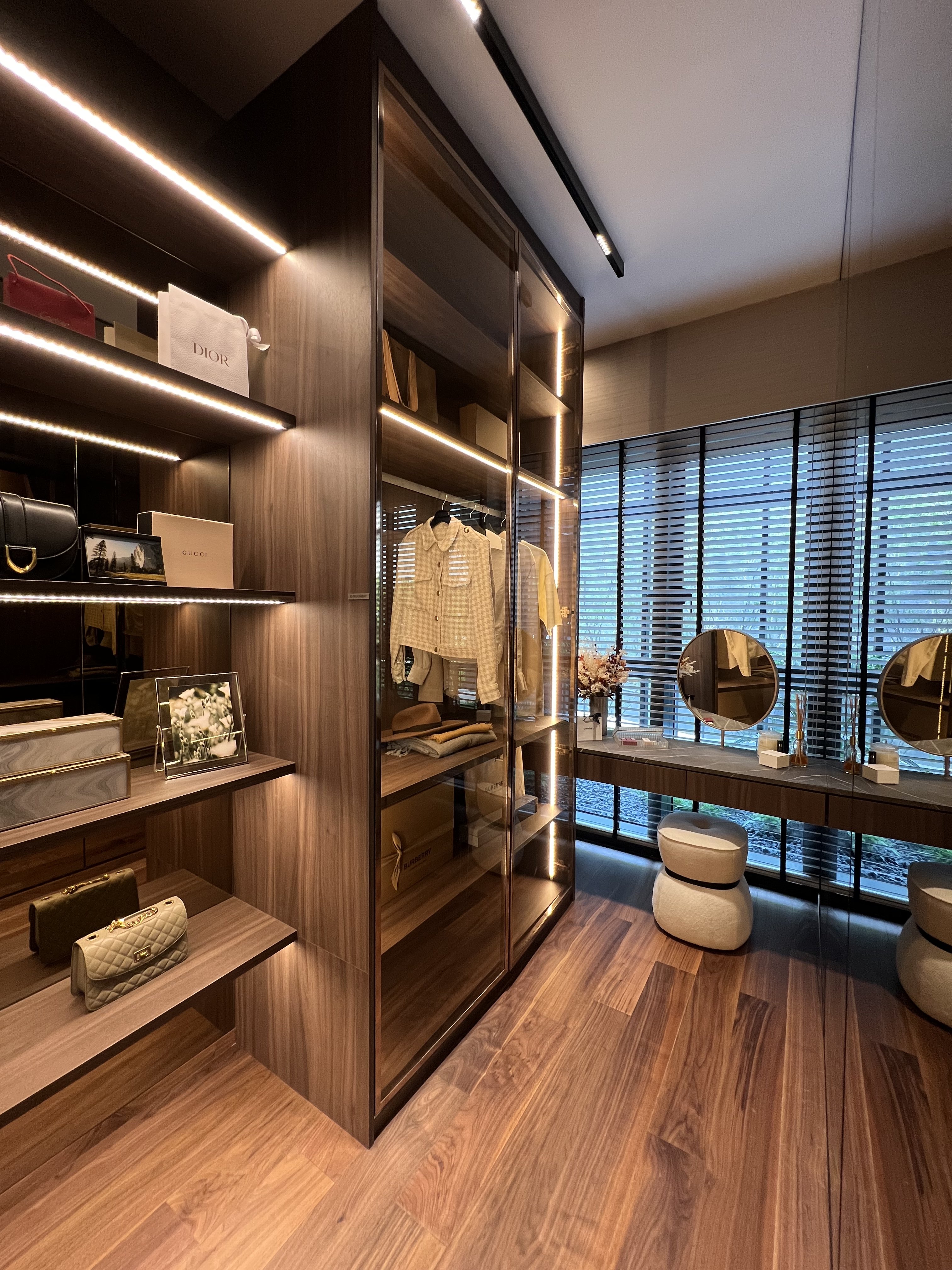 Most recently at Lentor Modern's launch, their 2, 3 and 4-bedroom units came with a Flex Room designed to suit various needs. For example, their 4-bedroom showflat demonstrated how the Flex Room could be turned into a walk-in wardrobe.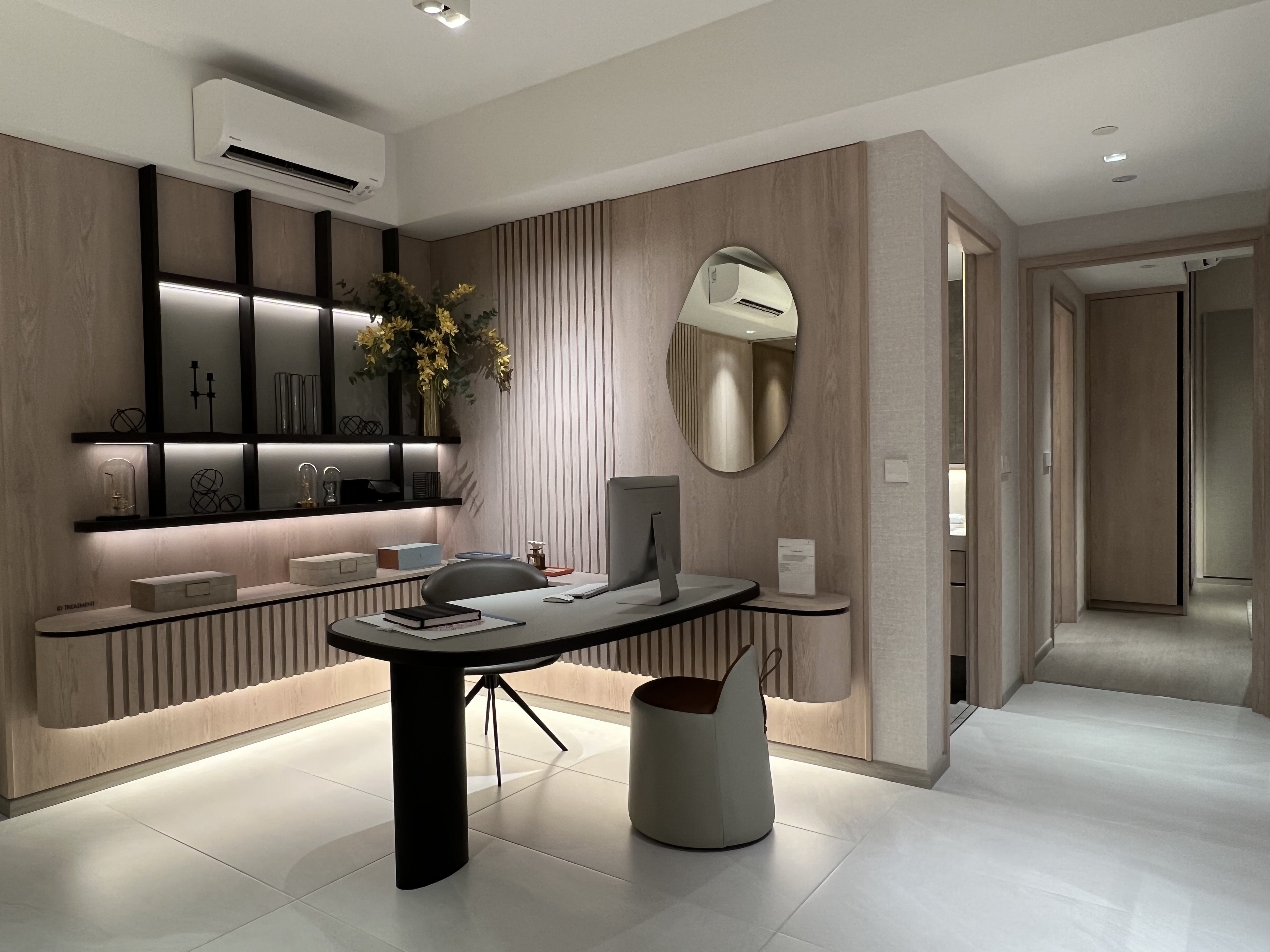 Similarly, the units at Baywind Residences have a Universal Space. In the showflat, the developer showed how the space could be turned into an open work-from-home/study area. 
enchanté, a new launch boutique condo in Novena, also has 3 and 4-bedroom units that come with a home office to facilitate hybrid working environments. 
The concept of having additional space itself is not new as we've previously seen units with a study room. However, having a "flexible space" gives buyers more freedom in designing their dream home. 
2. Work/study pods
This is a facility that has become increasingly common in many new launches. Hybrid work arrangements have given people the flexibility to work from anywhere. 
Work or study pods are perfect for residents who want a change of environment from working from home. What's great is that developers have incorporated these pods into their facilities and they are equipped with Wi-Fi.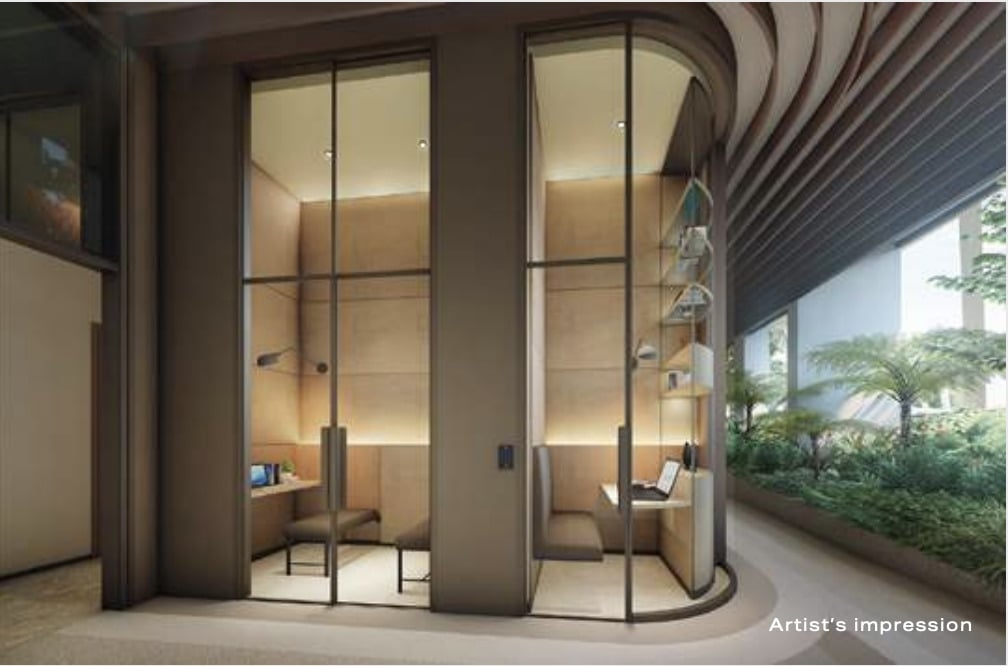 For instance, Canninghill Piers, an integrated development at Clarke Quay, has a Flexi Lounge and work pods. The Flexi Lounge is a co-working space with Wi-Fi and power plugs while the work pods are for those who need more privacy. 
The best part? Residents can step out and enjoy stunning views as the Flexi Lounge and work pods are on level 24.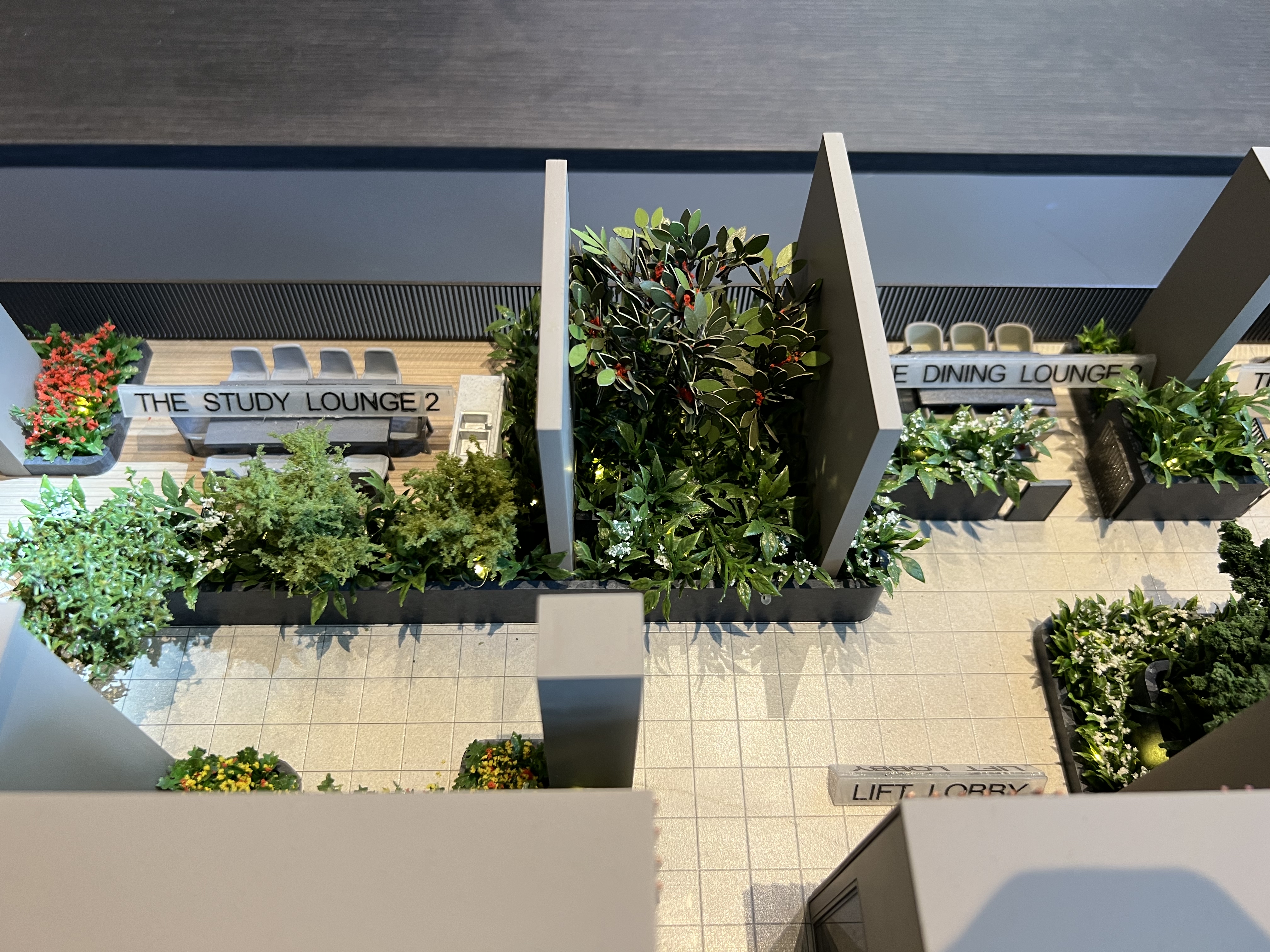 LIV@MB, near Katong Park MRT, has dedicated "study lounges" on the 11th floor so residents can get some view while working. Other developments with noteworthy workspaces are The Commodore, enchanté, Lentor Modern and Sky Eden@Bedok.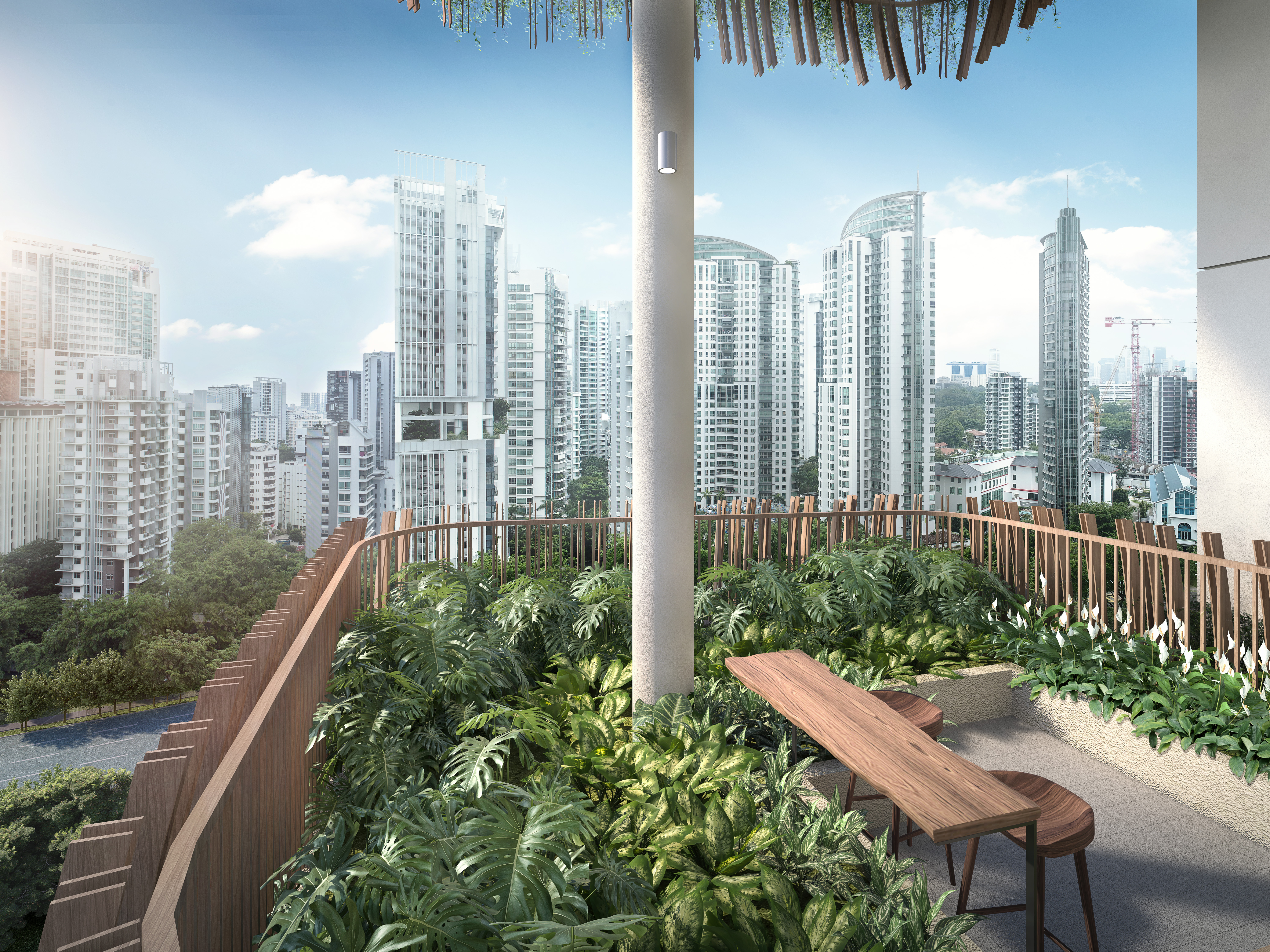 enchanté has a concept of sky gardens on alternate floors and the one on level 10 is designed for "working from home". It also has Wi-Fi and a view of the city. 
3. Thoughtful kitchen provisions
When buying a new home, one important thing you'd want is to minimise the additional cost of renovations as much as possible. The kitchen is one spot in the house which usually requires a lot of additional work such as installing racks, lights, appliances and more. 
However, some developers have made life easier for buyers by including thoughtful provisions in the kitchen.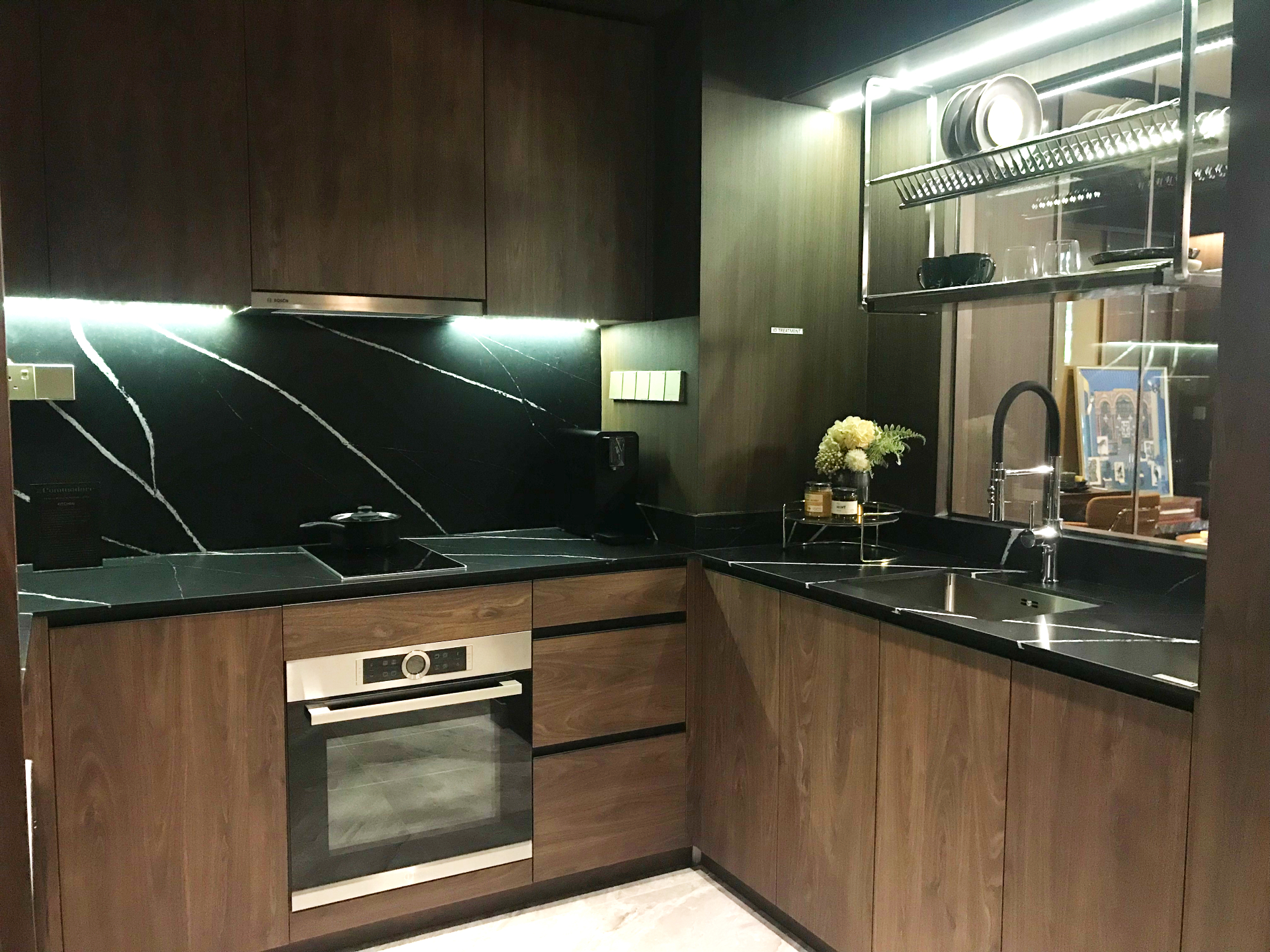 One feature that we've seen quite frequently are dish racks. Though it might seem like a simple addition, it's one less thing for you to worry about.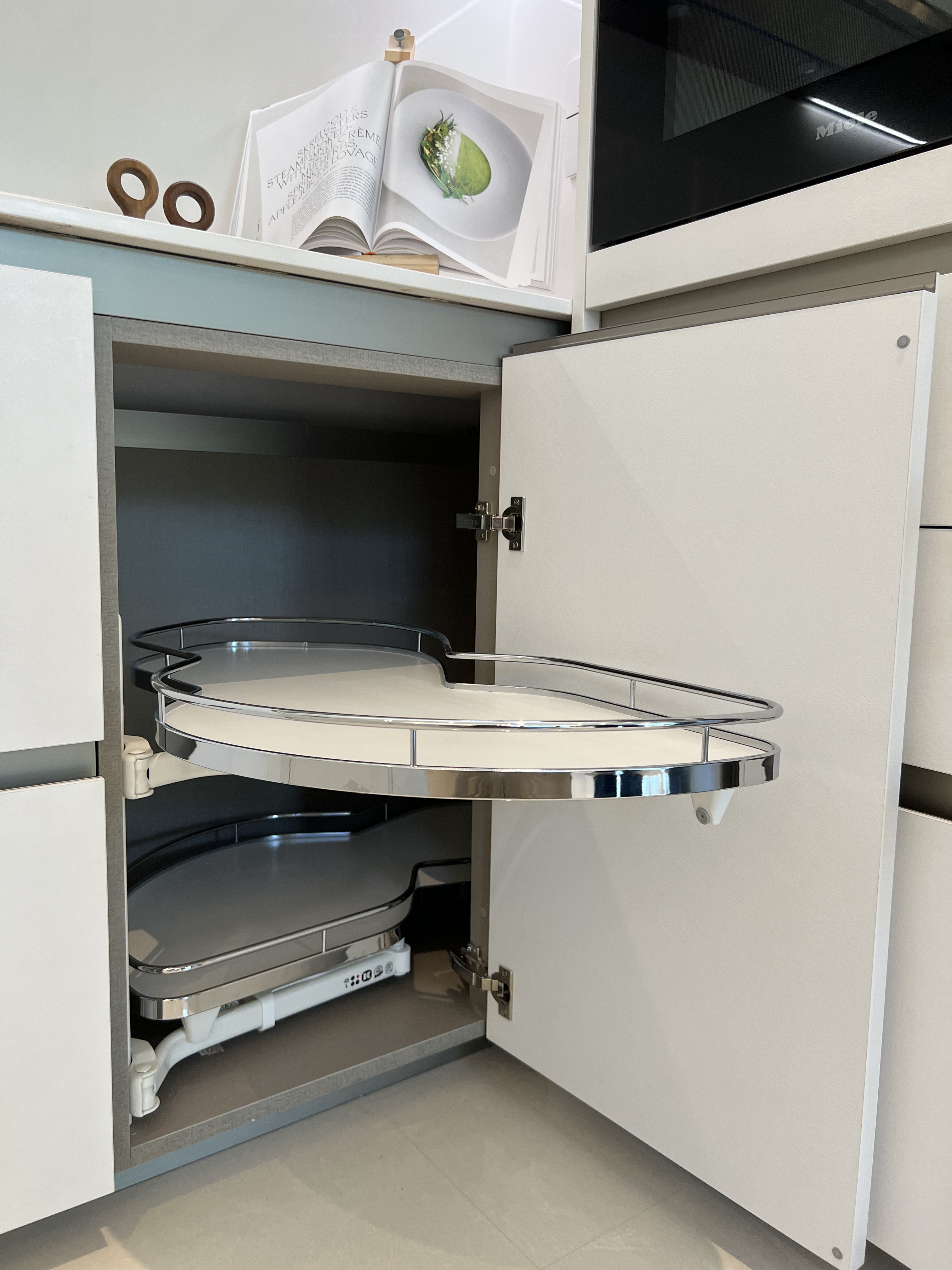 Another interesting feature that we've seen a couple of times are swivel baskets in kitchen cabinets. These are mostly found in U-shaped kitchens where the cabinets at the side are hard to reach. Hence, the swivel basket will help residents get their items more easily. 
4. Compartment racks in the master bedroom
As the master bedroom is usually shared between the Mr and Mrs of the household, they will need more space to store their items.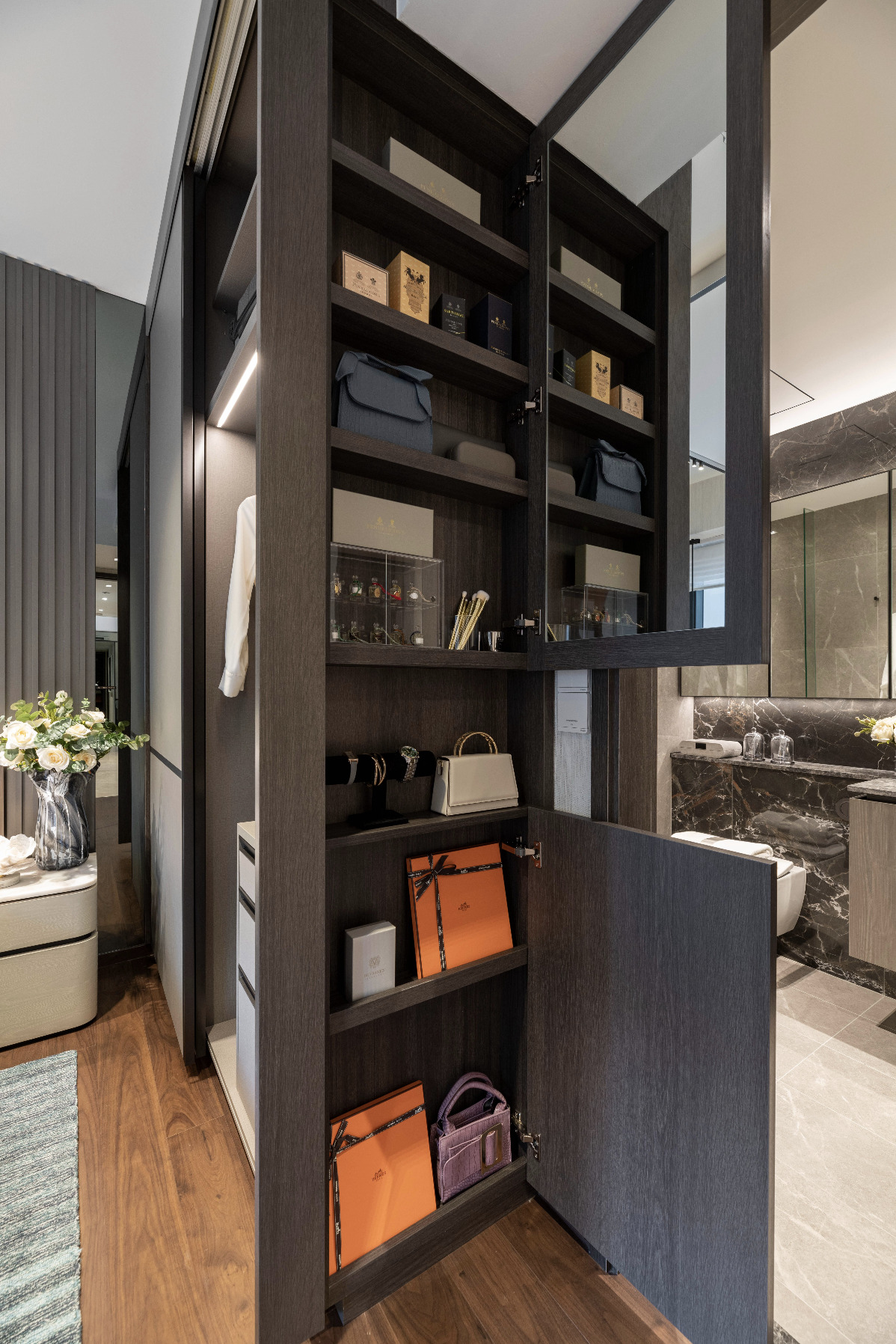 Some new launches, like Piccadilly Grand, have started to provide compartment racks at the side of the wardrobes. These racks are suitable for storing bags, make-up accessories, perfumes and more. They are also equipped with a mirror so that there's ample space for you and your spouse to get ready.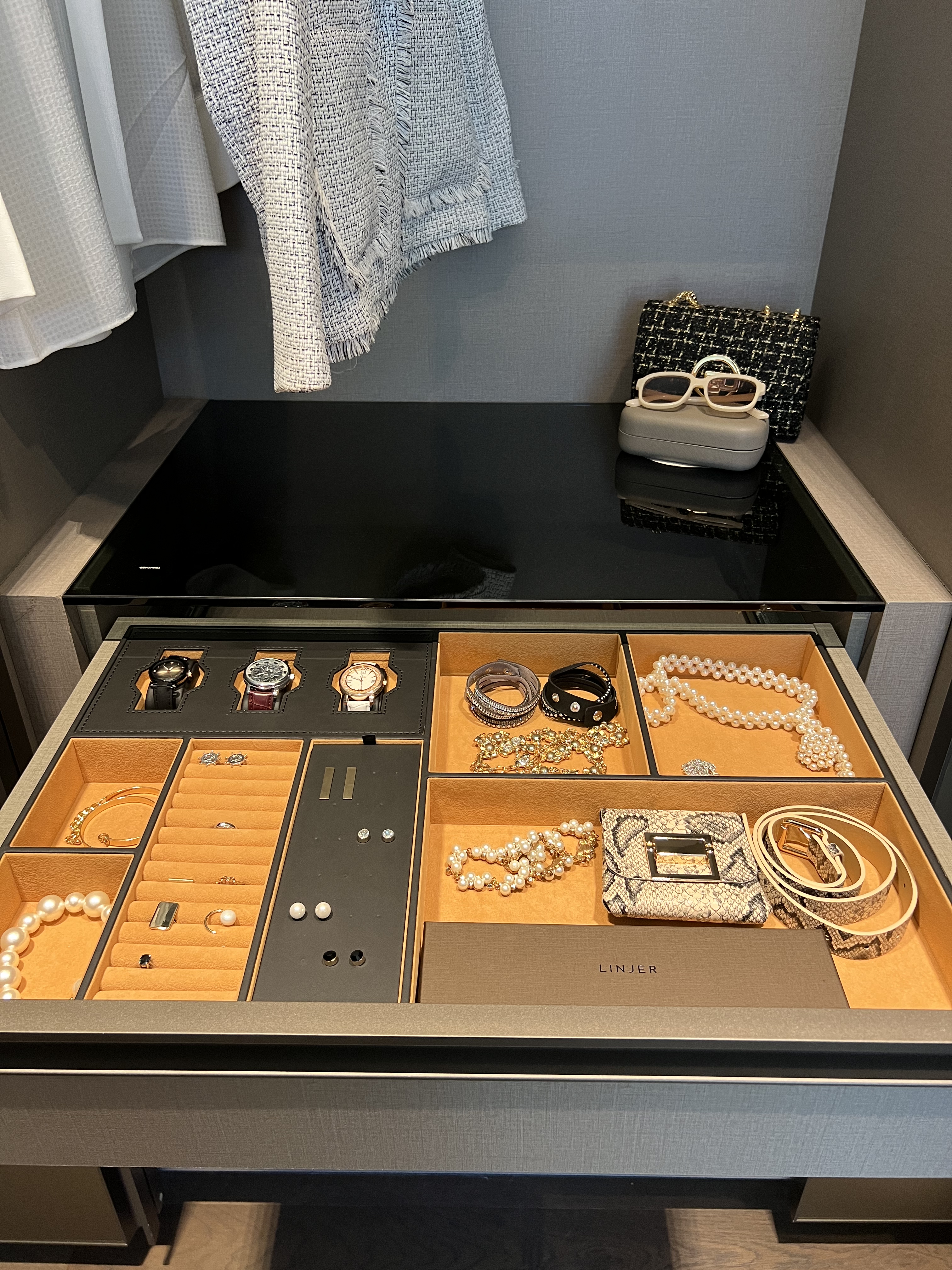 Accessories' drawers like this are also increasingly common, especially for master bedrooms in larger units. This is useful for residents as they can store small items such as rings, jewellery, watches and sunglasses. 
5. Additional storage closets
As the units in new launches are more compact as compared to older developments, residents might find it a challenge when it comes to storage space. 
Some new launch developments provide storage closets for cleaning equipment and other items. This is useful for smaller units that don't come with a household shelter.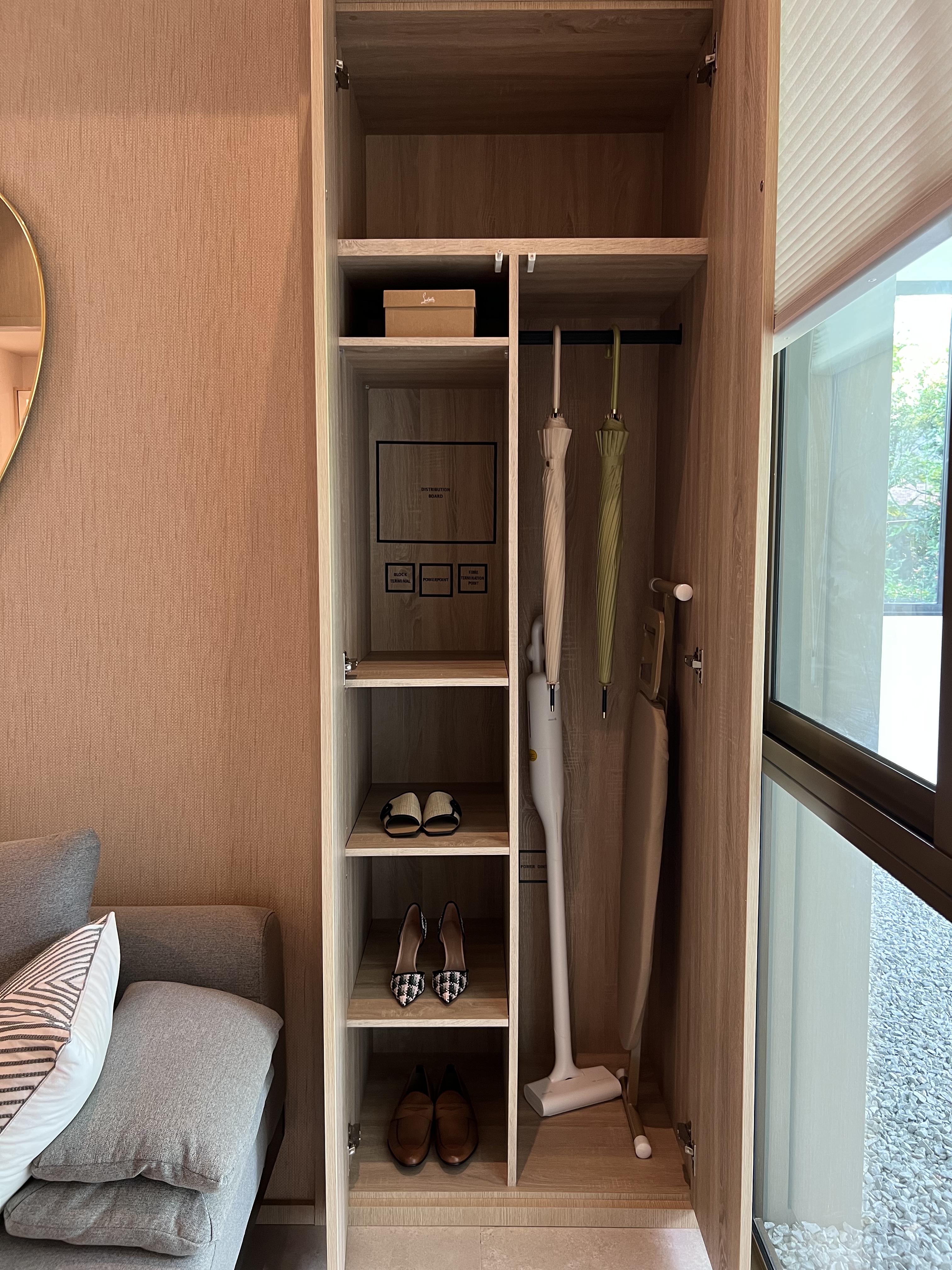 Some of these storage closets also come with power sockets, like the one we've seen at Atlassia's showflat, a boutique shophouse-inspired condo at Joo Chiat. This is beneficial for those with portable vacuums as you'll need to charge them constantly.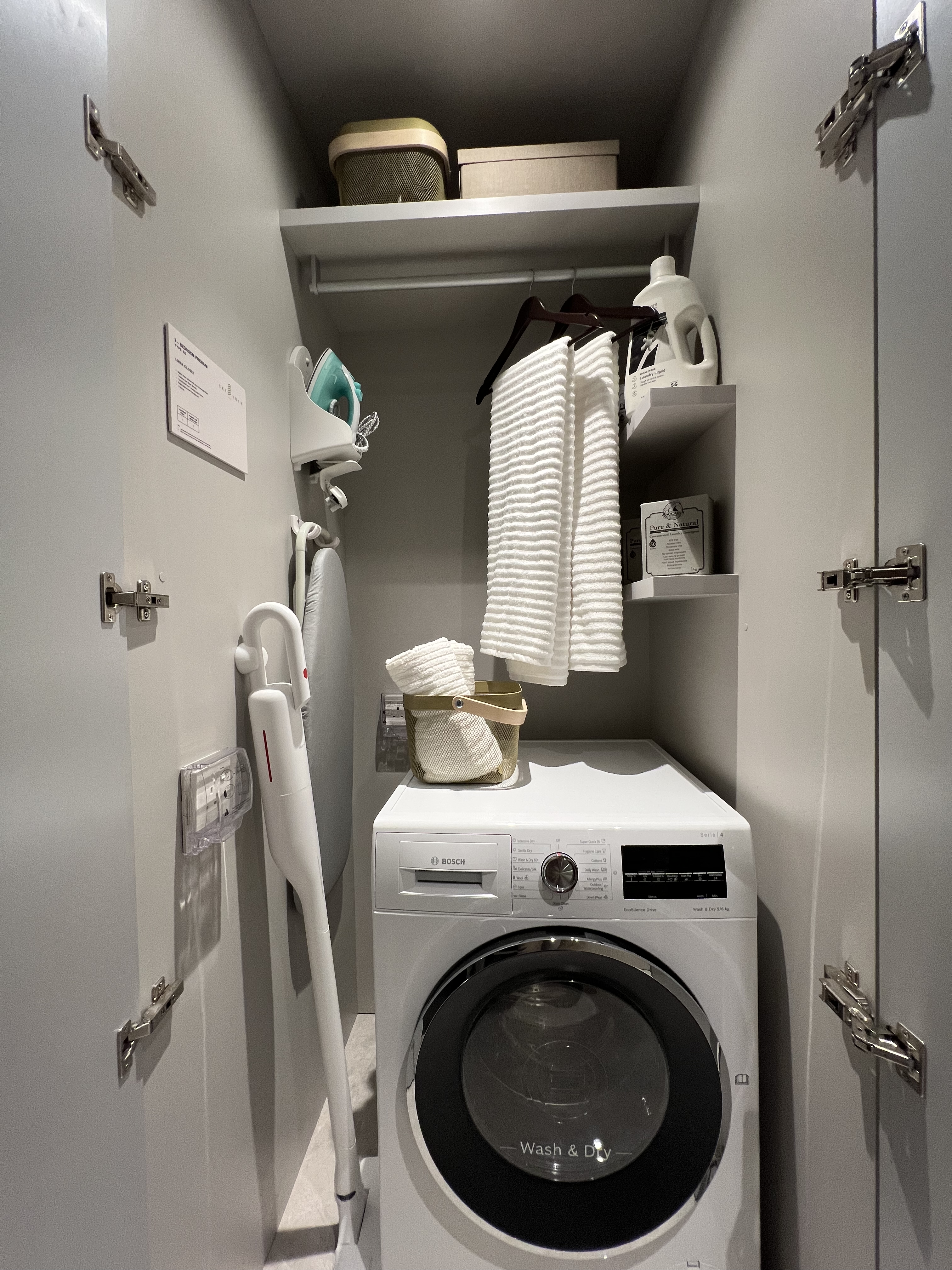 Instead of having a storage closet, the 2-bedroom unit at Sky Eden@Bedok has a linen closet with a washer-dryer and racks to store your cleaning essentials. 
6. Washers in bathrooms
When it comes to bathrooms, the standard provisions are usually vanity mirrors and storage cabinets. Most developments would also provide a rain shower and a window for natural ventilation in the master bathroom.
Recently, we've seen more new launches providing washers (or bidet sprays) in their bathrooms as well.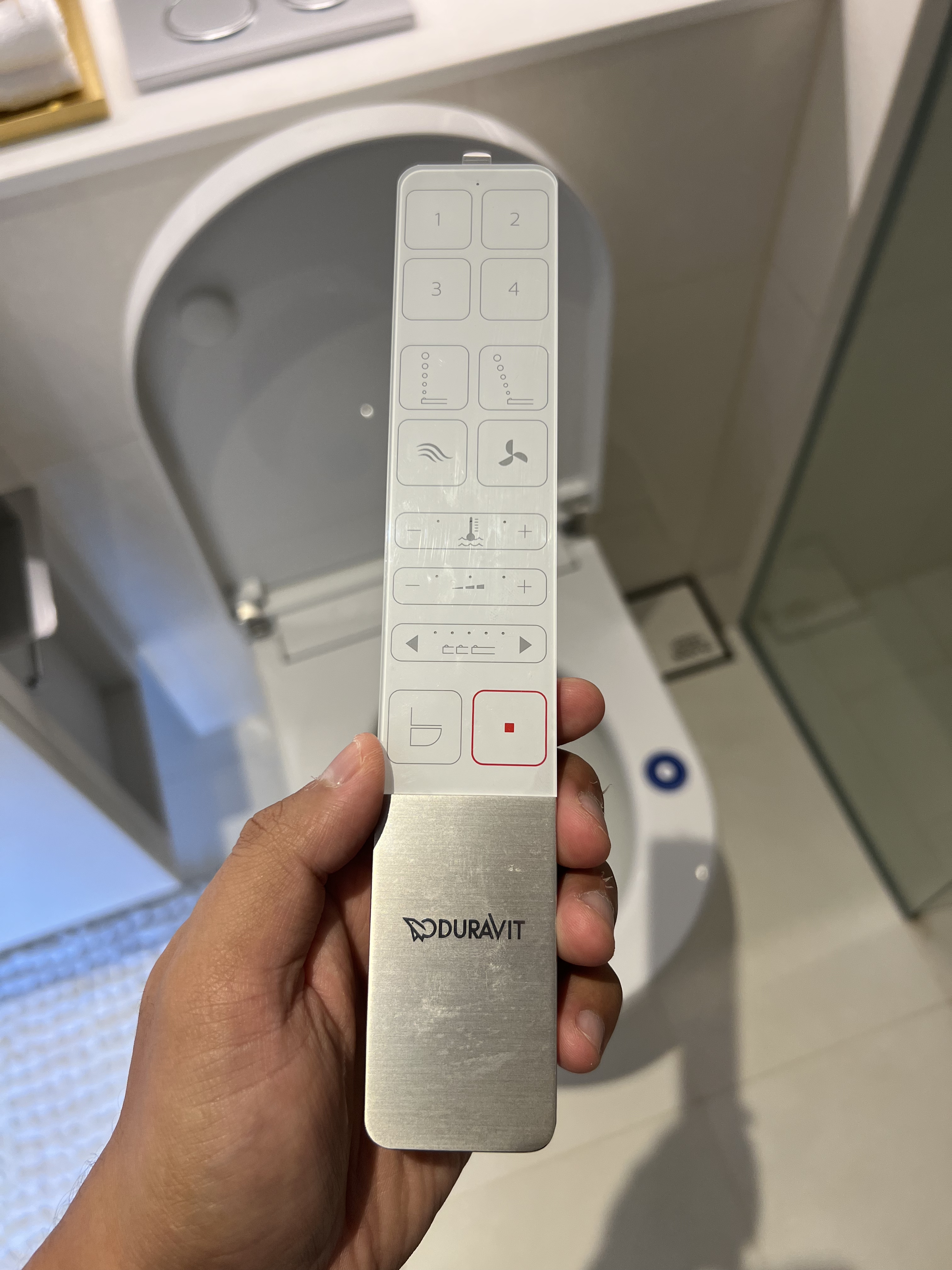 Apart from simple bidet sprays, some developers have also incorporated technology in the bathrooms. For instance, enchanté has a remote control for the washer in its master bathroom. Residents can use to remote to control the water pressure, seat temperature and more. 
Similarly, the master bathroom in the 4-bedroom unit at LIV@MB comes with smart buttons at the side of the toilet bowl. This will probably remind you of the high-tech washlets in the toilets in Japan!
Other developments like Lentor Modern and Sky Eden@Bedok also have bidet sprays provided in all their bathrooms. 
Besides the huge deciding factors in buying a house like its price, location and unit sizes/layouts, you'd also want a comfortable home to live in. Hence, these provisions that we've mentioned are added conveniences that make your life a little easier. 
With some of these provisions, hopefully, you'll be able to spend less time on renovations and can move in to your home more quickly. 
Going for a condo showflat but not sure what to look out for? Check out our video on useful tips you should equip yourself with before visiting a showflat:
–
What other interesting features you've noticed recently on your showflat visits? Let us know in the comments section below.
If you found this article helpful, 99.co recommends How to survive a condo show flat experience (without getting ripped off) and When a couple or family buys a stack of condo apartments in one go.
The post 6 things we've seen in new launch showflats that just make sense to buyers appeared first on .