When it comes to buying property, property auctions usually aren't the first thing that comes to mind. Most people embarking on their property purchase journey only think of three main routes:
Balloting for a BTO flat

Buying a resale HDB flat

Buying private property from the open market or a developer
But not many are aware of a lesser-known, fourth option: Buying a property in an auction sale. This is where – like the name suggests – properties are placed on auction and go to the highest bidder. These auctions are conducted by licensed property firms, where properties are marketed to multiple bidders at one time.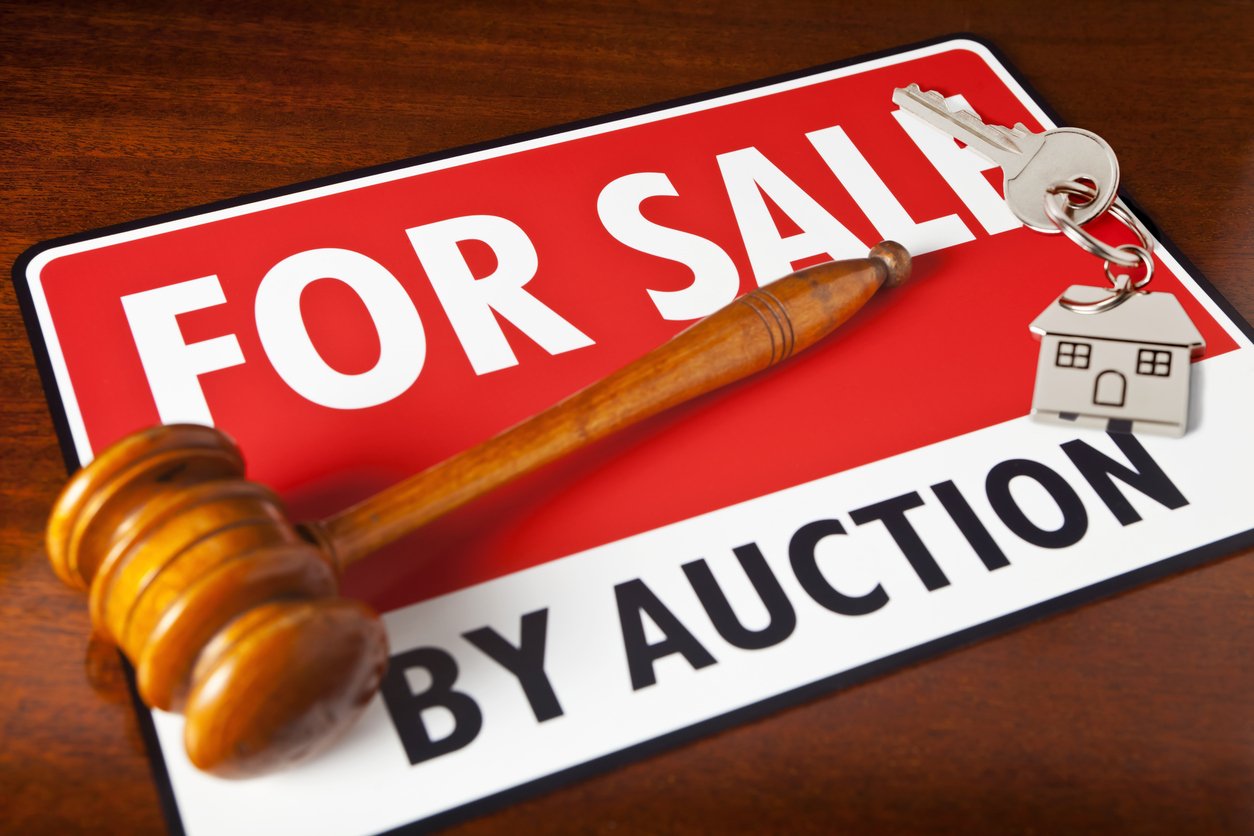 Why do properties go on auction?
Let's clear some things up before we proceed. There's the common misconception that mortgagee sales are synonymous with property auctions – they're not, but they're a form of property that can be found in auctions. 
So what are mortgagee sales? Mortgage sales happen when owners fail to service their mortgage and default on payments. The bank then steps in to seize the property and sells it off on auction to recoup the losses. 
On the other hand, some properties are voluntarily put up for auction by the property owners themselves. Why? Reasons are aplenty: Some owners may want to sell their property to liquidate their assets as fast as possible due to divorce, a court order, to generate buzz around their property or simply because they can. 
Two rounds of cooling measures in two years, coupled with the interest rate hikes throughout 2022, might spook some owners into offloading their properties quickly to avoid overextending themselves financially, leading to more auction listings. 
In fact, according to Knight Frank's Q2 2022 Auction Report, residential listings rose by 214% from Q1 2022, from seven to 22 listings. Industrial listings rose by 225% over the same period, from four to 13. 
What happens at a property auction?
There are many types of properties that go on auction, with residential properties making up most listings. Here are some pros and cons of buying a property at auction. 
Pros
1. You might be able to get a good deal
Since property auctions aren't the mainstream option in Singapore for property buyers, there's a higher chance you'll be able to scoop one up on the cheap. You might even be the sole bidder on the property, which means you won't have to fight anyone for it (metaphorically speaking, of course). 
A property may be withdrawn from the auction if it cannot meet the reserve price (the minimum price for which it will be sold). This reserve price is only made known to the auctioneer and seller. If this happens to a property you want, quickly ask to put your name on an interest list.
It's common for the owner to negotiate with interested buyers privately after the auction, especially if they're extra motivated to sell – This is another way to snag a good deal.
2. You get full transparency
Prior to the auction, all prices of all properties are stated clearly, which means you, as a buyer, can see all bids made on the property and decide to up the ante or withdraw your offer altogether. You'll also have a clearer idea of how hot the property is and if it's worth bidding for. 
This is different compared to buying on the open market, where the owner might tell you there are other interested parties paying more for the house of your dreams just to put the pressure on and get you to raise your offer. 
3. You can buy rare, niche properties 
Other types of properties are released during an auction sale that isn't limited to condos and landed properties, such as shophouses with rich histories and unique architecture.
Such properties are few and far between and get snapped up quickly due to their exclusive nature, so it's fastest fingers first. 
To stay on top of the auction activity, make sure you sign up for the mailing lists of companies such as Knight Frank, JLL, Edmund Tie & Co and Colliers. These big players will send you updates on the latest auction locations, available auctions of the year, as well as the details of properties that are up for auction so you can keep your finger on the auction pulse.
Cons
1. You might pay more than it's actually worth 
Yes, we did say that you might be able to find some undervalued gems in the auction, but if you're caught in a bidding war, and emotions start running high, you might throw your original budget right out the window. 
Don't forget that there may be other interested parties in the mix, vying for the exact same property. These can include seasoned property investors and experts with deep pockets and even deeper knowledge of the industry and trends. 
In 2018, an abandoned house off Upper Thomson Road owned by two sisters who were presumed dead was put up for auction after claims to the estate by several relatives were unsuccessful. 160 people showed up to the function room that was only set up for less than half the capacity. 
The bidding war kicked off at S$1.7 million, climbing rapidly within minutes to S$2 million before closing at S$2.23 million. It lasted all of 12 minutes, which tells you how fierce the bidding was. 
If you're someone who die-die-must-win at everything, participating in bidding wars might not be for you (unless you're an adrenaline junkie with bottomless pockets). 
Do your due diligence and compare the property you're eyeing with similar ones in the area (in terms of leasehold, median size and price per square foot) before pulling the trigger and writing the cheque. 
You can do so on URA's website and price transaction history, where the data is updated weekly and available to the public. Alternatively, you should use 99. co's website to shortlist at least ten properties in the general area to get a better sense of property values. 
Have a fixed amount you're willing to spend and stick to it. Remember, your goal is to snag something at a good value, not to win the bidding war. 
2. You only have a small window of research
Property listings are only released when the auction date draws near, so you have a short few weeks to research about it and get legal advice. This includes viewing the property, which you'll only be allowed to do so one to two weeks before the auction. You'll also need to be familiar with the auction process and review the relevant auction documents, such as the auction agent's Conditions of Sale. 
If you're looking to buy a residential property, doing a walkthrough on the amenities surrounding it is also recommended, such as schools, supermarkets and malls. 
Check URA's Master Plan and see what's currently around the area and what are the upcoming plans so that you can factor it into your decision. 
If it isn't a mortgagee sale, question why the owners put it up for auction. If it was hard to rent and turned into a liability, that should worry you if you're looking to buy it as a landlord.
3. It's a high-pressure environment
You're not just contending with experienced bidders and savvy investors at the auction – once your bid goes through, you're expected to put down 5 to 10% of the bid price on the actual day of the auction. After that, you typically have 12 days to pay the remainder. 
You will forfeit the deposit if you later find out you can't get a loan for the property, so you better be absolutely certain you qualify for the bank loan before you even think about bidding.
(Yes, we all know it should go without saying, but for some people… you need to tell them not to jump without attaching the parachute first).
Get an In-Principle Approval (IPA) from the bank before the auction (tell the mortgage banker you are attending an auction, and they will guide you on the process). 
---
Keen to buy an auction property? Let us know in the comments section below.
If you found this article helpful, 99.co recommends Property Auction: What are they, and how you can gain from them and 7 things you must know about a property auction.
The post Pros and cons of buying auction properties appeared first on .