Last week, news emerged that Asia's second-wealthiest man and chairman of Mumbai-based Reliance Industries, Mukesh Ambani, will set up a family office in Singapore and has already chosen real estate here.
Like Google co-founder Sergey Brin, hedge fund billionaire Ray Dalio, Hong Kong's Li Ka-Shing and former De Beers chairman Nicky Oppenheimer, Ambani will be an addition to the many ultra-high-net-worth-individuals (UHNWIs) who have decided to form a Singapore office to manage their family affairs, investments and wealth.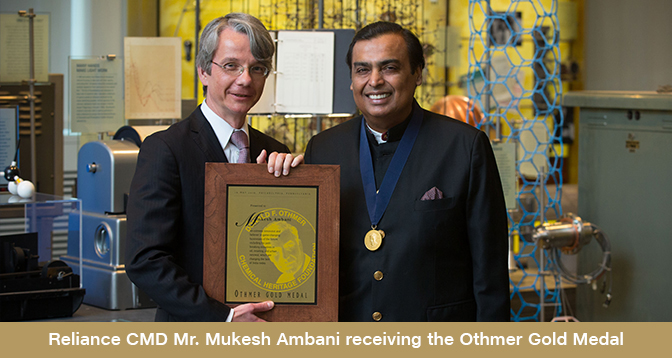 For most of us, not much is known about Ambani or his family, but as chairman and managing director of a Fortune Global 500 company, his company's influence and stakes in India's economy are profoundly significant. His move to set up the family office further drives home the point Singapore serves as a global wealth hub.
Here, then, is all you need to know about Mukesh Ambani and his real estate investments (so far) – including owning the world's most expensive house.
Who is Mukesh Ambani?
Sixty-five-year-old Mukesh Dhirubhai Ambani is currently the ninth richest person in the world and the second richest in Asia. With a net worth of US$83.5b (Forbes), he is the chairman and managing director of Reliance Industries, a Fortune Global 500 company.
He served briefly as a board member for Bank of America (2011-2013) – the first non-American to do so.
Based out of Mumbai, Reliance is an Indian multinational conglomerate with diversified businesses in natural gas, petrochemicals, energy, telecommunications, mass media, textiles and retail.
Being one of the most profitable companies in India, Reliance employs 236,334 employees (FY21) as it transitions from being a pure commodity player to a services-driven empire with ambitions to go international. His Singapore office may hint at what Reliance plans to do next.
Over the past decade, Forbes magazine has ranked Ambani as India's richest person. In 2018, he surpassed the former executive chairman of Alibaba, Jack Ma, as Asia's richest person. As of October 2022, Adani Group's chairman and founder, Gautam Adani (60), is now the wealthiest person in India and Asia, with a net worth of US$128.8b.
As Ambani's mother, Kokilaben Patel, is a staunch vegetarian, Ambani himself adheres to the same strict dietary standards.
In 2007, Ambani gave his wife, Nita, a USD60m Airbus A319 for her 44th birthday. The 180-passenger plane was custom-fitted to include a living room, bedroom, satellite TV, Wi-Fi, jacuzzi and an office.
One media even reported that it ranks in the top twenty most expensive gifts ever given.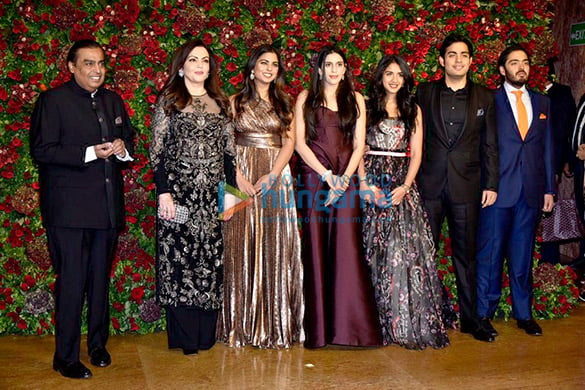 Where does Mukesh Ambani live?
Ambani and his family live in the Antilia Building in India, believed to be the most expensive private residence in the world (worth between USD1b-2b as of 2014).
Its worth is surpassed only by the USD1.6b Buckingham Palace, but we wouldn't really label it as 'private'.
Taking 7 years to construct, the 27-storey building was completed in 2010 and looms over the Mumbai skyline. It covers 400,000 square feet in floor area, is 173 metres in height and the top six floors form the Ambani's private residence.
Due to some floors having double-height ceilings, the building could have had 60 storeys.
Among other amenities, the Ambani home has 168 parking lots, a ballroom, 9 high-speed elevators, a swimming pool, a yoga studio, a 50-seater mini-theatre, a temple (that fits 50 people), a private ice cream outlet, multiple balconies with terrace gardens, a health club and views of the Arabian Sea.
It also has one helipad (most reports say three) and a snow room that spits out snowflakes (to beat the heat).
According to some reports, the building, which had its housewarming for 1000 guests in 2010, requires 600 staff members to upkeep. Besides the housekeeping staff, it is believed that Ambani, his wife Nita, their three children (two sons and a daughter) and their families live there.
How much is the Antilia Building currently worth?
Designed by US architects Perkins & Will, and Hirsch Bedner Associates, the Antilia follows beliefs in Vastu Shastra, the traditional Indian geomancy somewhat similar to Chinese feng shui. The idea is to bring about more "positive energy" between and within levels.
So no two floors of the 27 floors are alike, and the materials used (crystals, marble, mother-of-pearl) for each level vary. Architecturally, it's fashioned like a lotus and the sun and is designed to withstand a magnitude 8 earthquake.
As of 2022, some valuers have estimated the Antilia to be worth roughly 15,000 crores, or USD1.88b (based on today's rates).
Others are of the view that the per square foot price should be between 80k to 85k rupees, or S$1400-S$1485 psf. It's been reported that the house requires 2.5 crores per month to maintain (USD313k).
How much did Ambani pay for the land?
Mukesh Ambani bought the 4,532-square-metre plot of land to build the Antilia through an auction for a reported USD2.6m in 2002. At the time of the sale, the land was supposedly valued at USD18.75m.
The purchase was controversial, as it was previously owned by a Muslim charitable trust that operated an orphanage.
According to the Wakf board which ran the charity, the land was meant for the 'education of underprivileged Khoja children (from the Nizari Ismai'ili Shia community)'. However, the trust got permission to sell the land from the charity commissioner without the board's approval.
After several court cases and petitions, Ambani was able to receive a no-objection certificate from the Wakf board for the plot. Up till 2018, there was still an ongoing lawsuit filed by the board against the trust and charity commissioner.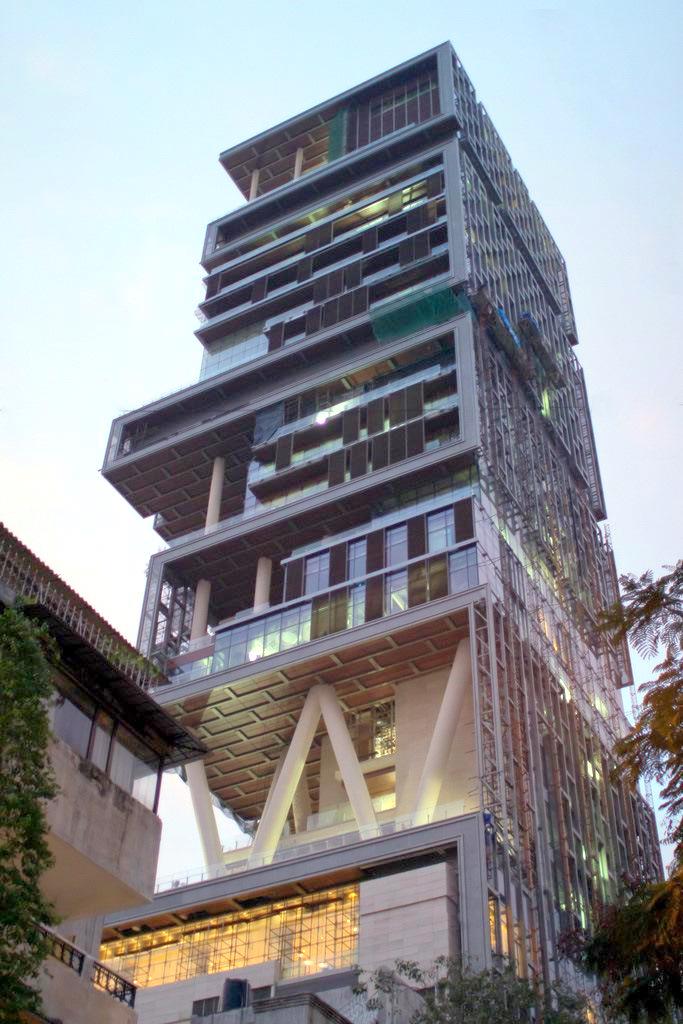 Why did the Ambanis move into the house later?
While the house was finished in 2010, the Ambanis only moved into the house in 2012. They had previously stayed at Sea Wind, their 14-storey home in south Mumbai's Cuffe Parade area, which belonged to Ambani's parents.
One speculation was that the Antilia did not strictly follow the Vastu Shastra principles – such as one side of the building had more light than the other.
While Ambani's wife, Nita, brushed off the speculation, the family conducted a 10-day Griha Pravesh puja ritual with 50 renowned pandits at the house prior to moving in. The ceremony is meant to clear any Vastu doshas (defects).
Other properties the Ambanis own
Besides Antilia, Mukesh Ambani is also the owner of the 900-year-old iconic Stoke Park estate, which he bought, through one of his investment holding companies, in April 2021.
The 300-acre country club and golf resort in Buckinghamshire, London, comes with a 49-luxury-bedroom-and-suites hotel, 13 tennis courts, and one of the top 27-hole golf courses in Europe. It is also a famous location where Sean Connery shot a scene in the Goldfinger James Bond film.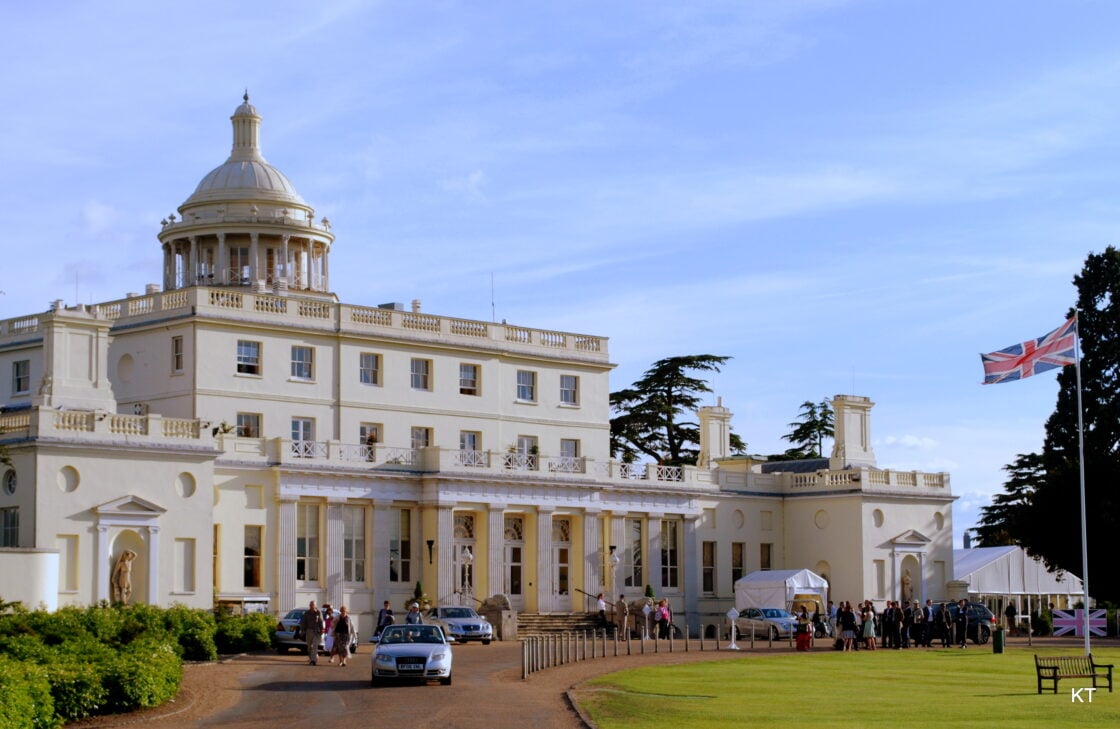 Another property the Ambanis reportedly own is a USD80m beach-front villa in Dubai's Palm Jumeirah. In a Bloomberg report, the villa is meant for Ambani's youngest son, Anant. The villa has 10 bedrooms, a private spa and indoor and outdoor pools.
Anyone familiar with Dubai's real estate scene would know, that Palm Jumeirah is a 520-kilometre man-made archipelago of land-reclaimed artificial islands. Completed in 2006, it stretches out into the Persian Gulf.
Separately distinct from the city of Dubai on the mainland, it is an entire metropolis all on its own, with 4,500 residential units (including 2,000 villas), its monorail, 23 hotels and serviced apartments and 7 retail malls.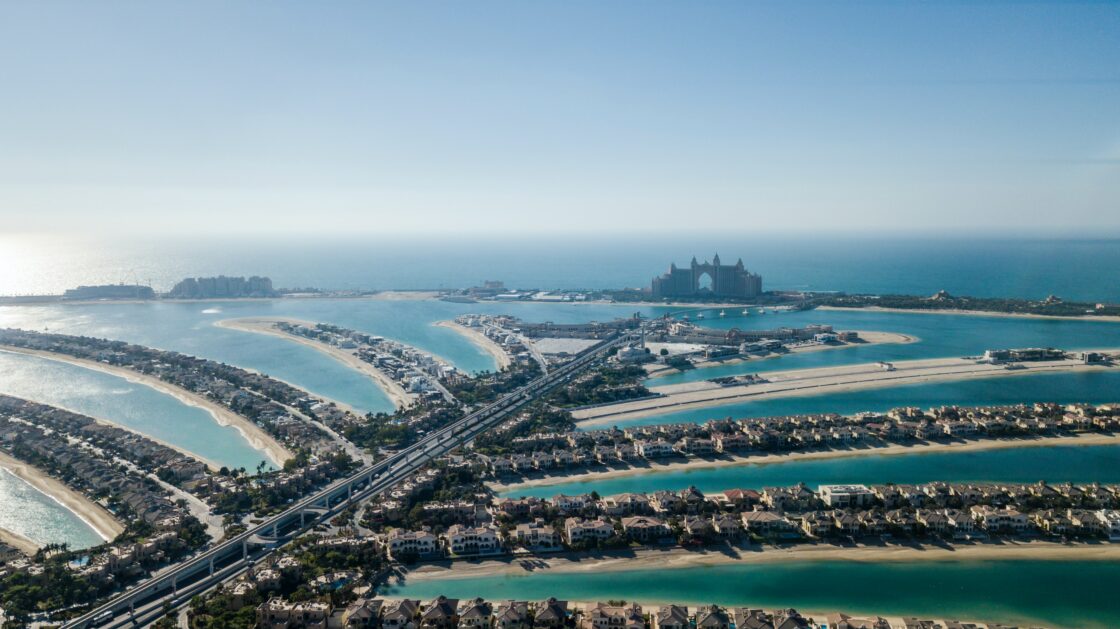 –
With their home-ownership profile, we'd expect the Ambanis' choice of property in Singapore (if they ever choose a home away from home) to perhaps exude not only grandeur and luxury but uniqueness and spectacle. Not only that, the property's location and type of facade must surely adhere to the Vaastu principles.
Now where in Singapore would there be a suitably, good spot?
–
What sort of home do you think the Ambanis would want in Singapore? Let us know in the comments section below.
If you found this article helpful, 99.co recommends What has Leo KoGuan, who now lives in James Dyson's former penthouse in Guoco Tower, has to do with Tesla? and Ultra-high-net-worth individuals who bought or sold bungalows or entire property blocks in Singapore recently.
The post Mukesh Ambani, who owns the world's most expensive private house, sets up family office in Singapore appeared first on .