If you're a first-time home buyer or seller, negotiating property prices may be a little tough.
So we at 99.co would like to introduce you to a guideline: the more awkward conversations you are willing to have, the better a bargain your property can be.
Most Singaporeans are too shy to negotiate aggressively, but a thick skin really does account for big gains. For your convenience, we've written down the words to use when you do go about negotiating property prices.
1. "The other units nearby are going for S$x."
When negotiating property prices, be the first to call out a price. This is called anchoring. Whether you're a buyer or seller, even if your price is not accepted, it allows you to set the general range. In fancy negotiating terms, this is known as setting the Zone of Possible Agreement (ZOPA).
If you open with "Some of the other units here are selling for S$1.2 to S$1.3 million", you are setting the ZOPA within this price range. If you allow the other person to mention the price first, you have to bargain within their range instead.
As a buyer, if you want to bargain for much less than the surrounding prices, you can try "I'm also considering another unit nearby, that seller wants (insert number that is lower than the average)."
However, check surrounding prices (you can check for recent transaction prices on 99.co) and beware of offering too low an anchor.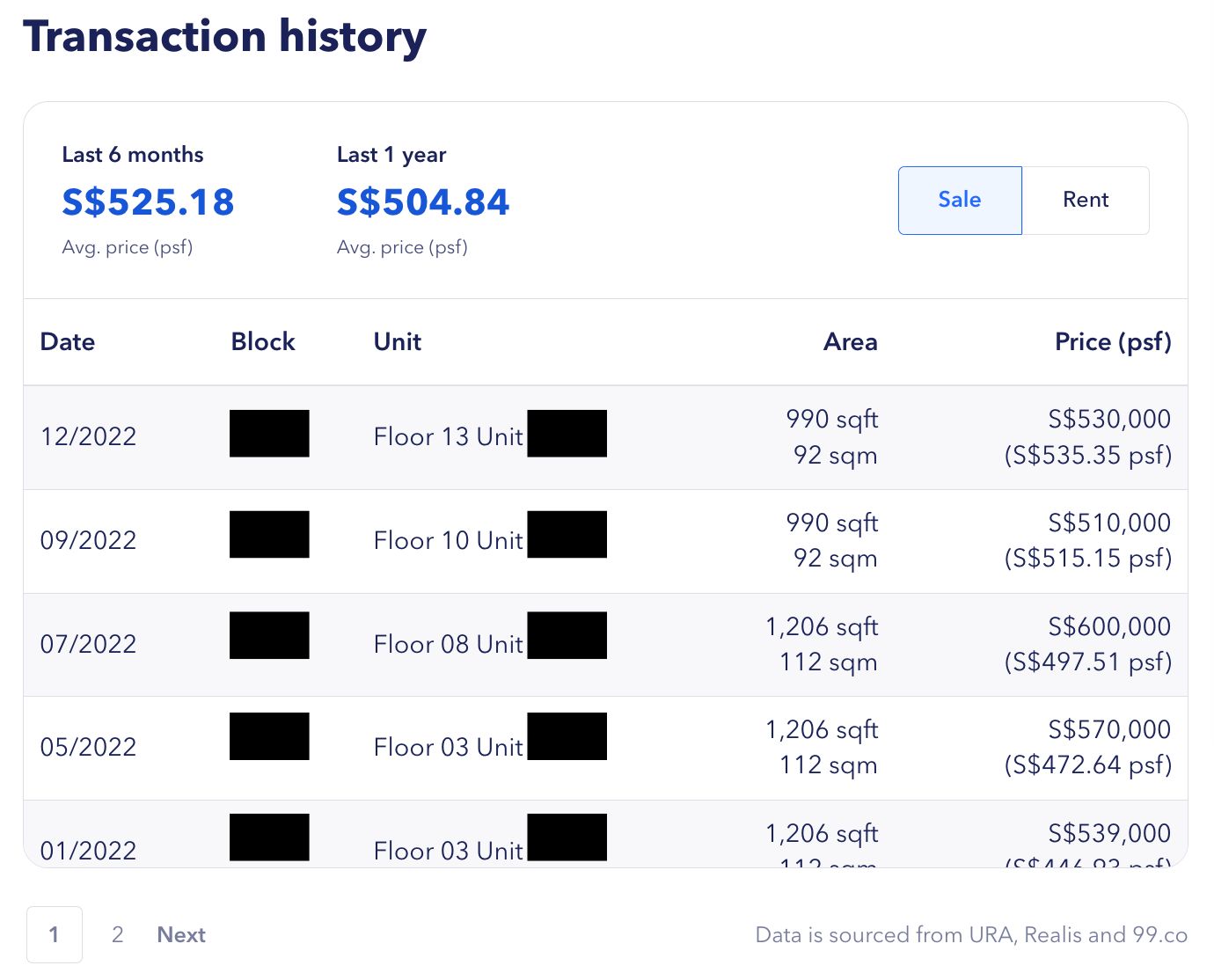 Scroll down a listing on 99.co to find the transaction history in the block. If you start by mentioning a price that is too low and the seller accepts it right away, then you'll lose the possibility of going lower.
Likewise, as a seller, don't set an asking price that's too low for the buyer.
2. "This is a beautiful house. How come you want to sell?"
This phrase serves two purposes. First, it lets the buyer know the seller's situation. Someone who is migrating in a few months will have a greater sense of urgency when selling.
On the other hand, someone looking to downgrade because their children have moved out, and the house is too big to clean, is probably not desperate to sell. The less urgent it is for the seller, the lower the buyer's odds of getting a bargain.
The second reason is psychological. As a buyer, you want the seller to vocalise the reason(s) why they want to sell. Most people want to be consistent with what they say, so they are more likely to follow through on their own reasoning.
3. *Dead silence*
Silence is a powerful tool to put the ball back in your court. Right after the seller makes a counter-offer, just look thoughtful and keep quiet. If the seller is an amateur, they will usually feel uncomfortable and try to justify the price.
The more a seller does this, the more insecure they tend to become. As a buyer, this makes your subsequent offers more likely to be accepted.
If they are experts or seasoned property agents though, they will start talking about something else. They may also ask a question to make you speak, so this may not work on professionals and veterans when negotiating property prices.
This is also why whether you're a buyer or seller, we recommend hiring a property agent as they're more seasoned in negotiating prices.

4. "Do you have any issues with the house?"
This one is a tip for sellers. It's quite easy to predict what the buyer will object to. It always falls into four categories:
Price

Amenities

Maintenance issues

Facing of the unit (eg. west-facing) 
Have a justification or defence prepared for each of these. If the buyer does not bring it up (some of them are shy and will vote with their feet), ask if they have issues. After you respond to their objections, follow up with "Is there anything else that's making you hesitate"?
Buyers become a little more pliant when they run out of viable objections.
5. "Which are the recent renovations?"
Ask this question when you can see the property is old, and there hasn't been much in the way of renovations. This is a good prelude to making a counter-offer, as it justifies you negotiating property prices at a lower rate.
Don't be brusque and yell, "Wah, so old also cost so much!" That will cause the seller to decide you're a jerk, and find another prospective buyer.
Renovated units for sale
---
See all listings
452 Sin Ming Avenue
Singapore 570452 · D20
$1,250,000
415B Fernvale Link
Singapore 792415 · D28
$759,800
422 Bedok North Road
Singapore 460422 · D16
$470,000
292C Bukit Batok East Avenue 6
Singapore 653292 · D23
$850,000
128C Canberra Street
Singapore 753128 · D27
$718,000
411 Tampines Street 41
Singapore 520411 · D18
$710,000
145 Bedok Reservoir Road
Singapore 470145 · D16
$1,030,000
511A Yishun Street 51
Singapore 761511 · D27
$568,000
264F Compassvale Bow
Singapore 540264 · D19
$600,000
52 Havelock Road
Singapore 161052 · D3
$750,000
195 Rivervale Drive
Singapore 540195 · D19
$525,000
448 Pasir Ris Drive 6
Singapore 510448 · D18
$948,600
272 Bishan Street 24
Singapore 570272 · D20
$768,000
210 Yishun Street 21
Singapore 760210 · D27
$408,000
163C Rivervale Crescent
Singapore 543163 · D19
$628,888
410A Fernvale Road
Singapore 791410 · D28
$525,000
28D Dover Crescent
Singapore 134028 · D5
$799,000
33 Ghim Moh Link
Singapore 270033 · D10
$965,000
427 Jurong West Avenue 1
Singapore 640427 · D22
$630,000
873 Woodlands Street 81
Singapore 730873 · D25
$540,000
870 Yishun Street 81
Singapore 760870 · D27
$520,000
997B Buangkok Crescent
Singapore 532997 · D19
$760,000
29 Ghim Moh Link
Singapore 270029 · D10
$975,000
330 Woodlands Avenue 1
Singapore 730330 · D25
$750,000
29 Ghim Moh Link
Singapore 270029 · D10
$958,000
93A Telok Blangah Street 31
Singapore 101093 · D4
$950,000
426A Yishun Avenue 11
Singapore 761426 · D27
$660,000
612A Punggol Drive
Singapore 821612 · D19
$628,888
619A Punggol Drive
Singapore 821619 · D19
$568,000
30 Ghim Moh Link
Singapore 272030 · D10
$900,000
673B Yishun Avenue 4
Singapore 762673 · D27
$717,700
316 Jurong East Street 32
Singapore 600316 · D22
$588,888
408 Jurong West Street 42
Singapore 640408 · D22
$750,000
549 Pasir Ris Street 51
Singapore 510549 · D18
$1,000,000
292B Bukit Batok East Avenue 6
Singapore 652292 · D23
$780,000
See all HDB flats   >
See all listings
Royalgreen
2 Anamalai Ave · D10
$1,800,000
Ecopolitan
132 Punggol Walk · D19
$1,350,000
euHabitat
260 Jln Eunos · D14
$3,080,000
The Anchorage
370E Alexandra Rd · D3
$2,350,000
The Lilium
31 How Sun Rd · D19
$2,570,000
The Criterion
3 Yishun St 51 · D27
$1,480,000
New Futura
16 Leonie Hill Rd · D9
$4,500,000
Marina Collection
13 Cove Dr · D4
$3,800,000
De Casalle
86A Lor N Telok Kurau · D15
$2,500,000
Soleil @ Sinaran
6 Sinaran Dr · D11
$985,000
Seahill
107 West Coast Cres · D5
$3,743,710
Bijou
2 Jln Mat Jambol · D5
$1,300,000
Livia
69 Pasir Ris Grove · D18
$1,980,000
V On Shenton
5A Shenton Way · D1
$1,800,000
188 Joo Chiat Place
188 Joo Chiat Pl · D15
$1,850,000
Palm Oasis
51A Lor H Telok Kurau · D15
$1,150,000
Eight Riversuites
10 Whampoa East · D12
$860,000
The Brownstone
160 Canberra Dr · D27
$1,180,000
Alex Residences
28 Alexandra View · D3
$1,420,000
Spring Grove
53 Grange Rd · D10
$1,895,000
The Brownstone
156 Canberra Dr · D27
$1,290,000
The Rainforest
345 Choa Chu Kang Ave 3 · D23
$1,250,000
The Line @ Tanjong Rhu
6 Tg Rhu Rd · D15
$2,700,000
V On Shenton
5A Shenton Way · D1
$1,288,888
Rochelle At Newton
188 Keng Lee Rd · D11
$2,100,000
Yong An Park
331 River Valley Rd · D9
$9,388,000
The Lumos
9 Leonie Hill · D9
$5,380,000
Okio
262 Balestier Rd · D12
$958,000
Nineteen Shelford Road
19 Shelford Rd · D11
$1,928,888
76 Shenton
76 Shenton Way · D2
$2,080,000
Skypark Residences
1 Sembawang Cres · D27
$1,700,000
Parc Esta
912 Sims Ave · D14
$1,970,000
Ripple Bay
4 Pasir Ris Link · D18
$1,000,000
The Poiz Residences
10 Meyappa Chettiar Rd · D13
$1,230,000
Sherwood Towers / Bukit Timah Plaza
3 Jln Anak Bt · D21
$1,680,000
See all Condos  >
See all listings
Greenwood Mews
Greenwood Ave · D11
$4,450,215
Glasgow Road
Glasgow Rd · D19
$5,900,000
Lakeside Grove
Corporation Walk · D22
$2,688,000
Ardisia Gardens
Serangoon Terrace · D19
$3,700,000
Sembawang Hills Estate
Jln Gelenggang · D20
$5,500,000
Luxus Hills
Seletar Green Ave · D28
$4,200,000
Bukit Loyang Estate
Jln Kelempong · D17
$5,200,000
Jalan Kakatua
Jln Kakatua · D21
$13,000,000
Lentor Villas
Lentor St · D26
$5,888,888
Richards Place
Richards Pl · D19
$3,900,000
The Berthside
Ocean Dr · D4
$7,300,000
Paterson Garden
Lengkok Angsa · D9
$12,800,000
Picardy Gardens
Jln Pari Burong · D16
$6,880,000
Sentosa Cove
Treasure Island · D4
$23,800,000
Toh Estate
Upp Changi Rd Nth · D17
$6,400,000
Mistral Park
Jln Angin Laut · D16
$5,500,000
Mandai Garden
Meng Suan Rd · D26
$4,499,000
Haus @ Serangoon Garden
Serangoon Garden Dr · D19
$3,780,000
Fortuna Gardens
Da Silva Lane · D19
$6,580,000
Macpherson Garden Estate
Jln Muhibbah · D13
$3,000,000
East Coast Park
Third St · D15
$7,220,000
Pasir Ris Beach Park
Pasir Ris Way · D18
$8,600,000
Swanage Road
Swanage Rd · D15
$7,985,000
Frankel Estate
Frankel Ave · D15
$19,800,000
Westville
Westwood Terrace · D22
$2,500,000
The Jardine Residences
Lor Chuan · D19
$5,700,000
Flower Road
Flower Rd · D19
$4,680,000
Sentosa Cove
Treasure Island · D4
$25,550,000
Brighthill Residences
Bright Hill Cres · D20
$7,600,000
Namly Avenue
Namly Ave · D10
$8,500,000
Limau Villas
Limau Rise · D16
$2,500,000
Frankel Estate
Burnfoot Terrace · D15
$9,350,000
Soo Chow Garden
Soo Chow View · D20
$6,500,000
The Greenwood
Greenwood Ave · D11
$3,600,000
Haus @ Serangoon Garden
Serangoon Garden Rise · D19
6
5
$3,500,000
See all Landed homes  >
6. "Thanks for dropping by / having me over, that really made my day because…"
Text this about an hour after the negotiations, whether you're a buyer or seller. This will guilt tri…uh, make the other person feel good about whatever offer is left on the table.
For example, if you're a seller, you could text: "Hey X, thanks for dropping by. That really made my day because I was afraid I wouldn't find someone who can really appreciate my old home."
This also makes people feel inclined to deal with you; they don't want to let you down if they like you, and that can be a decisive factor.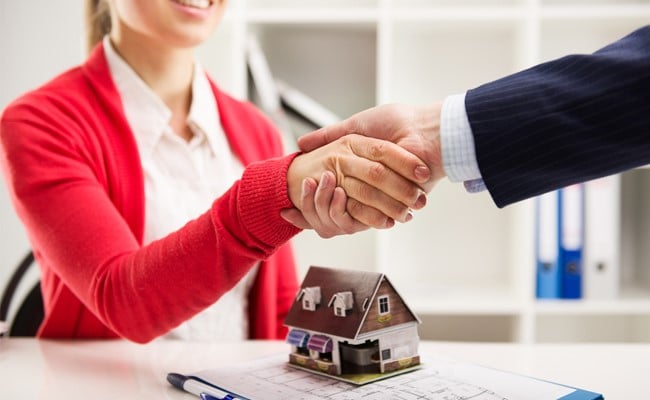 7. "Hey, since you're (xyz), could you do me a small favour and …"
This bold move tries to capitalise on the Benjamin Franklin effect. It's a psychological phenomenon, in which asking people for a favour prompts them to like you more (Try it: find someone who dislikes you and plead with them for a favour, there is a high chance they will be more positive toward you in future).
In order to do this, you need to spend some time building rapport first. Then make the request when there is at least a cordial acquaintance established. Ask them to introduce you to a prospective client or something, whatever is easy for them and within the bounds of social etiquette.
For reasons too long to get into here, asking someone for a favour makes them like you more. It also flicks a switch that creates a more personal relationship, which can lead to accepted offers.
Ready to sell your home? Let us help you connect with a property agent to help you negotiate for a higher price.
If you found this article helpful, 99.co recommends 5 genius home staging 'tricks' to rent out or sell property quickly and Here are 5 weird things buyers look for.
The post 7 things to say when negotiating property prices appeared first on .