Ever wondered what it is like being a property agent?

In this new series entitled Agent Success Stories, we sit down with agency leaders to find out their side of the story. From their humble beginnings to the challenges they have faced on the road to success, we learn that a career in the real estate industry is one filled with boundless opportunities – if you know where to look.
Having been an educator for 16 years, it was difficult for Rayne to drop everything to join the Real Estate industry. This is why despite being an agent for approximately 4 years, she still lectures part-time at NTU "for fun". For her, it's her way of going back to her area of passion, to teach and guide the next generation after her.
When asked about her drastic career shift, she shared about her desire for something more challenging in terms of progression and growth for herself. To her, the unknowns of the real estate industry coupled with the steep learning curve proved to be a much greater dynamic career for her.
Out of so many career paths, why real estate? 
For Rayne, real estate was something she was personally passionate about. Having gone through the "standard" route of getting a HDB, selling them and buying two properties herself, she personally believed in the stability of the real estate industry as a whole and felt that this stability would give her future clients with a peace of mind.
According to Rayne, "Singapore is a safe haven for people to grow their investment through property safely, and for people to generate a stream of passive income when they grow older, especially if they don't dabble in stocks and shares."
To her, investing and planning for retirement should not be limited to the financially-savvy, and this is why her consultancy endeavours to understand clients' property needs in detail before helping to facilitate their purchase.
Since joining the industry, Rayne has managed to accelerate her investment plans and own two properties at a relatively young age. But having started her real estate journey a lot later than other agents, she hopes to inspire others to late to take the leap of faith. And while the industry remains competitive, her rewards so far have been sweet.
Her relentless mindset paved her way to success in tough times
When the Covid-19 pandemic happened, a lot of agents were thrown into a state of confusion. It was an unprecedented situation for agents, because these were people who survived solely on their commission, and the worry and stress from the possible lack of income caught most of them off-guard. 
Despite a period of uncertainty during the circuit breaker period, Rayne was able to achieve three Platinum Awards ($100,000 of commission per month) through virtual viewings. This was no easy feat, and Rayne credited her success back to her agency PropNex, who reacted quickly amidst the circumstances and rolled out a series of Zoom webinars sharings where they covered practical skills from how to do viewings via Zoom to interacting with consumers online.
This led to a slew of success stories from PropNex agents which helped boost the morale of other agents within the agency. According to Rayne, "PropNex is the forerunner and one of the most respected agencies in this industry. Despite that, the leaders are humble and are constantly thinking of ways to value-add to agents on the ground."
The stress did not stop Rayne from stepping up her game. She got herself heavily involved in the webinars rolled out by PropNex and was the lead trainer for countless sessions. To Rayne, her "never-say-die" attitude went a long way in setting her apart during this crisis and played a huge part in the number of closings she was able to do. On top of that, she was also invited to represent Hongkong Land to speak at an international webinar organised by South China Morning Post.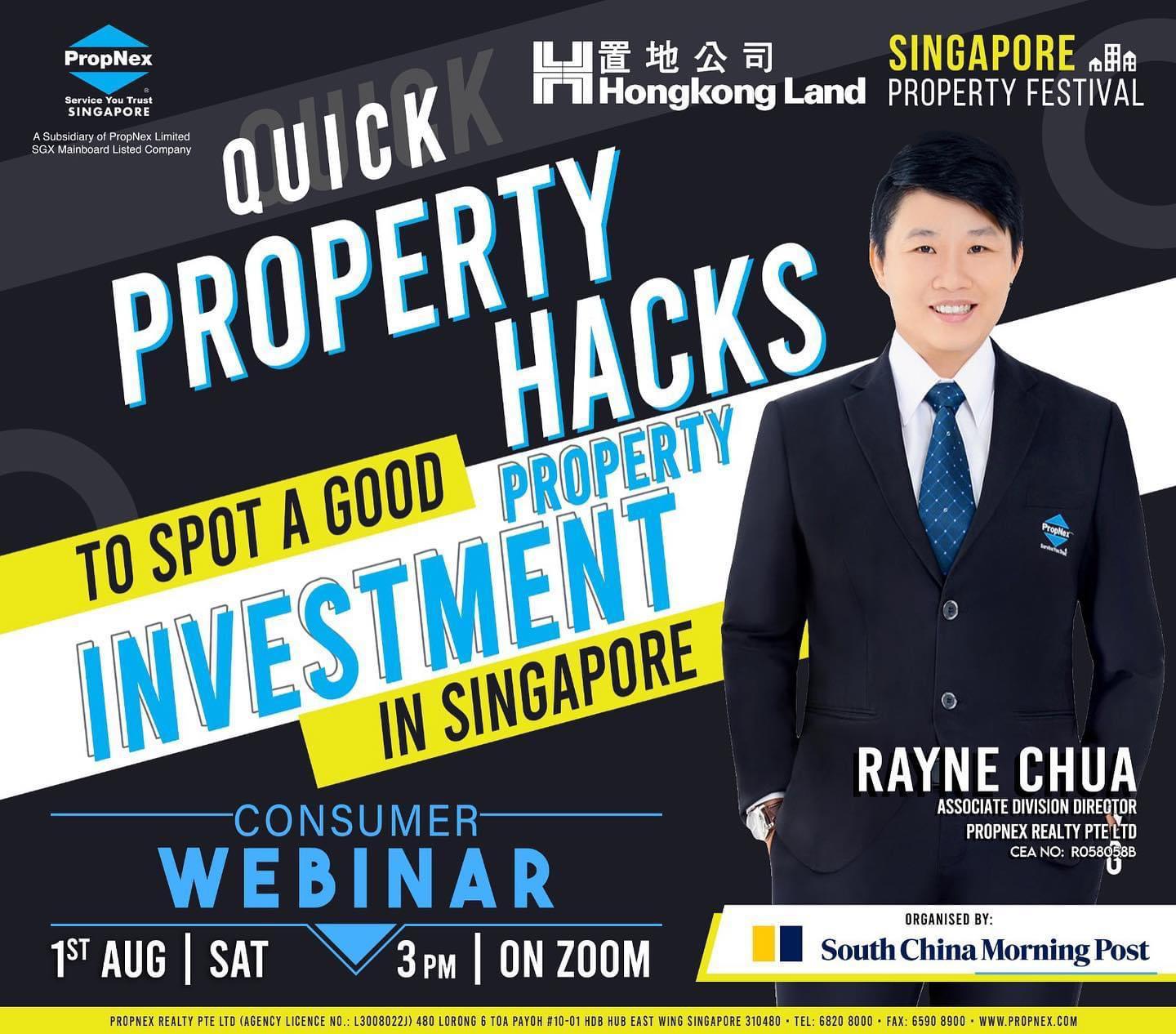 "The Covid-19 pandemic situation was a blessing in disguise for many property seekers. It gave them the time to look at their own portfolios, and to listen to different insights their property consultants could bring to the table," Rayne said. This period gave her the opportunity to connect with her clients again—an opportunity she otherwise would not have if not given the situation.
Rayne views herself not so much as a salesperson, but more of an investment consultant. When she talks about consultancy, it's about matching needs of her clients according to their purpose. Despite specialising in new launches, her focus has and always will be in putting the needs of her clients first. Some homebuyers have a greater need for their own stay, and in cases like that a new launch may not always be the best option for them. It was this flexibility in mindset, and the ability to put herself in the shoes of her clients, that allowed her to close a wide spectrum of clients to hit the commendable six-figure income during the circuit breaker period.
Investment as the way to go for real estate
Since the beginning, Rayne always knew investment was the way to go for the real estate industry. What keeps this industry alive and active is the huge potential of capital appreciation for properties.
That being said, many homebuyers are unclear on how to spot the right properties, and what factors to consider when making their property investment decisions. This is why Rayne has geared her specialisation towards consultancy and new launches, where many hold good investment value for her clients.
Rayne elaborates, "New launches sometimes hold the sweet spot between own stay and investment. While they are not a one and all solution, there are good statistics to show that when affordability is there, the requirements can be met for own stay." Most clients prefer new launches if they spot the correct property, and that is where Rayne's expertise comes in. Her motto "rain or shine" is a pun on her name and goes well with her knack for spotting a good property that will tide clients through rain or shine conditions.
When advising her clients, Rayne makes it a point to cover a wide spectrum of considerations. She walks her clients through numbers like the land price, quantum, future transformation plans and timeline for transformation. With these figures, clients can easily weight the risk and room for capital appreciation for a property purchase.
It is this sensitivity to numbers that explains her specialisation in Project Marketing. She is currently involved in the key leadership team of Leedon Green, Riviere, Meyer Mansion, Parc Esta, Stirling Residences and the upcoming Midtown Modern at Tan Quee Lan Street.
An agent that walks the talk
She is also someone that practices what she preaches. She often tells her clients that with crisis comes opportunity, and not one to miss out, she and her family also bought a unit together at Parc Esta during the circuit breaker period. This purchase came not long after she bought her unit at Midtown Bay at the end of last year.
When asked what her key to success is, she replied candidly, "You need to have an understanding of your clients' needs. This sounds simple in theory, but hard in execution. Only by accurately understanding their needs will agents be able to properly match each client to a property that is best suited for his or her needs."
She goes on to say, "As agents, our role is very crucial. A property is a big ticket item to many families and individuals, and affects all other areas of their lives. Our role here as agents is not to sell them a house, but rather advise them on how they can leverage their property transaction to fulfil their life goals."
For Rayne, this means taking the time to sit down with her clients and plan through multiple sessions. She often uses the first session to understand their affordability and life needs, second session to lay out the different options for them to choose from, and third session to explain the pros and cons of their ultimate decision. The ultimate purchase decision will be discussed mutually with her clients to ensure that it is a safe one to take.
"Everyone buys properties for different reasons. As long as I can help my clients meet their objectives in the right manner, my job as an agent is complete."
Having the right mindset helps her overcome her mental hurdles
One of the biggest hurdles she faces is knowing that her figures get reset to zero every month. Coming from a financially stable background in the last 16 years, Rayne knows she is only as good as her last closing. This has helped become the driving force that keeps her going. Over the years, this has helped train her to be mentally strong and ensure consistency in her results. It is this resilience that helped ensure her continuous success.
During the circuit breaker, however, her obstacle was in getting consumers to subscribe to the new norm. It was easy to convince agents to get comfortable showcasing properties online, but another hurdle to convince consumers that buying via Zoom without physically inspecting the house was okay. She had to continuously assure her clients, and equip herself with the latest technology and educational tools to help make the decision making process easier. This was especially so for resale properties, where consumers were not able to physically view and touch the property they wanted to buy.
To overcome this, she decided to get her sellers involved by including them in the selling process. She walked her sellers through what potential buyers might ask, how to angle their camera to better showcase the home, and to include a checklist of pointers on what the seller should showcase in the Zoom call. Rayne's ability to help bridge the gap between the old and new way of home viewing helped alleviate the concerns of homebuyers and gave them more confidence to buy resale properties without physically viewing them.
A division that plays and works together, wins together
Rayne currently leads a team of 15 agents. Her leadership philosophy has always been about being constantly able to achieve excellence. She prides herself as being a leader that leads by example, with her consistently clocking in an average of $500,000 every year in PropNex over the last three years.
This year, her ability to achieve the Platinum Award during the circuit breaker gave her associates a spike in confidence that it was possible to excel during a crisis. This helped spur them on, with many of them being able to close new launches virtually and some even landing Platinum Awards themselves. In fact many of her associates managed to better their sales compared to last year. Her ultimate goal is to have more than half her associates consistently achieve at least $150,000 in commissions every year.
Rayne holds her team to high standards, but also ensures she gives them the resources to help meet those standards. On top of monthly trainings, Rayne conducted additional weekly Zoom sessions during the circuit breaker period to ensure her associates understood concepts from PropNex's Zoom sessions. She also has an open office where her associates are welcome to visit whenever they have questions.
To her associates, she is a mentor that practices tough love—one that pushes you to achieve your goals rather than sugarcoat words to make you happy. Due to the nature of the job and way of mentoring, she finds herself attracting an interesting mix of individuals to her team. Her associates contain a wide range of individuals, all the way from ex-tax analysts, ex-bankers, and even a grassroot leader! The diverse dynamic is something she thrives on, and she enjoys seeing how they all come together to work hard and play hard.
Rayne's outing with her team
As a team, they even took a trip to Bangkok together, back when travel was easily accessible. Rayne went on to subsidise loyal associates who had been with her for a number of years, regardless of the sales they clocked.
For younger associates who had just graduated from school, Rayne also has an interesting way of engaging and driving their success. For starters, most of these young associates do not usually have the capital to kickstart their own marketing campaigns. As such, she offers them the opportunity to pitch their ideas to her, and if she's interested, she dips into her pocket to personally invest in their campaigns. While not all campaigns result in a closing, Rayne still feels there are more pros than cons to this system; with one of the biggest pros being the younger associates getting real-life experience in running their own business and growing from there.
Stepping up as a leader with a desire to groom and grow the next generation
Guiding and leading a team has always been something Rayne has been doing since her education days. She was previously the Head of Department that led a team of teachers at her old school. Her entire career has been about training and leading, so it became second nature for her to step up to lead her own division when she joined the industry.
As an educator for a big part of her life, Rayne believes that when you teach and contribute, you not only become better but also help to build the next generation. There is a lot of satisfaction for her in seeing her teammates grow and go on to achieve their own goals and aspirations.
She has also benefited from many who have shaped her career. She credits leaders like Kelvin Fong, whose drive is infectious and has personally spurred her to want to continuously push her limits. Other keynote PropNex leaders like Alan Lim, Ismail Gafoor and Lim Yong Hock have also played a huge role in shaping her to the leader that she is today.
Personally, she is grateful for mentors like Head of Luxury Team, Dominic Lee for giving her the opportunity to learn her ropes in the Luxury team. It is not an easy segment to be in but she is grateful for the opportunities to be involved in the projects she is in. There are also others that have sowed into her career, like Bobby Sng, Ken Lam and Ray Teo, which she is thankful to have known during her time in this industry.
Advice for younger agents
Despite being relatively "green" in this field, Rayne has a wide range of experience that many younger agents are excited to tap on. Her advice for younger agents is to focus on accumulating experience from smaller deals. Most agents, in her opinion, have the big deal mentality, but that goes against her consistency and sustainability goal in Real Estate.
To Rayne, "Avoid focusing on one or two big deals and forsaking everything. This will cause cash flow problems, especially for younger agents who may not have the cash capital to tide through. You need to manage this career like an entrepreneur and run this like a business. Nobody is going to pay you if you don't plan and don't work."
If Rayne could sum the perfect trinity of traits needed in any succeeding agent, it would be "Resilience", "Adaptability" and "Openness". The Real Estate industry is one that is ever-changing, and in order to not just survive, but thrive, new agents need to be receptive to these changes. With a spirit of humility and a willingness to learn, any agent, whether new or experienced, will be able to find success.
The post Rayne Chua: Relentless mindset paved way to success in tough times appeared first on 99.co.