For many in the industry, the Rex Tan Division (RTD) at Huttons is no unfamiliar name. Having been established since 2007, RTD today has grown to a 800-strong team today. Many who have interacted with RTD would know of their dedication to innovation, and a passion to continuously put the needs of their agents and consumers first. 
In any industry, it is often difficult to balance the benefits between both sellers and buyers, which is why it's notable that RTD beat the odds in getting this formula right. Their track record of constantly building products that value-add to both agents and consumers, and helping to bridge the gap between them sets the division apart from others in the industry.
With the new launch of their Personalised Intelligence Report, RTD is set to be a gamechanger in the real estate industry.
When asked what their inspiration for this report was, leaders of RTD shared that it was birthed from a common problem they identified among agents: The difficulty they faced when it comes to communicating with clients who had enquired from leads generation.
From this problem, RTD leaders, consisting of Rex Tan, Dave Choy, Jeremy Lin, Terence Soon, Ryan Choy, Hugo Xu, Fendy Lee and Sherlyn Goh all came together to understand where the gap was and how best to bridge it to streamline the process for their agents.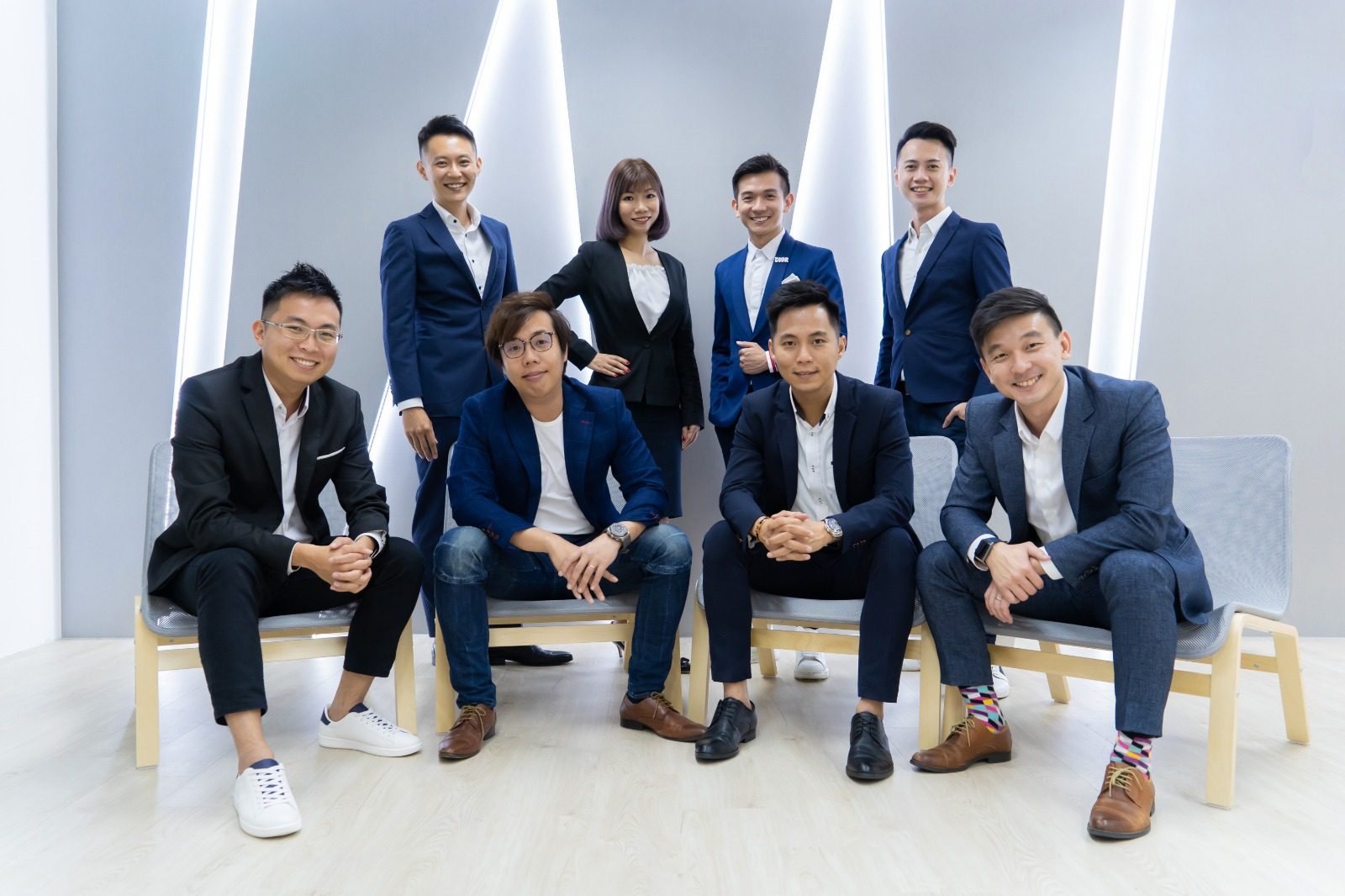 Being leaders who were in-tune with what was happening on the ground, they were able to conceptualize this Intelligence Report that provides instantaneous multi-level knowledge to their agents, which in turn makes it easier for them to build rapport with the leads they have generated.
Not only is this report fully customizable according to what consumers are searching for, it is also generated on a per request basis and leverages off real-time data to crunch the numbers for presentation to clients, thereby saving their agents thousands of hours in legwork.
Prior to the launch of this Intelligence Report, solutions that existed in the market were merely project brochures. These brochures usually contain information that grazes the surface and are insufficient in helping agents meaningfully engage with their leads.
To change this, RTD leaders spent countless weeks and months building the skeleton of how they envisioned this report to look like, and even hired a team of in-house developers to help build this project from scratch.
One look at the final outcome and you can see the heart and soul that was poured into this project. When asked what their motivation was, Rex Tan, who was speaking on behalf of his leaders, shared that the Intelligence Report was something that fit in well with the mission of RTD. "In RTD, one of our slogans is that if you are being served by an RTD agent, we want that to be a lifetime journey. This is why we build products that help agents serve clients for a lifetime; products that ensure clients would want to continuously go back to our RTD agents for all their property needs."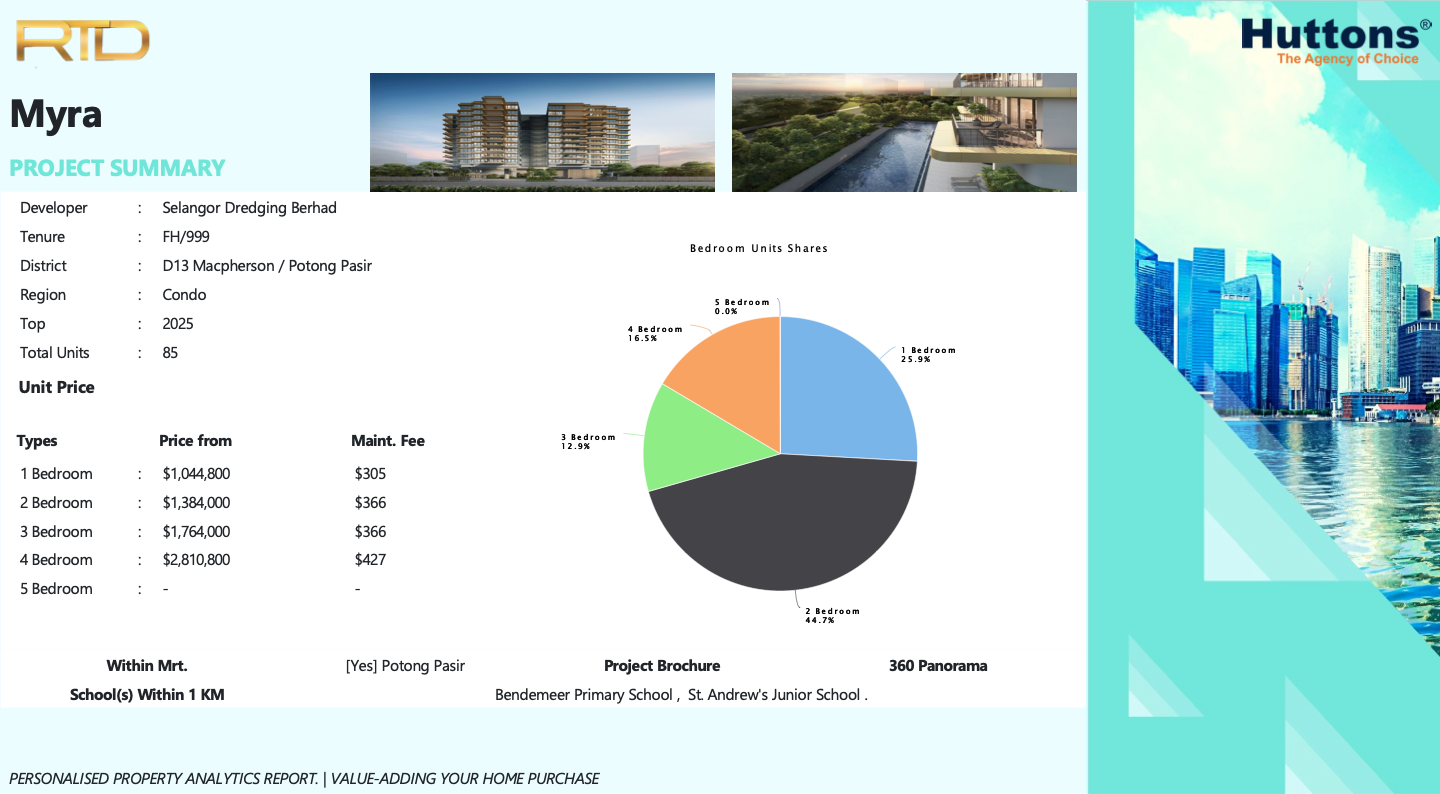 This direction guided the way the team built their product. For example, what sets this Intelligence Report apart is that it consists of information across all project launches, not just those handled by Huttons. This was a small but crucial detail as RTD wanted to ensure consumers get an unbiased view across all projects that is available. "Only by providing consumers with an unbiased view will we be able to capture their trust, and ensure they make the best property decisions time after time."
They even go one step further to add value by incorporating the Master Plan of surrounding areas. This is especially useful for clients who are looking to get their new launch for investment purposes and are keen in developments around the area.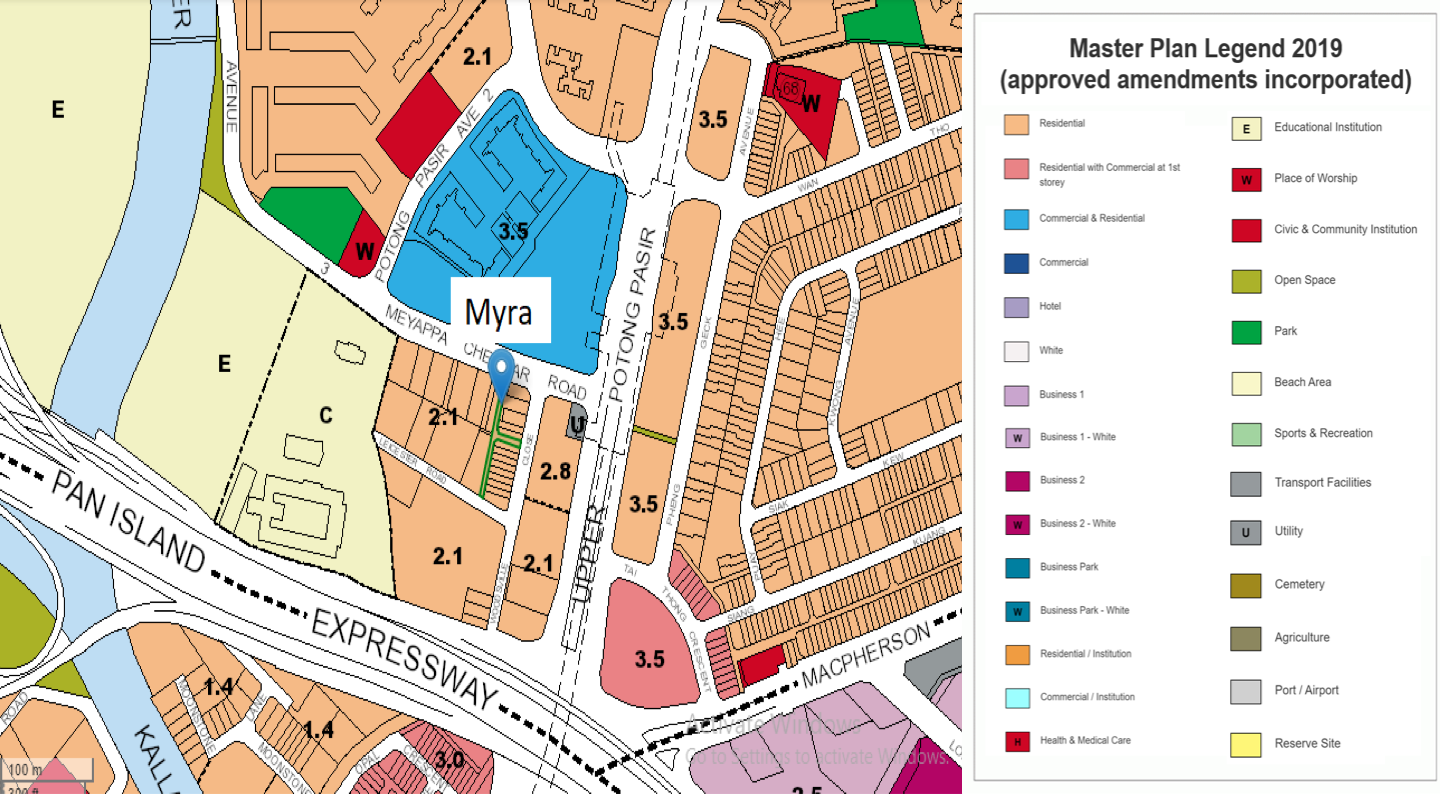 To further reduce the legwork for their agents, the report also automatically calculates the district pricing to give the average monthly rental and potential rental yield. This advises clients on the investment potential of the project and provides headway for RTD agents to elaborate further from there.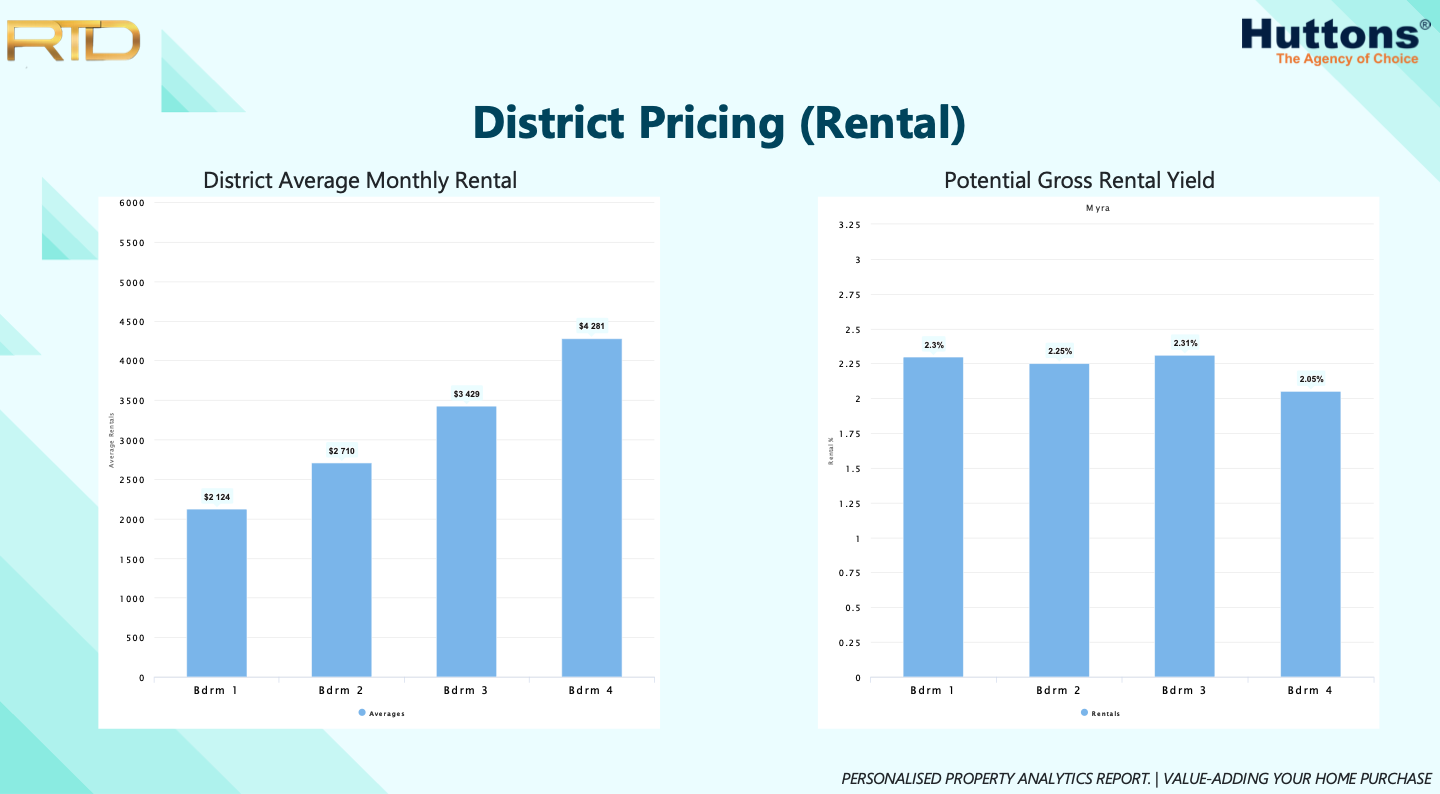 For first time property owners, the report also caters to them by automatically calculating the monthly installment and monthly income required for the purchase. This clearly showcases the affordability of the property, and also bridges the gap for clients to act upon. 
Furthermore, agents can be assured of the accuracy of these figures. Whenever there are new transactions that take place, the system automatically updates the backend. This ensures that figures downloaded are always updated and recent.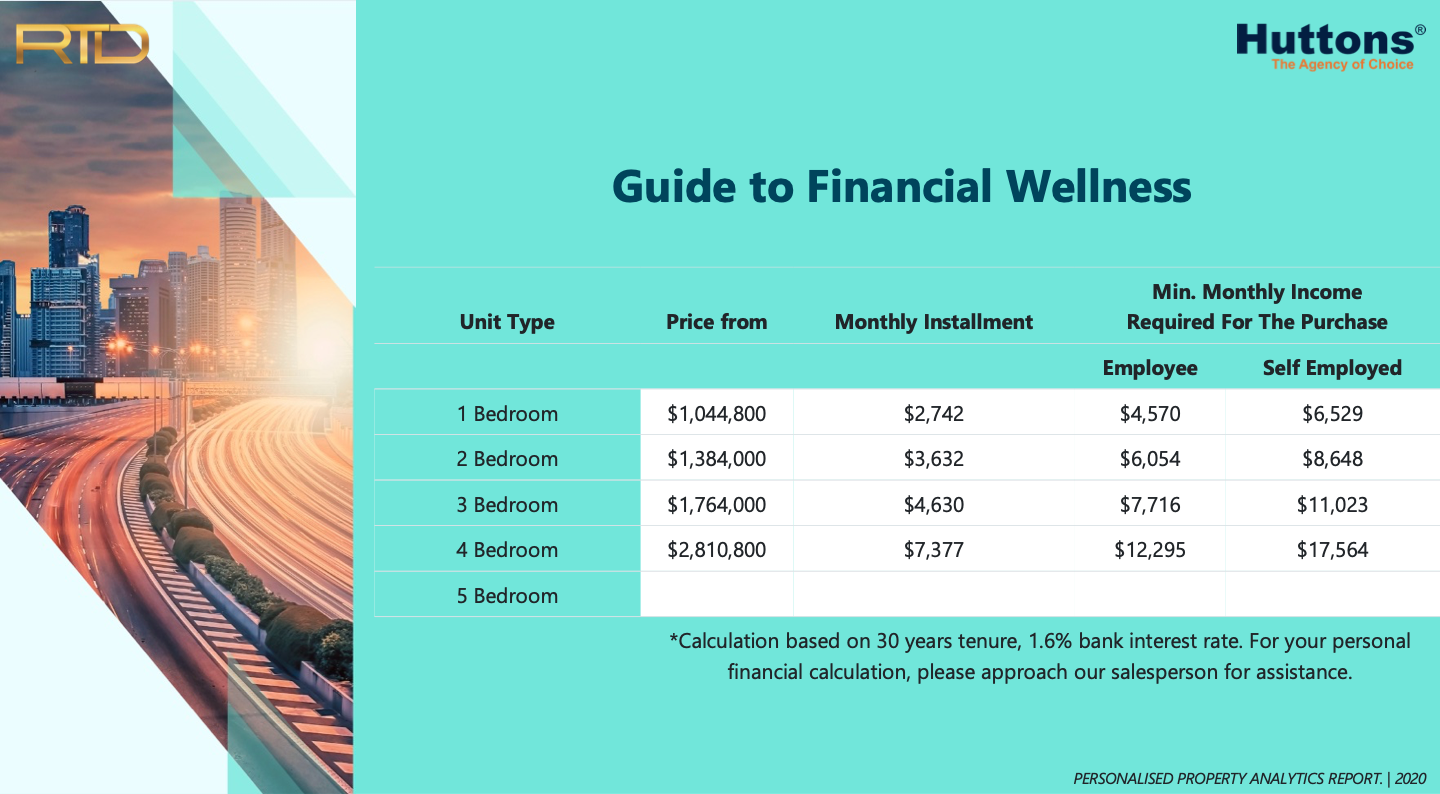 For agents that are encountering first time homebuyers unaware of the usual sale procedure, this report even includes a customised Progressive Payments Plan according to the project of choice. At one glance, it showcases the different payments buyers need to make at different stages of the transaction. It also highlights what buyers need to take note of in a typical New Launch timeline so they can get themselves prepared for their property sale.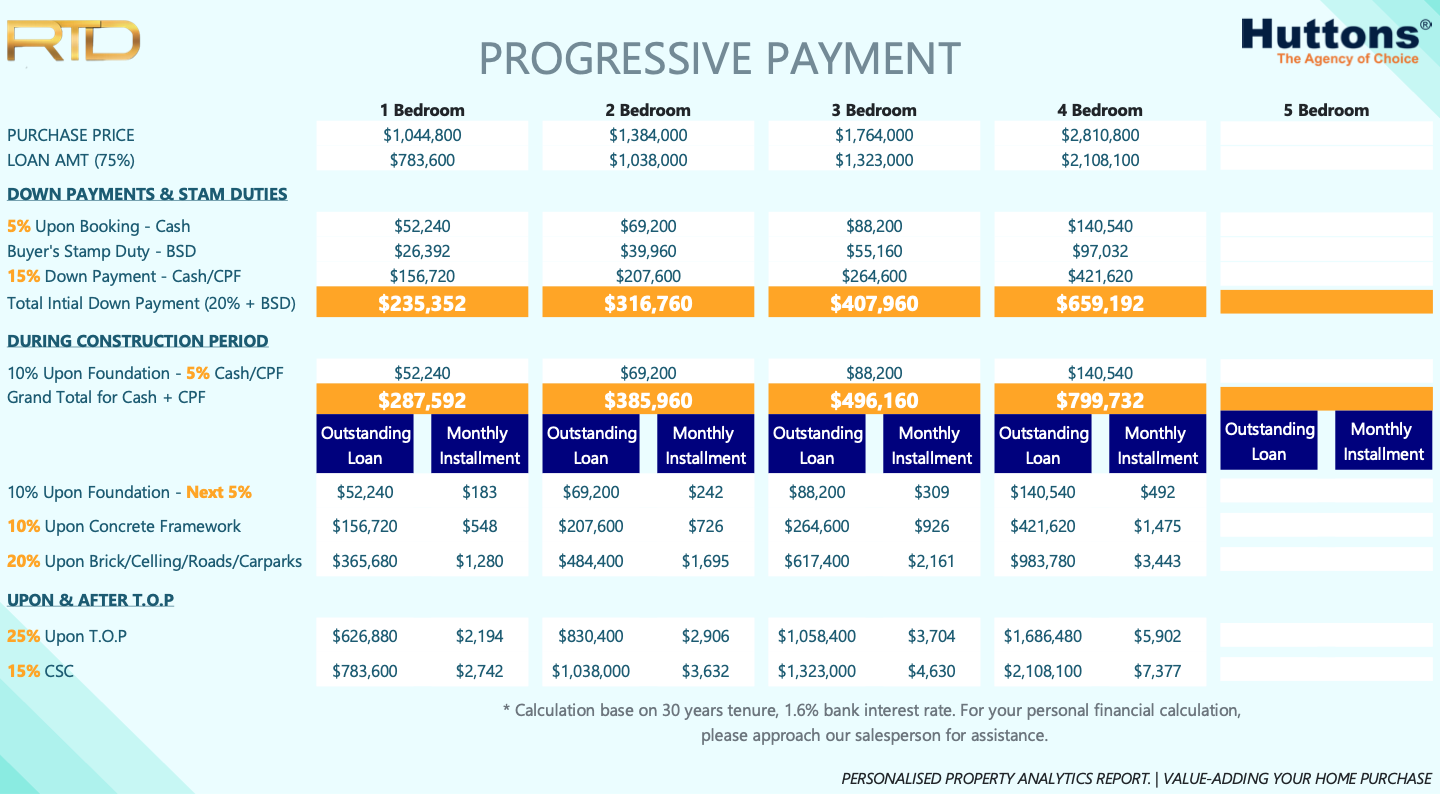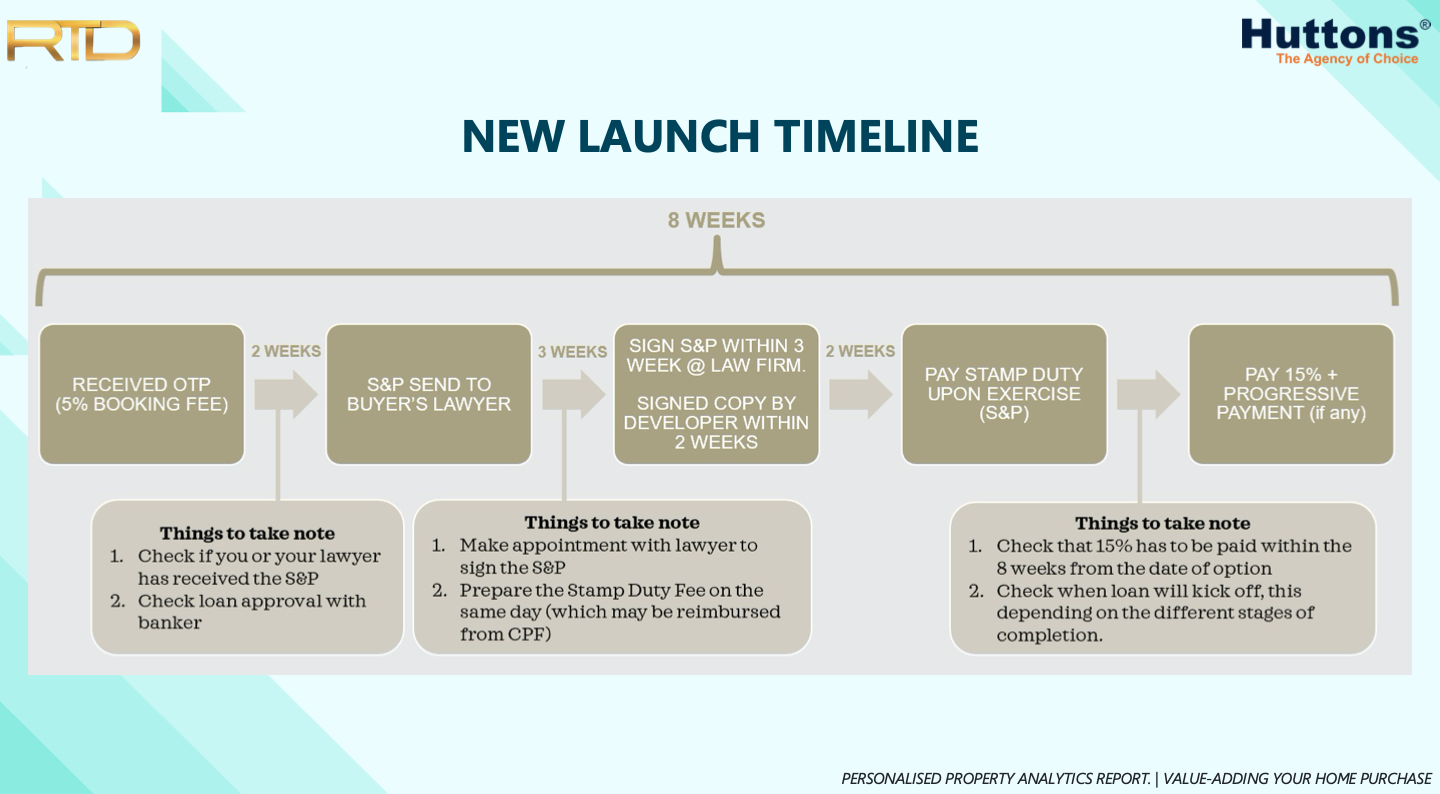 It is interesting to note that the launch of this Intelligence Report was something the RTD leaders had created to fit in with other products RTD offers. 
One of the complementary products is the Automated Sales Kit which can be generated in under a minute using easy filter functions. This was the first initiative the RTD team launched a year ago, way before any other agencies- where they help clients filter out projects based on their budget and other corresponding factors. Similar to the Intelligence Report, RTD clients will be exposed to the whole range of projects in Singapor, not just those limited by Agency.
One key highlight of the Automated Sales Kit for agents is that it contains a comprehensive set of data and information that would otherwise take an agent days to put together. With this Automated Sales Kit, RTD agents can now download a personalised sales kit for their clients in a few minutes. This has been proven helpful, especially for last minute appointments. 
For example, if an agent has a last minute meeting with a client who is an HDB Upgrader, he or she will be able to use the platform to easily generate a sales kit just before the meeting.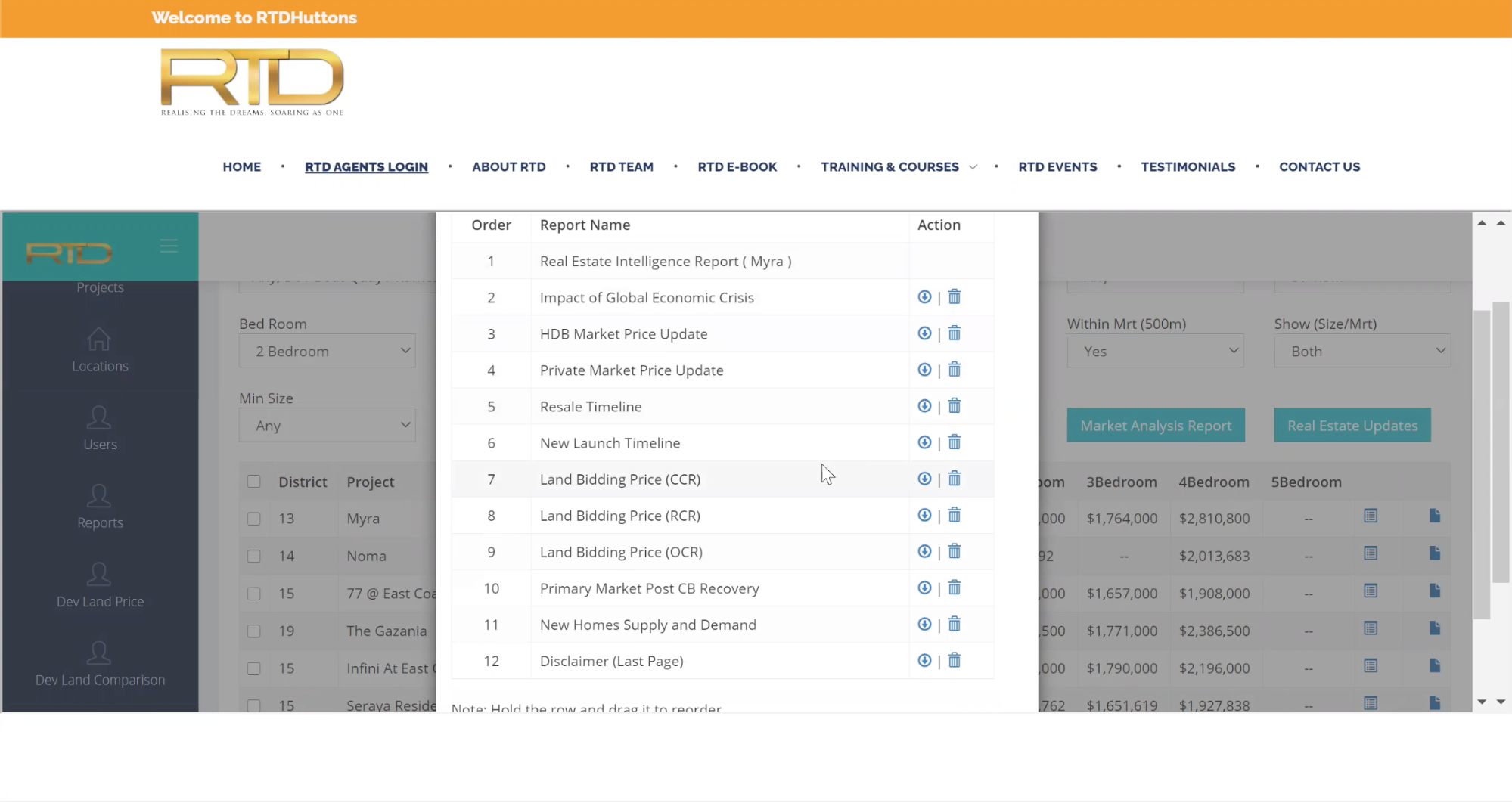 For homeowners who are considering between HDBs and New Launches, the report covers a wide range of information, all the way from the stagnation in value of HDB flats, case studies of different HDB estate prices, and even annualisation loss from HDB units.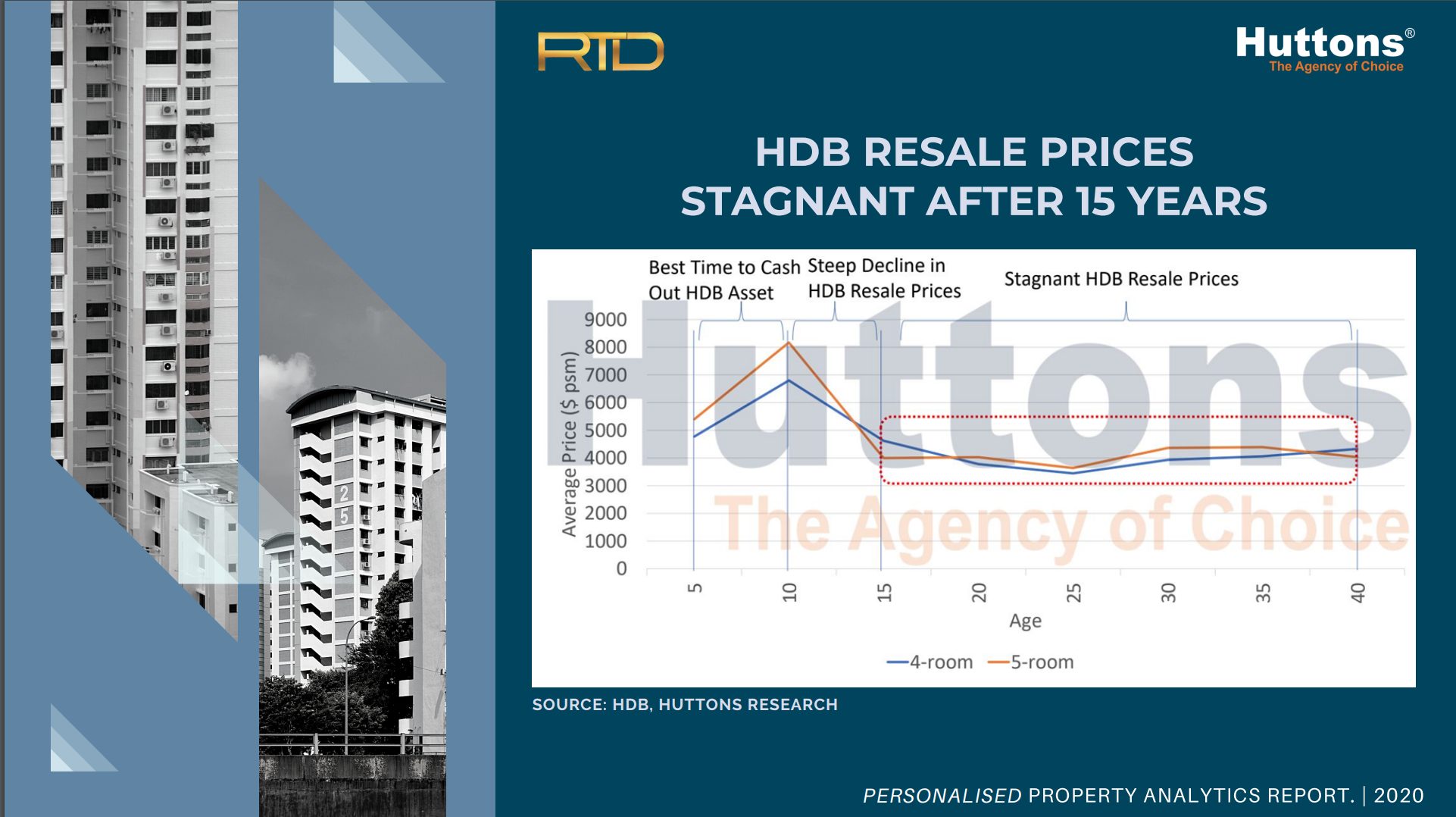 Having all these information at the agents' fingertips will help them give clients an understanding of real estate trends post Covid-19, since the numbers are all recent and updated. 
Other than just providing information about different projects and corresponding prices, the leaders at RTD even went a step further to help develop a feature within the Automated Sales Kit that helps agents manage clients who are price sensitive and always on the search for greater discounts. 
This is usually the greatest hindrance when it comes to closing a sale for agents, and to overcome that, they included a Singapore Developer Price Guide which contains a detailed analysis on the land price, development price, break even and profit margin for different developers.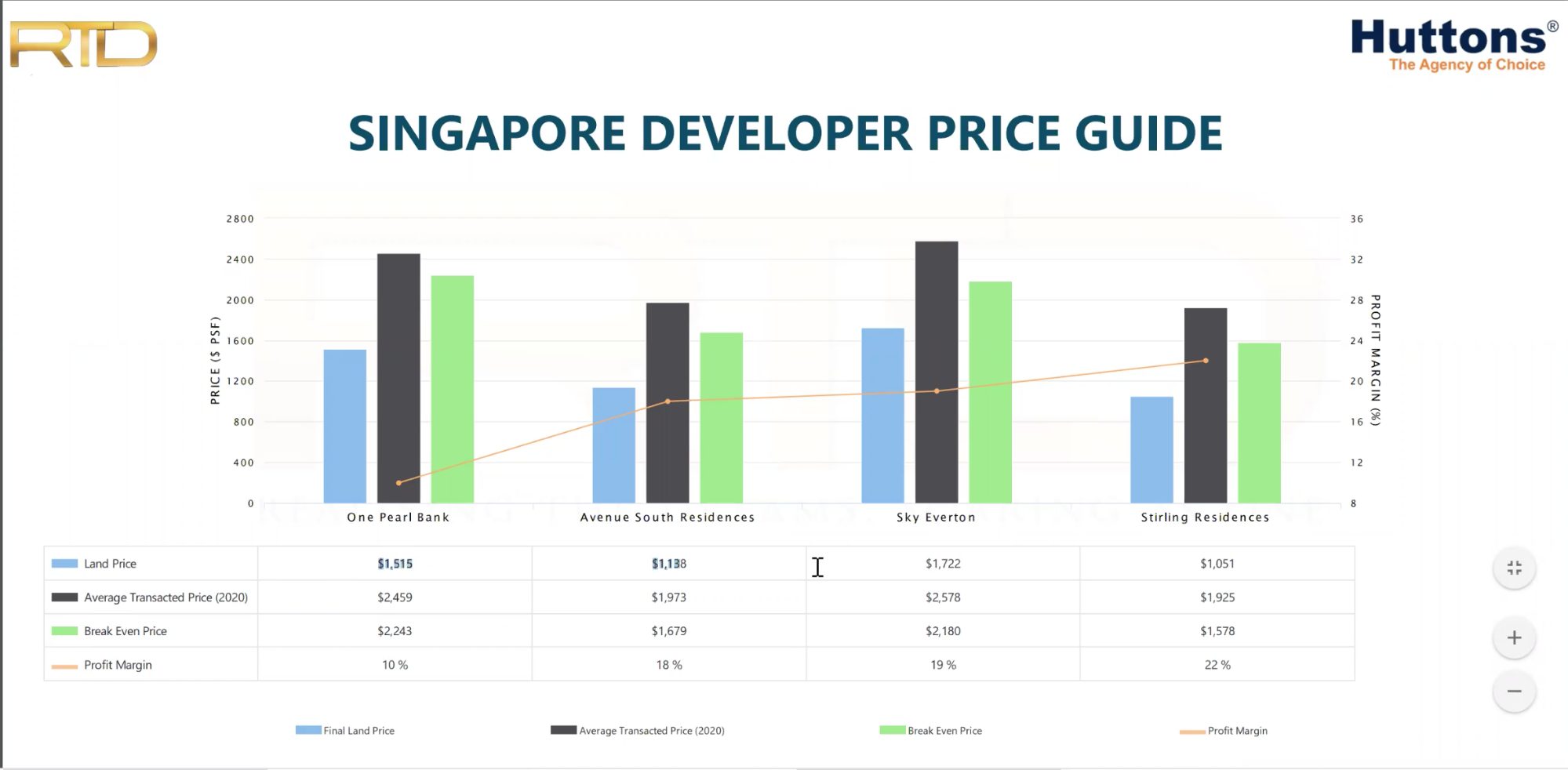 Having these information will help better equip agents with the knowledge to advise clients on which development's price can be negotiated, and which cannot. 
For example, according to the sample chart shown above in their report, clients will be able to see that One Pearl Bank is currently selling at below break even price to clear their units. This helps agents build a sense of urgency among clients and drive faster closing for them. 
With such a diverse range of products that help RTD agents value-add to their clients, it is no wonder more and more agents are joining RTD to capitalize on the tools available.
For more information about RTD, you can visit their website at rtdhuttons.com
The post RTD's Personalised Intelligence Report a gamechanger in the real estate industry appeared first on 99.co.