As you regrow your business, we want to enable you to spring forward with more efficiency through better features on AgentNet. These enhancements are aimed at elevating your experience on AgentNet so you can focus on what's truly important like closing deals.
Coming to you this month, agent partners can experience the new and enhanced Auto-Repost feature for a quicker, hassle-free way to keep your listings ranking high. With more businesses reopening and property seekers highly engaged, you'll want to be on top of your game and manage your listings more easily with Auto-Repost.
Why Use The New Auto-Repost?
*Source: PropertyGuru.com.sg Google Analytics, June 2020
#Source: PropertyGuru.com.sg internal data, 1 April–30 June 2020
According to PropertyGuru Consumer Sentiment Study H1 2020, 77% of Singaporeans use property portals to get information on property buying or renting rather than social media, property agents or developers. Among the respondents, majority of Singaporeans are looking to purchase resale properties more than that of new properties.
To keep your listings ranked high and get the exposure it deserves, Auto-Repost allows you to automatically repost your listings based on your preferred schedule – down to options of what day, time and frequency to automatically repost your listings. This gives you the assurance that your listings are always the first to be seen by property seekers and gives you a higher chance to get more leads.
What's New?
We are renaming "Schedule repost" to "Auto-Repost" for better clarity. Look out for these Auto-Repost enhancements coming your way!
Quicker, More Direct Access to Auto-Repost Listings
You can now schedule Auto-Repost for your listing via "My Listings" page, right where your listing is. You no longer need to go to "My Bookings" page to do so, which will be removed.  
After setting up Auto-Repost, you can now view your Total Ad Credits Forecast and Ad Credits used to-date and manage your bookings all on one page.
More Flexible Day and Time Selections
With the new enhancements, you're able to create more than 3 schedules in one Auto-Repost booking so all your listings can remain competitively ranked at all times.
TIP: Our data shows Mondays having the highest number of visits in the week, followed by Tuesday and Sunday. Of these days, property seekers are most active between 12pm-3pm and 8pm-11pm. Read more.
Schedule your Auto-Reposts at timings with the highest volume of visits to maximise your investment!  
More Convenience for Multiple Listings
With a few clicks on "My Listings" page, you can now setup Auto-Repost for multiple listings all at once by clicking the checkbox on the left side of your listings.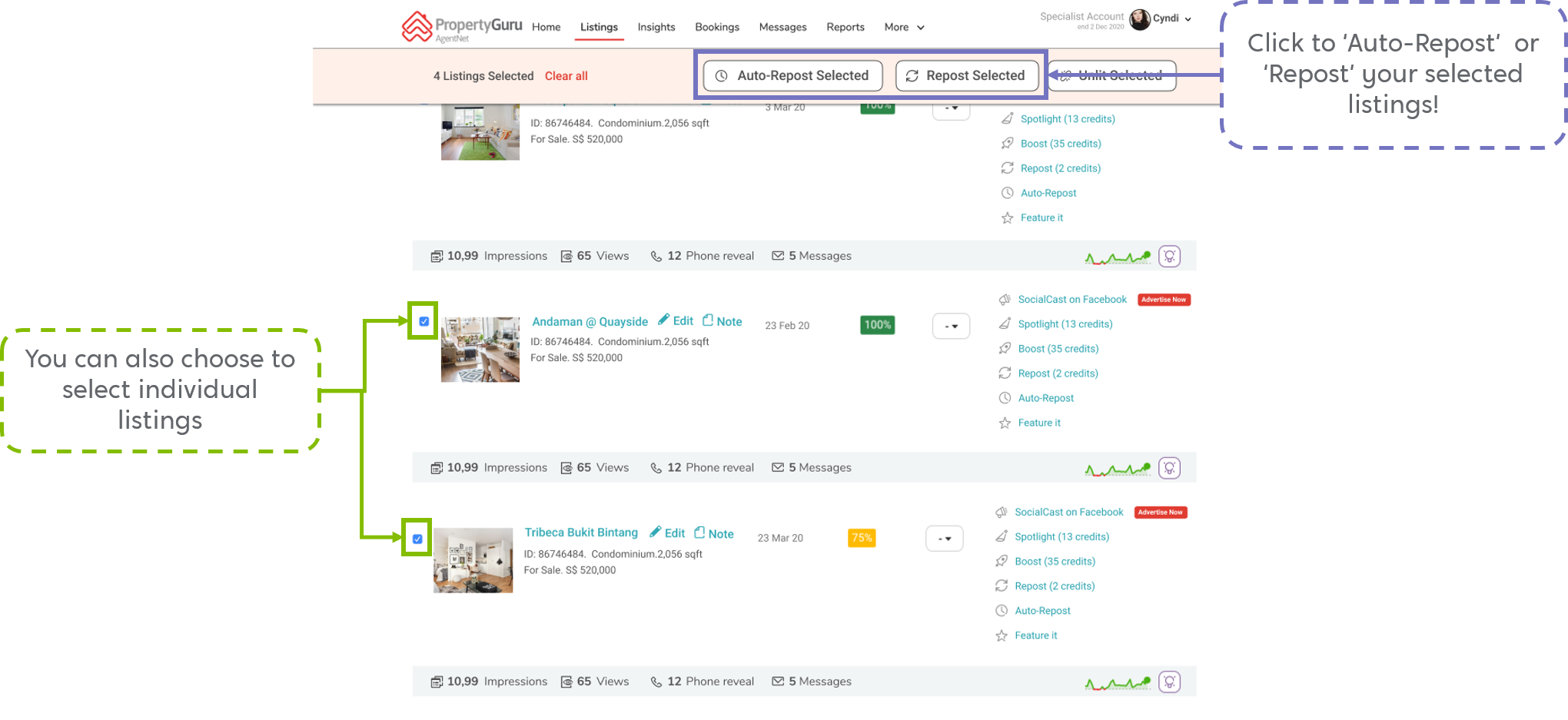 For a complete step-by-step guide on how to Auto-Repost your listing, check out this Help Article.
Special Offers to Spring You On!
With businesses resuming and property seekers' activities returning to full force, it's the perfect time to give your profile and listings the exposure they deserve!
Get Featured Agents at 20% off plus additional discount on your Ad Credits if you have an active Auto-Repost booking. Ad Credits are available at as low as $0.47/credit, and valid until 31 July 2020. Find out more today. 

To top it off, the amount of Ad Credits needed for listing activities continues to be fixed till 31 July 2020. Find out more here. 
We hope these enhancements along with our Spring Forward With You initiatives will help our agent partners close deals with greater ease. Stay tuned to even more exciting updates coming to you this month! 
-PropertyGuru Team