Call it an 'old uncle' mentality, but there's a small but significant number of freehold-only Singaporean property buyers who steadfastly refuse to ever consider buying a 99-year leasehold condo. Might as well throw money down the drain lah, they'd argue.
Truth is, the tenure of a private property seldom defines whether it's a good buy or not, and this is regardless if its buying for own stay or for investment. There are also compelling reasons why no one should ever write off/swear off buying a 99-year leasehold condominium. Let's go through them one by one.
Reason #1: Some locations only have leasehold condos
Suppose you really like Woodlands, or your parents live in Punggol and you want to live near them. In these instances, it's impossible to buy a freehold condo, because there are simply none in these areas.
In fact, here are the areas in Singapore where there are no freehold condos at all, or very few of them. And there are some surprising inclusions:
Woodlands
Yishun
Punggol
Sengkang
Tampines
Jurong East and Jurong West
Choa Chu Kang
Sentosa
Keppel Bay
Marina Bay
Areas directly above an existing underground MRT station
Yes, Marina Bay is on the list. Because the entire area is reclaimed land, every residential land parcel there belonged to the state from the very moment they came into existence. Subsequently, land parcels were tendered out by the government on a 99-year lease for development, a high-profile example being the iconic Marina One Residences.
Land directly above an underground MRT station, too, is state land and similarly tendered out on 99-year leases for development. Leasehold status certainly didn't stop James Dyson from buying a multi-million dollar penthouse at Wallich Residence—built directly atop Tanjong Pagar MRT station as part of a iconic integrated project in the CBD.
The point is also this: The value of property trophy assets go above and beyond tenure. So if you want to be neighbours with the rich and famous, who don't bat an eyelid at the property's tenure, then perhaps neither should you!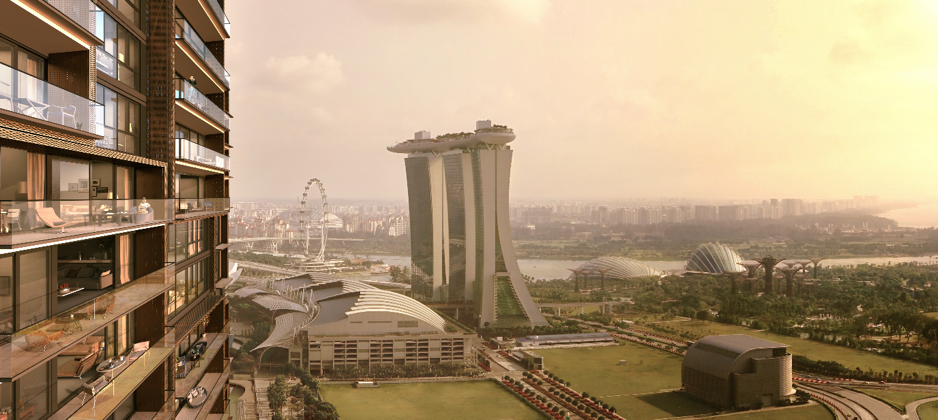 Reason #2: Some locations don't have leasehold condos
Wait, what? I thought you just said the opposite in the previous point?
Well, hear us out. While Reason #1 is a push factor (i.e. you want freehold but no choice), this is more of a pull factor (i.e. you'd crave for a leasehold option).
And here's the premise: The fact remains that many Singaporeans harbour the aspiration of having a prime district address to call home. But over 95% of properties in the traditional prime districts of 9, 10 and 11 are freehold.
Newly launched freehold, prime district condos typically price mid-high income earners entirely out of contention. Because in addition to the price premium for the freehold property, developers often take it one step further with a luxury positioning, piling on high-end design, fittings and finishings to justify an even higher price tag in their pursuit of high net worth buyers. They do this because it increases their margins significantly.
In case you're wondering, resale freehold properties isn't something that aspiring prime district homeowners are drawn to. Contrary to popular belief, freehold properties also depreciate with age, and maintenance fees increase as facilities get older.
So, there's a big supply gap of affordable prime district new launch condos of the 99-year leasehold variety. And when one does arrive onto the market like District 9's Kopar At Newton did earlier this year, it's going to attract a great deal of interest—not just from those buying for own-stay but also investors looking for an affordable, high-yielding property investment*.
*Expat renters don't care about a property's tenure. The spanking new 99-year leasehold condo with a 50-metre lap pool is always going to fetch a much higher rent than a 2000s freehold condo next-door with a 20-metre pool.
Reason #3: Because size matters
If, like many aspiring new launch condo owners, you see the allure of mega-developments of 1,000 units and above with sizeable land areas, then it's likely you'd have filtered out all the freehold options.
The reason why all the large-scale new launch condos in recent years are 99-year leasehold properties is because during the last en bloc fever in 2017 and 2018, developers saw that buying old leasehold properties for redevelopment, and then paying to top-up the lease, was far more cost-effective and profitable than buying freehold.
Coupled with the fact that a lot of freehold land in Singapore is split up into smaller parcels, and it's easy to understand why the mega-projects we see are all of the 99-year leasehold variety. (The government also releases leasehold land for mega-residential developments from time to time.)
Buyers have done their math and due diligence and decided that the pros of large-scale projects like Avenue South Residence and Parc Clematis outweigh any leasehold considerations.
Key to their decision in favour of such projects are several factors:
There's a greater number of facilities in mega-developments
The scale of the facilities are larger (bigger pool, bigger gym etc.)
The maintenance costs remain affordable as they are split between 1,000+ homeowners
These buyers are also convinced the more impressive facilities of mega-developments will guarantee resale demand as well as maximise rentability. Even if a freehold option comes up at the same price and location but with fewer units and downsized facilities, the buyer could still pick the leasehold option without hesitation.
One important point to note is that buyers, before making a purchase decision, should carefully assess and be confident that the expanded facilities in a mega-project can more than adequately serve the sizeable number of residents within it. Hence, a 2,000+ unit condo like Treasure At Tampines would need more than one 50-metre lap pool (it has two, plus nine other pools).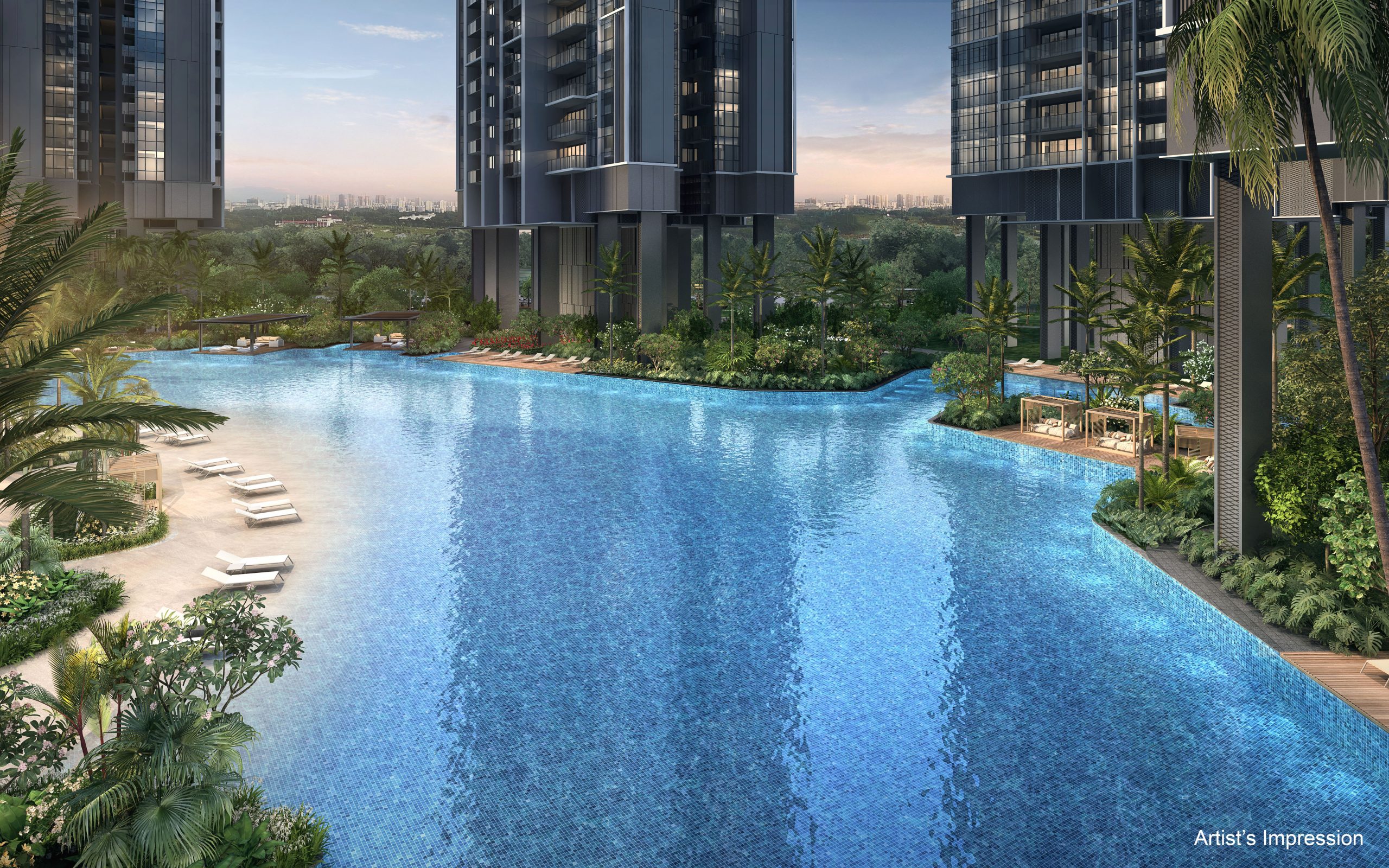 Reason #4: A lower quantum is a big deal
It's a commonly known fact that a 99-year leasehold property is, on average, 15 to 20% cheaper than a freehold property.
It's also established that, for a couple of years now, we're seeing local upgraders and investors gravitate towards private homes of a lower quantum. A big part of this is because of the hefty 12% upfront Additional Buyer's Stamp Duty that they have to pay (even if the buyer intends to sell their existing home) since 2018.
So, 99-year leasehold properties are becoming the default choice among more and more homebuyers. The below 20-year graph on freehold vs leasehold transaction volume says it all: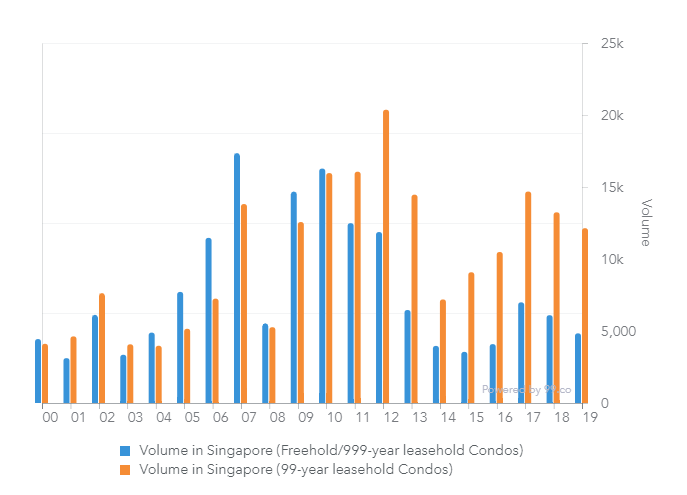 For investors, reducing their outlay on a property purchase also means leaving more money to invest in other investment products such as stocks, as part of a broader diversification strategy.
Gone are the days where Singaporeans will spend of their savings on a freehold private property. While younger investors still look highly upon property as an worthwhile investment, they also tend to seek out higher growth and higher risk instruments, and make this portion of their wealth work harder for them as part of their more ambitious asset progression plans.
After all, the only way to buy more properties is to grow your money faster. In terms of property selection, this is where new launch leasehold condos with assured rental prospects, such as the centrally-located The Landmark and Uptown @ Farrer, factor into their investment equation. The two projects' city fringe location and leasehold status help savvy investors strike a balance between capital outlay and return on investment.
The takeaway? In most cases, buyers of 99-year leasehold condos are making a highly conscious and informed decision. Sometimes it may be worth listening to them, and even taking their lead.
What's your argument for or against buying a 99-year leasehold condo? Share your views with us in the comments below.
Looking for a property? Find your dream home on Singapore's most intelligent property portal 99.co!
The post The savvy case for buying a 99-year leasehold condo appeared first on 99.co.