Homeowners and businesses in northeast Singapore will now be able to access the Open Electricity Market.
Special Advertising Feature
The Singapore government has officially launched the Open Electricity Market (OEM) today, in a bid to liberalise the industry and spur competition among local power providers.
Starting today (1 Nov), homeowners and businesses within the northeast of the country residing in areas with postal codes from 58 to 78 will be able to access the OEM, said the Energy Market Authority (EMA), the government agency overseeing the local electricity and gas industries.
These areas include districts in Upper Bukit Timah, Clementi Park, Ulu Pandan, Tuas, Hillview, Dairy Farm, Bukit Panjang, Choa Chu Kang, Lim Chu Kang, Tengah, Kranji, Woodgrove, Woodlands, Yishun, Sembawang, Upper Thomson and Springleaf.
These areas are in addition to Jurong, where the OEM was soft launched on 1 April.
Thereafter, the Open Electricity Market will be implemented progressively in three other geographical zones, with areas within Singapore's central business district (CBD) being among the last to access it.
With this set-up, homeowners and businesses will no longer be locked into purchasing electricity from just SP Group, the operator of the electricity transmission and distribution network in the country. As a result, consumers will be able to choose from a variety of competitively-priced power plans from over 10 companies. As observed in the Jurong soft launch, power retailers dangled attractive sign-up discounts, on top of bundling their power price plans with other services and products.
How many power retailers can I choose from?
Initially, 13 electricity retailers are participating in the official launch today, and several more are expected to join later after upgrading their capabilities. These 13 power retailers consist of: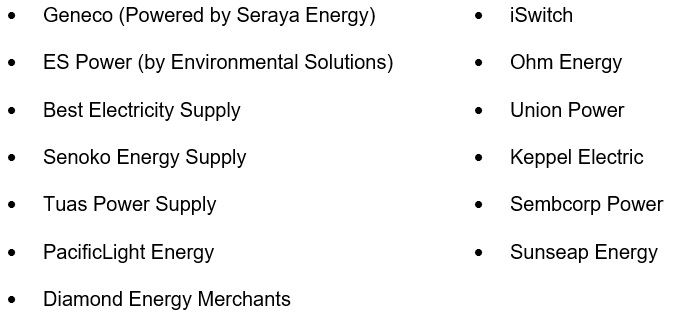 How electricity is delivered to consumers' homes?
At present, about 95 percent of Singapore's electricity supply are generated by power plants fuelled by natural gas. In turn, the current produced by these generation facilities are transported across Singapore via the national power grid, then distributed to various businesses and homes.
On the financial aspect, generation companies that run power plants offer power in the wholesale electricity market (WEM) every half-hour. They have to bid to sell electricity, and the price of power change every 30 minutes depending on demand and supply. Meanwhile, the electricity retailers purchase power in bulk from WEM and compete with each other to sell power to consumers and enterprises.
With the implementation of the Open Electricity Market, clients have the option to switch to a different power retailer other than SP Group. But they may also opt to continue buying electricity from the company at a regulated tariff that is reviewed every quarter. Choosing a different retailer won't disrupt a home's power supply as SP Group will continue its job to deliver power to everyone.
Moreover, clients should not worry over blackouts or power disruptions as the responsibility for ensuring a reliable supply of electricity across Singapore remains in the government's hands, which falls under the Power System Operator (PSO), a division of EMA.
Notably, SP PowerAssets owns the national power grid which distributes electricity across Singapore, while its appointed agent SP PowerGrid builds and maintains the power grid. Both are members of SP Group.
Types of standard price plans offered by the 13 retailers
Prior to the OEM launch in each zone, homeowners and businesses there will get a notification package and information booklet about the different power price plans offered by electricity retailers. To compare price plans, please visit this website.
Basically, power retailers will offer two kinds of standard price plans. According to EMA, aside from prohibiting power retailers from imposing zero hidden charges, the contract duration of standard price plans is 6, 12 or 24 months. In addition, all electricity retailers are required to post their standard price plans on OEM's official website and honour their terms. The particulars of the two standard price plans are indicated below.
Fixed Price Plan. Under this package, clients will pay a constant rate (e.g. 20 cents/kWh) for their power during the contract period. This plan targets clients who don't want a fluctuating monthly power bill. However, the rate may be higher or lower than the regulated tariff.
Discount Off the Regulated Tariff Plan. Under this package, the rate changes but clients will be entitled to a fixed discount off the prevailing regulated tariff (e.g. 5.0 percent). This is suitable for those who aren't bothered about paying different power rates so long as it's more affordable than the regulated tariff.
On the other hand, plans with a different pricing structure from these two are called Non-Standard Price Plans. To know more about these, please contact the power retailer directly.
Which is the best power price plan?
If the rate for the Fixed Price Plan is not too high, it could be more advantageous as the regulated tariff has been mainly on an uptrend since January 2016. Aside from that, SP Group said last month that electricity tariffs will increase by an average of 2.1 percent or 0.48 cent per kWh in Q4 2018 from the previous quarter.
If the rate for the Fixed Price Plan is pricey, opting for a discounted plan is also a good move as your rate will still be lower than the regulated tariff.
Why choose Geneco?
Power retailers without their own power plants face a greater price risk as they are solely dependent on buying from the Wholesale Electricity Market, where power prices could be volatile if there is an imbalance in the half-hourly supply and demand. Such electricity retailers will also have to mitigate this risk by conducting their own hedging activities.
More importantly, the price of power in Singapore is significantly impacted by the price of natural gas in the global market.
On the other hand, firms operating their own generation facilities have the advantage of mitigating the volatile price risk, as the sale and purchase prices of electricity in the wholesale market are nearly identical.
One of those companies running their own power plants is Geneco, whose parent company YTL PowerSeraya is one of Singapore's first and biggest power producers with a licensed generating capacity of 3,100 MW. The group has been in the power generation business since 1971, and has received numerous awards for outstanding customer service.
Geneco offers one of the most competitive electricity plans in the market across all types of price plans with no security deposit required. For example, Geneco's 24-month fixed price plan is $0.1680/kWh, which is 30 percent cheaper than the SP regulated tariff rate at $0.2413/kWh. The sign-up process for Geneco is also seamless, ensuring ease of changing your electricity supplier. That's not all, if you recommend Geneco to your friends and family, you'll get a $20 shopping voucher.
For more details, kindly visit Geneco's website.
Brighten up your life with Geneco!
With no hidden charges and low prices all year round, you can always expect big savings for your electricity bills.  Committed in delivering award-winning customer service and seamless sign up experience, it is easy to see why so many people choose Geneco.
Visit www.geneco.sg to find out more of our compelling power plans.
*Information is correct as of 31 October 2018.