Serviced apartments are not only for expats ­and travelers ­– though if you're one, read on because this list of perks is for you, too – but also for locals.
Serviced apartments are great if you are in need of a temporary home while your property is undergoing renovation ­(which might now take longer due to Covid-related delays) or if you are in between leases.
As the apartments come with a living room and kitchenette, this also gives couples who are waiting for their BTO flat or condominium a way to live together sans in-laws. Booking a serviced apartment after a romantic hotel wedding sure sounds like a good idea if you're looking for some freedom and privacy!
Reasons why serviced apartments are better than hotels and rental apartments
Serviced apartments don't require you to deal with common landlord or hotel limitations such as no cooking or no pets. Far East Hospitality, for instance, is one serviced apartment provider that welcomes your furry family members and has everything you need to whip up a delicious meal.
There's also no need for paperwork like tenancy agreements, agent fees, and stamp duties, or to figure out whether WiFi, utility charges or even furniture is inclusive in the rent. These are all taken care of, and reservation is confirmed through a one-page booking confirmation form – as easy as 1,2,3. Now, you can use your time and energy to focus on the other stuff on your to-do list.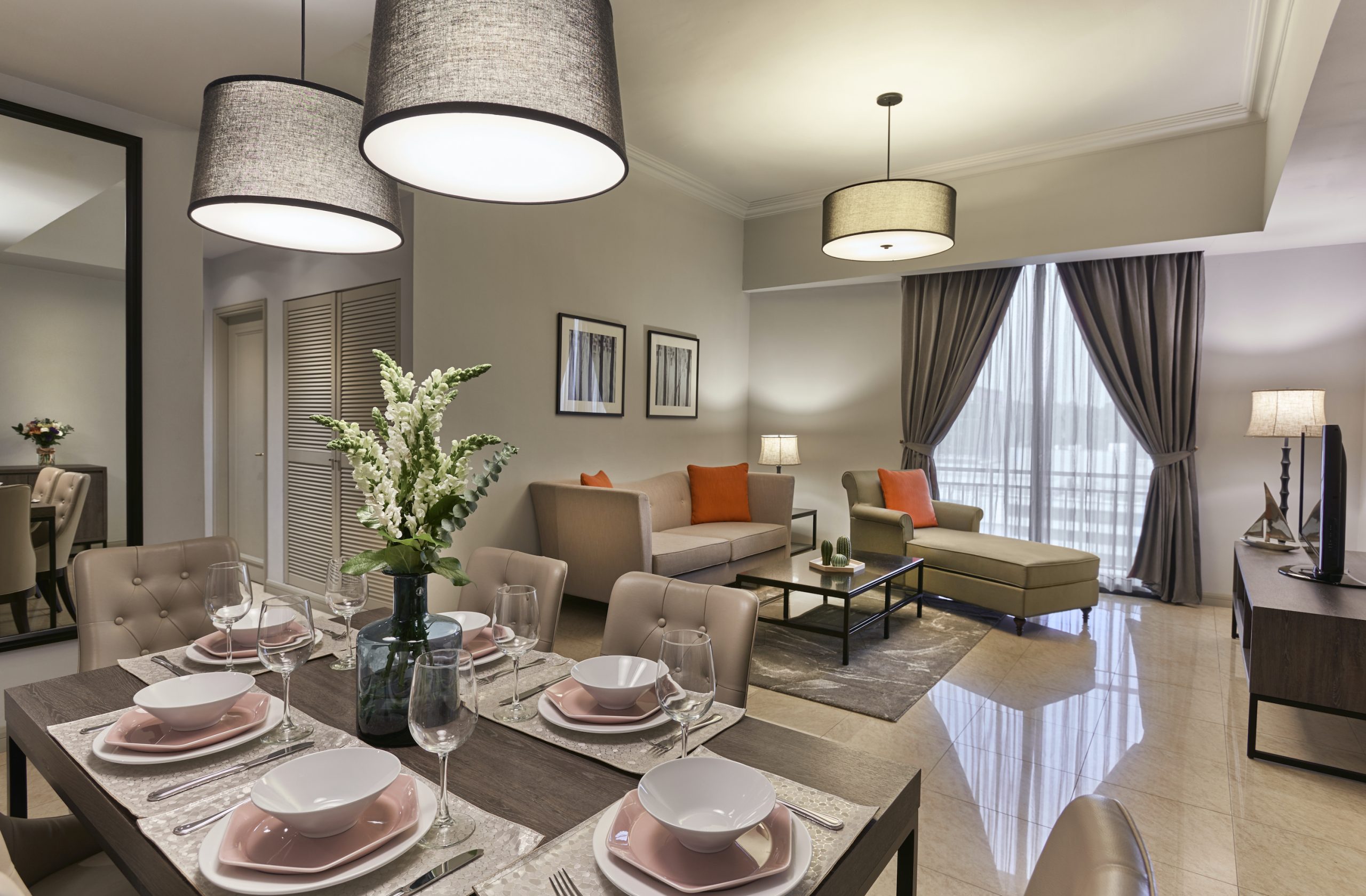 Apartments come fully furnished, and you'll have access to top-notch amenities such as a gym, pool, and spa. Serviced apartments also come in various sizes for all types of families, and at convenient locations to boot.
The lease period is flexible, too. There's always something available, whether you are staying for six nights (the standard minimum for serviced apartments) or six months and beyond.
It's highly conducive to work from a serviced apartment
With a fully furnished apartment, there is no need to set up your own study area or WiFi configurations. Prepped for extended stay guests, serviced apartments are equipped with a comfortable workspace and steady connection in place. It's a plug-and-play situation; all you need is to check-in with your suitcase and laptop.
You'll also be equipped with a telephone with free local phone calls, air-conditioning, and cable TV. And for big work events, you can book meeting rooms with its accompanying equipment in selected residences' facility areas.
More perks that ensure your work day remains productive and uninterrupted include housekeeping and laundry services. There's no need to worry about the daily dusting, vacuuming, and overall upkeep of your apartment. And although you'll be provided with a washer and dryer, a laundry service is a great alternative for busier days.
Bonus: Available with selected serviced apartment packages, a continental weekday breakfast means you have one less meal to plan for. Phew!
Have kids? Selected residences provide children play areas and (chargeable) babysitting services upon request. A relief for days filled with important Zoom meetings.
It's probably cleaner than your own home 
One thing that's on our minds during this tough Covid-19 period is cleanliness. Not only is housekeeping provided, serviced apartments adopt stringent measures to ensure their rooms and grounds are safe.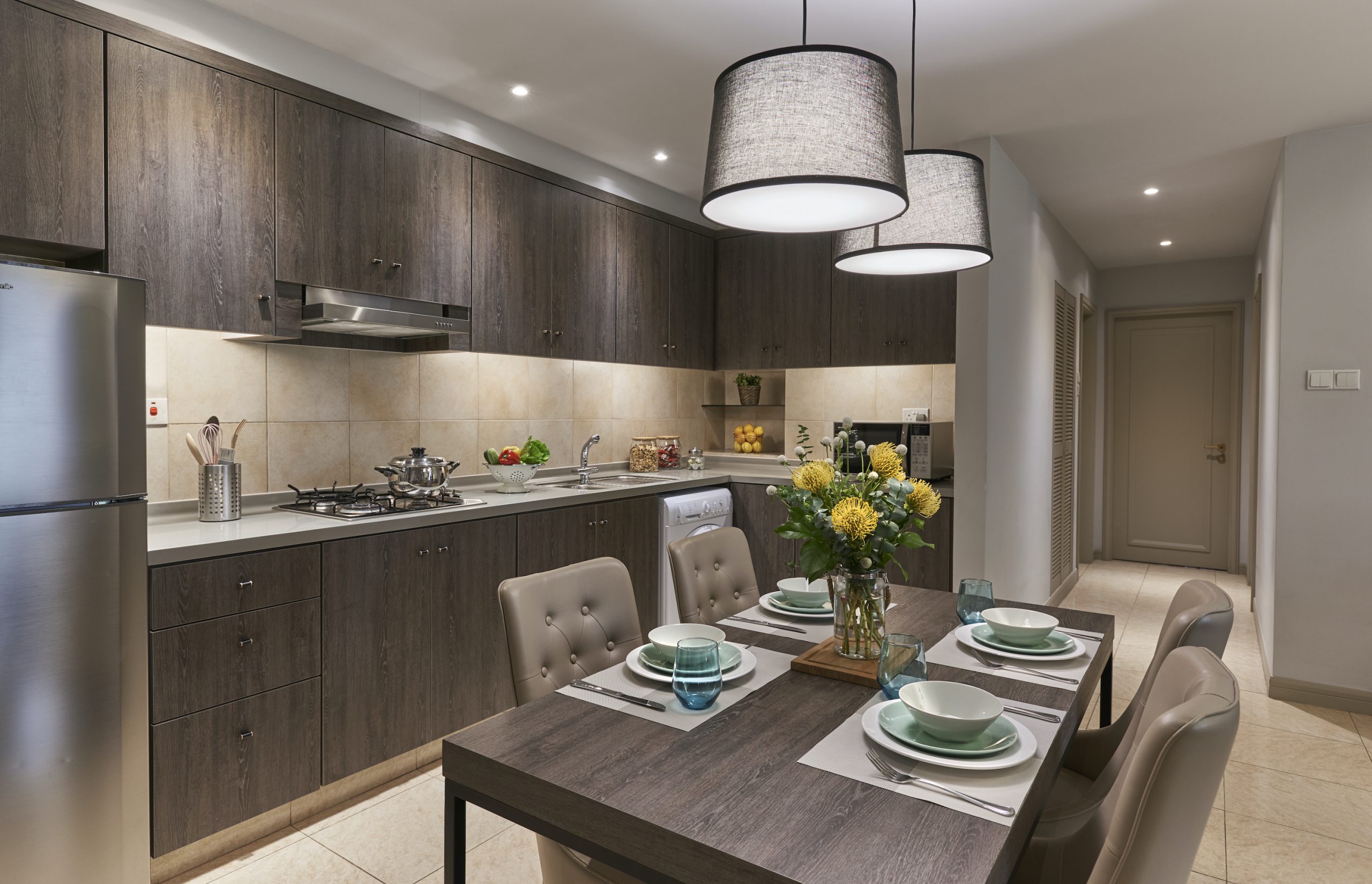 Far East Hospitality has, for their serviced residences, adopted similar measures to that of the SG Clean initiative. This includes providing face masks (upon request), temperature screening, and frequent cleaning of public areas such as lifts.
Rooms are also fully disinfected after each guest leaves. And if you prefer, you can request for contactless ways to exchange linens.
WFH perks with Far East Hospitality
From now until 31 December 2021, each booking of a Far East Hospitality serviced residence comes with vouchers worth $200*, applicable for use at any Far East shopping malls. This will give you the opportunity to jazz up your WFH experience any way you like.
Use them to purchase a coffee machine so you don't have to go without your daily pick-me-ups or, for those who can't get through the day without snacking, it's a chance to stock up the pantry with your favourite tidbits.
Not a fan of coffee or snacks? Visit a furniture retailer and purchase an ergonomic work chair that will keep backaches at bay, or a noise-cancelling headphone to help you focus at work.
You'll receive these vouchers when you book at any of these nine serviced apartments by Far East Hospitality:
Orchard Scotts Residences
Orchard Parksuites
Far East Plaza Residences
Regency House
Village Residence Clarke Quay
Village Residence Roberston Quay
Village Residence Hougang
Village Residence West Coast
Oasia Residence
For more information, please visit the Far East Hospitality website, contact Far East Hospitality at +65-6664-3340 or email sales.sr@fareast.com.sg.
 *Terms and conditions apply.
 Brought to you by Far East Hospitality.
The post Why I'd rather WFH from a serviced apartment appeared first on 99.co.