As far as new launch condos are concerned, developers typically focus too much on their marketing message and miss out on what really matters to buyers. This bite-sized review about Clavon, the latest new launch condo to hit the market in Clementi, will highlight the overlooked areas of interest that help buyers make a better decision.
Clavon is open for previews, by appointment only, on 28 and 29 November 2020. The 640-unit condo is located along Clementi Avenue 1 and is expected to be completed by 2025. (Fun fact: Clavon is a name made up of the first letters of 'Clementi Avenue One'.)
#1: Bid after July 2018 cooling measures = competitive pricing
A little background: Developer UOL Group made the winning bid for the 99-year leasehold Clavon site in July 2019's Government Land Sales (GLS) exercise for $491.3 million. This was the only condo site in Clementi sold after the July 2018 cooling measures.
Comparing the per square foot per plot ratio (psf ppr) price of UOL's bid with that of the recently-completed The Clement Canopy condo next door, you can see how the UOL Group had actually won the bid at a price that is almost 'dialed back' to levels before the en bloc fever in 2017 and 2018.

[Click here to see all new launch condo listings in Clementi]
Moreover, about the time when UOL won the bid, the property market began to pick up again as 'wait-and-see' buyers were prompted by rising interest rates to enter the market. Since the third quarter of 2019, the price index of private non-landed homes in the Outside Central Region (OCR) jumped to new highs.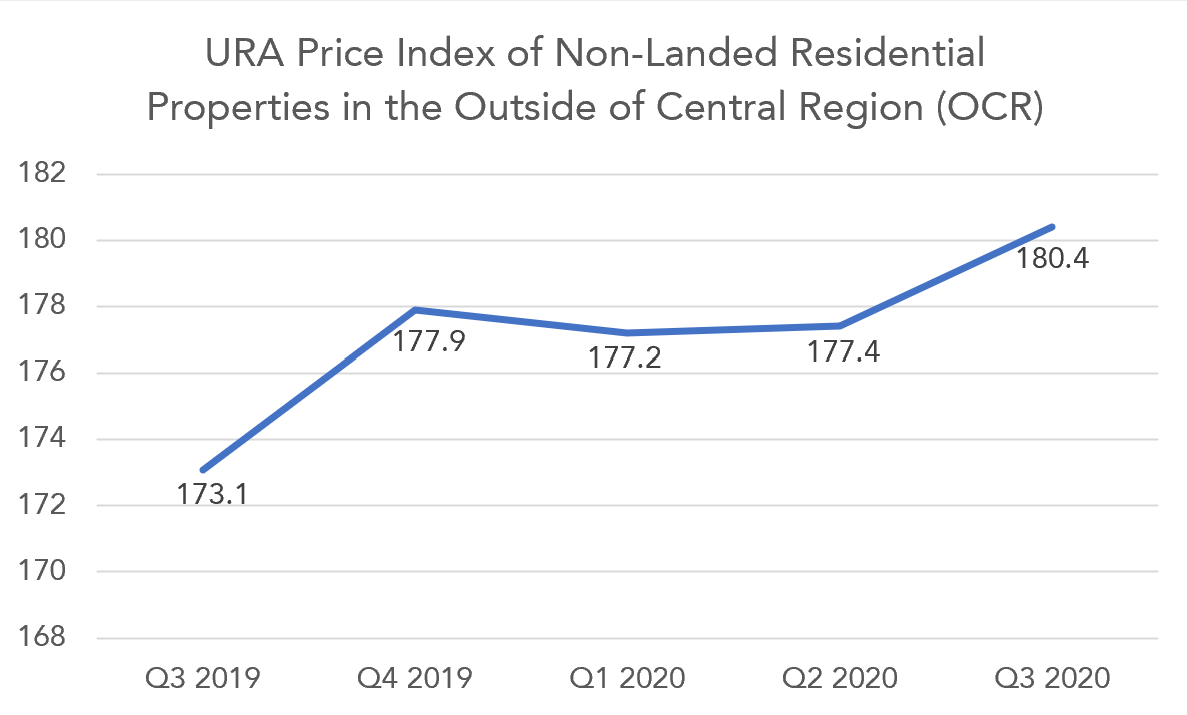 In shoert, UOL Group locked in a competitive bid price for Clavon when the market was relatively cooler. With a price starting from $1,475 per square foot (psf) and an estimated average price of $1,600 psf, the developer appears interested to pass on the savings it got onto buyers, which is great news as the market appears to be heating up again.
#2: Tiered design could make low-floor units at Clavon more attractive
Keenly aware of its location close to the Ayer Rajah Expressway (AYE), the Clavon's architect came up with the concept of tiered landscaping decks to achieve a greater separation between the expressway and the condo's amenities and residential blocks . This can be seen from the artist's impression below: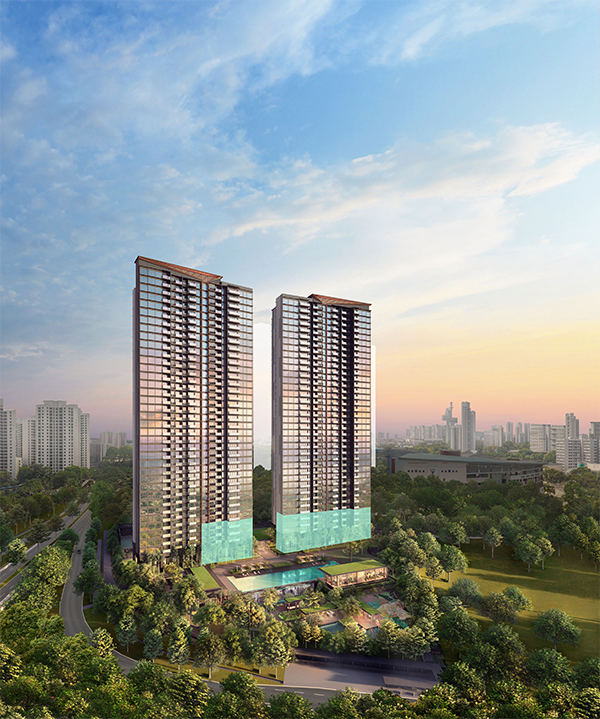 The main facilities level (level 1) where the condo's 50-metre lap pool is located will be about 7 metres higher than road level of the AYE. When combined with greenery and a cascading waterfall feature, we think most of the expressway noise and dust will be cut out at the pool area, which also makes the ground floor units with Private Enclosed Spaces (PES) at Clavon quite attractive.
In terms of distance, we feel that the blocks are set back sufficiently from the AYE (half of Clavon's units here actually face away from expressway). The stack closest to the expressway will be about 50 metres away, and the furthest south-facing (i.e. AYE-facing) unit is actually 100 metres away—a decent amount of separation that makes the low-floor units (those that we highlighted in blue above) worthy of consideration for buyers wanting a pool view.
One interesting thing we noted. Clavon's kids pool and play areas are tucked away within the development and sequestered in a spot closest to the AYE. A clever win-win design, as these facilities can also be a source of noise pollution for residents. And as long as they can play and scream to their hearts' content, kids won't mind some traffic noise one bit!
#3: Great for families with children, with one caveat
Clavon's vicinity is known for good schools from the secondary level onwards. Right next door is Nan Hua High School and the NUS High School of Mathematics and Science, and the number of tertiary institutions (Singapore Polytechnic, Yale-NUS College, NUS) and international schools in the area will make any buyer sit up and take notice.
But buyers should be aware that there's currently just one primary school (Pei Tong Primary School) considered within 1km of Clavon. This is by no means a dealbreaker, and actually plays well as a strategy for couples who already have a child/children already in primary school or about to enter a primary school. The completion of Clavon in 2025 will be ideal for those intending to move into a 'school-rich' neighbourhood from secondary level onwards.
FYI: There's also a childcare centre as part of the development that will cater to enrolment from condo residents and non-residents alike.
#4: Accessibility isn't limited to Clementi MRT
Much will be talked about Clavon's distance to Clementi Town Centre and Clementi MRT, which is either a 12-minute walk or a 5-minute bus ride away. This might sound unimpressive at first to those who want public transport accessibility at their doorstep, but let's not forget about the AYE.
You see, the AYE isn't just an expressway for cars. No fewer than six bus services can be accessed from a pair of bus stops that's within a few steps from Clavon's side gate. Using the AYE as a fast route, these bus services connect to places such as the National University of Singapore (two minutes), one-North and Buona Vista (eight to 10 minutes), International Business Park (10 mins), Mapletree Business City (15 minutes) and Harbourfront (20 to 25 minutes).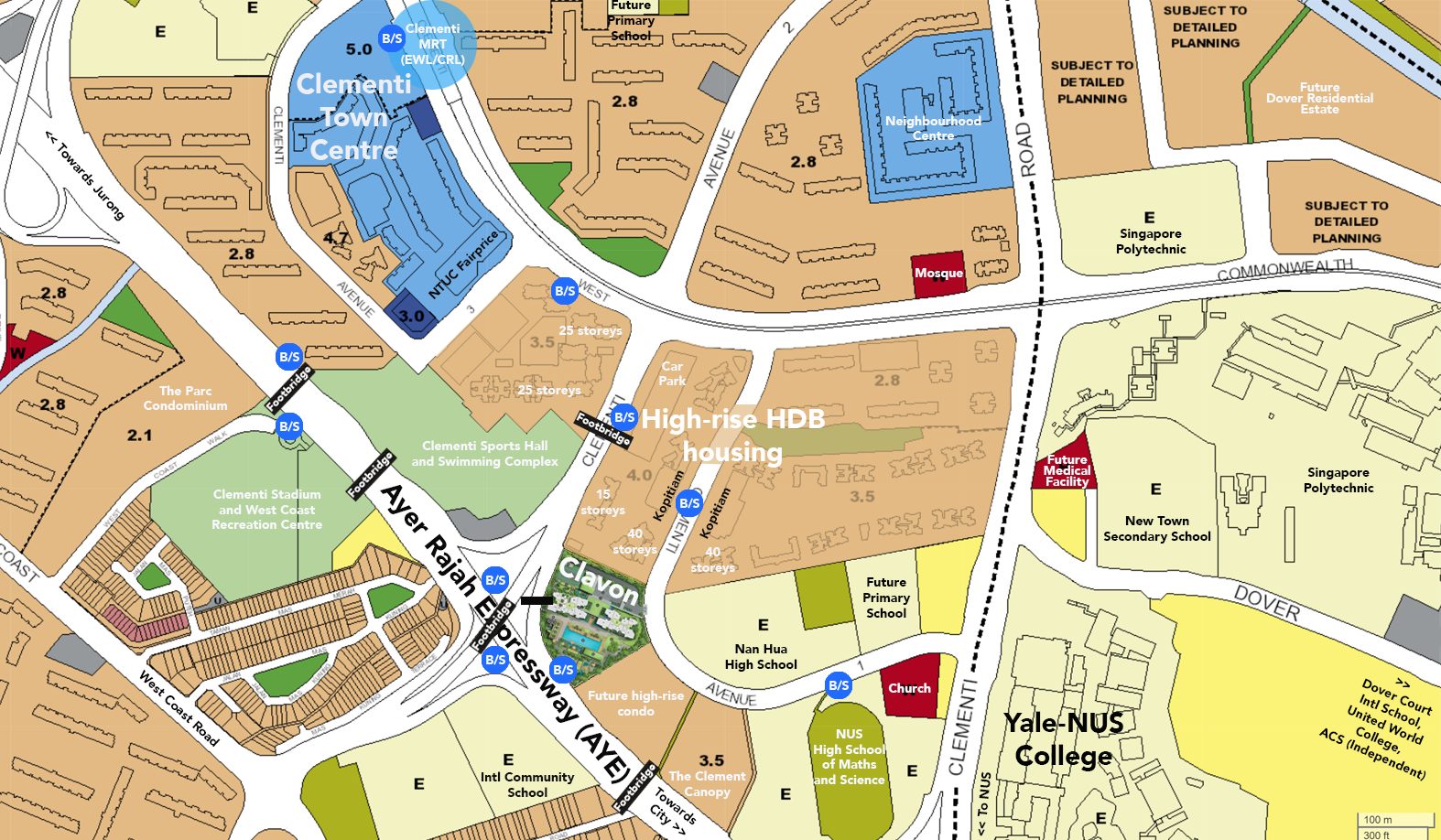 Bus 97 also provides a direct route to the CBD in 30 to 40 minutes on days with smooth traffic. In any case, the travel times above make very good reading for those whose lives revolve around the West. Investor-landlords may also find Clavon worthy of consideration because of these bus connections.
FYI: A new bus stop right outside the side gate of the development, served by Bus 189, will give residents fully-sheltered access to Clementi Town Centre and the MRT, as well as Bukit Batok. (The new bus stop can be seen in the earlier artists' impression, right at the bottom of the image.)
#5: It's possible to get views of Bukit Timah Hill
Most developers and agents will wax lyrical about the south-facing sea views from the higher-floor units of Clavon. The lucky owners of the top floor unit can enjoy this panorama: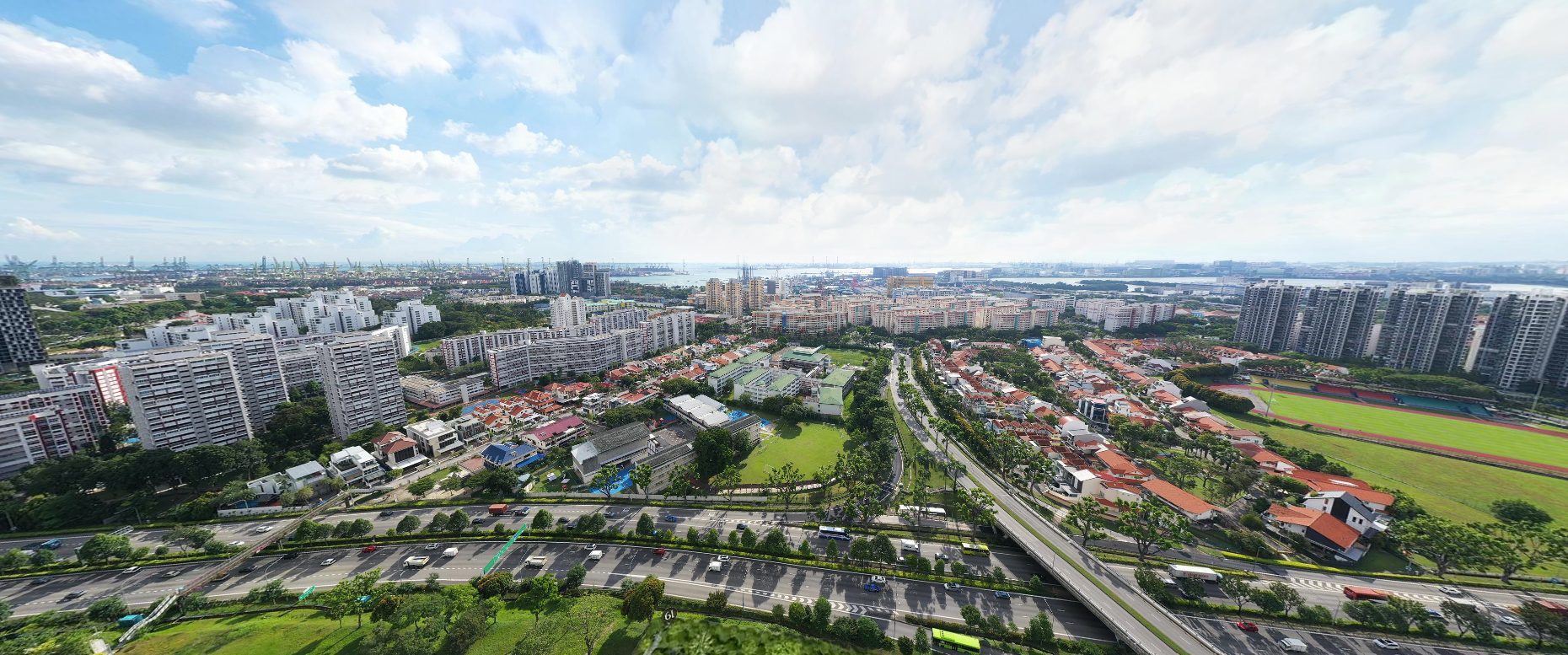 That said, half the units at Clavon are north-facing. And directly to the North is a cluster of new HDB housing that rises to the same height as Clavon's residential blocks. So, most of the north-facing units here have blocked/partially blocked views.
Nonetheless, there are a select number of north-facing units that can offer glorious unblocked views. We've done the research and found that Stacks 01, 02, 03 and 04 of Block 6 are assured of unblocked views towards Bukit Timah Hill from the 26th storey onwards. (Stack 01 will have the widest view angle.)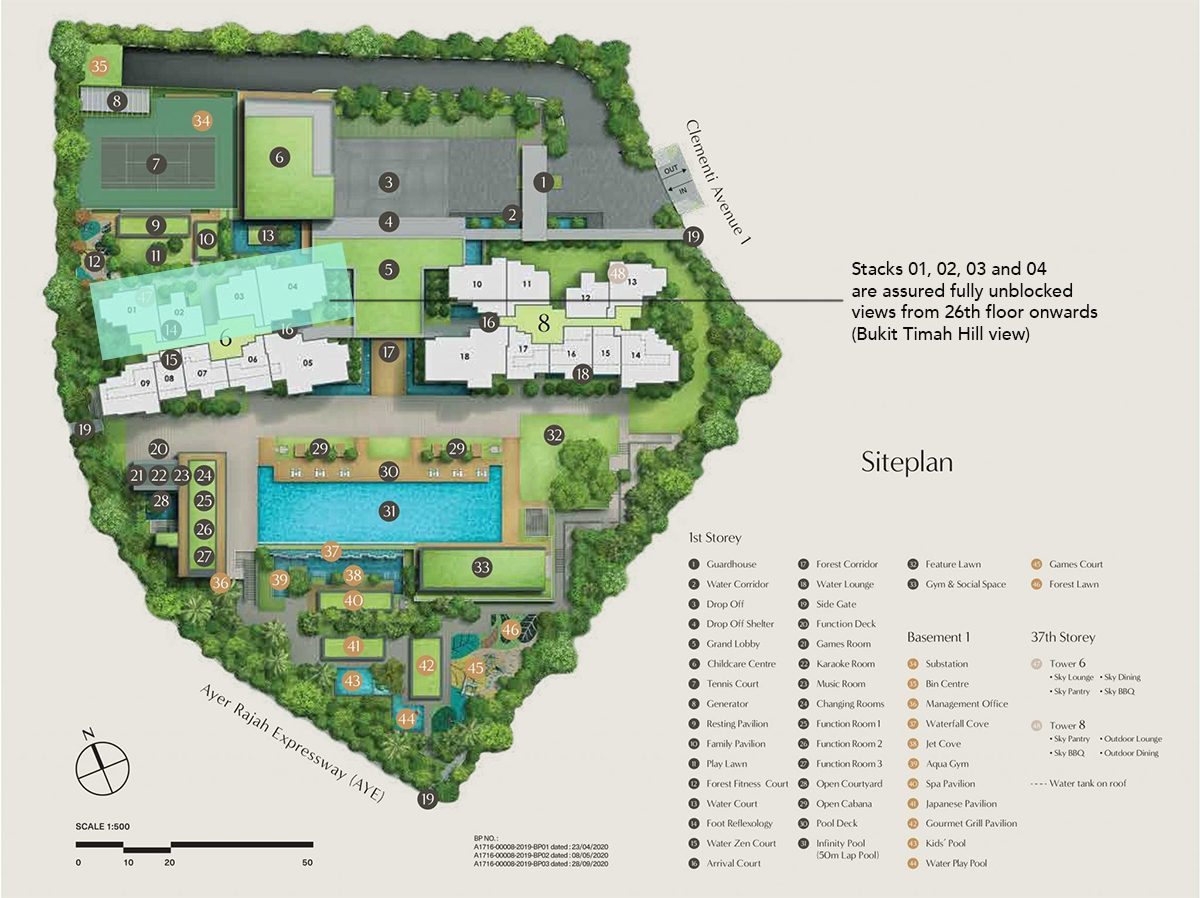 But the there's no issue if you can't get your hands on a high-enough unit at Clavon, because the developer has assigned the topmost 37th storey of both towers for communal facilities including barbecue pits, indoor and outdoor lounges and pantry/cooking/dining facilities.
So, on paper we feel that Clavon has enough plus points, not to mention a competitive price point, to merit consideration for own-stay buyers and investors looking out for new launch condos. Buyers who are considering new launch condos in Clementi (District 5) may also want to check out projects in neighbouring Upper Bukit Timah (District 21), which generally come at a slightly higher price tag.
Before you decide, check out The FULL list of 2020 New Launch Condos in Singapore (+ Analysis)
What do you think about Clavon? Let us know your comments below!
If you liked this article, we recommend Proof of profit for Aljunied's condos could drive Penrose demand: Analysis and New launch condos in District 21: a side-by-side comparison
Looking for a property? Find your dream home on Singapore's most intelligent property portal 99.co!
The post 5 things to know about Clavon, the latest new launch condo in Clementi appeared first on 99.co.