If you've seen the movie 'Up', you might recall the scene where Carl's old house gets surrounded by new high-rise buildings. Or you might have seen "nail houses" in China belonging to owners who stubbornly resist development and the demolition of their homes. Well, Singapore now has its own version of a holdout, after two terrace house owners in Geylang refused to be part of a group that sold their homes to a condominium developer.
As a result, one of the homes will be surrounded on three sides by Noma, an upcoming condo along Guillemard Road, while the other will be sandwiched in between Noma and existing condo La Brisa along Lorong 28 Geylang. In recent years, the area has seen seen successive landed homes snapped up by condominium developers eager for a profit.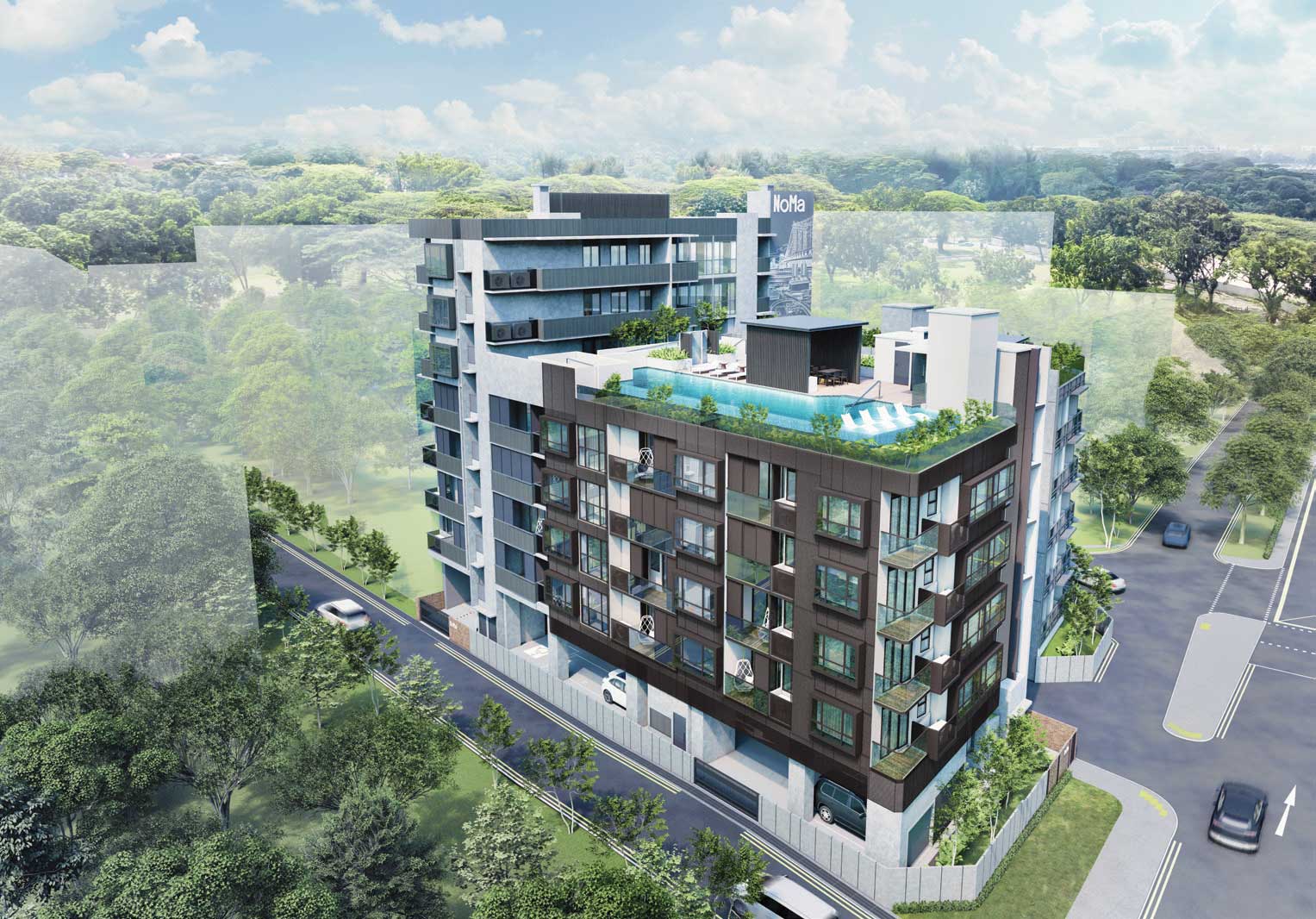 "Impossible to find a house like this": Owner
99.co understands that the developer, Macly Group, first approached the owners of the cluster of seven landed homes back in 2017 with the intention of buying the properties. The homes, which include a service road, occupied a squarish site measuring about 1,700 square metres. Sites of such shapes are typically a developer's dream because of the ease of configuring units and layouts for sale.
However, two of the owners were unwilling to consider offers. When Shin Min Daily News recently spoke to the owner of the holdout along Lorong 28 Geylang, he explained his decision for not striking a deal with Macly Group, despite the other five owners doing so in June 2018 for a sum of $20.55 million.
Mr. Goh, a 60-year old hawker by trade, told the paper in Mandarin: "My mother bought the house, but she has already passed away, so I live here now with elder sister."
"I've turned the open area in the front of the house into a garden," he added. "Aside from gardening, I also keep angelfish and birds. In the mornings I get to watch the city wake up while sitting in my garden."
Mr. Goh revealed that this was the second time he had turned down an offer for his home by a developer. Over a decade ago, Mr. Goh's home was part of a long row of terrace homes along Lorong 20 Geylang, most of which became La Brisa condo.
The freehold tenure of his home is another reason why Mr. Goh refuses to sell. "Now it's impossible to find a house like this. Other properties perhaps have only a 99-year tenure, but this is freehold. It belongs to us. And I get to do my gardening. I won't sell no matter how much the other party offers."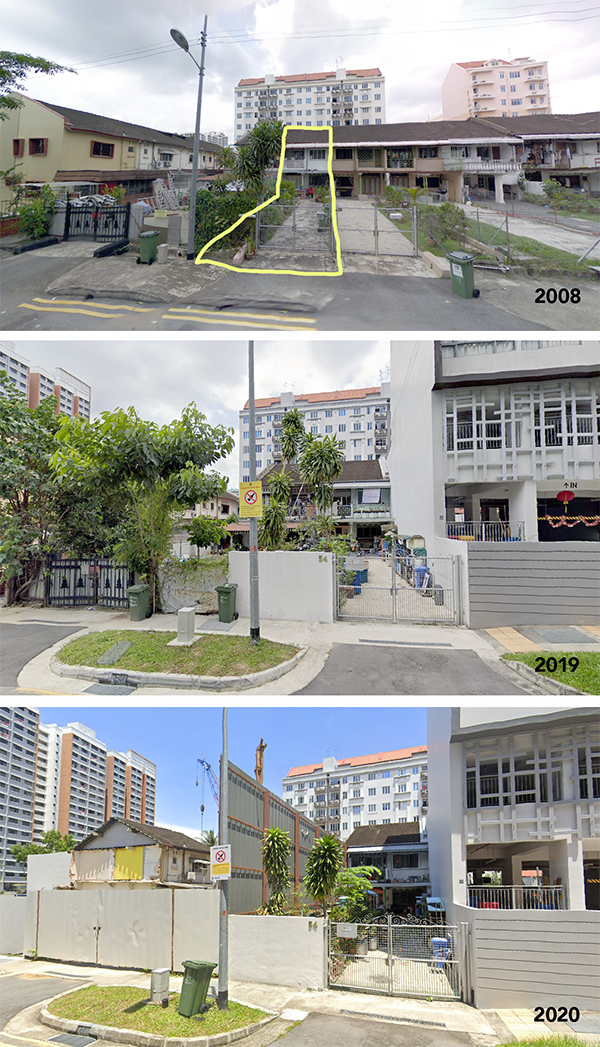 Guillemard Road holdout a Buddhism prayer hall and caretaker residence
It turns out that the other holdout property, which faces Guillemard Road, is a Buddhism prayer hall. Shin Min Daily News reporters discovered that a lady living on the premises is the caretaker of the hall, but not the owner.
The caretaker told the paper that the prayer hall, which is located on the ground level of the two-storey home, is only open to the owner's family and friends, and she does not know the reasons for the owner not selling the property.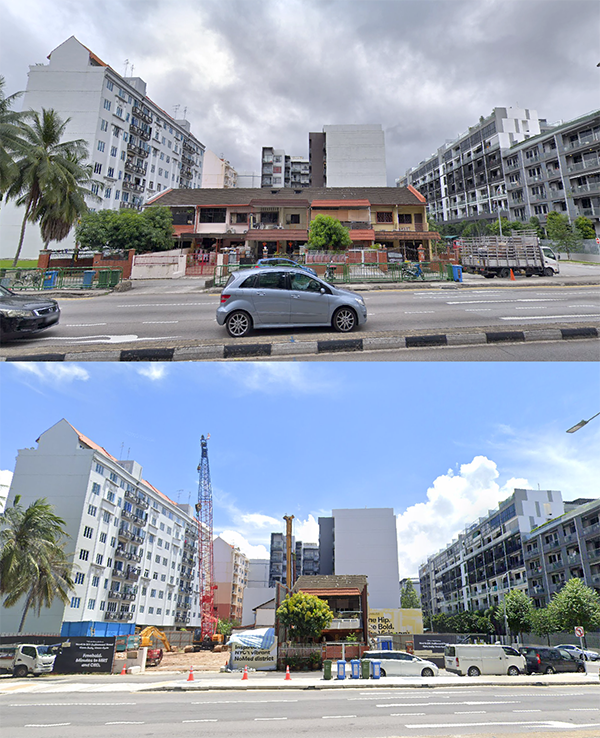 Even though there are works ongoing around their homes, and part of their roofs are involved in the construction of Noma, both owners currently do not face any major issues with with living in their properties (aside from construction noise) and are able to enter and exit their homes freely.
How the condo's architects chose to work around the holdout homes
While the Mr. Goh's holdout home along Lorong 28 Geylang wasn't disruptive to the overall site layout, the landed property along Guillemard Road had the effect of virtually sectioning the Noma site into two.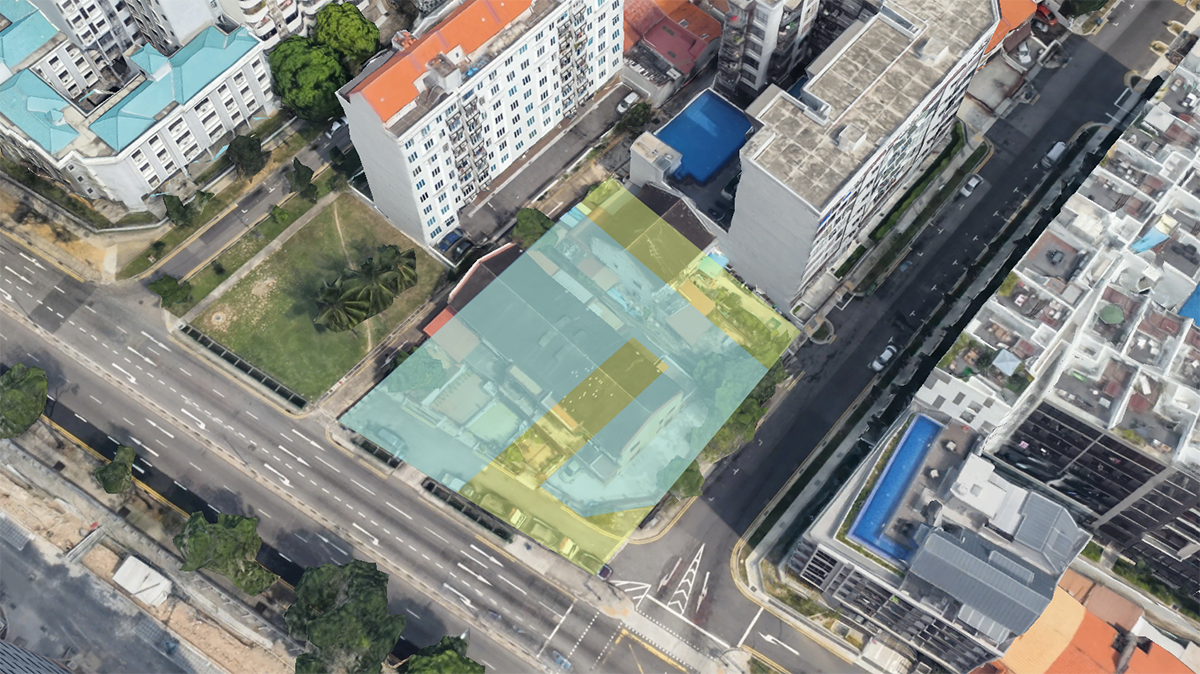 Working around this, the condo's architects decided to house three separate blocks—a West Block, East Block and a North Block—surrounding the holdout property. And this is what the site plan looks like, with rooftop facilities on each block shown.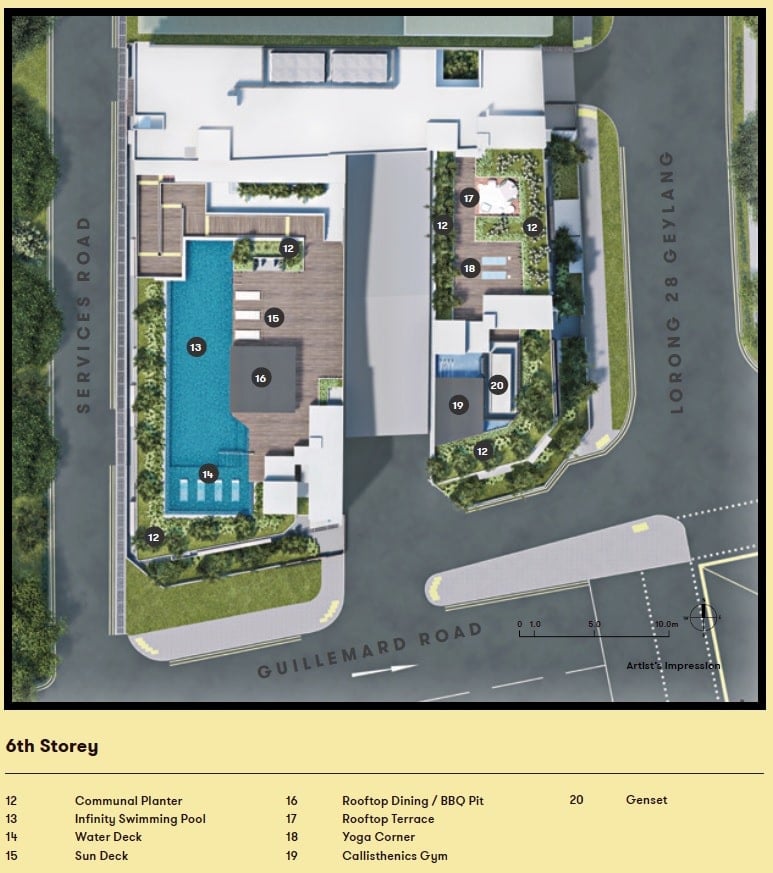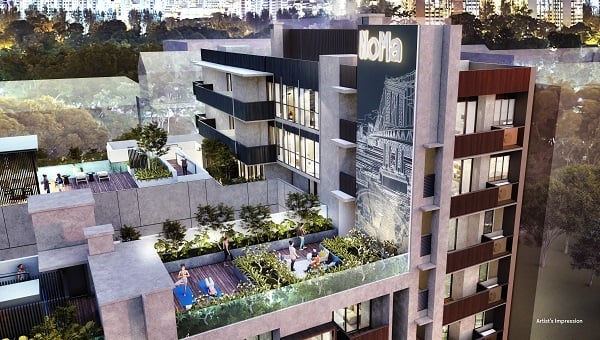 The design of Noma also means that the Guillemard Road holdout will be hemmed in on three sides by six to seven-storey high retaining walls. Above the retaining wall along the rear perimeter are two additional residential storeys, forming a "cliff" that's eight storeys high.
As the house is sited on a North-South axis, the property will receive very little sunlight when Noma is complete. The artists' impression below hints at how the Guillemard Road house will be dwarfed by Noma.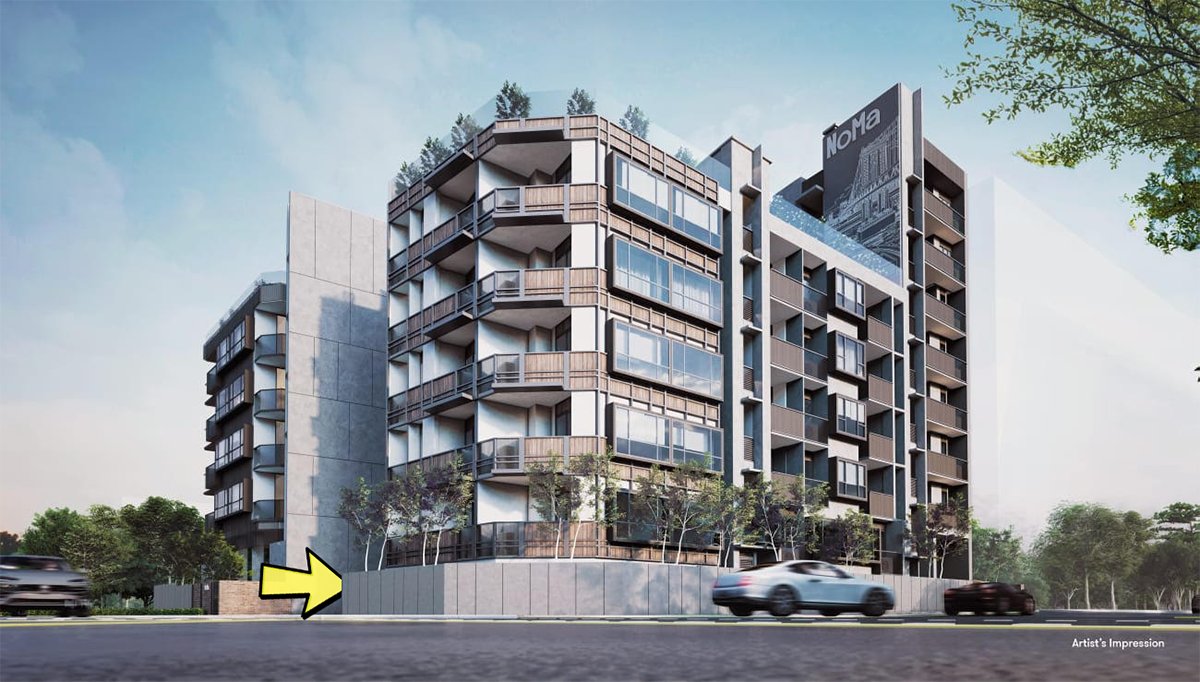 Mr. Goh's house along Geylang Lorong 28, which is oriented on an East-West axis, will be sandwiched by two eight-storey high retaining walls on its north and south sides. The rear perimeter of the home will remain open towards a single-lane back alley. Because of its orientation, Mr Goh's garden can continue to flourish even after Noma is completed.
Noma will house 50 residential units ranging from one- to four-bedroom apartments when it's complete in 2023. Now here's a fun fact: If Macly Group had managed to buy all of the landed homes it intended to purchase, it could have built at least another 20 units!
In terms of value, Mr. Goh's home is also the more valuable of the two because the maximum allowable height on that plot of land is eight storeys compared to the five storey limit for the house fronting Guillemard Road.
66% of units sold on the first weekend
Based on buyer demand, it would seem that Macly Group had made the correct decision to push ahead with the purchase even with two out of seven owners refusing to sell. On the project's early bird sales weekend in August 2020, buyers snapped up 34 of the project's 50 units at a median price of $1,639 per square foot (psf). Two more units were sold in September.
Based on the $20.55 million price tag of the site, it appears that Macly Group is poised to make a decent profit as the original price equates to around $700 per square foot per plot ratio (psf ppr). A developer's breakeven price for a $700 psf ppr property, after factoring in construction, marketing and administration costs, is approximately $1,400 psf.
For a freehold property that is as close to the CBD as Noma, its median selling price could represent good value for buyers. About 500 metres away from Noma along Guillemard Road is Arena Residences (also freehold), which moved nine units in August 2020 at a median price of $1,841 psf.
One of the more unique layouts of Noma happen to be a stack of two-bedroom units that finds itself sited in between the two holdout homes. The 667 square foot units in this stack have an elongated layout that actually suits buyers looking for a kitchen space that can be expanded considerably: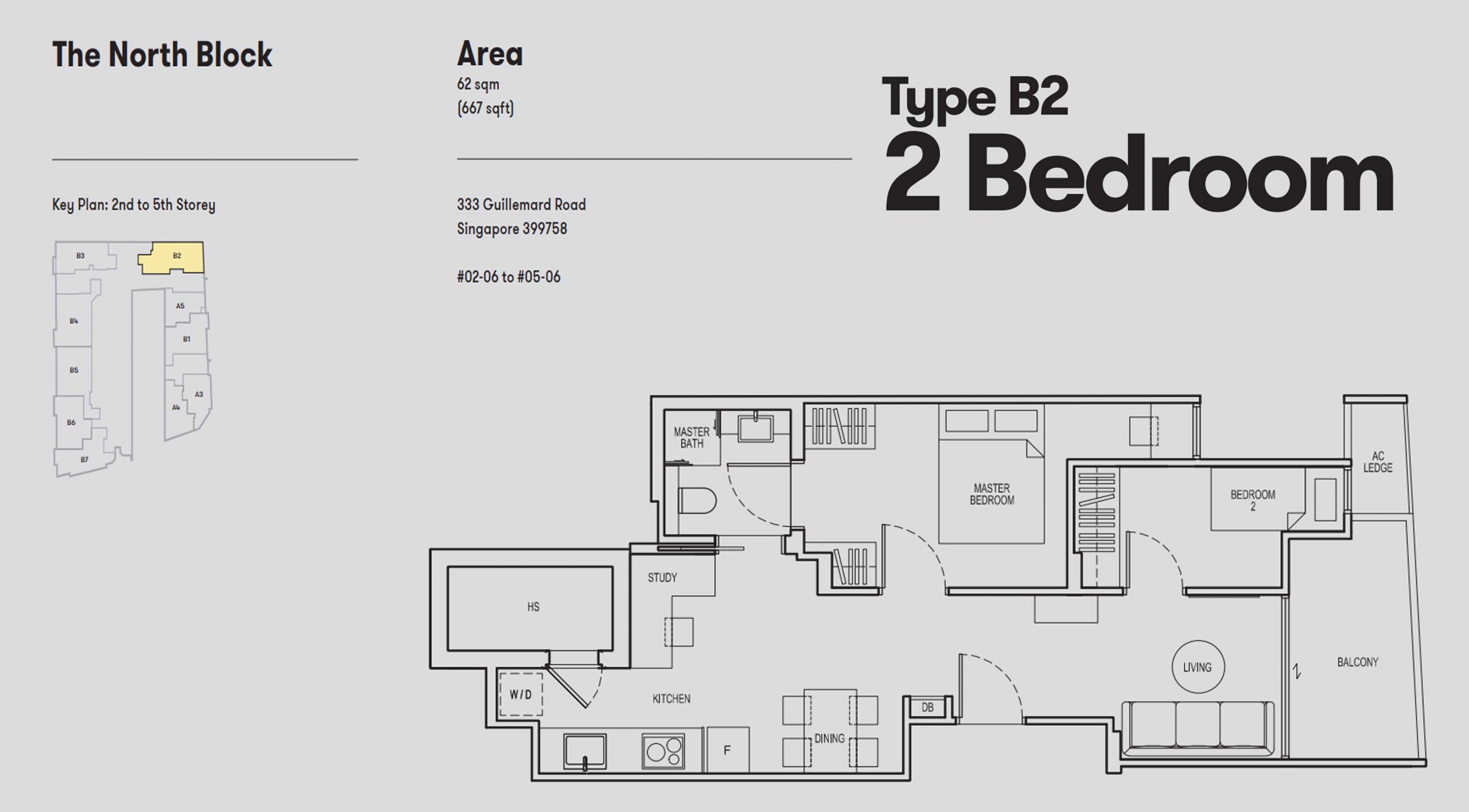 If you ask us, the layout of the unit above is somewhat akin to a landed home, with the spacious balcony serving as a mini front porch. And perhaps the best advertisement for this condo isn't its facilities but neighbours like Mr. Goh, whose determination to cling onto their freehold homes could convince buyers of the value of a location like this.
[View all new launch condos listed for sale in Geylang.]
Would you have sold your home if you're Mr. Goh? Share your thoughts with us in the comments below!
If you liked this article, 99.co recommends 5 SG condos that make you feel you're on holiday overseas despite Covid-19 and 5 things to know about Clavon, the latest new launch condo in Clementi
Looking for a property? Find your dream home on Singapore's most intelligent property portal 99.co!
The post Owners of Geylang terraces refuse to sell to condo developer, becomes 'Up' in real life appeared first on 99.co.