We're always told to pick substance over style, but as these seriously chic condos prove, sometimes, you can have the best of both worlds. 
Location, proximity to schools and offices, size, floor plan, and amenities are many people's top considerations when choosing a property. The units' interior design? Not so much. 
What many buyers or renters tend to forget is that living in a condo with stylish interiors has advantages too. A stylish abode that aligns with your tastes is a reward in itself, and if that's what you're looking for, here are six stunning condos worth checking out. 
P.S. Many of these have bagged multiple awards for their interior and architectural design in our prestigious PropertyGuru Asia Property Awards 2020! 
1. Avenue South Residence
Choosing between strictly retro-chic and sleek, modern design aesthetics can be overwhelming. And if you're spending more and more time at home, picking a condo styled in a way that resonates with you is a serious business. Avenue South Residence (Winner, Best Mega-Scale Condo Architectural Design, Highly Commended, Best Sales Gallery Architectural Design) by UOL Group Limited, UIC Limited, and Kheng Leong Company offers consumers three different categories or "collections" of units to satisfy different tastes. 
The Heritage Collection units, which are the ones on the lower floors, suit those who prefer vintage and eclectic interior design elements. The Horizon and Peak Collections comprising the higher-level units are great for those who prefer their homes mellow and low-key, with predominantly white and grey colour schemes. Whichever one chooses, however, residents will be rewarded with magnificent views of the CBD skyline, sustainable ventilation, and plenty of natural light. 
Browse Avenue South Residence condo units for sale on PropertyGuru. 
2. Clavon
While the UOL Group Limited's Clavon (Winner, Best Private Condo Architectural Design) development offers stunning views of the neighbourhood's surrounding greenery, its interiors shine too.
The project's 1- to 5-bedroom units' interiors conform to the development's minimalist architectural design — think high-glass doors, clean lines, and understated colour tones. The luxury resort-inspired residential project is within proximity to some of the most popular primary schools and tertiary institutions in and around Clementi Avenue, including the world-renowned National University of Singapore. 
Browse Clavon condo units for sale on PropertyGuru.
3. The Hyde
Aurum Land (Private) Limited's The Hyde (Winner, Best Boutique Condo Architectural Design) is perfect for consumers looking for a sophisticated and sustainable home. 
Units in the Balmoral development feature sashless windows (with an option to choose high-glass ceilings in certain units) which open to lovely views of the verdant Goodwood Hill. The contemporary look of the units is enhanced by natural oak timber flooring and elegant marble finishes, while Gessi and Laufen fixtures elevate the interiors' classy style. This District 10 hideaway is also sustainably constructed and uses Singapore Green Label Scheme products. 
Browse The Hyde condo units for sale on PropertyGuru.
4. Pullman Residences, Newton
In homes with balconies as spacious as those in Pullman Residences, Newton (Winner, Winner, Best Luxury Condo Interior Design, Best Luxury Condo Architectural Design, and Best Luxury Condo Landscape Architectural Design), time spent outdoors is time well spent.
The penthouse units, in particular, are the height of opulence, with balconies that are a natural extension of the warm hued interiors designed with engineered timber floor and metallic copper accents. Fittings by high-end home equipment maker Gaggenau and Duravit ME By Starck in all the 1- to 4-bedroom apartments raise the classiness a notch.
Browse Pullman Residences condo units for sale on PropertyGuru. 
5. Forett at Bukit Timah
Studies suggest that living near a nature reserve or a national park can make a person healthier, especially where residents can freely access these green spaces. These benefits await residents at Forett at Bukit Timah (Winner, Highly Commended, Best Private Condo Architectural Design, Best Private Condo Landscape Architectural Design) by Qingjian Perennial (Bukit Timah) Pte Ltd's (Winner, Best Sales Gallery Architectural Design – JadeScape in Marymount).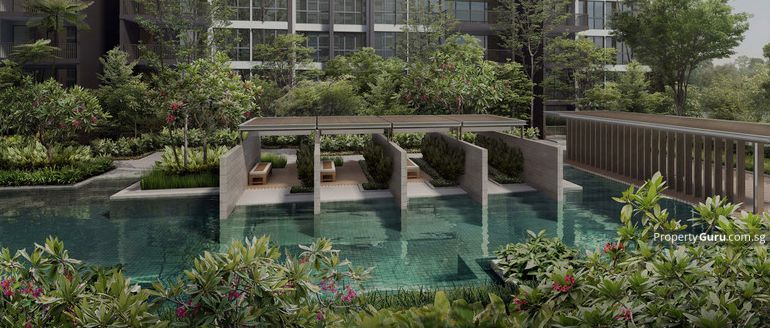 The condo development, located near Singapore's highest hill Bukit Timah Nature Reserve, has 1- to 4-bedroom units that convey a well-balanced mix of premium luxury, modern aesthetics, and nature. These can be seen from the interiors' earthy tones, well-lit spaces, and rustic aged wood touches. 
Browse Forett at Bukit Timah condo units for sale on PropertyGuru.
6. Verticus
Creating a personalised and intimate space is one of the many delights of choosing a condo. Verticus (Winner, Best Boutique Condo Architectural Design) is a thoroughly trendy home ideal for residents who want to imprint their creative vision for a comfortable home. 1-, 2-, and 3-bedroom units in this District 12 development are spacious and fitted with smart home technology, and are sure to look impressive, whether you want to spruce up a unit with metallic sconce lighting for an ultra-seek touch, colour code it with a muted colour scheme, or decorate it with glass-and-ceramic ornaments. 
The project's developer Soilbuild Group Holdings' (Winner, Best Industrial Developer) commitment to environmental sustainability manifests in their projects' avant-garde architecture and home-like features. The group's industrial building development Solaris @ Tai Seng (Winner, Best Industrial Smart Building Development, Best Industrial Development) even has a homey feel to it — the project has sky gardens and other green spaces, as well as shower facilities for users, bringing to mind a home-away-from-home type of commercial space. 
Browse Verticus condo units for sale on PropertyGuru. 
For more property news, resources and useful content like this article, check out PropertyGuru's guides section. 
Are you looking to buy a new home? Head to PropertyGuru to browse the top properties for sale in Singapore.  
Already found a new home? Let PropertyGuru Finance's home finance advisors help you with financing it.