This probably wouldn't be news in, say, Amsterdam or Sydney, but a Singapore property agent has put up a rental listing for a shophouse in Lorong 20 Geylang targeting "licensed brothel operators".
Available for rent from mid-2021 onwards, the 2,000 square feet property is located within a red-light district. The agent tasked with marketing this, Marc Lee of Propnex, has already come across a few hurdles because of the B-word.
Just doing what the landlord instructed: Agent
"The landlord gave me the instruction to rent out his place at Lorong 20 Geylang, which is within a red-light district. He specifically asked me to find a licensed brothel operator to rent the premises to, so I just went and listed it accordingly," Marc told 99.co.
The shophouse is a two-storey, corner terrace owned by a corporate entity. Marc clarified that the landlord is purely a property owner without the licence to operate a brothel. Here's a map of Lorong 20 Geylang, for those unfamiliar with the place:
Two weeks after he had put the original listing up with the headline 'Seeking Brothel Operator @ Geylang Lorong 20' on a local property portal, Marc received a call from the Council of Estate Agencies (CEA).
"CEA called me today (15 December) and I told them that it was the landlord that gave the instruction how to market [the property.]"
"They told me to take [the listing] down saying it's not appropriate."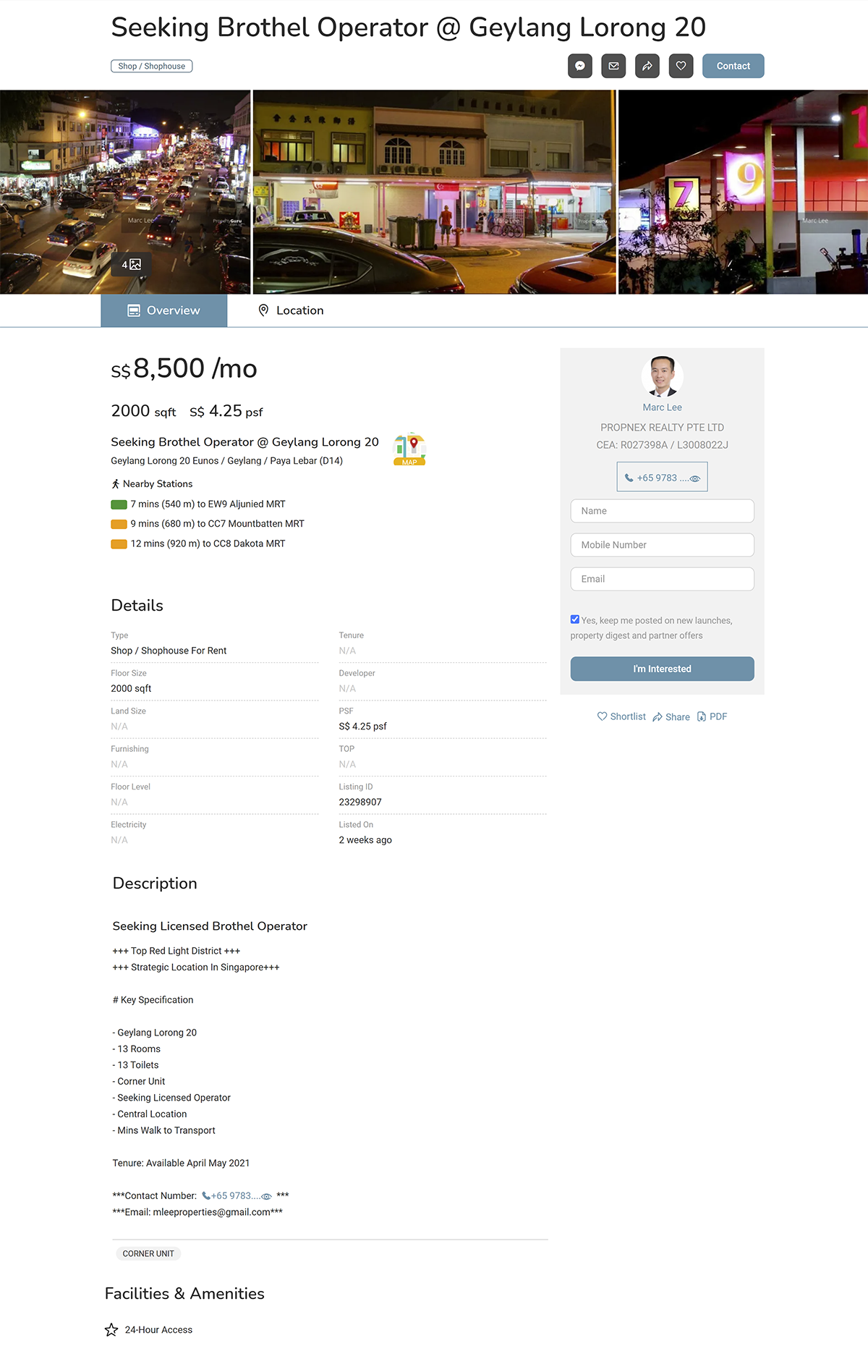 On the same day, Marc found that his original listing had been taken down. "I didn't even have the time to go to my account but the portal had already removed the listing," Marc said.
Under CEA's Professional Services Manual, real estate salespersons are required to "act in the best interest of the client" and "act in accordance with the lawful instructions of the client".
On top of that, real estate salespersons "must not advertise any property at a price or on other terms, or in any manner, different from those instructed by the client" in accordance with the Estate Agents Act.
The Act additionally states that the advertisement and its placement must not "directly or indirectly infringe any law or legal rights."
Since operating a brothel with a valid licence is deemed legal in Singapore, the instruction given by Marc's client can be deemed to be entirely lawful, and so it would appear that Marc has the duty to put up the original listing as is.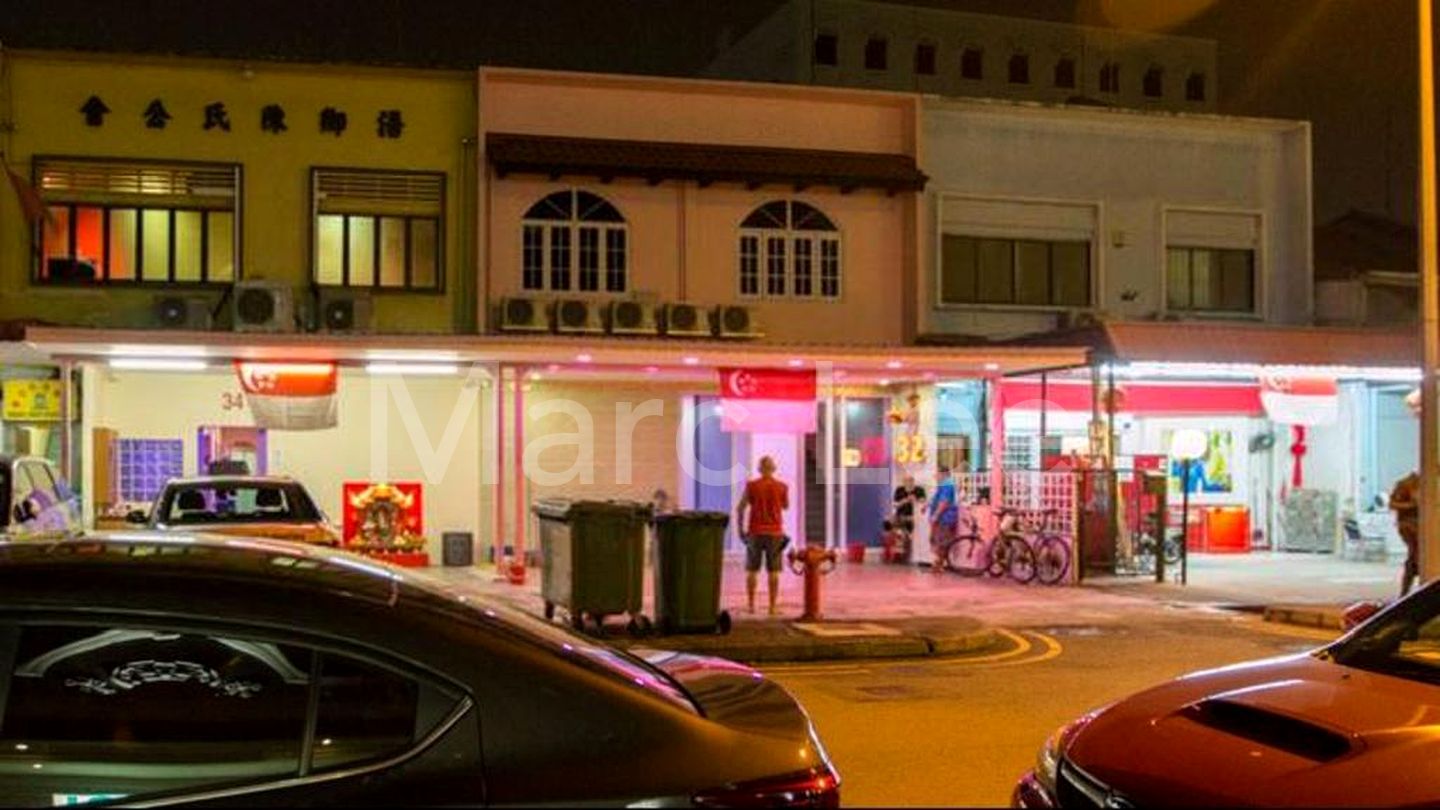 Brothel a "professional word to use"
Before putting up his original listing, Marc considered alternatives to the B-word without success.
"The thing is I don't know what other words I can use. The specific word is 'brothel', and I think it's quite a professional word to use."
"So I just listed it accordingly. After all, a warehouse is called a warehouse, right? So I really don't know how else to put a brothel without being inaccurate or distorting what my client had instructed me to do," Marc said.
"I'm not disappointed [by CEA's decision]. I will adhere to what CEA asked me to do, but even before I could take any action with regards to my listing, it was taken down by the portal."
The listing was also repulished on 99.co's property portal with the headline changed to 'Shophouse for Rent in Lorong 20 Geylang'. The phrase 'seeking licensed brothel operator' is more discreetly placed within the listing's body copy.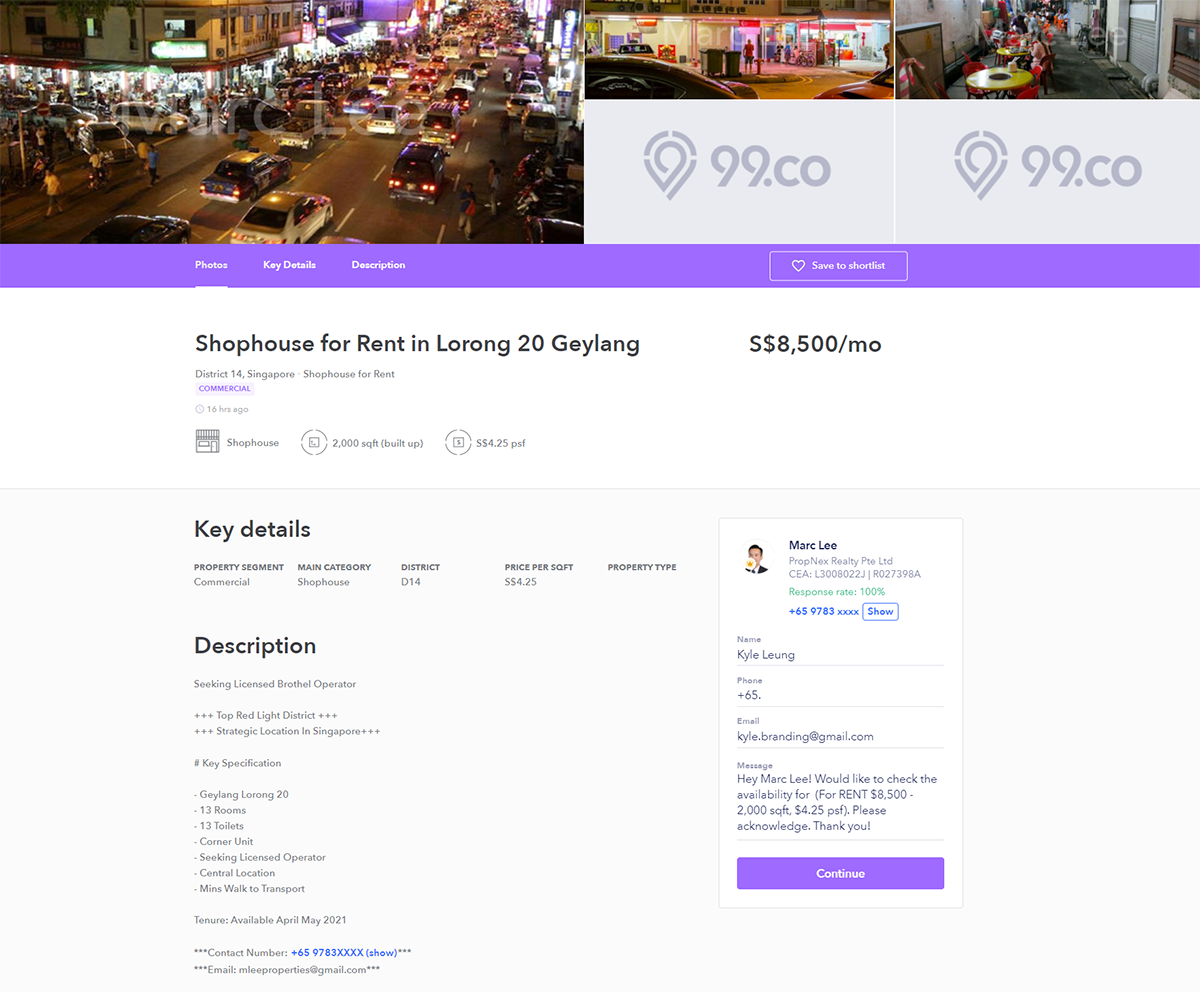 Geylang shophouse layout ill-suited for other uses
According to the Urban Redevelopment Authority (URA) Master Plan, the shophouse in question is currently zoned commercial-institutional and is also approved for use as a residential property.
Marc pointed out that, although certain lorongs in Geylang "belong within the red-light district", the authorities do not explicitly state whether a property within that zone can be used as a brothel.
Rather, the legal use of a property in the red-light district as a brothel is simply determined by whether the tenant has a brothel operator licence.
Marc told 99.co that the Lorong 20 Geylang shophouse had been used as a brothel in the past, although he stated that "it is not currently being used as one and is in vacant possession".
Although a tenant can technically use the property for any other purposes, there's little reason for anyone other than a brothel operator to rent the place, seeing as the current layout features 13 rooms with attached toilets whereas residential private properties are limited by an occupancy cap of six persons.
"The landlord specifically asked me to find a licensed brothel operator who can maximise the use of the property," Marc said.
"The shophouse has been standing for twenty-odd years, it's not new, and I mean anyone can guess why it has 13 rooms and 13 toilets."
The property agent, who has a portfolio of commercial and industrial properties under his belt, also pointed out that the asking rental, priced at $8,500 per month, only makes financial sense if the tenant is a licensed brothel operator.
"It's about complementary businesses. Just like how a shophouse in Boat Quay is best suited for a seafood restaurant because of the tourist flow, the best decision for a shophouse owner in the red-light district is to rent the property out as a brothel."
When 99.co looked at properties along Lorong 20 Geylang on Google Street View, it is evident that some of them are currently being used as brothels.
Genuine enquiries only, please.
Aware of the number of enquiries he might get (he's already gotten a few over the last two weeks), Marc was adamant that he's looking for "really serious existing licence holders" on behalf of his client.
"Whoever enquires about the property, I'll ask them 'Do you have an existing licence or are you a licence holder, or are you a licensed operator?'"
"I'd tell them they can only view the property if they are a licensed operator. If not, they can't." Marc asserted.
"Interested parties will have to show us the licence, and we would have to verify the serial number with the authorities."
Despite having been in the real estate industry for about a decade, Marc revealed that this is the first time that he has been tasked to market a property as a brothel.
And although he knows that finding an eligible tenant for the Lorong 20 Geylang shophouse will likely be a test of his property agent skills, Marc told 99.co "it's a challenge I'm looking forward to take on."
Well, let's hope he gets a happy ending (sorry we couldn't help it).
FYI, there are also three condos on the Lorong 20 Geylang that you may want to check out, for research purposes: #1 Suites, Treasures @ G20 and Sunflower Regency.
Are you fine with Marc's 'seeking brothel operator' listing? Let us know in the comments below!
If you enjoyed this article, check out Owners of Geylang terraces refuse to sell to condo developer, becomes 'Up' in real life and Homegrown condo developers are snapping up old landed properties. Here's why
Looking for a property? Find the ideal one on 99.co's residential portal or commercial portal!
The post A hard sell? Property agent seeks brothel operator for Geylang shophouse appeared first on 99.co.