Led by a spike in prices of city fringe and suburban private non-landed homes in the Rest of Central Region (RCR) and Outside Central Region (OCR), condo prices in Singapore hit a new all-time high in the last quarter of 2020, according to URA Flash Estimates released on 4 January 2021.
Overall, condo prices rose 3.2% to 153.6 in Q4 2020 according to the flash estimates, which is 2.4% above the previous peak of 150.0 in Q3 2019. This signifies that overall prices for condos in Singapore have attained a new-all time high.
Taking into account landed homes, the flash estimates Q4 2020 private home prices increased by 2.2% for the full year of 2020. While this is less than the 2.7% growth seen in 2019, private home prices are now 4.9% above the most recent peak in Q3 2018 and 1.6% above its all-time peak in Q3 2013.
The URA price index includes resale and new launch condos and accounts for differences in location, tenure, completion status and property attributes such as size and age. Quarterly flash estimates of the price index are based on data from the entire quarter, sans the final two weeks of the quarter.
RCR and OCR condos lead the pack
Prices of condos in the RCR increased by 4.8% quarter-on-quarter. This takes the price index for the region up from 153.8 to 161.2, above the previous peaks of Q2 2013 (155.6) and Q3 2019 (155.4) as well as setting an all-time high for the RCR. The RCR price index has also outperformed the OCR and Core Central Region (CCR) in 2020, with an annual increase 5.1% in 2020.
Prices of condos in the OCR increased by 1.7% quarter-on-quarter. This takes the price index for the region up from 180.4 to 183.5—a new all-time high for the region. OCR condo prices also performed second-best to the RCR in 2020, with an annual increase of 3.1%.
It is likely that the better-than-expected demand for newly launched RCR and OCR condos in Q4 2020 had contributed to the robust price index performance in these regions. These condos include Clavon, Ki Residences at Brookvale, NoMa, The Landmark and the fully-sold The Linq @ Beauty World.
In the RCR, large-scale new launch projects such as Parc Esta, Stirling Residences and Jadescape have also seen healthy take-up of balance units. Unit prices for these projects "have inched up as [developers] sold down their inventory," remarked Tricia Song, Head of Research for Singapore at Colliers International.
The buoyant OCR market, in the meantime, continues to be driven by demand from HDB upgraders. Developers have felt comfortable gradually raising prices of OCR new launch condos such as Treasure at Tampines, The Florence Residences and The Garden Residences.
For instance, three-bedroom units at Treasure at Tampines saw average per square foot (psf) prices increase by about 5.7% in the one-year period from Q4 2019 to Q4 2020. PSF prices for three-bedroom units at The Garden Residences and The Florence Residences increased by 3.6% and 4.7% respectively over the same period.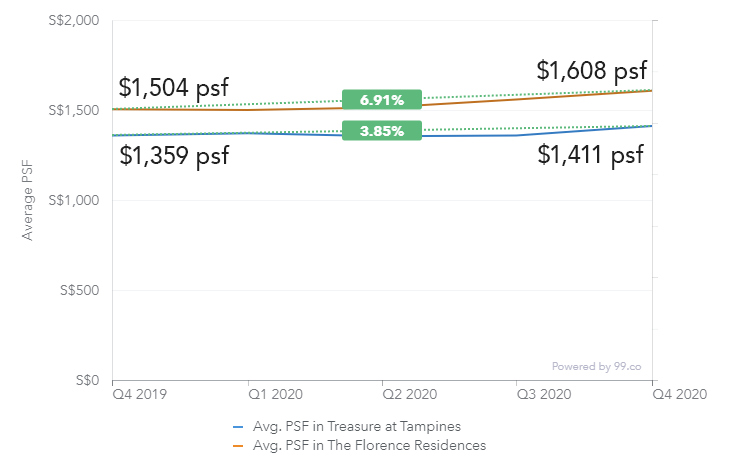 Condo prices in Core Central Region continues to moderate
According to the URA Flash Estimates, Core Central Region (CCR) condo prices rose 3.3% in Q4 2020 to 133.8. This increase is a rebound, after CCR condo prices fell 3.8% in the previous quarter.
The Q4 2020 rebound capped a volatile year for the CCR condo market, with the full-year price index for the region experiencing a minor 0.2% decline.
The relatively lacklustre performance of the CCR condo market in 2020 was expected. While the government's economic relief measures put the average Singaporean homeowner on a stable financial footing that helped shore up property prices, several characteristics of CCR condos, including a greater reliance on foreign buyers and a larger percentage of investment properties dependent on higher-earning expat tenants, meant that these properties have been more exposed to the negative impacts of Covid-19 and the effects of worldwide travel restrictions.
So in 2020, we've seen a few below-valuation resale transactions of CCR homes, such as a triplex penthouse unit at Helios Residences that was sold at over 40% loss. At the same time, developers also lowered prices for newly launched CCR condos to attract buyers, which created additional downward price pressure in the CCR condo market.
According to Ms Song, developers of the following new launch condos have offered discounts during the year:
Leedon Green recorded 29 caveats in Q4 at a median price of $2,686 psf, compared to 41 units sold at $2,789 psf when it was launched last January 2020;
8 Saint Thomas recorded 12 caveats in Q4 at a median price of $2,788 psf compared to earlier units sold at $3,100-3,200 psf.
Fourth Avenue Residences sold 24 units in Q4 at a median price of $2,295 psf, compared to its 2019 average launch price of $2,400-2,450 psf.
The Avenir sold 18 units in Q4 at a median price of $3,140 psf, compared to 18 units sold at a median price of $3,244 psf in Q1 2020, when it was launched.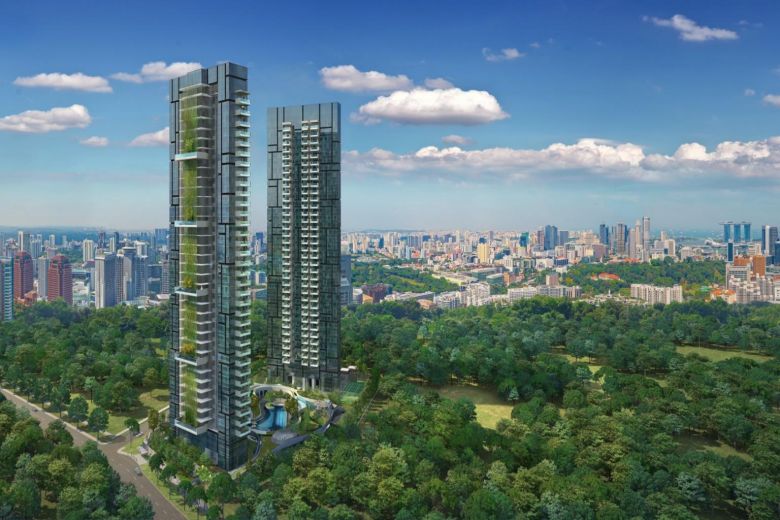 Landed home prices fall, but price growth for 2020 remains in positive territory
Landed housing prices, which increased by 3.7% in Q3 2020, fell by 2.1% in Q4 2020 according to URA Flash Estimates. For the whole of 2020, landed homes remained fairly stable, with a slight annual increase of 0.6%.
The price trend for landed homes remains uncertain in 2021. Headwinds include continued weakness in the CCR resale condo market, which will limit the number of owners with the financial ability to upgrade to a landed home. On the other hand, a robust economic recovery from Covid-19 may spur phenomenal growth in landed home prices in the same manner as 2010, as the chart below shows:
What will 2021 look like for the condo market?
The robust price performance of new launch condos towards the end of 2020 undoubtably played a big part in the uptick of the URA price index. Amid a backdrop of vaccine-powered recovery, continued low interest rates and a similarly buoyant HDB resale market, we can expect prices for private property in Singapore to remain on a steady growth trajectory in 2021.
There is also a chance that condo price growth in the Core Central Region (CCR) could begin to outperform RCR and OCR price growth, if newly launched CCR condos continue to see a healthy uptake and/or wealthy foreign buyers start to return. (Remember, they don't have to be physically present to invest in properties.)
Overall, we'd go as far as to say that buyers are no longer fearing another economic downtown or another virus wave. Rather, their concerns heading into 2021 include rising interest rates, new regulations on selling of HDB flats, and perhaps another round of sudden "cooling measures" if property prices continue to increase. These fears will encourage prospective—many of whom are upgraders—to act sooner, rather than later.
What's your take on condo prices in 2021? Share your views in the comments below!
If you found this article helpful, 99.co recommends Million-dollar HDB flats are hiding a worrying resale price trend. Here's proof. and Why this Tanah Merah condo site attracted a bidding frenzy
Looking for a property? Find your dream home on Singapore's most intelligent property portal 99.co!
The post Condo prices hit all-time highs in Q4 2020, URA Flash Estimates show appeared first on 99.co.