Thinking of getting a Bishan BTO? Here's our review of Bishan Towers, which was launched in August 2020. 
Bishan has quite the reputation of being a property hotspot, with some of the most expensive HDB flat transactions in this estate. Bishan is a mature estate that's already quite densely populated, and the last time BTO flats were launched in Bishan was back in 2006. And even then, only studio apartments were offered. 
If you, like many others, are eyeing these upcoming Bishan BTO flats, be prepared for a tough fight. Here's what you can expect should you get lucky!
Note: Application for the August 2020 HDB BTO launch has closed.
If you missed this launch, you can either wait for remaining units (if any) during future Sale of Balance Flats (SBF) exercises, or try again in an upcoming BTO launch. 
February 2021 BTO Launch
Feb 2021 BTO launch overview
Toa Payoh (Bidadari) 
Bukit Batok
Kallang/Whampoa 
Tengah (Feb 2021)
May 2021 BTO Launch
May 2021 BTO launch overview
Tengah (May 2021)
Bukit Merah
Woodlands
Geylang
August 2020 Bishan Towers BTO Overview 
Bishan Towers BTO (August 2020) 

Address

Bishan St 11

Nearest MRT

Bishan MRT (North South Line, NSL) 

Nearest bus interchange

Bishan Bus Interchange

Nearby schools 

Ai Tong School, Raffles Institution, Raffles Girls' School, Catholic High School 

Other nearby amenities 

Bishan Sports Hall, Bishan Stadium, Bishan Swimming Complex, Bishan Library, Junction 8, Bishan-Ang Mo Kio Park 
Bishan Towers BTO map
Bishan Towers BTO Location
Generally, when it comes to location, anywhere in Bishan is considered pretty good. In particular, the Bishan BTO flats will sit just along the Kallang River, which is great for those who want waterfront views. 
10 minutes from Bishan MRT 
The nearest MRT at present is Bishan MRT, which is 800m away. That's not half bad – just 10 minutes away by foot. Bishan Bus Interchange is there too. 
Near Central Expressway (CTE) 
The Central Expressway (CTE) is also just across the river, making this project even more accessible. 
Bishan Towers BTO Amenities
If you can get past the extra bus ride and walk to Bishan MRT, Orchard is just 5 stops away from the North-South Line. Commuting to the CBD? By train, you can get there within half an hour. 
Junction 8 Shopping Mall 
The nearest shopping mall—Junction 8—is located in the vicinity of Bishan MRT. There, you'll be able to find an impressive array of shopping and dining options, as well as a cinema. While Junction 8 may be a distance away from the BTO units, families can still get daily necessities like food and groceries from a neighbourhood centre located just across the street.
Bishan Swimming Complex, Bishan Sports Hall
For those who want to keep fit and enjoy sports, the Bishan Swimming Complex and Bishan Sports Hall will be about 12 minutes away via bus. 
Raffles Institution, Raffles Girls Secondary, Catholic High and more schools
Notably, there are a number of popular schools not too far away from the BTO flats. These include Raffles Institution, Raffles Girls Secondary, and Catholic High.
Bishan Towers BTO Price
Bishan Towers BTO 

Unit type

Price (excl. grants)

Price (incl. grants)

2-room Flexi

From $176,000

From $96,000

3-room

From $302,000

From $242,000

4-room

From $484,000

From $439,000
Notwithstanding the fact that these BTO flats will be launched in Bishan for the first time in over a decade, you can expect lots of Bishan-hopefuls trying to get hold of one of the 470 BTO units.
Plus, given that they're located in one of the most expensive HDB estates in Singapore, aspiring owners have to be ready to fork out a premium. 
Conclusion: Is the 

Bishan Towers BTO worth it?  

If you can afford it and value convenience, we say it's worth a shot. These Bishan BTO flats are reasonably near the main Bishan central area, giving residents good access to public transport (MRT and bus) and nearby amenities. 

Be warned, however: competition is expected to be very tough. Generally, HDB BTO sales launches are oversubscribed, especially in the mature estates. Bishan is extremely popular, and is known for having good resale value, with many of them crossing the $1 million mark. Read about million-dollar HDBs here. 

If you weren't lucky enough to get your hands on a unit, don't worry. It appears you won't have to wait more than a decade before you see Bishan BTO flats being launched again. HDB previously unveiled that 1,504 BTO flats will be built even nearer Bishan MRT, and they will be ready by 2025!

 
More FAQs on HDB BTO flats and Bishan 
What's there to do in Bishan?
As a mature estate, there are many recreational, dining and shopping options in Bishan. The biggest shopping mall is Junction 8, which is right at Bishan MRT. There's also Bishan-Ang Mo Kio Park, and the Macritchie nature trail and reservoir park.
Should I BTO in Bishan?
That's up to you, but generally, Bishan is a very popular residential estate, and the demand for Bishan BTO flats is high.
What's unique about Bishan HDB flats?
As a HDB flat, nothing much. However, Bishan HDB flats usually have good resale value due to the good location. Bishan is quite literally the center of Singapore, which makes it convenient to get around the island. There are also many good schools like Ai Tong School (Primary), Catholic High School (Primary and Secondary) and Raffles Institution (Secondary) in the area.
How much is a 4-room flat in Bishan?
According to HDB (Q2 2020), the median price of 4-room flats in Bishan is $555,000. For Bishan BTOs, starting prices are expected to be slightly less ($400,000+).
Will Bishan flats be selected for en bloc (SERS/VERS)?
There is no reliable way to predict whether any block of HDB flats will be selected for en bloc. You can read more about HDB's Selective En Bloc Redevelopment Scheme (SERS) here.
Will Eunoia Junior College push up the prices of Bishan flats?
Possibly. However, it's worthy to note that Eunoia is a junior college where admission is based on merit. This is unlike primary schools, which consider housing proximity during admission and are hence more likely to have an impact on housing demand and prices in the area.
Curious about the August 2020 launch at other BTO estates? Learn all about them here:
Buying
Tampines BTO Flats (August 2020 Launch): 10 Minutes From IKEA And Near The Cross Island Line (CRL)
Buying
Geylang BTO Flats (August 2020 Launch): A Godsend For Foodies
Buying
Ang Mo Kio BTO Flats (August 2020 Launch): Only 10 Minutes From Thomson-East Coast Line (TEL)
Buying
Woodlands BTO Flats (August 2020 Launch): Affordable yet Accessible Living in the North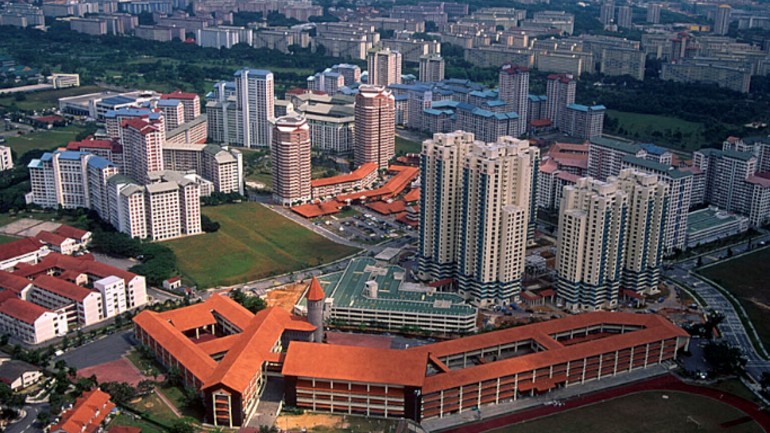 Buying
COMPLETE HDB's August 2020 BTO Launch Information
Buying
COMPLETE HDB's May 2020 BTO Launch Information
HDB Flat
Looking at a HDB resale flat in Bishan? Check out the latest listings here!
Property Guides
Click HERE to get more interesting guides like this, or check out PropertyGuru.