The high-profile bungalow of Madam Chung Khin Chun—the victim of convicted swindler Yang Yin—at 2F Gerald Crescent has been put up for auction again for $25 million (about $785 per square foot). This is $10 million below the $35 million asking price for the bungalow in an unsuccessful first attempt in 2018.
Currently managed by Madam Hedy Mok, Mdm Chung's niece and the appointed deputy public trustee for the administration of her estate, the single-storey bungalow sits on a sizeable 999-year leasehold land lot measuring 31,882 square foot—about half the size of a football field—in the Seletar Hills area of Yio Chu Kang in District 28. The property is being put up for sale by consulting firm Edmund Tie.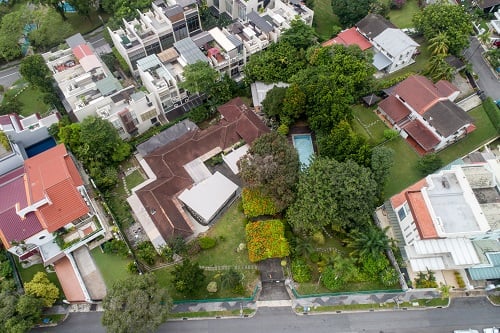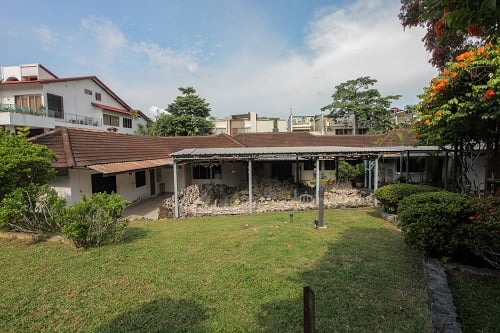 $10 million drop in asking price might not be attractive enough for individual buyers
In the fourth quarter of 2009, when the price index for landed homes in Singapore was about 46% below current levels, an old 16,286 sq ft two-storey bungalow directly across the street from Mdm Chung's was sold for $7.5 million, or $457 psf. That's about $10.9 million in today's value.
That bungalow, which was subsequently redeveloped by the buyer into a three-storey home, sits on land that's about 51% the size of Mdm Chung's estate. So, if we were to equate the sale price of that bungalow to Mdm Chung's property in today's value, it would come up to about $21.4 million—$3.6 million below the asking price of $25 million.
Even if a buyer meets the asking price for Mdm Chung's bungalow, the cost of demolishing it and rebuilding a new three-storey bungalow on the site, with amenities such as a swimming pool, will amount to an additional outlay of between $4 to $5 million, bringing total costs close to $30 million.
Now, for this massive outlay, there are plenty of alternative landed homes in Singapore in the market right now that the buyer can consider. So. Mdm Chung's property faces a lot of competition, despite the $10 million reduction in asking price from $35 million in 2018.
The competition is mainly from bungalows situated in prime district Good Class Bungalow Areas (GCBAs). Potential buyers of bungalows in this price bracket, made up of high-net-worth individuals (HNWI), might feel that a Good Class Bungalow within the Core Central Region (CCR) with a smaller land area might be a better long-term asset and connote a much higher level of prestige compared to a larger, non-GCB bungalow site in the suburbs (i.e. Mdm Chung's home) at the same price.
We also believe that the supply of landed properties in the $20 and $30 million price range currently outstrips demand among individual high-net-worth buyers that Mdm Chung's bungalow is targeted at, which explains why landed homes in Singapore hasn't experienced the price growth that condos have since 2013, when the government introduced its first robust round of cooling measures.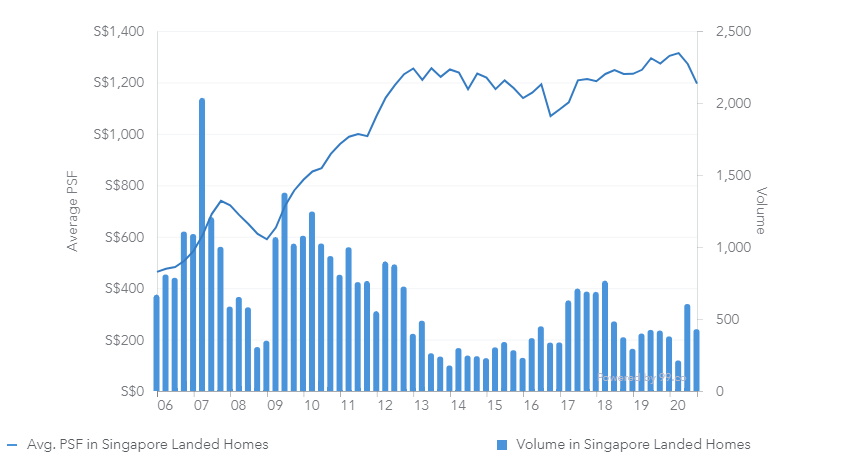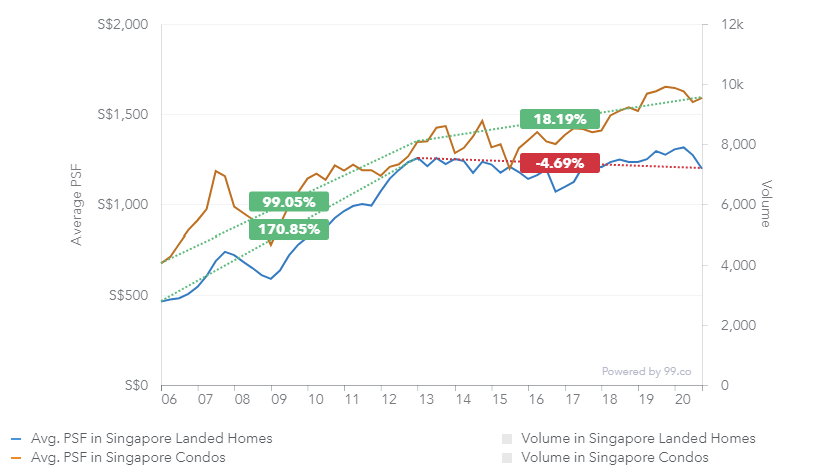 In addition, the Covid-19 situation might also put off buyers from landed real estate purchases that require redevelopment, given the current uncertainty regarding construction timelines owing to a shortage of manpower. Construction costs could also run higher.
These concerns could dissuade potential buyers from purchasing ageing landed properties like Mdm Chung's in favour of landed homes that are in a move-in or near-move-in condition with minimum alteration and building works required.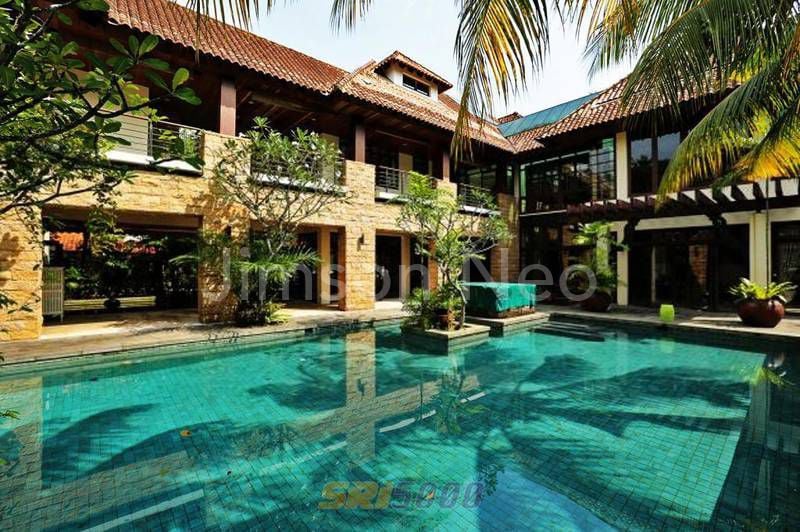 Mdm Chung's best bet: Boutique developers to sub-divide the land
The buyer who is likely to meet the Mdm Mok's asking price of $25 million is likely to be a boutique property developer with intention to subdivide the sprawling site into smaller plots of multiple homes, rather than an individual buyer who wants to retain the land lot as-is for a single bungalow redevelopment.
According to Savills, the auction house for the attempted sale in 2018, Mdm Chung's property can be developed into 11 three-storey houses consisting of two bungalows, a pair of semi-detached houses and seven terraced houses. This is on condition that 10% to 15% of the land is allocated for an access road.
Once the land is subdivided, a three-storey, new-build terrace house in the neighbourhood can potentially fetch a psf price in excess of $1,600 psf. A three-storey, new-build semi-detached house can potentially fetch a price in excess of $1,300 psf. (This is based on transactions in the neighbourhood in 2009 and 2020.)
Crunching the numbers, a developer subdividing the site in the prescribed manner can break-even on the sale of the seven terraced houses and two semi-Ds, and earn a tidy profit on the remaining pair of bungalows.
Moreover, the scarcity of landed property development opportunities in the Outside Central Region (OCR) could encourage a number of bids as the market bounces back from Covid-19.
The tender for Mdm Chung's estate at 2F Gerald Crescent will close at 3pm on 9 February 2021.
Would you pay $25 million for this bungalow? Let us know in the comments below!
Check out related articles such as Want to Build-Your-Own Landed Property? Here's What You Need to Know: and Homegrown condo developers are snapping up old landed properties. Here's why
Looking for a property? Find your dream home on Singapore's most intelligent property portal 99.co!
The post Despite $10m price cut, bungalow in Yang Yin saga could struggle to find buyer appeared first on 99.co.