The Housing Board has launched the new HDB Flat Portal, which is a combination of the existing portal and a new interface that includes calculators and guides specifically targeted at flat buyers.
The new portal also has a revamped user interface, but the most significant change is how HDB now displays the home loan rates from MAS-approved banks and financial institutions (FIs).
Previously, prospective flat buyers have to spend time and effort approaching banks and FIs one by one to find out what their home loan rates are, or turn to a mortgage broker. The new HDB Flat Portal lets users instantly compare HDB Concessionary Home Loan rates, which stands at 2.6% per annum, to that of bank's and FIs, which can be more than 1% lower.
This is an important improvement. We've wrote about how HDB loan rates have been, on average over the past two decades, higher than bank loan rates. Having lower-interest bank loan rates alongside HDB loan rates will help buyers better plan their finances.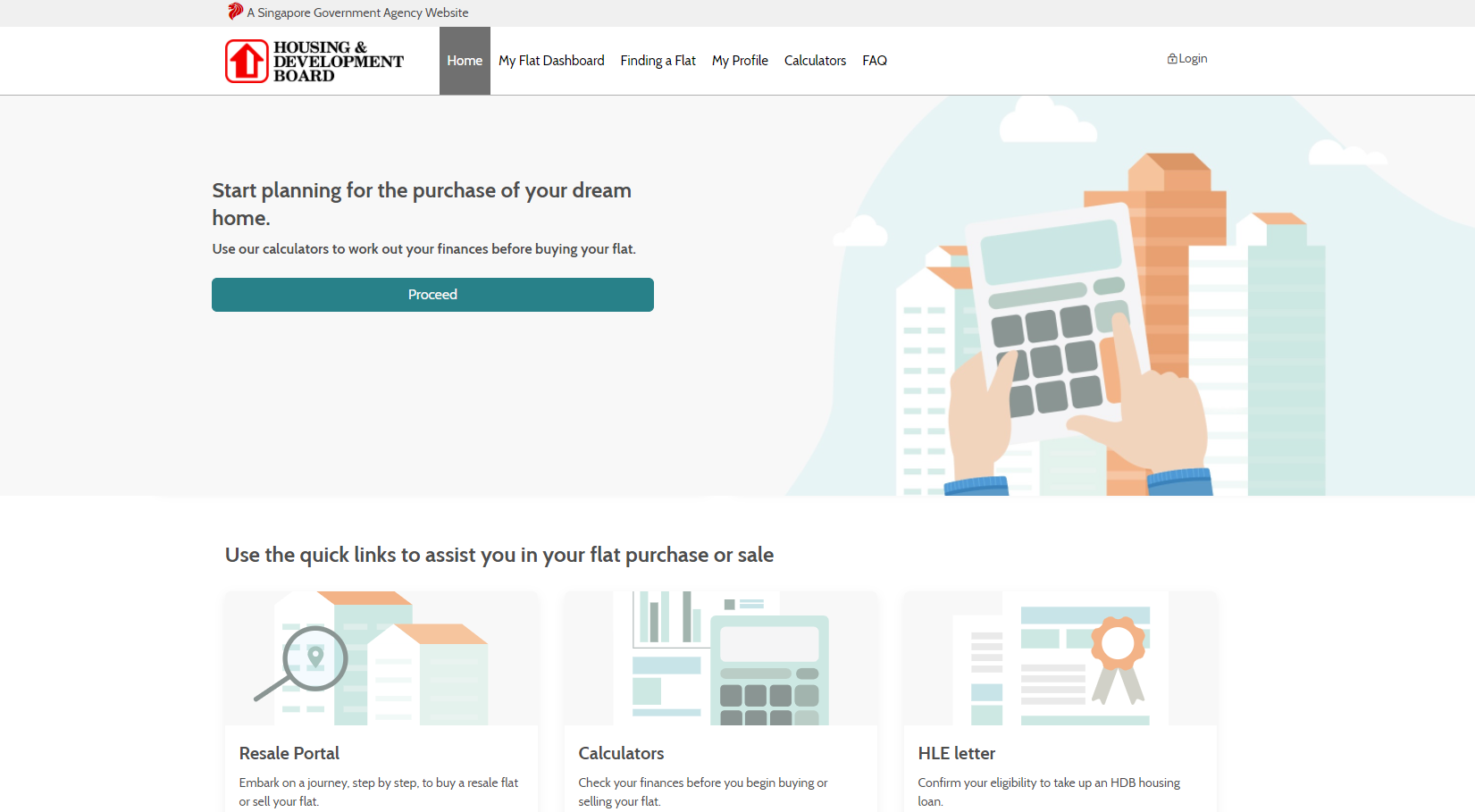 How the new HDB Flat Portal displays bank home loan rates
Bank loan rates on the new HDB flat portal are updated on a real-time basis. The public can view the rates by either clicking 'Proceed' or 'Calculators' followed by 'Check My Payment Plan'. At this point in time, the flat buyer may choose to log in to access his/her Home Loan Eligibility (HLE) letter, if applicable, or go directly to the calculator.
On the calculator page, after entering information such as 'flat type' and 'estimated purchase price' and answering two questions in the 'Estimated Housing Loan' section, the user will come across a prompt "I would like to receive housing loan estimates from". To view bank home loan rates, choose 'Financial Institutions (FIs)' or 'Both HDB and FIs' in the corresponding drop-down menu: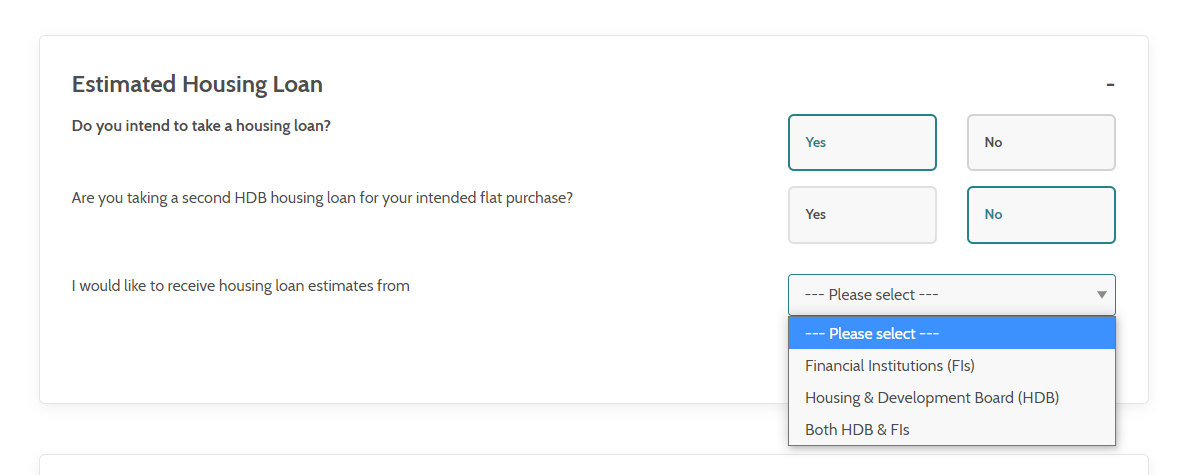 Once that's done, the user will be able to see the updated list of bank loan interest rates in the 'Profile of Buyer(s)' section, specifically under 'Preferred Interest Rate for FI Housing Loan', and also the range of interest rates currently offered by banks: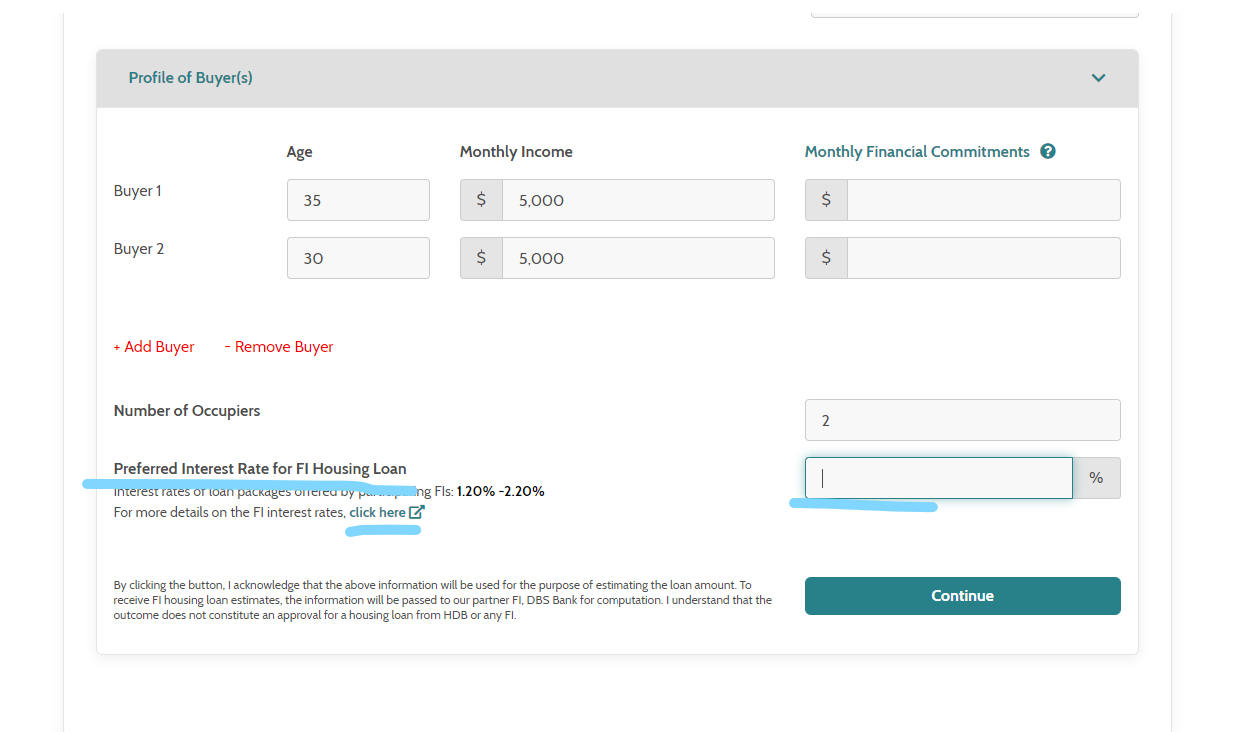 For specific details on FI interest rates, the user may click on the corresponding link. The real-time interest rates of FI loan packages will then appear in a randomly-ordered list.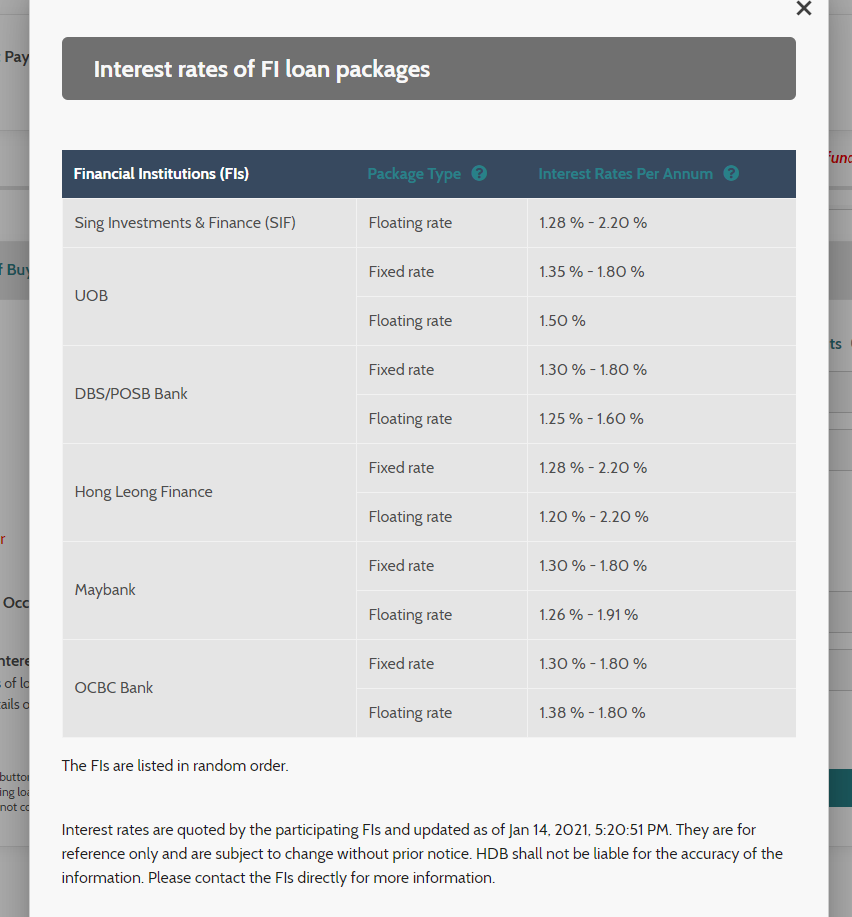 On this screen, the user is able to view and compare fixed and floating home loan rates between different banks and FIs. Floating interest rate packages are pegged to an index such as SIBOR or the bank's fixed deposit interest rate. Fixed rate packages are, well, fixed over a lock-in period (three years, for example) and are typically higher than floating rates because of the stability they offer.
Because the rates listed on the HDB Flat Portal are in real-time, bear in mind that they are for reference only and are subject to change without prior notice, which means that HDB shall not be liable for the accuracy of the information. Note that not all FIs are listed, and some FIs do not offer financing for HDB loans.
Once done with viewing the rates, users can exit this pop-up and fill in the details required to proceed with the loan estimate by clicking 'Continue'.
The difference between HDB and bank loan rates on the new HDB Flat Portal
On the new HDB Flat Portal, we noticed that, once we click "Compute" after entering our preferred FI interest rate, the maximum loan amount will differ between HDB and Financial Institutions.
It is important to note that HDB's FI housing loan estimates are provided by its partner FI, DBS Bank, which means the indicative estimated loan amount is provided by DBS Bank and may not be representative of other banks.
On the portal, the estimated maximum loan amount from DBS Bank tends to be about 90-91% of what HDB indicates it can provide. When comparing HDB loan and bank loan interest rates, bear in mind that while HDB can loan up to 90% of a home's purchase price or valuation (whichever is lower), banks and FIs can only loan up to 75%.
Bank/FI home loans also entail a 5% portion of downpayment that must be paid by cash. The common workaround is to choose a HDB home loan at the point of purchase, then refinancing the loan to a lower-interest FI loan (HDB loans have no lock-in period). Doing so will allow you to circumvent the 5% cash requirement if taking a loan from a bank or FI at the point of purchase.
Take note that once you take a bank or FI home loan for your HDB flat, you'll no longer be eligible for a HDB loan.
Drawbacks to the new HDB Flat Portal calculator
While the interface looks decent, users will often come across the warning "You do not have sufficient funds for this purchase" even though they are well within the financial capability to do purchase the flat. This error is because the calculator only prompts users to enter their CPF Ordinary Account and bank balance after getting the estimated loan amount, which can be confusing.
The HDB Flat Portal calculator also lacks essential features such as differentiating between full-time income and variable income. Instead, the HDB calculator only appears to calculate income on a full-time employment basis, which may lead to inaccurate estimates for those who are self-employed or work odd-jobs/part-time. This is because lenders (including the HDB) usually take a 30% haircut when taking into account variable income, when determining the maximum loan amount.
The portal is also a hassle for those who have already made a BTO flat purchase. Even if they log in with their Singpass details as prompted by HDB, the calculator is unable to sync and take into account the payments that a buyer has already made upon signing the Agreement for Lease. This affects the accuracy of calculations.
Also, after the user inputs his/her CPF Ordinary Account and bank balance, he/she will not be able to vary the amount of these balances used for housing. Ideally, flat buyers can compare the effect of, for example, leaving $20,000 in the CPF-OA versus using all of it to pay off the house.
So, while the new HDB Flat Portal is a step in the right direction by making it easier to compare bank and FI home loan rates, there's definitely room for improvement. Our advice to flat buyers? Cross-check the loan estimate you get here with another calculator, such as the 99.co Affordability Calculator and Mortgage Calculator, or consult a mortgage broker.
Do you like the new HDB Flat Portal? Let us know your thoughts in the comments below!
If you found this article helpful, check out Quick Guide to BTO and Resale HDB Grants for Couples [2021 Edition] and Deciding between HDB loans and bank loans? Here's a quick reference.
Looking for a HDB flat? Find your dream home on Singapore's most intelligent property portal 99.co!
The post New HDB Flat Portal displays low-interest home loan rates from banks appeared first on 99.co.