Earlier in January, the exclusive Sentosa Cove residential enclave made headlines when its waterways turned pink. The mass fish deaths and "rotten stench" that accompanied the pink water phenomenon also caused much distress for residents, with some speculating that the incident might have been caused by a sewage leak.
Heavy rainfall likely triggered chain reaction
Investigations into the incident, which involved the testing of water samples collected between 6 and 13 January, yielded a finding that could reassure residents. On 17 January, a joint statement by the Sentosa Development Corporation (SDC) and National Environment Agency (NEA) revealed that the purplish-pink colouration was triggered by heavy rainfall, which lowered the salinity of the water and encouraged the growth of a form of algae called picocyanobacteria.
Heavy rainfall, which occured in the first two weeks of January, could also have led to run-off from the land into the waterways of Sentosa Cove. It's likely that the run-off carried significant amounts of nutrients from fertilisers used in surrounding landscaping and nearby golf courses into the waterways, resulting in rapid picocyanobacteria growth (also called an algae bloom).
However, a SDC spokesperson clarified that Sentosa Golf Club, which is next to Sentosa Cove residential development, is designed to prevent surface run-off from draining into Sentosa Cove waterways. The lakes and fishes within the golf course were also unaffected.
Another contributing factor: algae also thrives where there is less sunlight. Hence, the gloomy skies during the first two weeks of January could also have fostered the algae bloom.
According to the National University of Singapore's Tropical Marine Science Institute (TMSI), which carried out the testing of water at Sentosa Cove, the respiration and decomposition of algae in an algae bloom deplete oxygen levels in the water to the point that fishes living in the same waterway begin to die.
The TMSI also noted that the algae can also irritate fish and cause "gill clogging", leading to suffocation and death.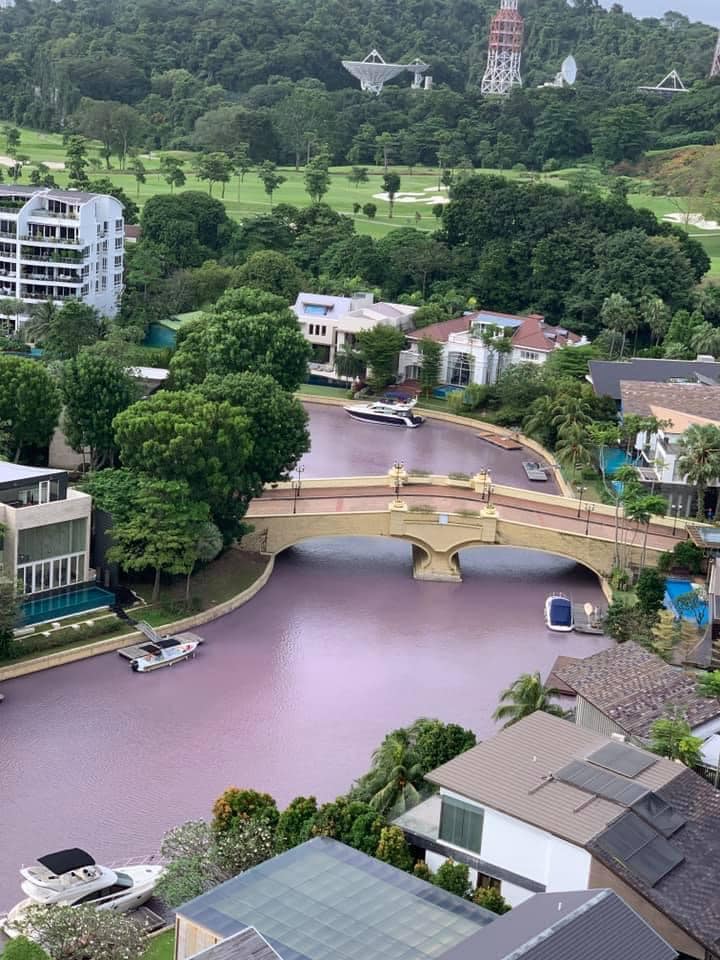 Fish deaths may occur before a noticeable change in water hue
Picocyanobacteria algae may consist of species with pink and purple pigments, which explains the colour change of the water at Sentosa Cove. That said, the SDC-NEA statement also noted that certain species do not cause a visible change in the colour of the water, which could explain why some Sentosa Cove residents started reporting sightings of dead fish even before the water turned pink.
The statement noted that the unpleasant "sewage-like" odour reported by residents at Sentosa Cove was likely due to the decomposing fish.
Even though the dead fish has long been cleared and the pink hue of the water has mostly faded, Sentosa Cove residents are still reporting traces of odour in the air. A resident told The Straits Times that the smell still lingers in the area. "The water has yet to go back to normal and is now a muddy brown colour," she said.
"As I live on a higher floor, the smell was not so unbearable," she added.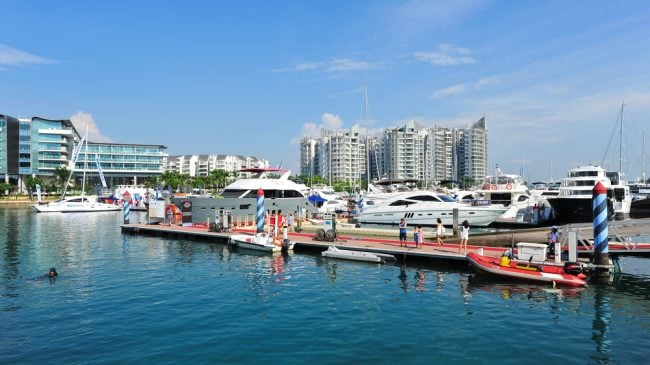 Future algae blooms inevitable, says expert
TMSI senior research fellow Dr Sandric Leong told the Straits Times that algae bloom and mass fish deaths in Sentosa Cove could occur again, as it is a natural phenomenon that "cannot be stopped or cleared away".
Cynobacteria is particularly resilient, Dr Leong noted. Its ability to adapt to sudden changes in environmental conditions allows it to "outcompete" other types of algae or phytoplankton.
The way to prevent algae bloom from affecting quality of life of Sentosa Cove residents is early detection, which allows the management council to be on standby to clean up any incidence of dead fish. Dr Leong suggests monitoring the seawater and algal species regularly, but this is definitely not an expense that residents' quarterly maintenance fees include.
Currently, a lock (a dam that allows boats to pass through) each separates South Cove and North Cove–the two enclosed waterbodies at Sentosa Cove–from the sea. Perhaps the best way to reduce the chances of algae bloom is to regularly facilitate an exchange of water between the coves and the sea.
Still fancy living in Sentosa Cove?
Property prices at Sentosa Cove has shown signs of stability in recent quarters after a decade-long decline. Transaction volumes for condominiums and landed property at Sentosa Cove also increased in 2020 compared to the previous year:
2019: Non-landed (23 units transacted); Landed (7 units transacted)
2020: Non-landed (43 units transacted); Landed (9 units transacted)
Before Sentosa Cove properties officially enters an uptrend, prospective buyers and investors have the opportunity of buying condo units at an average price of $1,780 per square foot (psf) and landed homes at $1,504 psf. All Sentosa Cove properties are 99-year leasehold in tenure.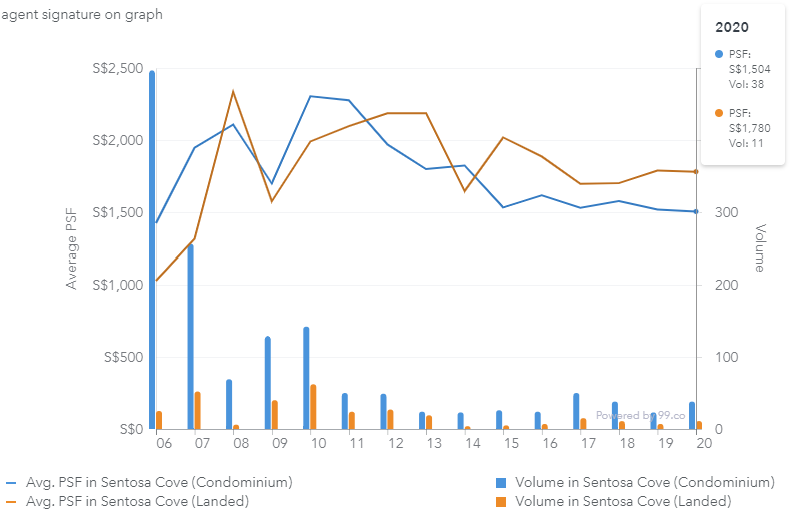 Check out the Sentosa Cove homes currently listed for sale and rent on 99.co!
If you liked this article, check out What HDB didn't tell you about Punggol (and Pasir Gudang) and HSR terminated: Will property value in Jurong take a hit?
The post SOLVED: Sentosa Cove's pink water triggered by heavy rainfall appeared first on 99.co.