Eddie Sim, 50, and Serene Lee, 47, are from Malaysia but have been living happily in Singapore for 30 years. Their track record of homebuying however, has had more than a few ups and downs. 
Their first home together was a resale HDB flat on Tah Ching Road. Later, that flat was part of the Selective En bloc Redevelopment Scheme (SERS), which allowed them to get a new BTO flat typically reserved for Singapore citizens.
So far, so good. For 18 years, the couple shared their BTO flat in Taman Jurong with Eddie's parents and their two sons Reg and Evan. As time went on and the boys were well into their teenage years, however, Eddie wanted each of them to have a room of their own. "My two sons had to share a room, I wanted them to have some privacy," says Eddie.
So, Eddie and Serene – being newly-minted Singapore citizens – applied for a BTO flat which would set them back by $400,000. Initially, they were pleasantly surprised to be shortlisted, but their excitement quickly took a dive when they found out that they were subjected to a $40k resale levy for the new BTO. The total cost of the new flat including renovations would balloon to $500k to $520k.  This is a typical situation for anyone selling a flat that had been subsidised by the government — except that they had received no subsidy the first time around. Furthermore, as Singapore citizens now, they had hoped to be on the receiving end of subsidies instead.
They made several appeals to no avail, and so they decided to look for other options to avoid the hefty upgrading levy — resale properties on the market. Eddie scoured listings online using PropertyGuru and found many Executive Apartments (EA) in the area. As the option to find a bigger house while saving the $40k became more tangible, he decided to forgo his HDB BTO. Although he still had to pay a penalty of $15k for turning it down, he felt that was much better than paying the full $40k.
Don't Look Back
Eddie and Serene decided it was better to not look back and gave up the BTO. After an intensive 2-month search, they found their perfect place: a spacious 4-room EA nestled in the corner of Block 160 Yung Ping Road.
"Not only were the rooms bigger, this house had a huge corridor which is great for us to house our fish and plants," said Serene. 
Eddie adds that the renovations set them back $60k to completely redo the 20-year-old flat but that it was completed quickly within a month.  Although the resale EA cost them a total of $645k, which is higher than if he had bought the BTO, he feels it was well worth it considering how much everyone enjoys the space. 
Room to Breathe
The boys, now 19 and 17 years old, appreciate the added privacy in this new home. "They stay up very late at night," laughs Eddie. But he's glad they have some space of their own as his oldest awaits enlistment in NS. His younger son just completed his O levels and loves playing basketball at the court below their block.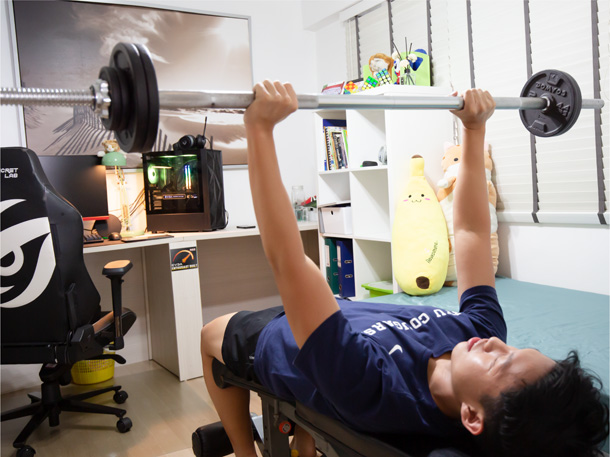 The EA and its surrounding estate is a good fit for Eddie's parents too, who are both in their 70s. They enjoy jogging downstairs in the evening and walking to the market in the mornings.
Eddie's favourite part of the house is the living room where he catches up on the latest sports news.  Serene on the other hand, enjoys her quiet time in the balcony where she reads or soaks up the sprawling view of the Chinese Gardens. 
The family of 6 also take advantage of the recreational amenities nearby such as the Jurong Lake and Japanese Gardens. Eddie and Serene both work in the Jurong area and when asked if they would move anywhere else, quipped that it would be too inconvenient.
While the BTO experience has left Eddie and Serene a little sore, they are glad they made up their mind to overcome the situation and adapt quickly. They certainly aren't wasting any time feeling sorry for themselves. They already have too much to do, keeping up with their big family.
Read stories of real people and their home journeys. Still searching for your dream home? Browse properties for sale on PropertyGuru or compare home loans on PropertyGuru Finance.
All images featured in this article are owned by PropertyGuru and should not be used without permission.