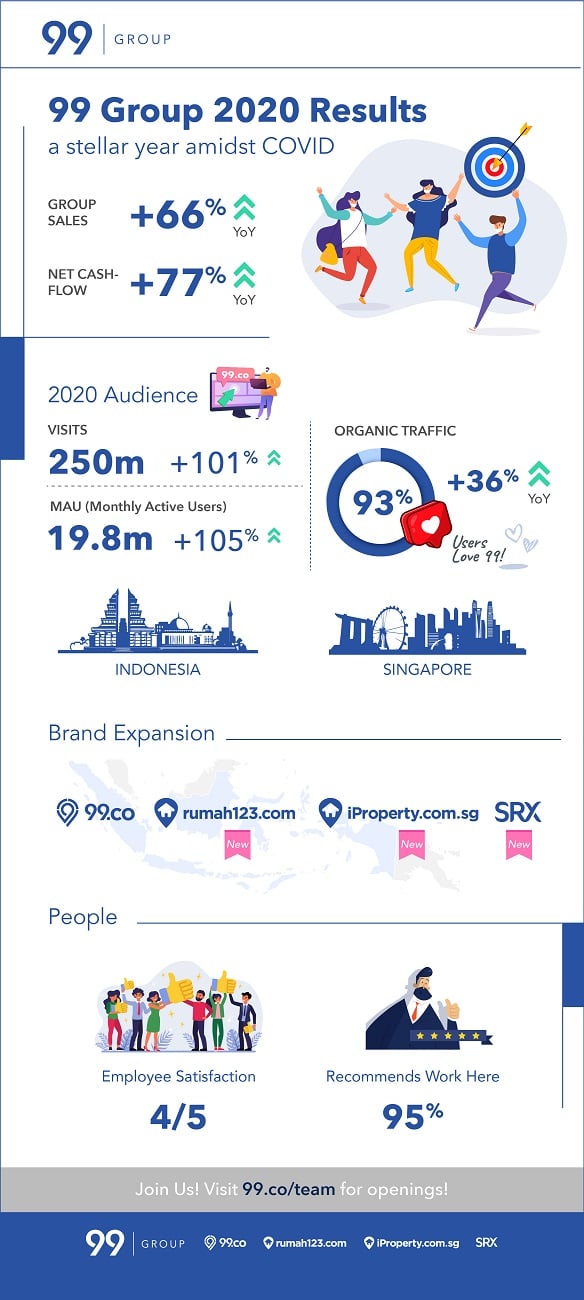 2020 was a tough year shaped by the pandemic and economic uncertainty.
Weathering this storm wasn't easy, but over the past 12 months, 99 Group managed to roll up its sleeves and rally its employees across all of its subsidiaries in Singapore and Indonesia to work closely with one another and adapt to these changing times.
Thanks to their efforts, 99 Group posted exceptional results in 2020, with high double-digit growth in key indicators. Group sales – which includes subscriptions, packages like must-see listings, and partnerships with media and developers – jumped 66 per cent year-on-year, while net cash flow surged 77%, thanks in part, to prudent and strategic spending.
On the audience front, 99 Group's traffic and enquiries also spiked, reflecting the high consumer interest in property. In Singapore, more than nine in 10 users are sourced through organic traffic, a nearly 40 per cent increase. This growth trajectory extends to its Indonesian site (99.co/id), as visits and monthly active users doubled in 2020 compared to the previous year.
2020 was also a significant milestone for brand expansion as the Group added rumah123.com in Indonesia and iproperty.com.sg and SRX in Singapore to our family of portals.
99 Group Chief Executive Darius Cheung said: "We are proud of a stellar year, especially in retaining our status as the fastest growing property platform in Southeast Asia, growing at least twice as fast as our nearest competitor in Singapore and dominating the market by a mile in Indonesia compared to anyone else."
The COVID-19 pandemic has caused extraordinary challenges but also presented unprecedented opportunities for the real estate industry to transform. 99 Group rose to the challenge of helping consumers property-hunt safely by rolling out virtual tours and enhancing the veracity of listings. We also held online property shows in Indonesia and Singapore in 2020, and both events turned out to be the largest ever online property bazaars in their respective countries. Looking ahead, 99 Group expects to continue on this growth trajectory, powered by continual tech innovation.
"We'll be firing on all cylinders in 2021," Darius said.
With the start of 2021, 99 Group will be working closely with its treasured partners, developers and agencies in the property industry in Southeast Asia, as together, we help potential and existing homeowners, investors and tenants find and enjoy their perfect homes.
Looking for a property? Find your dream home on Singapore's most intelligent property portal 99.co!
The post A stellar 2020 for 99 Group amidst COVID-19 challenges appeared first on 99.co.