Covid-19 may have left much of the Singapore property market unscathed in 2020, but the economic effects of the pandemic has undoubtably impacted investor-landlords. According to the URA Rental Index, condo rents declined by 0.5% year-on-year in 2020.
The signs of a lacklustre condo rental market was also obvious in terms of rental volume, which saw a marked decrease across the three regions in Singapore:

This shouldn't come as a shock. After all, the number of Employment Pass (EP) holders in Singapore declined from 193,700 in December 2019 to 189,700 as at June 2020—a 2.1% decrease.
Additionally, a significant number of expats/EP holders that continue to remain employed in Singapore had to settle for pay cuts as business attempted to cope with business disruptions and an economic recession caused by the pandemic. These foreign professional tenants would have had to lower their rental budget and resettle to more affordable locations.
This is exactly what rental statistics revealed. Breaking down rental volume into different regions and bedroom types, we see a more elaborate picture of how condo rental volume across regions have varied in 2020 versus 2019:

The worst hit are two-bedroom condos in the CCR, which saw transaction volume decline by 6.2% year-on-year. The large magnitude of decline could be because the tenant pool who rent such units, typically high-income single expats, have the most alternative rental options available to them. A reduction in budget can motivate these tenants to move into to two-bedroom units in the RCR or CCR, or downsize to one-bedroom units in the RCR.
The second worst hit are large-sized units (three- and four-bedders) in the RCR. This is because the a large proportion of tenant pool who rent such units are mid-senior expats with dependents (a spouse and children). Not only are these expats more dispensible by companies in a downturn, those who remain are also likely to move to a more affordable location because they need the space but may no longer be able to afford the same rent as before.
The above narratives have something in common, they all describe push factors that could drive tenants outwards to the Outside Central Region (OCR). So it comes as no surprise that OCR condos appear to buck the trend by registering an overall increase in rental volume for 2020, due largely to the robust demand for one-bedroom units in the region.
There are a particular few OCR condos that really stood out in terms of rental volume. Studio and one-bedroom rental transactions for North Park Residences (Yishun), Hillion Residences (Bukit Panjang) and Watertown (Punggol) increased year-on-year by 84.4%, 31.6% and 33.3% respectively, according to URA Realis data.
OCR condos also managed to register a year-on-year growth in Q4 2020 in terms of rent, according to the SRX Rental Index, proving that the higher rental volume did not come at the expense of landlords having to lower their asking rent:

URA's Q4 2020 statistics also painted a similarly positive picture for OCR condos:

At North Park Residences for example, studio/one-bedroom units registered a 2.5% average increase in rent in 2020, compared to 2019.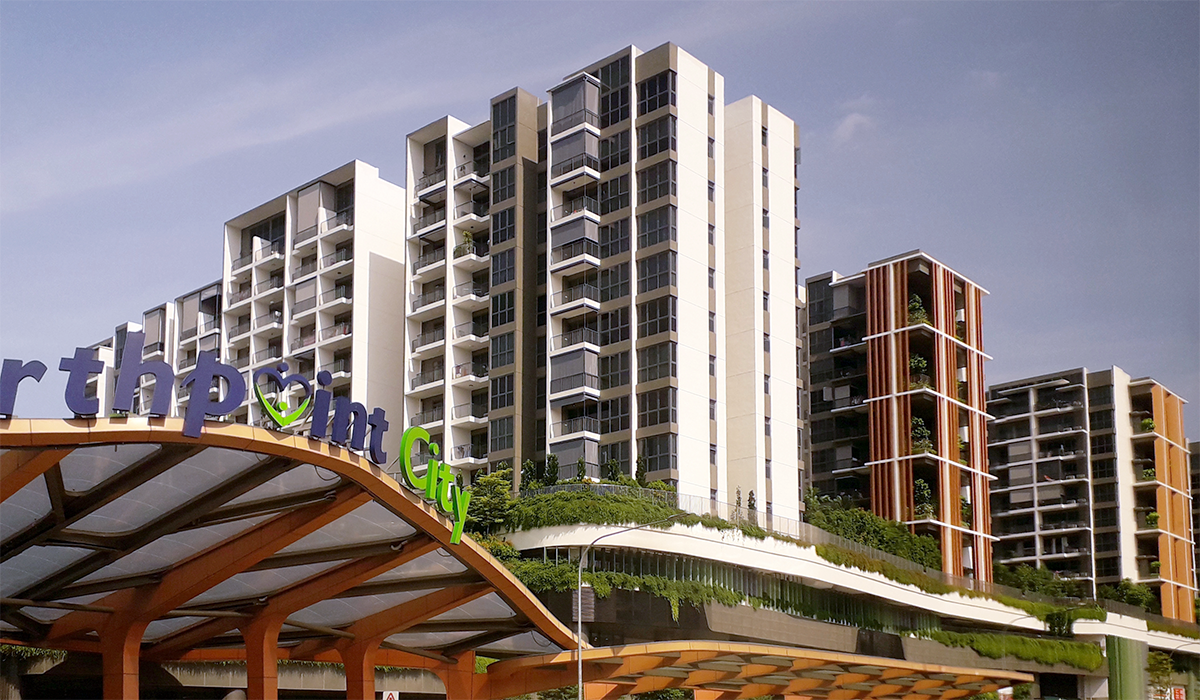 Here's a district-by-district rundown, with specific focus on one-bedroom unit types: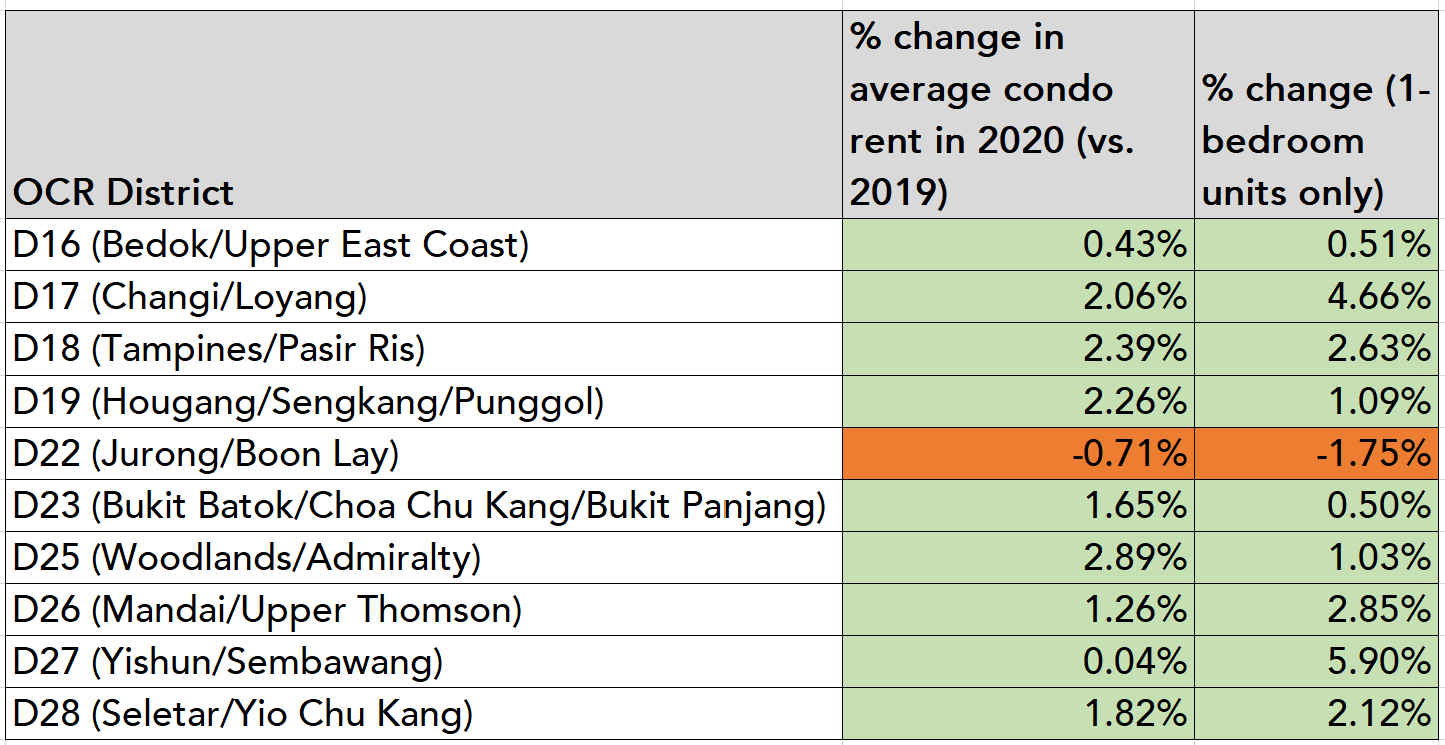 Looking at the table above, only District 22 (Jurong/Boon Lay) saw condo rents fall in 2020 (we explain why in the last section of the article). Surprisingly, districts that are near the airport (D17 and D18) performed well despite the Covid-19 downturn.
Why have OCR condo rents remained resilient in 2020 despite Covid-19?
Aside from financial constraints, here are some possible reasons why OCR condo rents stayed buoyant in 2020:
Reason #1: Increase in local renters
In the aftermath of the circuit breaker, reports of young single Singaporeans moving out of their family home to rent their own apartments have become increasingly common.
Property agents are noting that these young local professionals are mostly opting for cheaper HDB flats for rent, as opposed to condos. But if they do take the condo route, OCR condos would be most affordable to them, with a handful of studio/one-bedroom units in the $1,500 to $1,800 range. Share a $2,500 to $3,000 per month two-bedroom apartment with a friend, and the rent per person is even lower.
Reason #2: Work from home
This should be self-explanatory. Prior to the Covid-19 outbreak, proximity to the CBD ranked high as a criteria among expats looking for a condo for rent. Aside from the convenience of living near their workplace, the variety of nightlife and entertainment options in city centre neighbourhoods were also a big draw for the expat crowd, especially on weeknights after work.
Now that working from home has become the norm, the importance of living near the city has diminished. Likewise, the familiar rituals of after-work activity has changed, especially given that there are ongoing restrictions on bars and entertainment outlets.
Reason #3: The connectivity of OCR condos
Expats who live in Singapore all come to realise one thing: living in the surburbs isn't as inconvenient as compared to other cities. Many expats are also used to commuting an hour to work back home by car, so a 40-minute train ride in Singapore isn't a hassle at all.
And within towns such as Punggol, we observe that rent for condos near to MRT stations and major amenities in the town increased by a higher percentage, compared to condos that were located further away.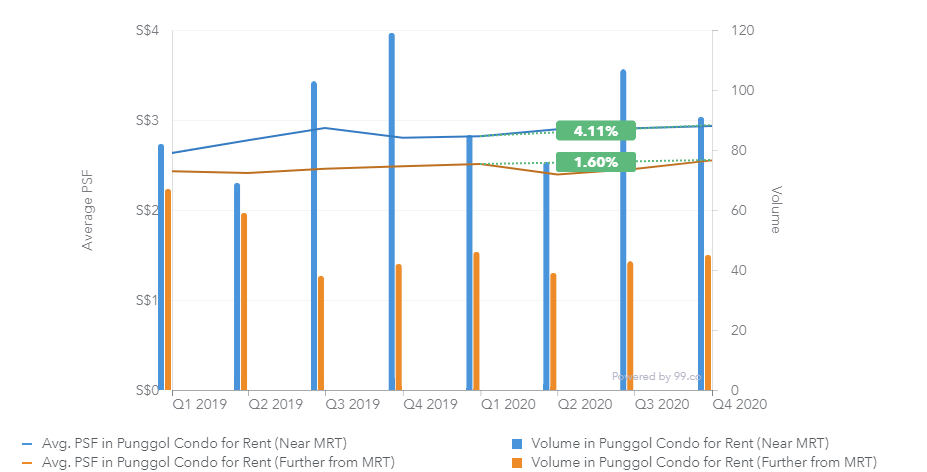 We previously wrote an article about how expats may be finding the heartlands more and more attractive. Additionally, expats relocating from the city centre might also prefer a location that is closer to the airport. Together with the sustained strength of the air frieght business during Covid-19, it's not surprising to see the well-connected Eastern districts of D17 and D18 register robust gains in condo rent in 2020.
Furthermore, even when the Covid-19 situation has improved and their employment prospects brighten, expats who have moved into OCR condos might be highly inclined to stay put. This is especially true for expats with young dependents, because their child's needs are more important and family-friendly amenities are typically more abundant in the suburbs.
Does this mean investors should focus on OCR condos?
Although OCR condos have, on paper, become a safer bet for investors during the Covid-19 pandemic, it's prudent to adopt a long-term view when deciding the right condo and location to invest in, and more importantly to understand your target tenant demographic and their behaviour.
Single tenants usually have a shorter tenancy compared to family tenants. They are more likely to want to change locations, whereas family tenants tend to grow attached to a place as they usually form a community with fellow families in the same estate or neighbourhood, and also children that attend school in the area. It's not uncommon to hear of three year leases, for expat families renting a three-bedroom condo or larger.
Also, on a macro scale, competition for tenants in the OCR will only get fiercer as the majority of condominums in the pipeline are OCR condos. With tighter purse strings, expats are also increasingly renting HDB flats, so that's another source of competition.
And in times of an economic downturn, OCR condos near large employment centers might be aversely impacted, which could explain why, out of all the OCR districts, only D22 (Jurong/Boon Lay) experienced a fall in condo rent in 2020.
All things considered, pay close attention to nearby amenities such as international schools, montessoris, business parks, shopping malls and parks when buying OCR condos for investment. Having these amenities in the proximity will help retain expat tenants when the Covid-19 situation improves.
Larger condos (more than 500 units) with extensive facilities may also prove an advantage, as there are fewer such condos in the CCR due to typically smaller land plots.
Before buying a OCR condo for the rental yield, consider factors such as rentability and speak to an experienced property agent for advice.
Will OCR condo rents continue its uptrend in 2021? Share your thoughts with us in the comments below!
If you found this article helpful, check out Why this Tanah Merah condo site attracted a bidding frenzy and Will rent go down in a recession?
Looking for a property? Find your dream home on Singapore's
The post Condo rents decline in 2020, with one notable exception. appeared first on 99.co.