When Samantha Lee's father passed away three years ago, her life was thrown out of balance. The 42 year-old Malaysian felt at a loss. An avid cyclist, she decided to pour herself into her hobby.  Besides cycling around Singapore at any chance she got, she and her friends also went on group bicycle trips to destinations throughout Asia. She has cycled through Malaysia, Indonesia and Taiwan.
When she was granted Singapore citizenship a year ago, Samantha felt it was time to move out of her rented room in Bedok and buy a place of her own. And she wanted her widowed mother to move in with her.  As she weighed her options, it was clear that the 2-room flexi HDB flat which she was eligible for under the government's subsidised housing single's scheme, was clearly too small for her needs. This is where her house hunting journey began.
A Home for Friends and Family
Samantha knew she needed a certain amount of space to fit her lifestyle. Her mother needed her own room and some privacy. And Samantha wanted room to properly store her bikes and entertain her friends.
Samantha's friends are important to her. After her father passed away her friends were a source of comfort and support and they grew even closer. "I wanted to be close to my friends and they are all living in the East. So I made sure I found a new house there," Samantha recalls.
At first, Samantha browsed for four-room flats in Sengkang using the PropertyGuru mobile app. Unfortunately, the ones she liked ranged from $300,000 to $350,000, which was out of her budget. So, she set a price filter and continued her search, this time, for smaller 3-room flats in districts further to the east. She visited over 10 units in Bedok, Tampines and Pasir Ris but again, none suited her budget. 
Things changed when she widened her search to include homes for sale in Hougang. She decided to consider Hougang as the Serangoon Park Connector was a regular meet up point for her cycling friends. After three months of intensive research, she finally found her ideal home on Hougang Avenue 7 at a price of $268,000. Besides being a stone's throw away from the park connector, it also had a big storeroom and two spacious bedrooms, which ticked all the boxes. 
Renovation Woes
When Samantha received her keys to her resale flat, she expected her renovation plans to carry on without a hitch. That was in December 2019 and in under a month, Malaysia announced a lockdown due to COVID-19. Samantha's contractors were from Malaysia and with travel between Singapore and Malaysia grinding to a halt, she had no choice but to postpone her renovations and extend her stay in her rented room. "I was quite sad, having to pay an extra 3-month's rent and having to delay my renovations for my new flat," she says.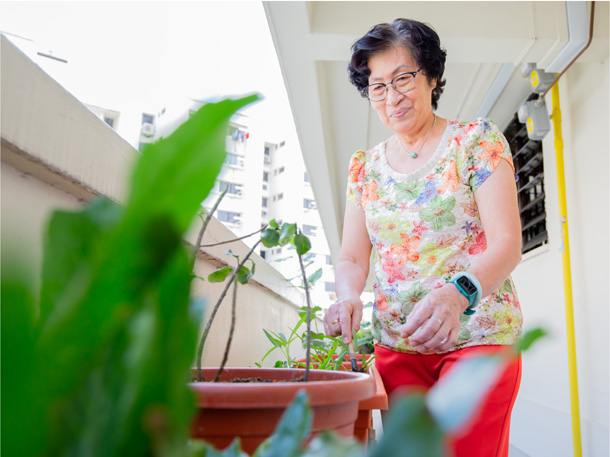 Instead of sitting around feeling sorry for herself, Samantha decided to do some research and tap on her experience as General Manager of an interior furnishing company. She knew there must be some way to speed things up.  She recalls how she became a "D.I.Y. designer" with a little help from social media. "My friends told me to go to Pinterest and take inspiration from some designs there," says Samantha.
After taking the measurements, making notes on her floorplans and marking the walls of her new flat, she sent this information to her contractor via WhatsApp. The extra effort paid off. Within one month from the day the circuit breaker was lifted, she completed her renovations, only meeting her contractor over the weekends. The renovations actually exceeded her expectations. All that was left to do was to move in.
By July 2020, Samantha was comfortably settled in her new home with her mum and her three Brompton bikes.
Plans for The Future
Samantha noted that living in Singapore is quite different from Malaysia, where large properties are much easier to come by. But her current home suits her well. She appreciates how Singapore is safe and loves the fresh air of the east side. She also enjoys the tasty hawker fare nearby and finds it convenient to get to work. Of course, the park connector and ease of cycling with her friends is still the main attraction.
When asked if she would consider selling her flat for a bigger unit in the future, Samantha says, "I like hosting friends and my hope is to secure a 5-room flat so I could have more friends coming over."
Read stories of real people and their home journeys. Still searching for your dream home? Browse properties for sale on PropertyGuru or compare home loans on PropertyGuru Finance.
All images featured in this article are owned by PropertyGuru and should not be used without permission.