The COVID-19 pandemic has disrupted all aspects of our lives, including how we buy and shop for properties. Although property activities have mostly resumed (with safe distancing measures in place, of course), many of us are now accustomed to doing the bulk of our research online. 
Introducing PropertyGuru's Asia Virtual Property Expo (AVPE)
Happening from 11 November to 12 December 2020, AVPE is Asia's largest multi-country virtual expo, featuring over 300 projects in Singapore, Malaysia, Indonesia, Thailand, Vietnam, Cambodia, Philippines, Myanmar, Australia and the United Kingdom. 
You can check out the Asia Virtual Property Expo (AVPE) here. At the end of this article, we've also included a quick guide on navigating the site, as well as a sneak peek of our weekly giveaway prizes! (P.S. PlayStation 5, anyone?) 
7 Condos to check out this AVPE 2020
For Singapore, there are seven local projects to check out, some even offering exclusive discounts and promotions! 
1. Treasure at Tampines 
Located in District 18, Treasure at Tampines is a crowd favourite. Since its launch in 2019, the project has consistently been featured in our Property Market Index reports as one of the top 10 best selling condos each quarter. You may also remember the project making headlines when close to 7,000 people flocked to the showroom over its launch weekend. 
Treasures at Tampines is a large development, with over 2,000 units. It is within walking distance to two east-side MRT stations (Tampines and Simei), which makes it delightfully accessible for residents. It's also close to the Tampines town centre, where the shopping malls and eateries are. 
AVPE-exclusive – up to $60k discount 
If you're looking for an affordable private home in the east, now's the best time to check out Treasure at Tampines – for AVPE 2020, the developer Sim Lian Group is offering a "Treasure Grant" discount of up to $60,000! 
Visit the Asia Virtual Property Expo (AVPE) or check out Treasure at Tampines on PropertyGuru. 
2. The Woodleigh Residences
The Woodleigh Residences is an integrated development located in the popular Bidadari, District 13. It's directly connected to The Woodleigh Mall and Woodleigh MRT station, taking convenience and accessibility to the next level. 
Did you know? Our Consumer Sentiment Study H2 2020 found that following COVID-19, close proximity to shopping malls and F&B outlets were among the top priorities for home buyers. 
But don't be fooled – this project is not just about practicality. Inspired by Japanese artistry and craftsmanship, The Woodleigh Residences features Japanese-esque pavilions, as well as a residents-only indoor onsen. Of course, these are in addition to the usual condo frills, like swimming pools, a fitness gym and more. 
For nature buffs, the development also overlooks the Bidadari Park and Alkaff Lake. 
Visit the Asia Virtual Property Expo (AVPE) or check out The Woodleigh Residenceson PropertyGuru. 
3. Urban Treasures
Looking for a freehold condo? Consider Urban Treasures, an affordable private residential project located in Jalan Eunos. 
Urban Treasures is in the Outside Central Region (OCR), but it's just off the city fringe. It's still reasonably accessible, within walking distance to Kaki Bukit MRT (11 mins) and Ubi MRT (9 mins). Both stations are on the blue Downtown Line (DTL), which takes you directly to the city and central business district (CBD) in a jiffy. 
For those who drive, popular shopping malls Paya Lebar Square, KINEX, I12 Katong, Parkway Parade and Bedok Mall are also less than 10 minutes away. 
The up and coming Paya Lebar and Katong areas have become increasingly trendy in recent years, especially as the modern yet rustic district is undergoing improvements. If you think you'd enjoy the area, Urban Treasures is definitely worth exploring. 
AVPE-exclusive – stamp duty rebates
For AVPE 2020, developer Fragrance Group will be running some exclusive promotions for their 3- and 4-bedroom units. For first-time buyers, they will absorb 4% of the Buyer's Stamp Duty. For those buying their second properties, they'll absorb up to 5% of the Additional Buyer's Stamp Duty. 
Visit the Asia Virtual Property Expo (AVPE) or check out Urban Treasures on PropertyGuru. 
4. Clavon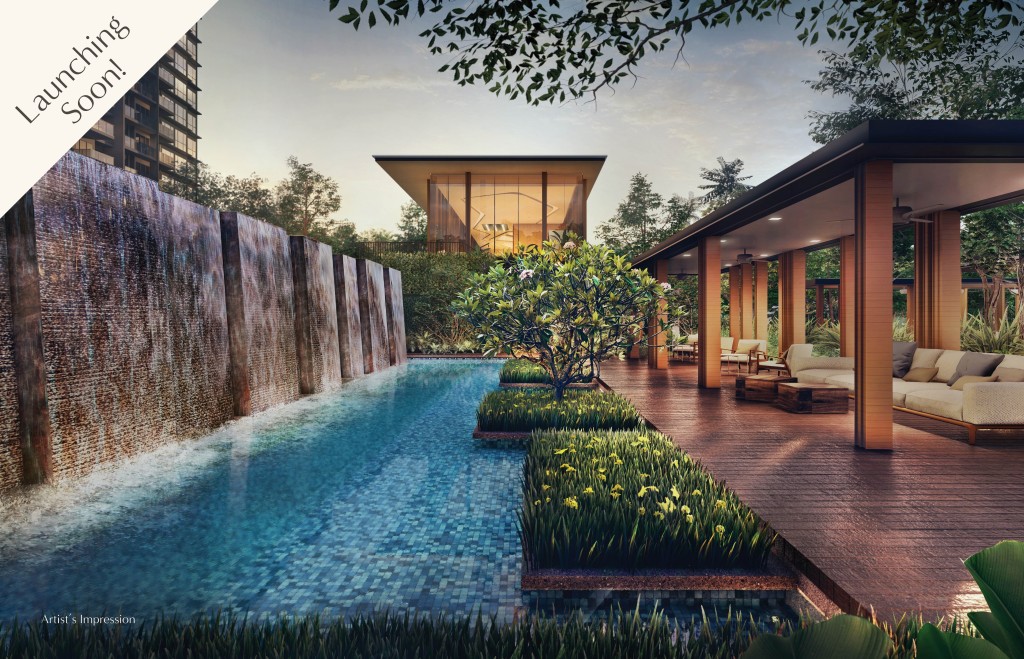 While a lot of the recent launches have been in the east and northeast regions of Singapore, Clavon is a highly anticipated project located in the west, at the mature estate of Clementi. It's near the Ayer Rajah Expressway (AYE), and about 1km from Clementi MRT, which is about as close as you can get for a condo in Clementi. 
For families with teenage children, this location is great: Clavon is right opposite Nan Hua High School, and near enough to Singapore Polytechnic in Dover and National University of Singapore (NUS) at Kent Ridge. 
Design-wise, you can expect a modern and minimalist aesthetic. Clavon has not launched yet, but you can register your interest now and look forward to early bird prices when they do. 
Visit the Asia Virtual Property Expo (AVPE) or check out Clavon on PropertyGuru. 
5. Avenue South Residence
District 3 has always been popular, but even more so after URA announced its plans for the Greater Southern Waterfront. 
Avenue South Residence is located near one end of the upcoming Rail Corridor, which is a 24-km long green belt which will run from south to north Singapore. With two 56-storey towers, the residents from the higher floors will enjoy breathtaking views of the coast and cityscape. 
Although not near any MRT stations, the area is reasonably well-connected and features plenty of great dining and retail options nearby. 
Not that residents will be rushing to leave home, though. In fact, it may be quite the opposite: Within Avenue South Residence is a suite of facilities that go above and beyond – apart from the usual suspects, there is a rock wall, mini golf course and karaoke rooms, just to name a few. 
Visit the Asia Virtual Property Expo (AVPE) or check out Avenue South Residence on PropertyGuru. 
6. Marina One Residences
If you've always dreamed of a luxurious home in the heart of the bustling Marina Bay, Marina One Residences could be the one for you. 
Did you know? Singaporean actor Romeo Tan is reported living at Marina One Residences too!
Although it's located among urban offices and skyscrapers, Marina One Residences stands out with its stunning landscaping and luscious greenery. There's even a three-storey cascading waterfall within the complex – could this be what paradise looks like? 
Aside from that, Marina One is an integrated development, with not just the residences, but retail and office spaces as well. That, coupled with its prime location – it's a stone's throw away from Marina Bay MRT and Downtown MRT – makes for unparalleled convenience. If you're looking to splurge on a luxury development in the CBD, look no further. 
Visit the Asia Virtual Property Expo (AVPE) or check out Marina One Residences on PropertyGuru. 
7. Martin Modern 
Designed to be a "home within a botanic garden", Martin Modern is truly a sight to behold. In fact, even though the land was large enough to accommodate three towers, developer Guocoland instead opted to build just two, using the rest of the space for greenery. 
Martin Modern features plenty of green spaces, such as the Lower Rain Garden, Bamboo Grove, Forest Trail and more. The two towers each have a rooftop garden as well, where residents can unwind and soak in the wonders of nature. 
Being in the prime District 9, the great location is a given. If you remember, this "River Valley GLS plot" created quite the buzz when it attracted 13 bidders in 2016. Martin Modern is also expected to obtain its Temporary Occupation Permit (TOP) in 2021, so if you are on the lookout for a luxury home that'll be ready for move-in soon, consider Martin Modern.   
AVPE-exclusive: furniture vouchers
For selected units, Guocoland will be offering furniture vouchers. Reach out to them for more information. 
Visit the Asia Virtual Property Expo (AVPE) or check out Martin Modern on PropertyGuru. 
Visit the AVPE 2020 for these property deals and more
Like what you see? Here's a quick guide on how to visit and navigate PropertyGuru's Asia Virtual Property Expo (AVPE):
Step 1 – Head to the official AVPE 2020 site.
Step 2 – Click the following: Enter Virtual Property Expo > Enter > Singapore 
Step 3 – Browse the various booths (spot ours!) and click them for more information on the featured projects and discounts!
Plus, register your interest at the developer booths and stand a chance to win exciting prizes weekly! 
For more property news, resources and useful content like this article, check out PropertyGuru's guides section. 
Are you looking to buy a new home? Head to PropertyGuru to browse the top properties for sale in Singapore.  
Already found a new home? Let PropertyGuru Finance's home finance advisors help you with financing it.