[This article has been updated with additional project information from HDB on 17 November 2020. The Nov 2020 Sembawang BTO will be named Sun Sails.]
The upcoming HDB November 2020 Build-to-Order (BTO) sales exercise will feature five projects comprising a total of 5,770 units. The Sembawang BTO, Sun Sails, is one of two projects in non-mature estates that will be launched (the other one is in the brand-new town of Tengah in the West of Singapore, which you can read the review here.)
Here's 99.co's detailed review of the Nov 2020 Sembawang BTO:
Project Name: Sun Sails
Location: Along Sembawang Avenue and Sembawang Road
Classification: Non-mature estate
Number of units: 726
HDB's estimated completion date: Q2 2025
Indicative price range (excluding grants):
2-room Flexi (40 sq m): $92,000 to $102,000
2-room Flexi (48 sq m): $106,000 to $122,000
3-room: $163,000 to $189,000
4-room: $260,000 to $302,000
5-room: $336,000 to $388,000
[Updated 17 November 2020. These are the official prices.]
The Pros:
Sembawang Shopping Centre and a cluster of shophouse eateries are really close by; the nearest blocks at the Sembawang BTO will be 1- to 3-minutes' walk away from these amenities. There's a hypermarket within Sembawang Shopping Centre and several enrichment centres, whereas foodies will be spoilt for choice between eateries in the mall and old school shophouse establishments right next to the BTO site, which include the original outpost of White Restaurant and Sembawang Claypot Rice. (We're getting hungry just talking about it.)
The Nov 2020 Sembawang BTO site is also four bus stops away from the popular Chong Pang City Wet Market & Food Centre, which will be housed within a new integrated development by 2027.
While the Sembawang BTO site is about a 10-minute walk to Sembawang MRT station, residents have bus stops at their doorsteps with bus services to and from the MRT station. We are certain that, when the BTO is built, the authorities will also build a covered overhead bridge at the bus stops to serve residents coming home from Sembawang MRT, because there are no existing road crossings at these bus stops.
Sun Plaza, a compact shopping mall next to Sembawang MRT, provides additional shopping and food options, plus a public library. Canberra Plaza and Canberra MRT station are slightly further and we figure that very few residents will find these convenient, as there are no direct bus services and the hilly walk across a landed estate is a hassle.
There are currently a couple of day care/infant care centres within 500 metres of the Sembawang BTO site, and HDB has decided to include another childcare centre within the development itself.
Bukit Canberra. Located across the road from the Sembawang BTO site, this massive integrated sport and community hub will be fully up and running by the time residents move in. They'll get to enjoy a sprawling nature and heritage park, the largest ActiveSG gym in Singapore, a hawker centre, polyclinic and senior care centre, as well as a community garden.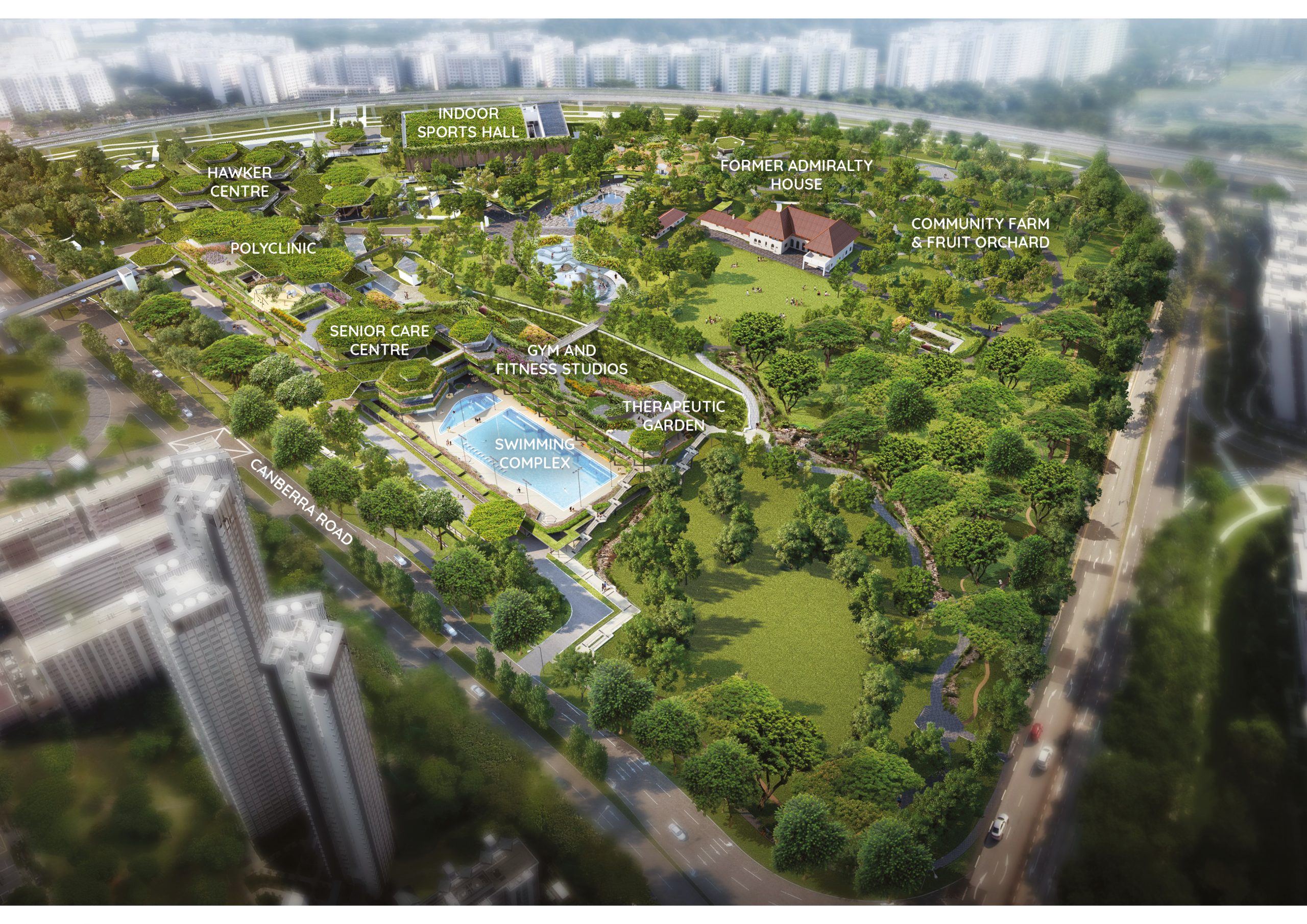 A short, walkable distance away from Sembawang Hot Springs Park, a one-of-a-kind attraction in Singapore. Natural attractions such as Sembawang Park and the upcoming Mandai Project are also within reach via Park Connectors, which makes the site a pretty good place for avid cyclists to live.
Drivers rejoice! They'll be near to the upcoming North South Corridor expressway, with an entrance/exit at the nearby Gambas Avenue. It will lead all the way to the city and interchange with the Seletar Expressway (SLE), the Pan-Island Expressway (PIE) and East Coast Parkway (ECP).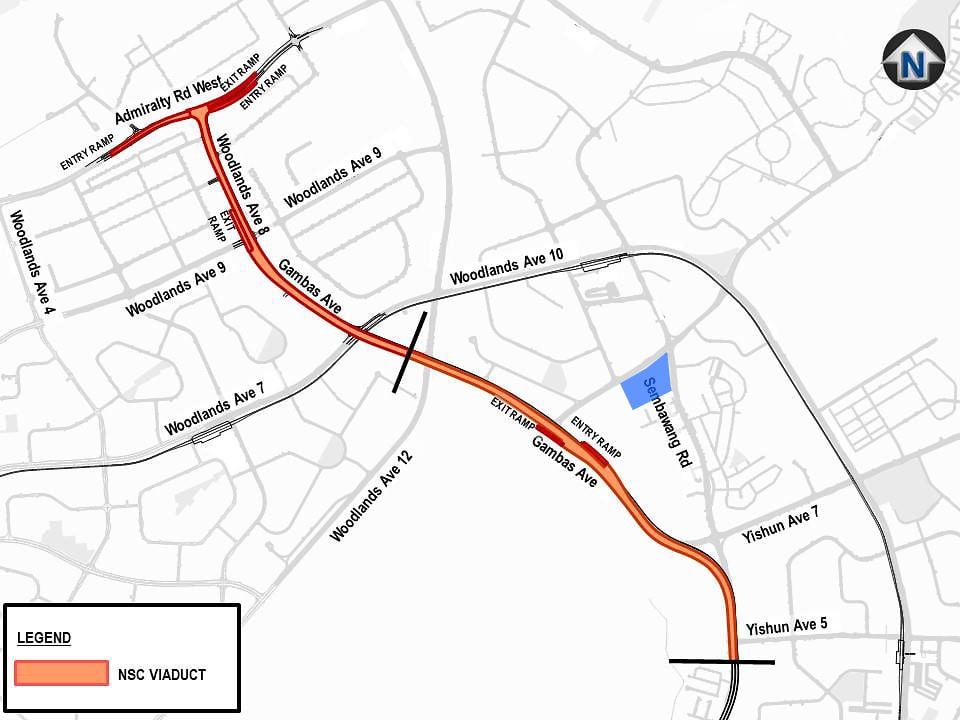 Sembawang Primary School is a three- to five-minute walk away, but in general that there are too few schools near the Sembawang BTO site, at least for now (see 'The Cons').
Permanently unblocked views for mid- and high-floor units directly facing low rise private housing to the South and East. Depending on their orientation, certain stacks near to Sembawang Road might be able to sneak a pool view of The Nautical condo across the road.
With a much lower plot ratio (1.8 vs 2.8), this BTO development will likely be less densely packed than the surrounding HDB flats (as well as the Tengah BTO). Residents will benefit from a greater sense of space, a more laid-back environment and less crowding at playgrounds/multi-purpose courts within the site itself, compared to most other BTO projects.
Sembawang is right next to Woodlands Town, and residents will be closer to Johor Bahru than the Singapore CBD thanks to the upcoming Johor-Singapore Rapid Transit System (RTS) terminus at Woodlands North (a 10-minute car ride away).
One more thing: Residents can expect an impressive future mall right next to Sembawang MRT in the next decade or two, according to the 2019 URA Master Plan. Likely to be larger than Sun Plaza and Sembawang Shopping Centre combined, the future mall will be part of a URA white site; a 'white site' means that the URA will evaluate both the concept and the bid price of the proposed development, which can possibly include office space and a condo.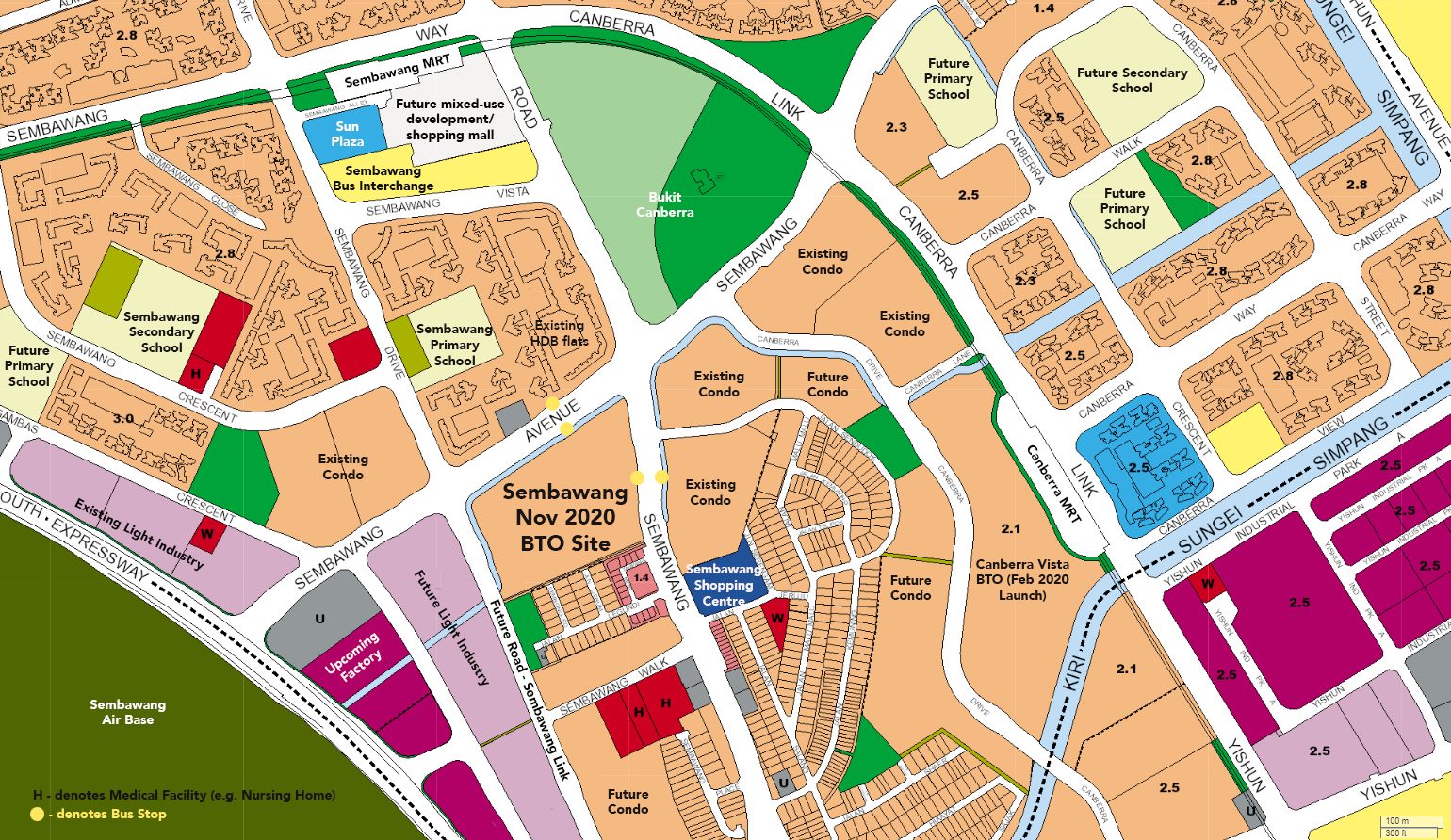 Currently undeveloped land directly to the west of the Sembawang BTO site is zoned for high-rise light industry. But we're putting this as a plus point because the architect has deliberately avoided putting units near to that side of the land parcel, instead using the multi-storey car park as a buffer, as the site plan below shows: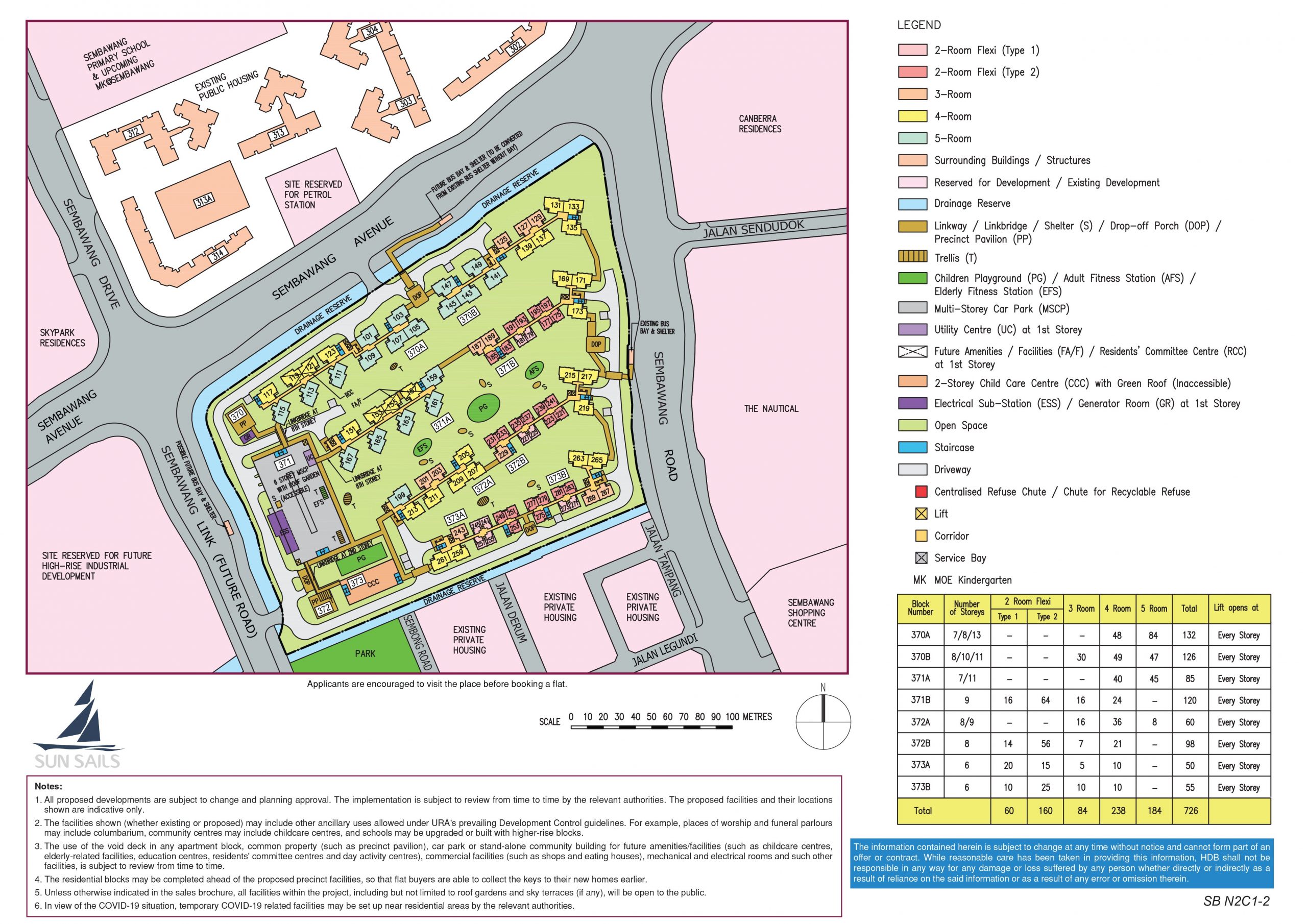 The Cons:
Depending on which block you choose, you'll get a different number of primary schools within 1km. Residents living in blocks closest to Legundi Park and Sembawang Shopping Centre will be within 1km to just one primary school (Sembawang Primary School), but blocks closer to Bukit Canberra will have an additional school (Wellington Primary School) within 1km. That being said, there are future school sites that we'll talk about in the 'What else we noted' section of this review.
The nearby Sembawang Air Base is home to Singapore's helicopter squadron. While there are no deafening noises from fighter jets here, residents might have to put up with intermittent sounds from RSAF choppers, which are thankfully far less noisy.
Stacks directly facing Sembawang Avenue and Sembawang Road will suffer some noise pollution as these are major roads with a consistent flow of traffic, with a fair share of heavy vehicles.
Getting a private hire car might prove difficult at times, given the location, and rides to the city will be expensive, given the distance.
It will take residents about 45 minutes to get to Orchard, and about an hour to get to the CBD via the MRT.
Important note:
Don't expect high-rise living. The height of the Sembawang BTO flats will average around ten storeys, lower than the existing HDB flats across the road.
According to HDB's method of deriving BTO prices, the high resale prices of recently-MOPed flats in Canberra might push up the launch prices of the November 2020 Sembawang BTO, beyond what we estimated.
What else we noted about the Sembawang BTO, Sun Sails
The primary school situation could soon improve in time to come. There are three sites earmarked for primary schools along Sembawang Crescent, Canberra Walk and Canberra Crescent. When the primary school at Sembawang Crescent is built, residents of this Sembawang BTO will be within 1km of at least two primary schools. Blocks closer to Bukit Canberra will still have an edge, and will be within 1km to FIVE primary schools when all of them are up and running.
For accessibility, blocks that are closest to the bus stop along Sembawang Road might be a better choice than the blocks nearest to Sembawang MRT station. These stacks happen to be near Sembawang Shopping Centre and numerous food options along Jalan Legundi and Jalan Tampang, so it's really a win-win.
Public Service Announcement: Although tempting, please don't try to jaywalk across Sembwang Avenue and Sembawang Road, as cars here tend to travel at high speeds and many heavy vehicles ply these roads.
Our verdict on the Nov 2020 Sembawang BTO, Sun Sails
For a BTO project in a non-mature estate, Sun Sails serves up a pretty long and impressive list of plus points. And within this list of plus points is a great balance of existing amenities and future developments that makes savvy property buyers sit up and pay attention.
Furthermore, the 'cons' of the Sembawang BTO are by no means dealbreakers. Accessibility concerns, for instance, can be addressed if residents get their own car. And there's a lot that can be accomplished on foot; rarely can non-mature estate BTO projects boast about having a shopping mall, dining cluster and a sport-and-community hub at their doorstep, so there's really not a lot to miss even without a car.
What this all means is that this Sembawang BTO project, which will likely be priced cheaper than the Tengah BTO in the same launch, is an absolute bang for your buck. Successful applicants will also benefit from nearly guaranteed capital appreciation after their Minimum Occupation Period (MOP) is over.
Let's showcase the possible increase in value of a Sembawang HDB flat after five years of its completion by looking at a recently-sold five-room HDB flat at EastCrown@Canberra. The unit was purchased as a BTO flat for about $320,000 in May 2013, and sold in September 2020 for $520,000—a eye-popping $200,000 in profit.
Given the attributes of the Nov 2020 Sembawang BTO site, we'll likely see a surge of applicants far beyond the 720 flats available here. If you miss out on this and need a home soon, we suggest looking at resale flats in the same price range at nearby Yishun and Woodlands. For first-time buyers setting up a family and looking for a home, a resale flat can be a case of: Better a bird in the hand than two in the bush!
Like our analysis? Check out out other in-depth HDB Nov 2020 BTO reviews!
Bishan
Bidadari (Toa Payoh)
Tampines
Tengah
Looking for an affordable home that's ready to move in? Find your dream resale HDB flat on Singapore's most intelligent property portal 99.co!
The post HDB Nov 2020 BTO In-Depth Review: Sembawang (Sun Sails) appeared first on 99.co.