Sales of new launch condos in Singapore, which has been on an upward trend for five consecutive months since the Covid-19 circuit breaker, finally hit a bump in the road in October. According to latest figures released by the Urban Development Authority (URA), new private home sales declined by 51.7% month-on-month as developers sold 642 units (excluding executive condominiums). This is in contrast to the 1,329 such units sold in September 2020.
For executive condominiums (ECs), developers sold 40 units—29% fewer than the 56 units sold in September.
Excluding ECs, October's new private home sales figures brings the total for the year to 8,021 units sold, 4.5% below the 8,401 units sold in the first ten months last year.
Top 10 Selling Projects in October 2020 (including EC)
| | | | | | | | | | | | | | |
| --- | --- | --- | --- | --- | --- | --- | --- | --- | --- | --- | --- | --- | --- |
| | | Project Name | | Street Name | | Locality | | Units Sold in the Month | | Median Price ($psf) in the Month | | % sold to date (of total) | |
| 1 | | The Garden Residences | | Serangoon North View | | OCR | | 53 | | 1,612 | | 82% | |
| 2 | | Treasure At Tampines | | Tampines Lane | | OCR | | 50 | | 1,408 | | 72% | |
| 3 | | Parc Clematis | | Jalan Lempeng | | OCR | | 49 | | 1,644 | | 67% | |
| 4 | | Midwood | | Hillview Rise | | OCR | | 28 | | 1,633 | | 9% | |
| 5 | | Forett At Bukit Timah | | Toh Tuck Road | | RCR | | 26 | | 1,948 | | 43% | |
| 6 | | The Woodleigh Residences | | Bidadari Park Drive | | RCR | | 26 | | 1,987 | | 59% | |
| 7 | | One Pearl Bank | | Pearl Bank | | RCR | | 25 | | 2,519 | | 46% | |
| 8 | | Jadescape | | Shunfu Road | | RCR | | 24 | | 1,783 | | 86% | |
| 9 | | Sengkang Grand Residences | | Compassvale Bow | | OCR | | 22 | | 1,758 | | 45% | |
| 10 | | Stirling Residences | | Stirling Road | | RCR | | 22 | | 2,063 | | 93% | |
Source: Colliers International, URA. CCR: Core Central Region; RCR: Rest of Central Region; OCR: Outside Central Region.
Are OTP reissue restrictions to blame for lower new launch condo sales?
Property analysts were quick to point out that one of the factors for October's lower sales figures was URA's move to clamp down on the re-issue of Option to Purchase (OTP) in the month prior. On 28 September, URA restricted developers from re-issuing OTPs to the same buyer of the same unit within 12 months after the expiry of the earlier OTP.
Before this restriction came into place, the URA had publicly stated that private home sales figures were inflated by the continuous re-issuing of OTPs, which did not require the buyer to forfeit the initial booking fee upon the re-issue. Buyers took advantage of OTP extensions for various reasons, from legitimately needing more time to sell their existing flat to using it as a way to hold on to choice units without having the financial ability to begin mortgage repayments until one year later, sometimes up to one-and-a-half years.
The prevalence of OTP re-issuance among buyers was revealed on 2 November, when the Ministry of National Development (MND) issued a written answer to a Parliament question. The MND stated that since January 2019, 5,500 private housing transactions had OTPs re-issued. Given that 7,255 condo units were sold by developers in the first three quarters of 2020, the percentage of transactions with re-issued OTPs are significant, meaning any clampdown will be sure to impact sales volume afterward.
Now, without the means to obtain re-issued OTPs, buyers must now exercise their option within a strictly enforced three-week validity period. "Some buyers may now need more time to get their finances together, selling their existing property first—such as in the case of HDB upgraders—before committing to a private property purchase," said Ismail Gafoor, CEO of Propnex.
Correspondingly, mass market projects could see the biggest drop in sales. "We expect the projects most affected by the tightened rules are likely those targeted at HDB upgraders; these buyers must now sell their flat first, and then rent a home while waiting for their new homes to be ready," said Tricia Song, Head of Research for Singapore at Colliers International.
"In fact, 72% of the total developer sales in October 2020 were priced at the median price of $1,000 to $2,000 per square foot, compared to 88% in September 2020, showing a decreased proportion of HDB upgraders," Tricia added.
(99.co additionally understands that agents and developers had been sounding out to buyers about a possible clampdown by URA ever since the authority itself dropped hints in a Business Times article exactly one month before the restrictions came into force. A number of buyers saw the signs and made a move to buy a unit sooner rather than later, driving up sales volume in September.
According to URA, developers may continue to honour an OTP issued before 28 September even if it contains an agreement to allow the reissue of the OTP for the same property up to a specified period.)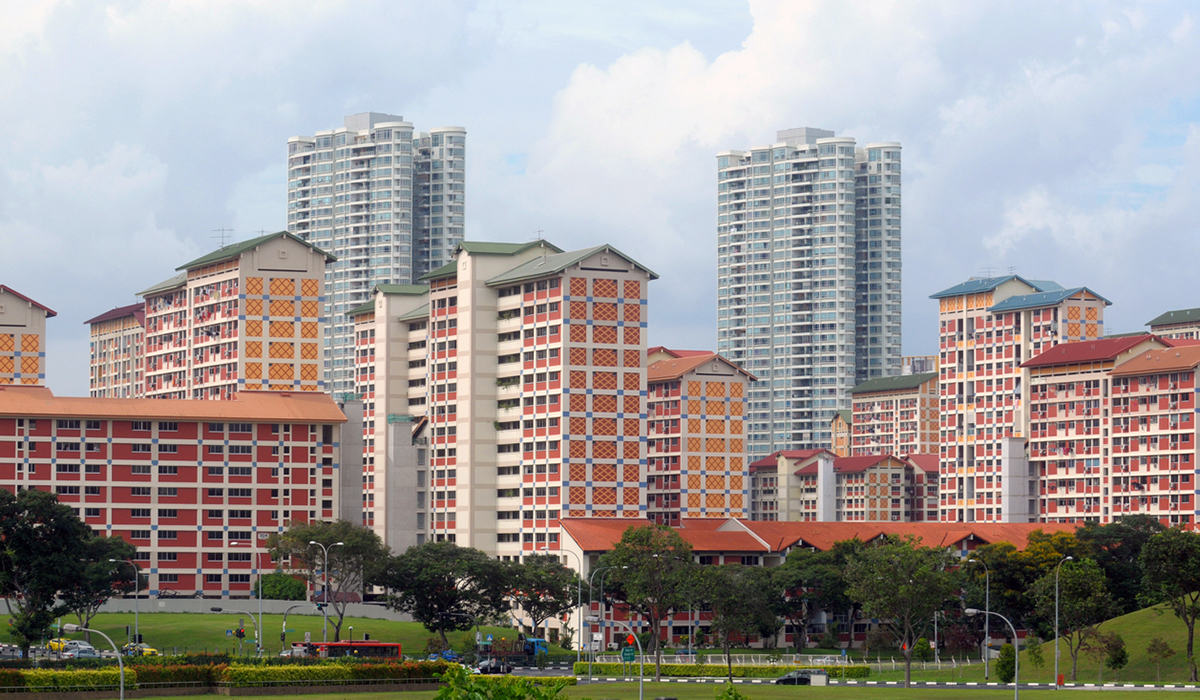 Fewer new launch condos in October also a key factor
September 2020 also saw more new projects, and new units, hitting the market such as Penrose, Verdale and Myra. A total of 909 units came onto the market, with the 448 units sold forming one-third of the total of 1,329 units sold. Mr. Gafoor said this was a "high base", meaning that sales volume in September was always going to be a hard act to follow.
In October 2020, the only condo to launch in the month was Hyll on Holland, an upmarket 319-unit project along Holland Road. The developer of the project, FEC Skypark, released only 60 units on sale. All things considered, Mr. Gafoor believes that the 642 units sold in October is "a sign of steady confidence in the property market and reflects healthy underlying demand for homes."
Already, sales of condo projects launched in the first half of November are already proving Mr. Gafoor right. Over the past weekend, The Linq @ Beauty World managed to sell 115 out of 120 units at launch at an average price of $2,150 to $2,200 per square foot (psf), prompting him to label it "a record performance".
In the same weekend, the 396-unit The Landmark reportedly saw about 1,200 visitors at its physical showflat. The city fringe project is scheduled for launch by the end of November.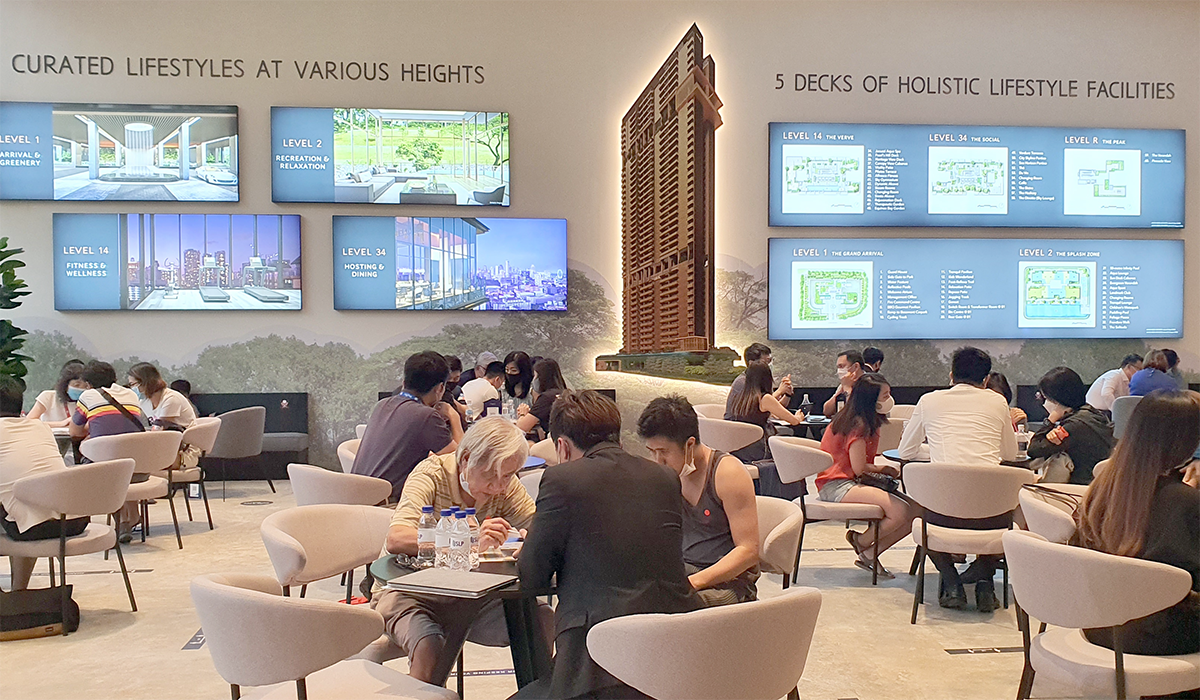 [Recommended article: The savvy case for buying a 99-year leasehold condo]
What's next for the property market?
"As the property market is highly sentiment driven, the pull-back in housing demand [in October] is unsurprising," said Christine Sun, Head of Research and Consultancy at OrangeTee & Tie.
"Some buyers could be waiting on the sidelines, hoping that developers will moderate prices in response to the sales decline. Others who are directly impacted by the new regulation may need time to settle any outstanding issues inorder to proceed with their home purchase," she added.
Instead of dampening demand overall, the OTP re-issue ban is more likely to direct demand towards a handful of new launch projects that buyers perceive have a competitive advantage in terms of location and pricing. "Sales at projects like The Linq @ Beauty World proves that well-located, quality projects remain popular," said Leonard Tay, Head of Research at Knight Frank Singapore.
Ultimately, the clampdown on OTP re-issue is likely to have the same effect on property demand as the additional cooling measures that were introduced in July 2018: a knee-jerk reaction (sales drop) followed by a period of waiting on the sidelines before buyers jump back into the market.
This time, it's unlikely that the wait-and-see period will last for long, especially if property prices continue on their upward trajectory like in Q3 2020. Upcoming larger-scale projects such as the 640-unit Clavon and the 660-unit Ki Residences at Brookvale could also spur local buyers into FOMO ('fear of missing out') mode, especially if more positive news about the further reopening of our economy and Covid-19 vaccine development emerge.
Condo prices are also unlikely to fall, considering the improved outlook for the economy and buyer sentiment for 2021. Property buyers who tried, but failed, to time the market in 2019 and earlier this year will know all too well about missing the proverbial boat.
Do you think property prices will go up or down from here? Share your thoughts with us in the comments below!
Check out other articles by 99.co: New launch condos in District 21: a side-by-side comparison and 5 new launch condos most likely to hit the market during Phase Two
Looking for a property? Find your dream home on Singapore's most intelligent property portal 99.co!
The post New launch condo sales hit a bump in October, but prices unlikely to fall appeared first on 99.co.