[This article has been updated with additional project information from HDB on 17 November 2020. The Nov 2020 Tengah BTO sites will be named Garden Court @ Tengah and Garden Terrace @ Tengah.]
The upcoming HDB November 2020 Build-to-Order (BTO) sales exercise will feature five projects comprising a total of 5,770 units. The Tengah BTO is one of two projects in non-mature estates that will be launched, and will consist of two sites of similar land area: one closer to Hong Kah MRT Station, and the other nearer to Tengah Plantation MRT Station.
Previously, we'll refered to the two Tengah BTO sites as Hong Kah Site (Garden Court @ Tengah) and Tengah Plantation Site (Garden Terrace @ Tengah). The map below shows the final block layouts of the Nov 2020 Tengah BTO and the usage of land in the area, according to the official URA Master Plan: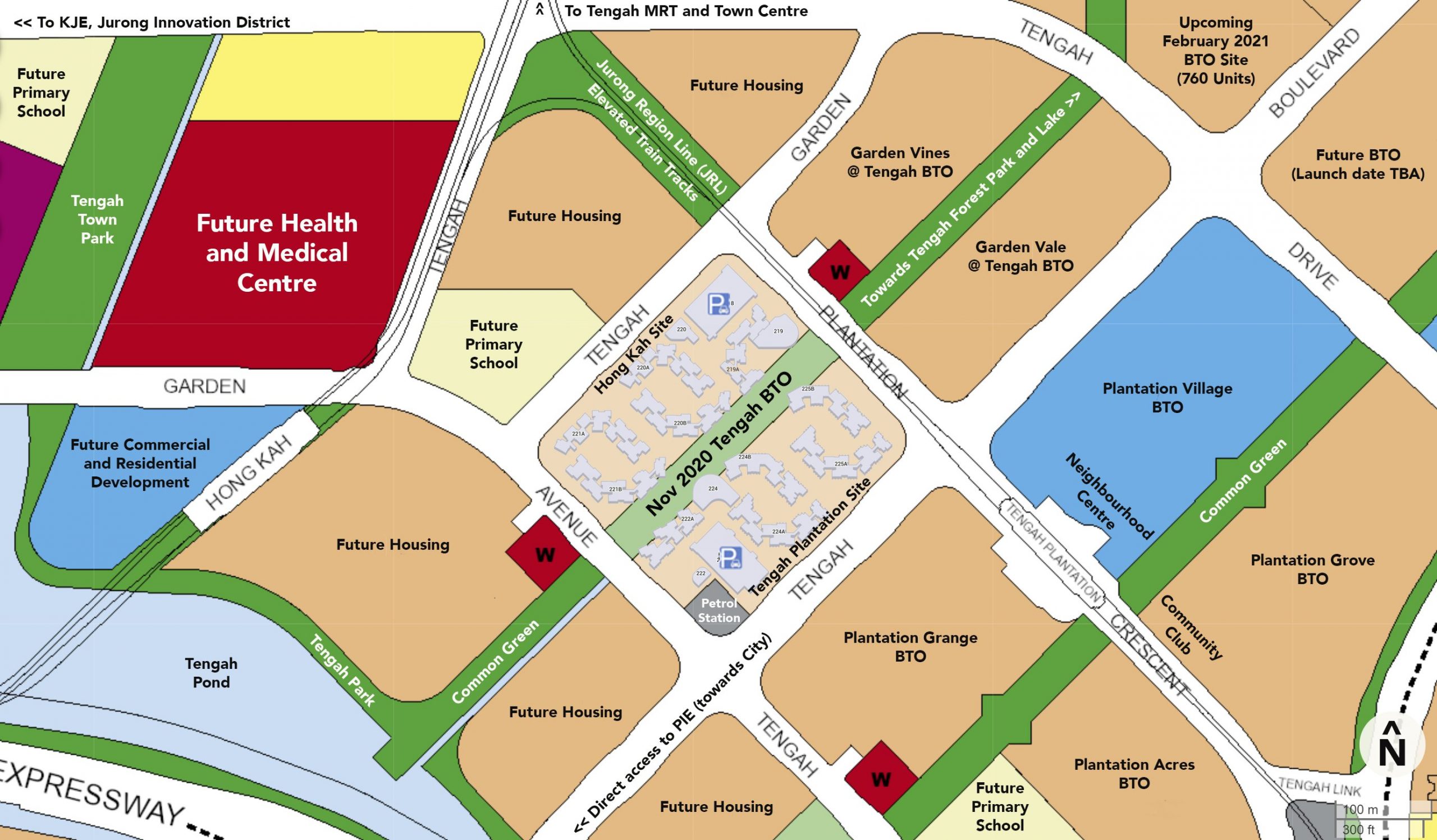 Here's 99.co's detailed review of the Nov 2020 Tengah BTO:
Project Name: Garden Court @ Tengah (Hong Kah Site); Garden Terrace @ Tengah (Tengah Plantation Site)
Location: Garden Court @ Tengah – Along Tengah Garden Walk and Plantation Crescent, Garden Terrace @ Tengah – Along Tengah Garden Avenue and Tengah Boulevard.
Classification: Non-mature estate
Number of units: 1,579 across 2 sites (790 units in the Hong Kah Site and 780 in the Tengah Plantation Site)
Blocks: Garden Court @ Tengah: 5 blocks ranging from 7 to 15 storeys; Garden Terrace @ Tengah: 5 blocks ranging from 7 to 16 storeys
HDB's estimated completion date: Q1 2024
Indicative price range (excluding grants):
2-room Flexi (40 sq m): $108,000 to $131,000
2-room Flexi (47 sq m): $127,000 to $150,000
3-room: $194,000 to $233,000
4-room: $288,000 to $366,000
5-room: $394,000 to $487,000
[Updated 17 November 2020. These are the official prices.]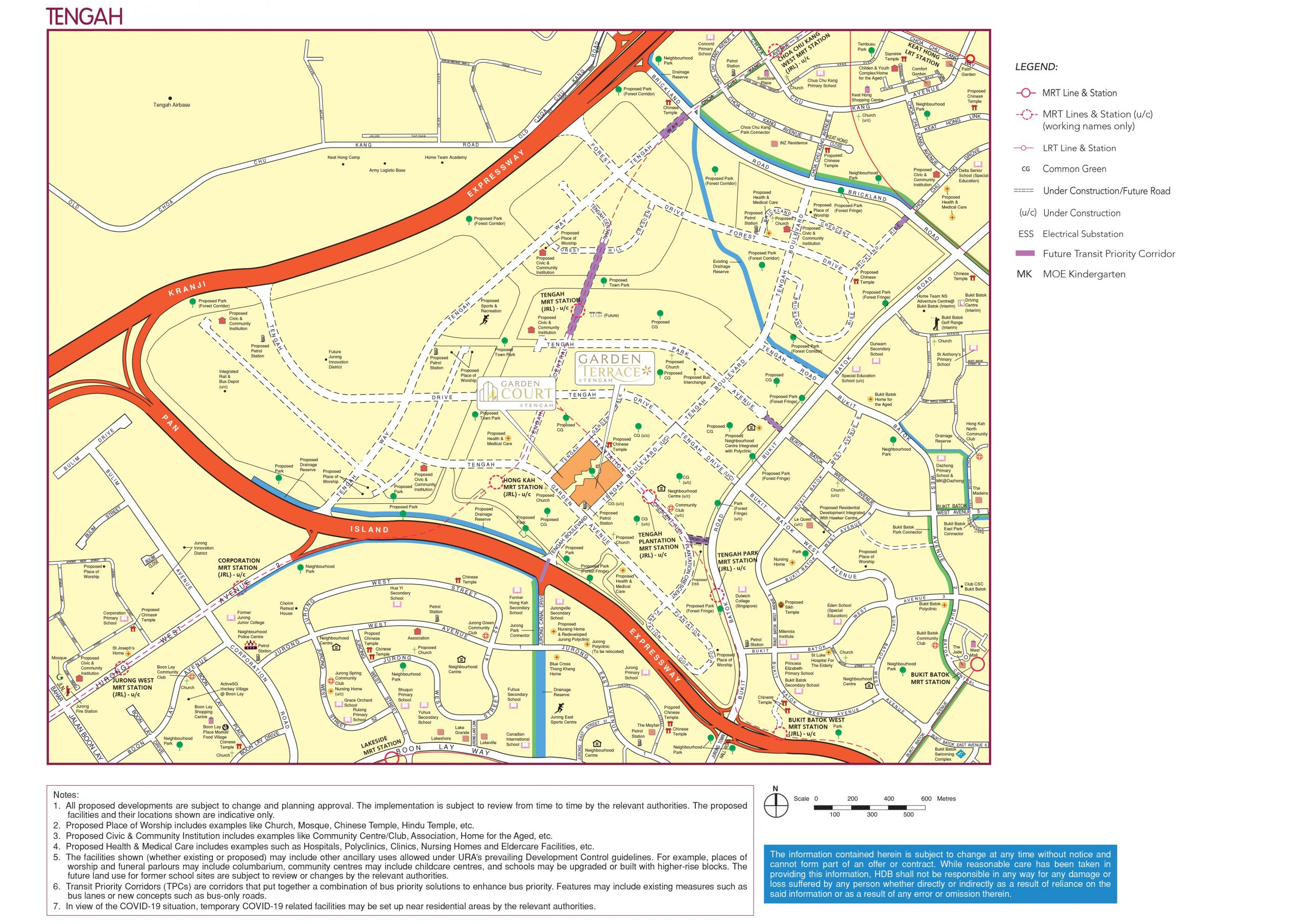 Let's dive in to the pros and cons of the Nov 2020 Tengah BTO projects:
The Pros:
Both sites are 4- to 6-minutes' walking distance from either of two Jurong Region Line (JRL) MRT stations: Hong Kah and Tengah Plantation. Both stations are one stop away from Tengah MRT station, where the future Tengah Town Centre is located.
In addition to the JRL, Tengah's Transit Priority Corridor (TPC) will make travel by buses and bicycles faster and safer. Notably, there's a TPC over the Pan Island Expressway (PIE), giving residents of this Tengah BTO easy access to Jurong town and the amenities there.
Motorists can access to the PIE towards the city and Changi Airport in two minutes or less, via a slip road on Tengah Boulevard. Return trips from the expressway (via Bukit Batok Road) will take slightly longer.
There is a petrol station at the Garden Terrace @ Tengah, and we thank the architect for deliberately minimising the number of units that will directly face the petrol station. The petrol station itself will benefit drivers, eliminating the need for detours to refuel.
Hong Kah MRT could be the slightly better MRT station to live near to, in terms of amenities. There will be a mixed commercial-residential development likely comprising a medium-sized shopping mall for daily necessities as well as leisure, dining and entertainment options. Secondly, residents are a direct, four-stop journey to the amenities at Boon Lay MRT, which include Jurong Point. Hong Kah MRT will also be more convenient for those working in Jurong Industrial Estate and Tuas.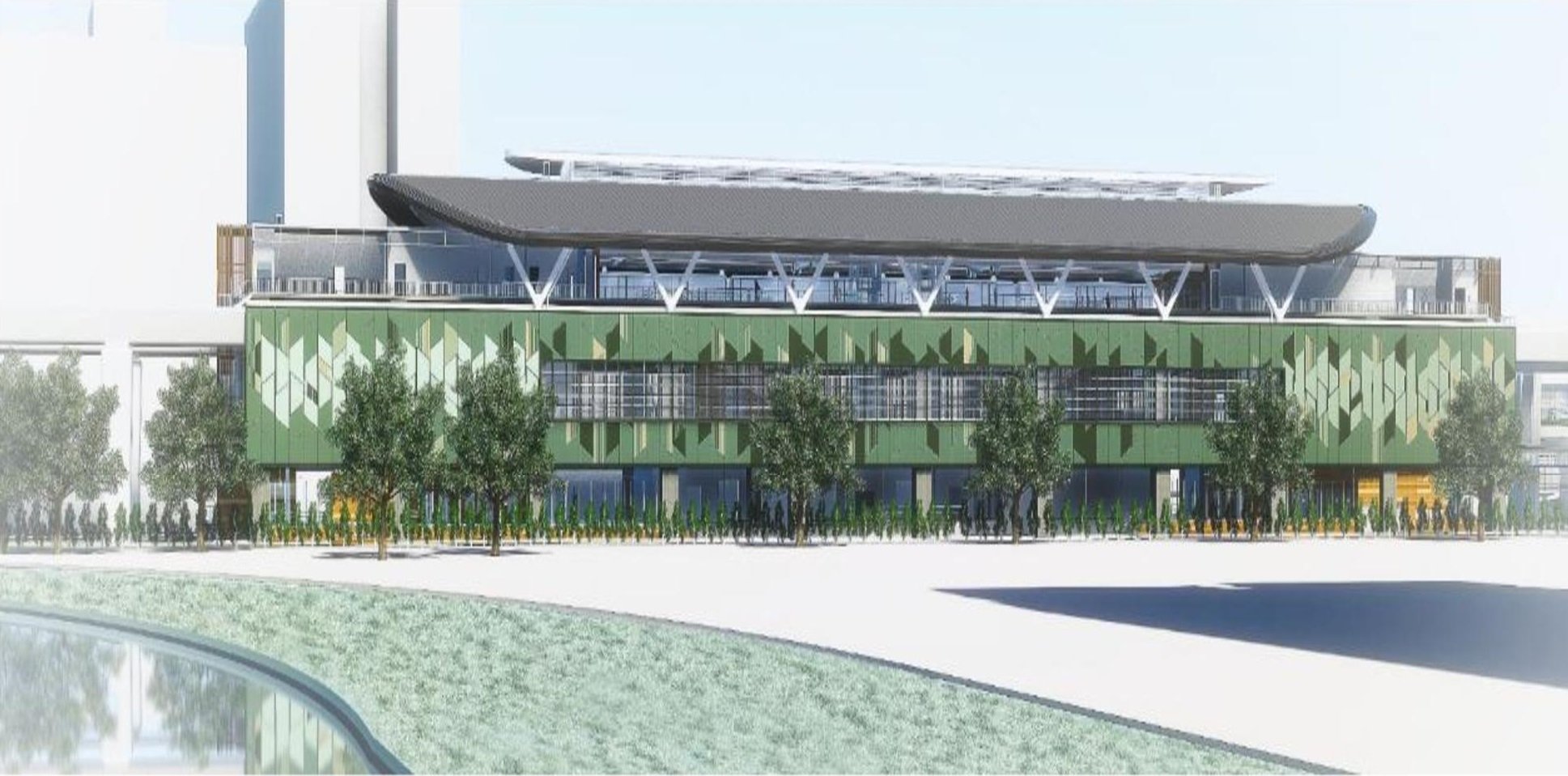 At Tengah Plantation MRT, there will be a smaller neighbourhood centre with eateries, some shops and a supermarket. A plus point: This will be completed sooner (in 2025) than the future mall at Hong Kah MRT.
Tengah Plantation MRT is the better MRT station to live near to if you commute frequently to the city, Buona Vista and Jurong East. Residents are a direct, four-stop journey to the hustle and bustle of the Jurong Regional Centre, where a second CBD (Jurong Lake District) and perhaps a high-speed rail to Malaysia could become reality in time to come.
Garden Court @ Tengah is slightly nearer to a massive health and medical centre that's planned for Tengah New Town. Both sites are within a seven-minute walking distance to this planned facility, details of which have yet to be announced.
Blocks closest to the junction of Tengah Garden and Plantation Crescent, even though they are furthest away from the MRT station, will be within a 10- to 12-minute walk, or a 5-minute bicycle ride, away from Tengah Town Centre.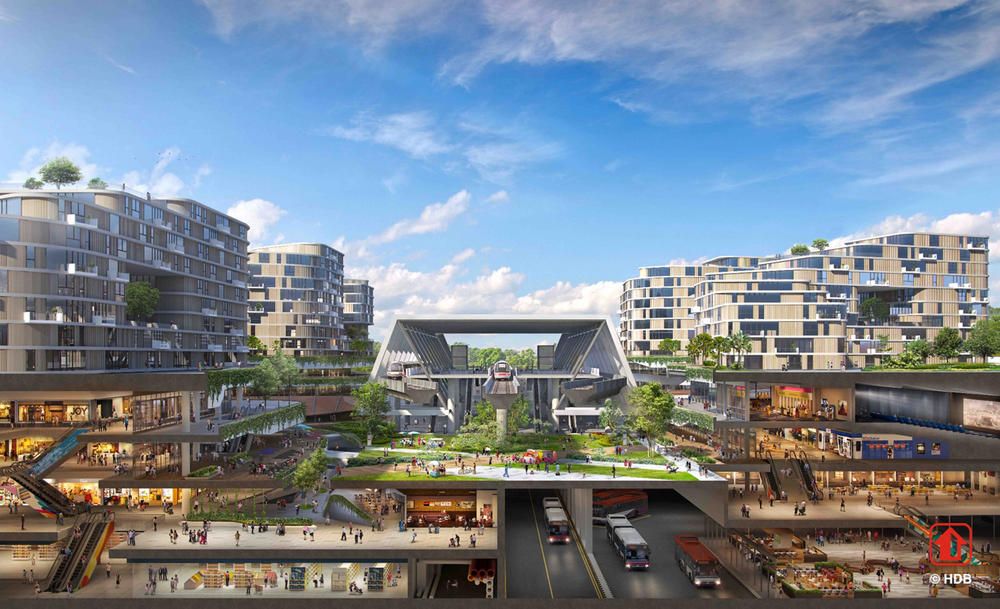 For recreation, residents are within a short distance from Tengah Pond. Tengah will also have several parks, a larger lake in the northern part of the town, and a sports and recreation centre near to Tengah Town Centre.
Both sites are within walking distance to a future watersports recreational facility, which could allow for activities such as kayaking on Tengah Pond.
Residents will also have direct access to Jurong Lake Gardens and Jurong East Sports and Recreation Centre, Swimming Complex and Stadium via the TPC and Jurong Park Connector. No need to wait for Tengah's own recreational facilities to be built!
The Nov 2020 Tengah BTO is potentially within 1km of three or four primary school sites. Details of primary schools in Tengah have yet to be announced, but construction shouldn't take long and should keep pace with population growth within the town. There are also at least four secondary school sites within Tengah.
One of the proposed primary school sites is right next to the Garden Court @ Tengah.
Existing schools in Jurong, such as Jurongville Secondary School and Fuhua Secondary School, are also easily accessible via the TPC across the PIE.
About a kilometre away from the up-and-coming Jurong Innovation District, a high-tech manufacturing and research hub that will support more than 95,000 jobs.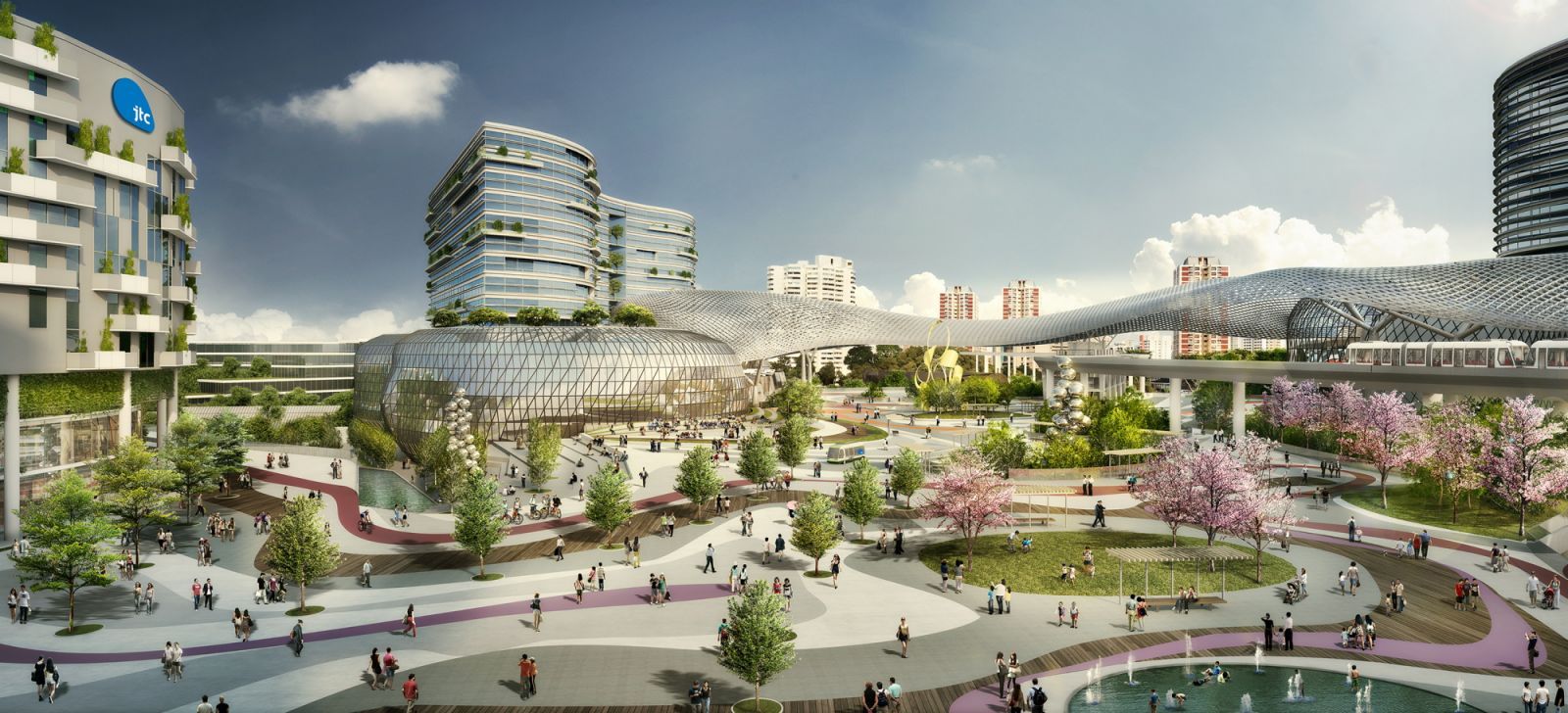 Expect lots of greenery, given HDB's ambition to build Tengah as a 'Forest Town'. The two sites will share a Common Green, which not only provides connectivity to green spaces throughout Tengah but also gives certain stacks a better view.
Flats will come with a subscription-based centralised cooling system which will eliminate the need for conventional air-conditioning compressor units. This next-generation technology is only available for Tengah BTO flats and is expected to be cheaper than conventional air-conditioning, although flat prices are slightly more expensive because the higher initial costs of the cooling system are likely factored into the pricing of the BTO flats.
The Cons:
In general, Tengah BTO residents will have to bear with inconveniences for the first few years of moving in, as construction work continues in the town and amenities are yet to be built. A lot of the time, they'll have to rely on amenities in nearby Jurong or Bukit Batok, or order what they need online.
Notably, the Jurong Region Line (JRL) will only be ready in 2028, at least three years after the flats are completed. In the meantime, residents will have to rely on bus services, which have yet to be announced. The TPCs will make bus journeys smoother, but we foresee many choosing to get their own car as transport.
Until the aforementioned health and medical facility is built, the nearest polyclinic at Tengah will be more than a kilometre away (at Parc Residences @ Tengah). Let's hope that there'll be a few GP clinics nearby or within this development, or a direct bus service to the polyclinic.
For both sites, there are blocks that are quite far away from the multi-storey car parks, which could prove a hassle for those who drive.
Stacks that directly face the multi-storey car parks are unattractive, and unfortunately there are a few of them in the Nov 2020 Tengah BTO sites.
There are several stacks that will have afternoon sun exposure. The more a unit is oriented towards the West, the greater the afternoon sun exposure throughout the year.
Applicants who choose stacks facing undeveloped land might have to deal with construction dust and noise.
As the JRL runs above ground on elevated tracks, units that directly face Plantation Crescent might either suffer from compromised views (lower floor units), noise issues when the JRL's running, or both. It's unclear how high they'll build the elevated tracks for the JRL, so our advice is to just avoid these stacks altogether unless you have no choice.
Getting to places further than Choa Chu Kang, Boon Lay and Jurong East via the JRL means commuters have a to switch lines, adding to commuting time.
It's likely that very few private-hire vehicles will be found roaming in Tengah in its early years. Be prepared to pull your hair out trying to call Grab, and endure longer waits for your orders to be delivered to your doorstep.
Important Note:
We'll likely see a childcare facility, some shops, a minimart and at least a food court in either site (mostly likely within Block 219 and 224), which will improve the overall liveability for the two sites in this Tengah BTO project.
Instead of multi-storey car parks, some earlier Tengah BTO launches (such as Plantation Grange across the road) feature a single-storey, semi-basement car park that lets car owners park their cars nearer to their blocks. But semi-basement car parks come with their own drawbacks, certain Punggol BTO projects have encountered pest issues stemming from these car parks that directly affect the units.
What else we noted about the Tengah BTO sites:
All standard fittings, doors and floorings will be included (there is no option to opt-out).
Tengah Boulevard will likely see the most vehicular traffic, followed by Tengah Garden Avenue. Traffic is expected to be slightly lighter on Plantation Crescent and Tengah Garden—something to take note if you're concerned about traffic noise for road facing units.
There will be Chinese temple and church directly facing the Garden Court @ Tengah. Places of worship might cause surrounding road congestion on days of worship. The Chinese temple is more of a concern when it comes to noise and smoke pollution, but we think the presence of JRL's elevated tracks is a bigger turn-off for applicants.
If you want a permanently unblocked view, your best bet is the higher floor units of the Garden Court @ Tengah facing the 'Future Primary School'' site. The highest floors will be able to enjoy a view all the way to Lim Chu Kang and possibly even Johor. Yes, there'll be afternoon sun, but you'll also have a lifetime supply of gorgeous sunsets.
It's unclear if the TPC connecting Tengah to Jurong (the one that goes across the PIE) will be ready by the time this Tengah BTO is completed. The absence of this link will isolate residents to the extent that living here could get pretty miserable.
[Recommended article: Here's proof that BTO prices are getting more expensive]
Our verdict on the Nov 2020 Tengah BTO
Comparing Garden Court @ Tengah and Garden Terrace @ Tengah, we must say there's very little between them that makes one site superior to the other. Rather, the pros and cons will mostly come down to the individual units. The best units, in our opinion, are either those high floor units facing the future school, or units facing the common green.
Take note that, depending on your work and lifestyle, choosing a flat nearer to Hong Kah MRT or Tengah Plantation MRT will make a lot of difference between convenience and hassle.
If you really want to live in Tengah and can afford to bide your time, you might want to hold out for the February 2021 BTO launch, or subsequent launches with better attributes than this one. The Feb 2021 site, for instance, is nearer to the upcoming Tengah Town Centre, bus interchange, Tengah Lake/Forest Park and the polyclinic, but further away from the PIE.
Should you apply for the Nov 2020 Tengah BTO?
Overall, the Nov 2020 Tengah BTO has a number of plus points, but also a long list of caveats. In terms of connectivity and amenities, it pales in comparison to the other non-mature estate project (Sembawang) in this BTO sales exercise, although that's to be expected as Tengah is a completely new town.
Before you apply, it's important to know that the Tengah BTO project will likely be priced higher than the Sembawang BTO project in the same sales exercise, despite both projects being equally far from the city and the Sembawang site having a greater number of amenities at residents' doorstep, not to mention a direct train route to the CBD.
So, why the higher price tag for Tengah? One reason could be the cost of the centralised cooling system, and the other could be that the applicant is somehow bearing a share of the cost of building up Tengah's ambitious portfolio of amenities.
Whether Tengah's BTO prices are justified, we might have to wait and see until the town takes shape. One thing's for sure: Most Singaporeans wouldn't have the patience to wait 10-15 years for Tengah to develop, but those who decide to take the gamble might eventually become proud residents of a town that's even more attractive than the current Jurong East or Bukit Panjang.
As an alternative, there are actually a handful of new four-room HDB resale flats in Bukit Panjang, Jurong West and Bukit Batok that are about the same price as Tengah's BTO flats, after taking the additional grants for resale flats into account. You may check them out here.
Like our analysis? Check out out other in-depth HDB Nov 2020 BTO reviews!
Bishan
Bidadari (Toa Payoh)
Tampines
Sembawang
Looking for an affordable home that's ready to move in? Find your dream resale HDB flat on Singapore's most intelligent property portal 99.co!
The post HDB Nov 2020 BTO In-Depth Review: Tengah (Garden Court + Garden Terrace @ Tengah) appeared first on 99.co.