Look, we know Singaporeans have a serious travel itch to scratch. Although paying a few hundred bucks for a three-night cruise to nowhere might somewhat satisfy your wanderlust during Covid-19, the potential disappointments are plenty (as Royal Carribean demonstrated with this recent Quantum of the Seas journey).
The popularity of cruises to nowhere, with their super-sized collection of facilities, prove just one thing: If they can afford it, Singaporeans will swap their HDB flats for condominiums in a heartbeat.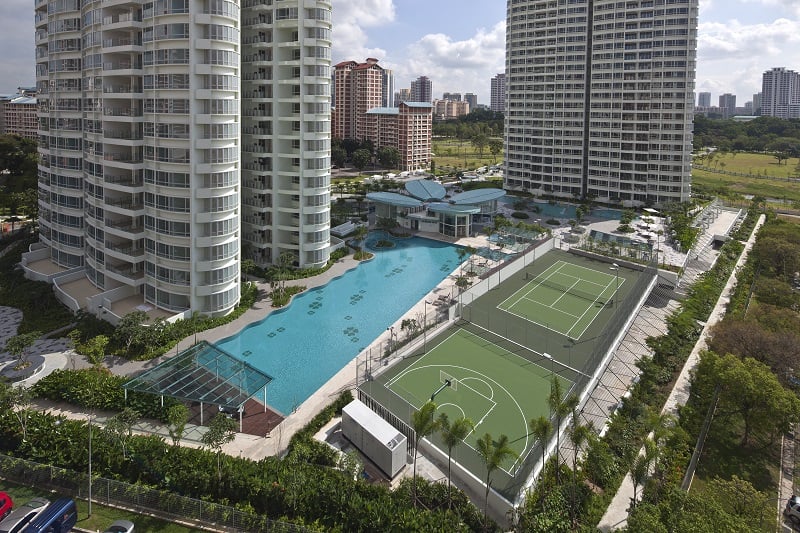 And here's the thing: Many Singaporeans do not know that they can rent a condo for a duration as short as three months (this is the minimum stay duration in a private residential property as stipulated by the Urban Redevelopment Authority, URA).
So, renting a condo in the name of a 'holiday' can actually be something worth considering. If you budget for a big holiday every year and spend anything from $5,000 and $10,000 for an overseas trip, here's why you should consider spending that money on renting a condo (if you don't already live in one) as your 2020/2021 holiday highlight.
#1: More bang for your buck
We have to address this upfront, because there are misconceptions as to how much it costs to rent a unit in a condo that's absolutely brimming with facilities.
If you're thinking $5,000 a month, you're wrong. Fact: Rental for a one-bedroom unit—in a recently completed condo with a full suite of amenities—can cost just $2,000 or even less, just check out our listings, there are options aplenty. (As a general rule of thumb, the more number of units in a condo, the more extensive the facilities.)
More importantly, there are very few hidden cost and add-ons unlike for a cruise, and in many cases the landlord will bear the cost of the agent commission. The only notable additional cost is the refundable security deposit (can be negotiated to half a month's rent) and utilities. The maintenance fees and use of a car parking lot is typically included in the rental.
For cruises, prices climb steeply once you attempt to upgrade to higher room categories. For the Royal Carribean Covid-19 cruise to nowhere, add a balcony and you'll pay at least $100 extra. Jump to a Junior Suite (still one-bedroom) and that's double the price, as the below screenshot shows: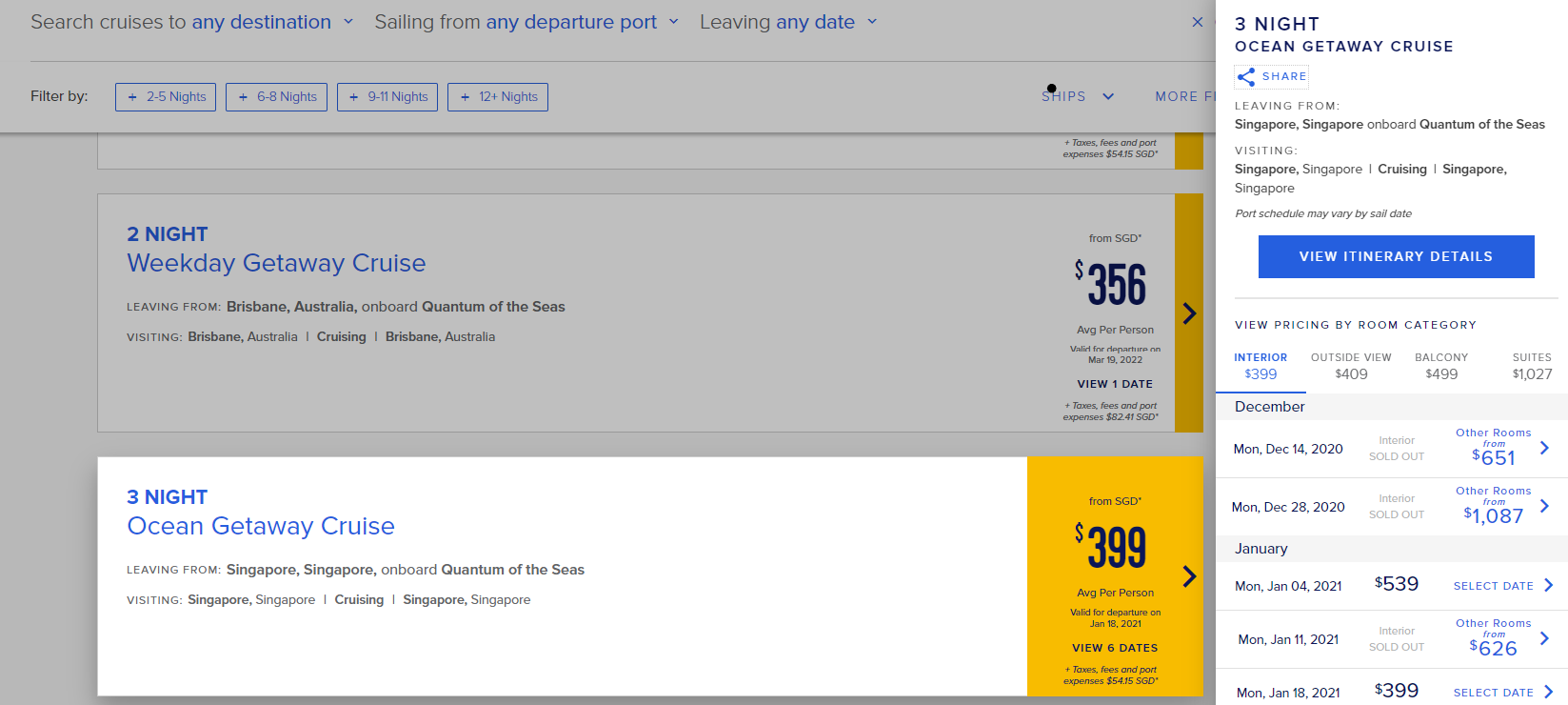 A condo is different; opting to rent the next biggest unit configuration within the same development could give you a lot more space with a difference of just $100 to $300 more in rental per month. This brings us to our next point:
#2: A shoebox condo feels like a mansion in terms of space, compared to cruise cabins
No matter how small a one-bedroom 'shoebox' condo unit is, it's still bigger than the Grand Suite aboard the Quantum of the Seas, which has an internal space of 351 square feet. Most one-bedroom condo units average 450 square feet (sq ft), and configurations between 500 to 600 sq ft are common. (Shoeboxes are typically defined as units 538 sq ft or under.)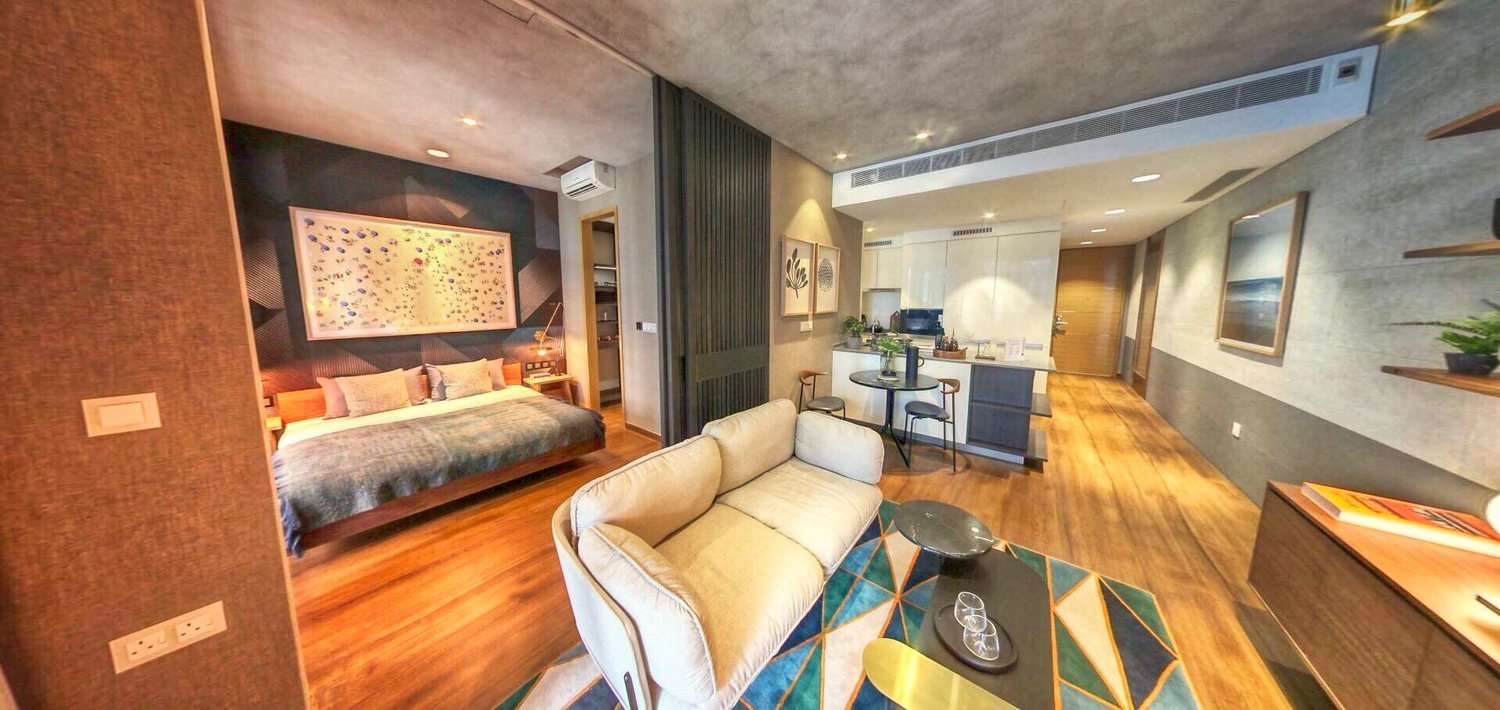 For a cabin size the equivalent of a shoebox condo unit on a Royal Carribean cruise to nowhere, you'd have to pay in excess of $3,000 for a three- or four-night affair. This makes $2,000-a-month condos fore rent almost a no-brainer.
And no matter how small a condo unit is, it will never, ever be as small as the entry-level cabins on board the Quantum of the Seas, which is a claustophobia-inducing 166 sq ft and no windows: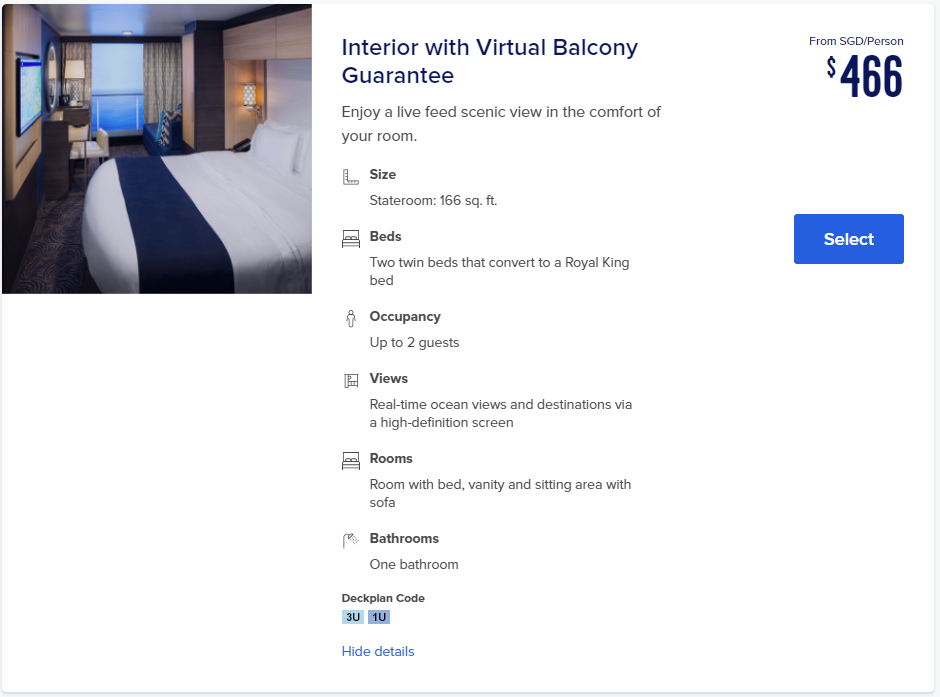 Don't get us started on the bathrooms. If you've been on a cruise, you know that the bathrooms are the worst part of the room. The shower stalls are typically, for the lack of a better description, standing coffins.
Cruise cabins also don't have kitchens, but condos do. Not that you'll ever tire of the variety of food options aboard a ship, but a stove and fridge is essential on a long retreat or extended holiday (which also explains the popularity of serviced apartments over hotels).
#3: Work-from-home means you'll get to enjoy every minute of condo living
Obviously, the idea of renting of condo as a holiday would be stupid if not for Covid-19, which has enabled many of us to work from home most days of the week.
Imagine being able to vary your work environment every day within the condo, whether it's from your study, the poolside, or a cabana in a lushly landscaped corner of a condo development. You'd likely feel more relaxed and also more productive.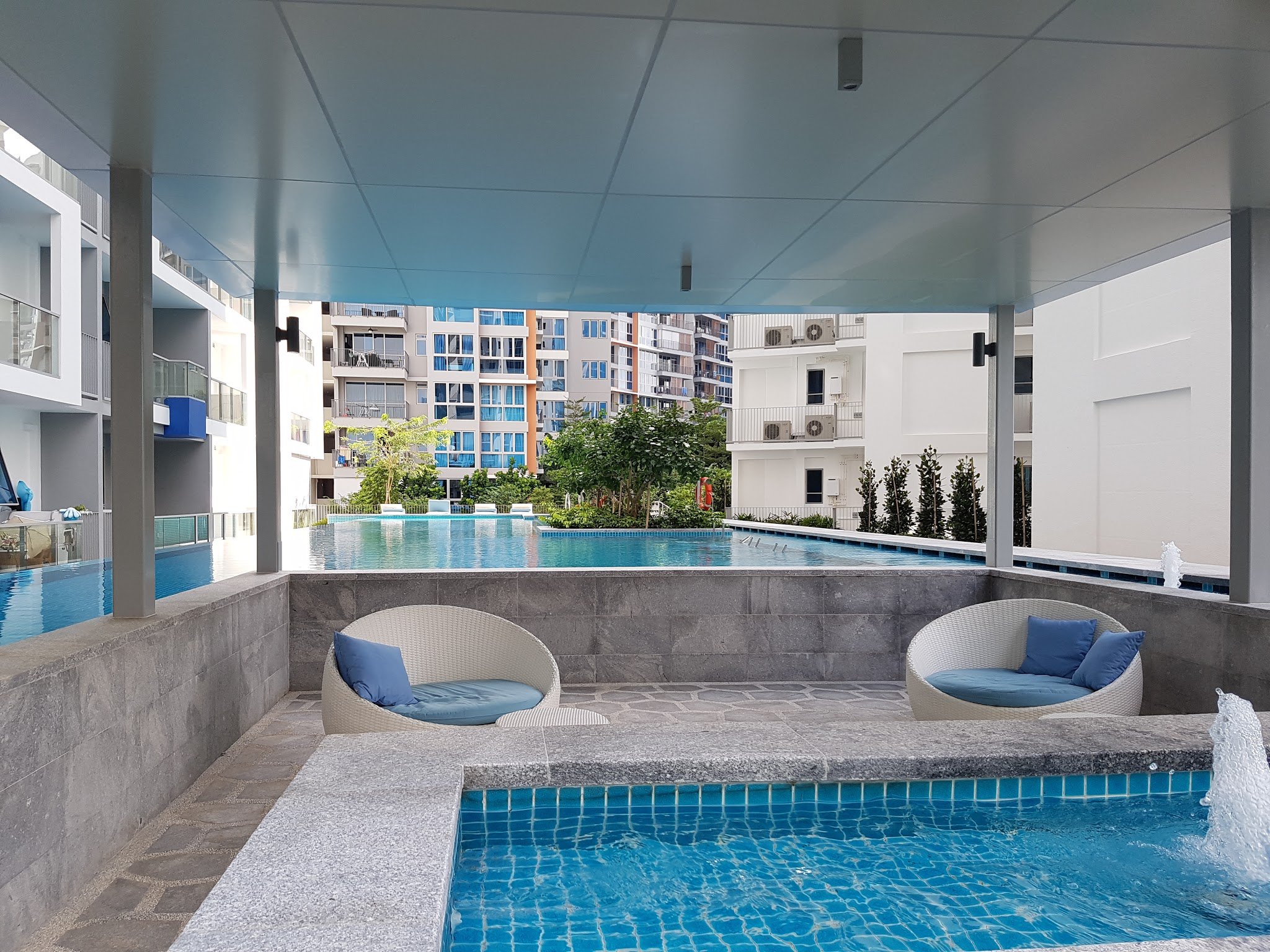 And imagine being able to take a break off work by just spontaneously doing a lap or two in the pool, or hitting the gym for a quick workout, or having a game of tennis. Even if you're just a tenant, you're typically entitled to the full use of the facilities as you'll get a resident's access card and also the credentials to the online facilities booking system that some condos have. It's like joining a club membership for the duration of your stay.
For those with kids, look out for condos with water slides and large playgrounds such as High Park Residences. (Condo facilities are allowed to open in Phase 2 subject to safe-distancing measures such as a maximum of five per group.)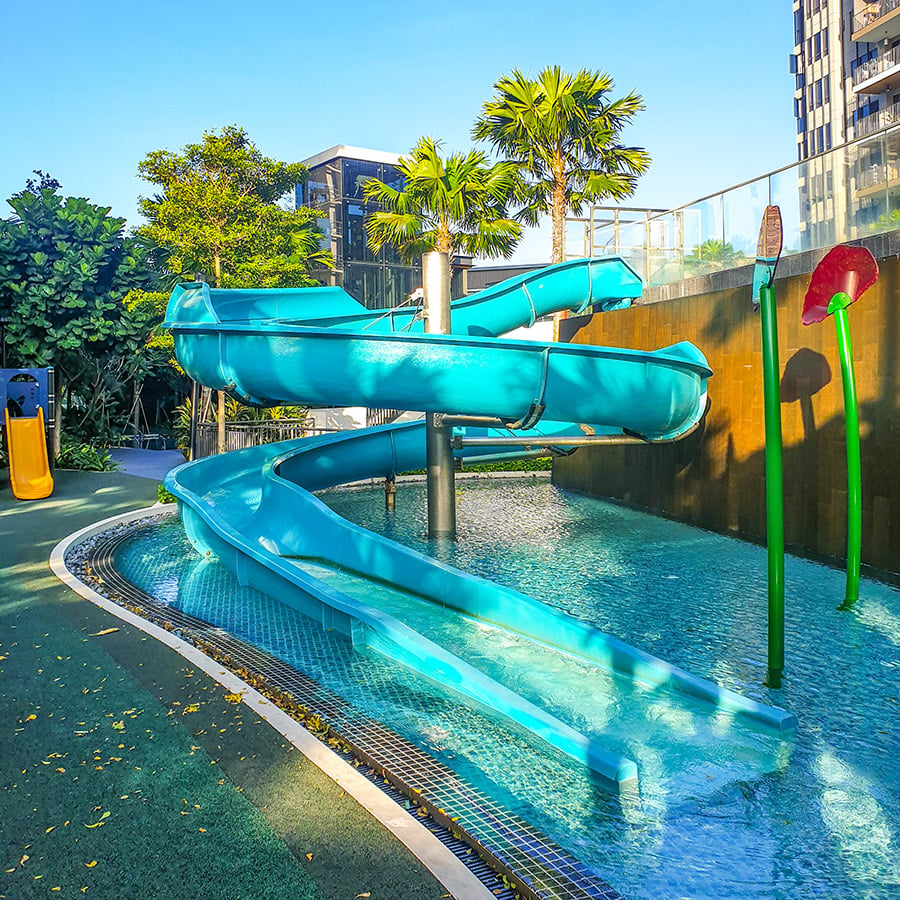 Come night-time, you can easily have you friends over for a gathering and, in Phase 3, you'll be able to organise small-group barbecues and movie nights at the theatrettes that some condos have.
The selling point is that you won't ever feel separated from your friends and family because you aren't out at sea in the middle of nowhere. You can order your favourite bak chor mee or briyani from your favourite hawker stall, or simply go cycling or shopping if you want to.
#4: It's actually a smart way to decide whether to buy a particular condo
"Rent before you buy" is a maxim in many countries, and refers to the advice to rent a place in a neighbourhood that you're not familiar with before committing to buy.
For Singapore, it's the same thing with condos. For first-time buyers and those looking to upgrade, it's a good opportunity to take your holiday budget and really try out condo life at a development you've had your eye on.
That's because certain things about a condo, such as its upkeep and its resident demographic, doesn't really become apparent from one-off property viewings.
Living there for an extended period of time is the only way to strike up a friendship with the security guard and get to know whether there are any skeletons in the closet, such as a dubious management committee.
Renting a condo for three months or six would be a good way to suss out any development, and it's something you can easily afford with your 2020/2021 holiday budget.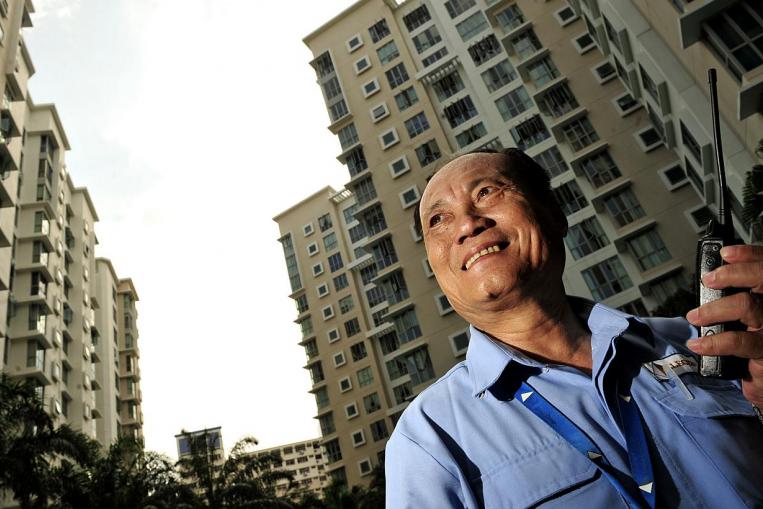 #5: Your experience won't end if someone in the condo gets Covid-19
Upon discovering a case of Covid-19 on board, the Royal Carribean cruise to nowhere was forced to return to port a day earlier than expected. It's certainly a bummer for many of the guests.
Such precautions are necessary for cruises. Because of narrow spaces and corridors on board, central cooling system and random strangers coming together, they have been likened to a floating Petri dish where an Covid-19 outbreak is more likely to happen.
In a far more spacious condominium compound, if someone in the development contracts Covid-19, that person is quarantined in his/her own home and contact tracing is conducted. Literally everything in the same block, as well as the common facilities, will be given a thorough cleaning, after which operations will resume as per normal.
Unlike on board a cruise, which will return to port when there's a positive Covid-19 case, nobody in a condo will be kicked out of their homes or asked to temporarily live elsewhere should there be the same. Your rental contract will still continue to run, and you can keep conducting your Zoom meetings by the pool.
Does renting a condo really make a good holiday experience during Covid-19?
Renting a condo actually goes beyond the standard definition of a holiday. A retreat comes to mind; it's particularly useful if you have a personal project or goal you hope to attain in the duration of the short lease, and would like to be in a different, optimised environment to focus and reach your objectives. It could be writing a book, losing weight, bonding with family or even all of these.
Renting a condo as a 'holiday' is also perfectly fine as a hedonistic way to spend your unused holiday budget from 2020 and 2021. Despite it being a splurge, it's actually very value for money especially for a family with kids where an overseas trip will can run close to or over five figures. You won't have to compromise on home comforts, such as space, if you live in a condo unit as opposed to a cramped cruise cabin.
Moreover, if flights do restart in 2021 and travel for leisure resumes, airfares are expected to be crazy high for awhile. At $1,000 per person for a return trip to Hong Kong, and possibly thousands for places like Europe, the cost of plane tickets for a family, or even a couple, doesn't justify a overseas holiday.
So, go easy on the staycations and cruises to nowhere. Rent a condo if you truly want to get over not being able to make that annual overseas holiday, or if you just want a getaway and live the condo life you've always wanted to try.
Will you rent a condo for 'holiday'? Share your thoughts with us in the comments below!
Check out these 5 SG condos that make you feel you're on holiday overseas despite Covid-19
Looking for a place to rent? Find your dream home on Singapore's most intelligent property portal 99.co!
The post 5 reasons why renting a condo is a better Covid-19 holiday than a cruise to nowhere appeared first on 99.co.