On 10 December 2020, HDB revealed more details about a new model of assisted living for seniors aged 65 and above, called Community Care Apartments. The first such project, to be released in February 2021's Build-to-Order (BTO) sales exercise and completed by 2024, will be located at Bukit Batok and comprise of 160 units to be sold on short-leases of 15 to 35 years.
The concept of assisted living isn't new. The idea is that seniors within an assisted living development will have their own individual apartments, whilst having easy access to a suite of on-demand services including personal care, laundry and meal provision.
Such an arrangement, when combined with communal facilities, enables ageing residents to retain their private home space (important for their mental well-being and sense of independence) while giving them a support network (from both the service provider and fellow residents).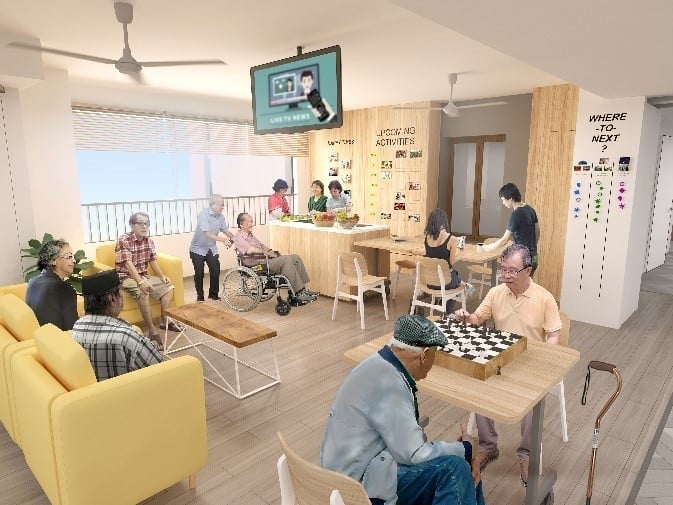 Compulsory services package: the key difference between Community Care Apartments and Two-room Flexi Flats
Buyers of HDB's Community Care Apartments are required to sign up and pay for a service package together with the price of their home. The cost of the basic services package for Community Care Apartments, according to HDB, starts from $22,000 for a 15-year lease (equivalent to about $1,467/year or $122/month) or $59,000 for a 35-year lease (about $1,686/year or $140/month).
The mandatory basic services package include 24-hour emergency monitoring and response service, basic health checks, simple home fixes and communal activities within the development. A community manager will also be on-site to organise community activities and help connect seniors to services should they require them, much like a conceirge. These additional services, which may include housekeeping, laundry, meal delivery and shared caregiving, will incur additional cost and is not part of the basic services package.
Aside from a compulsory basic services package, residents of the upcoming Community Care Apartments at Bukit Batok will also get a hawker centre as part of the development and be right next to the neighbourhood shopping mall that's part of the recently-completed Le Quest condominium.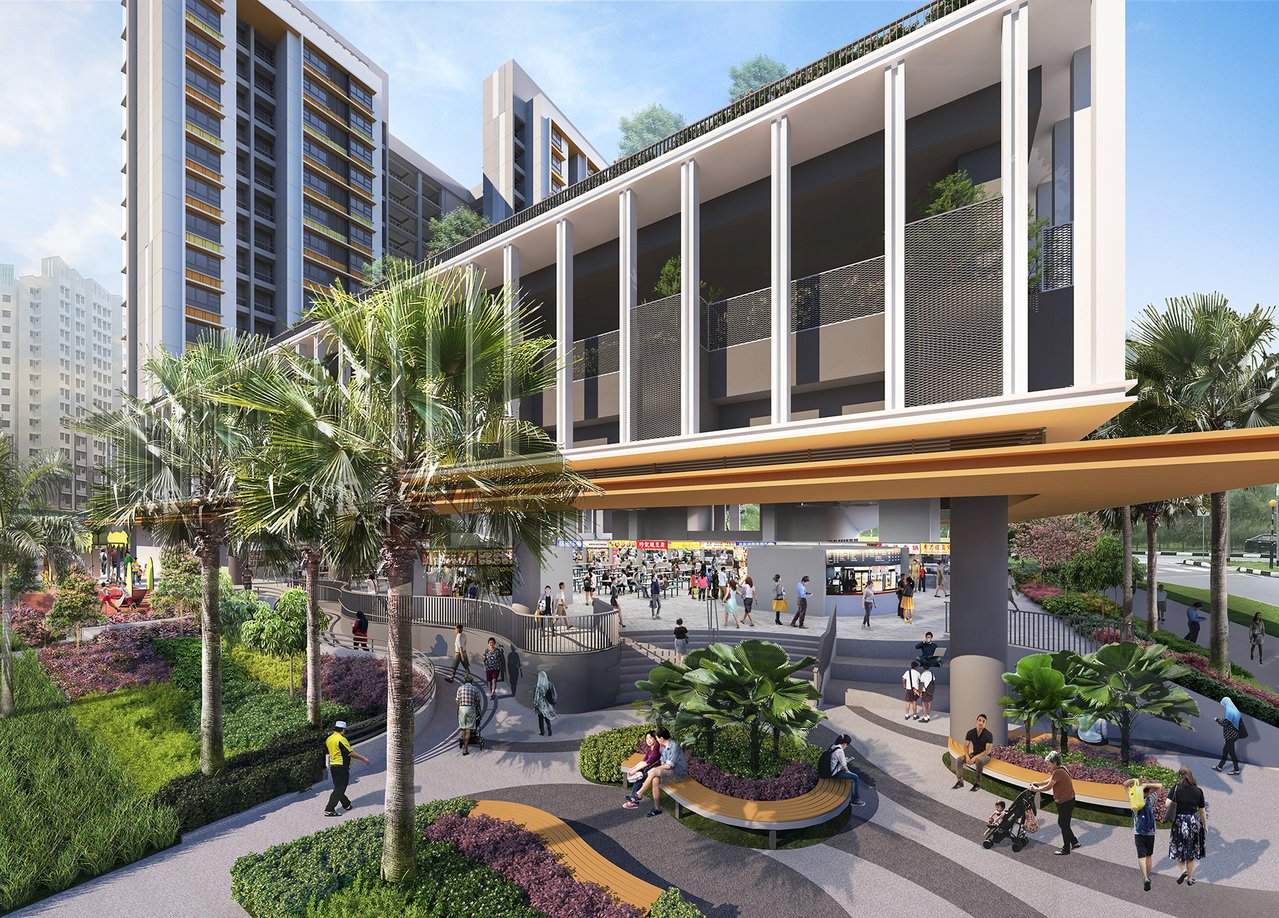 One thing to note is that payment for the services package is separate from payment for the flat itself. According to HDB, residents can choose to pay the full sum in cash (CPF cannot be used), or pay a portion of it in cash and a make subsequent $50 monthly cash payments.
For a 15-year lease, the initial payment for the basic services package, if making a partial payment, would likely be $13,000—not a small sum of money at all if it must be paid in cash. That being said, seniors can leverage government subsidies such as the Silver Housing Bonus, which gives seniors up to $30,000 in the form of a cash bonus when they sell their existing flat and use the proceeds to top-up their CPF Retirement Account.
The second biggest difference between Community Care Apartments and Two-room Flexi Flats: Space
According to HDB, the Community Care Apartments will be 32 square metres (sq m), or 344 square feet (sq ft), in size. Two-room flexi flats typically come in two configurations, the smaller one measuring about 40 sq m (431 sq ft). And here's the floor plan for a 40 sq m two-room flexi unit:
So, the Community Care Apartments will be smaller than the above by 8 sq m, or the size of a 2 x 4-metre room, and involves quite a significant downsizing of the living area. From the artist impression, we can see that the unit will have an open layout of a studio apartment with a sliding partition between the bedroom and living/dining/kitchen areas.
The units will also come fully-furnished with built-in cabinetry and fittings to reduce renovation time, and have senior-friendly fittings including grab bars and wheelchair-accessible bathroom with slip-resistant flooring.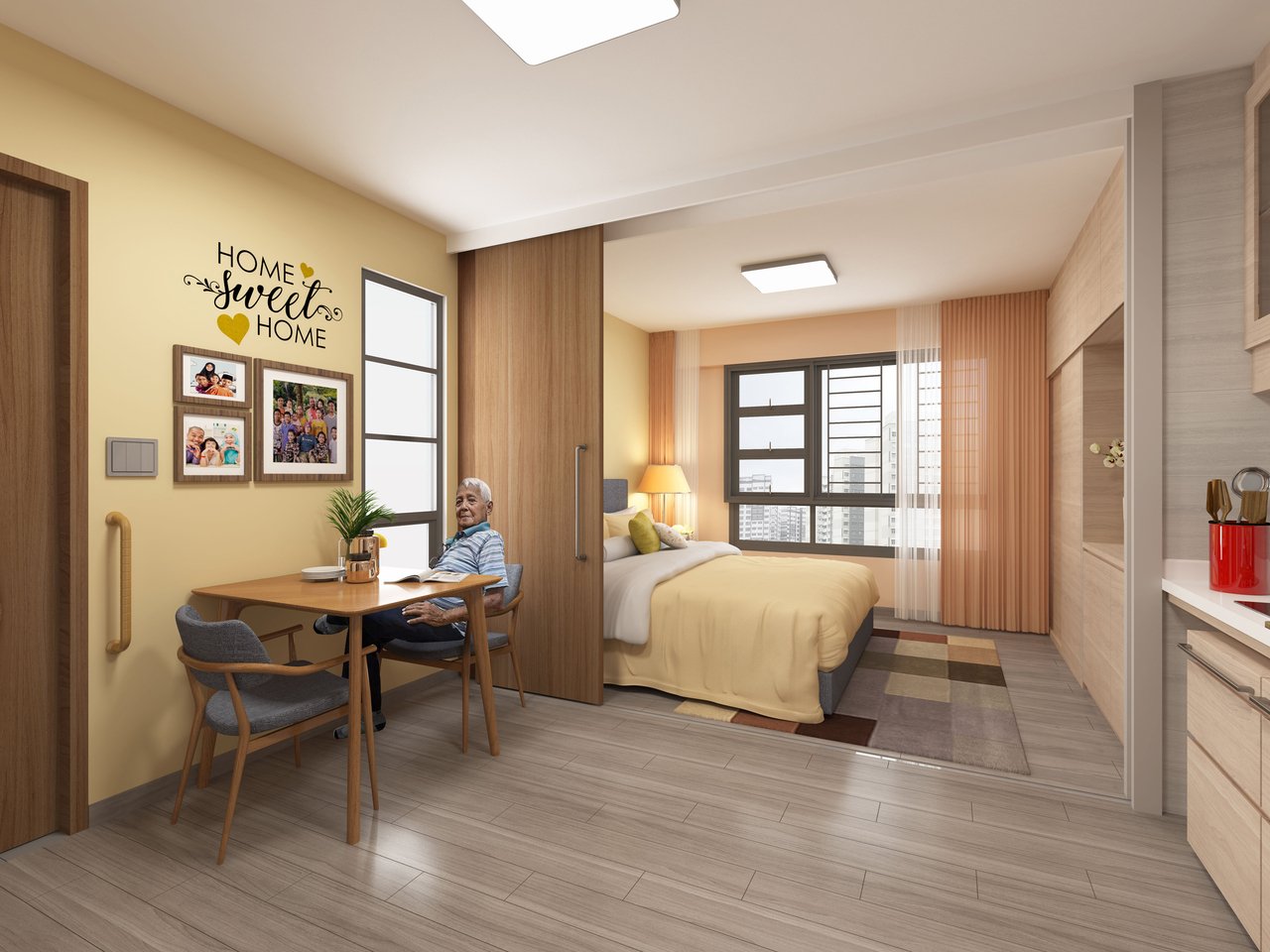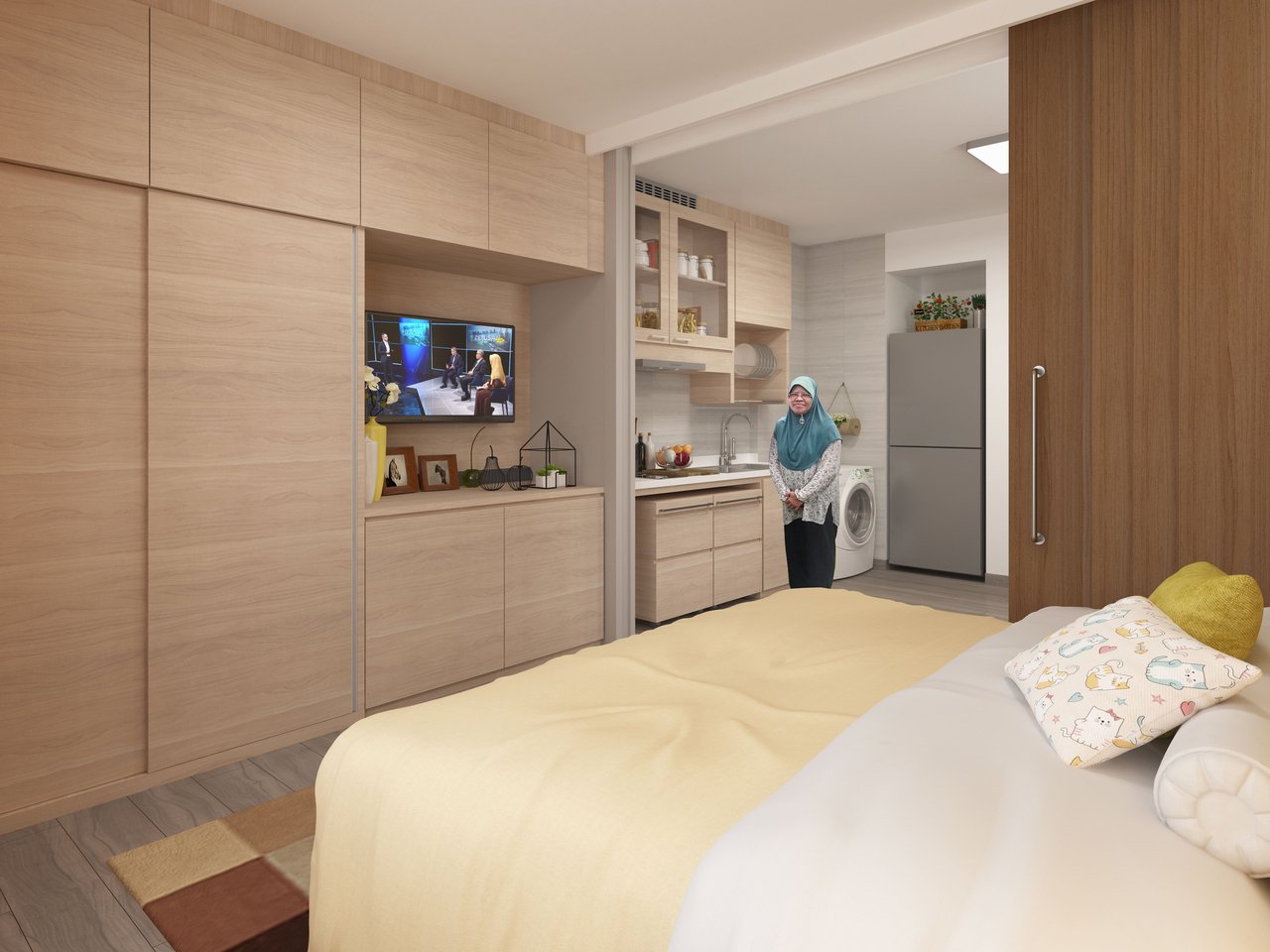 Although there's less space within individual units, HDB has indicated that there will be 50 sq m of furnished communal space on each level, which serves as "extensions of their own living rooms".
By the way, how will HDB's version of assisted living differ from nursing homes?
Compared to nursing homes, assisted living environments are designed to encourage seniors to be as independent as possible and is far less controlled and restrictive. A nursing home caters to seniors with needs that are greater than an assisted living environment can provide, such as personal assistance in multiple activities of daily living that include going to the toilet and showering. (Seniors also typically live in shared quarters, and lack private space, withing nursing homes.)
That being said, HDB recognises that seniors living within the Community Care Apartments may eventually need greater care needs. To allow for a smooth transition if the need arises, residents of HDB's Community Care Apartments at Bukit Batok will "get priority for admission to the nearby Bukit Batok Care Home should the need arise."
HDB also said in its joint release with MND and MOH that seniors with more pressing care needs, such as those requiring permanent assistance with activities of daily living, will be prioritised for the these flats. Full details on getting priority for these flats and eligibility conditions can be found here on HDB's website.
How else does Community Care Apartments differ from Two-room Flexi flats?
According to HDB, 40% of two-room flexi flats are reserved for seniors. Most such flats are located within larger developments with multiple unit types to facilitate the development of an inter-generational support network.
Aside from the compulsory services package and different unit sizes, here's a rundown on the key differences between HDB's Community Care Apartments and existing two-room flexi flats, including a cost comparison between the two.
For the most accurate comparison possible, we'll use two-room flexi flat details from the August 2020 Parc Residences @ Tengah launch, which is located just 300 metres away from the upcoming Community Care Apartments at Bukit Batok. Both Tengah and Bukit Batok are also classified as non-mature estates: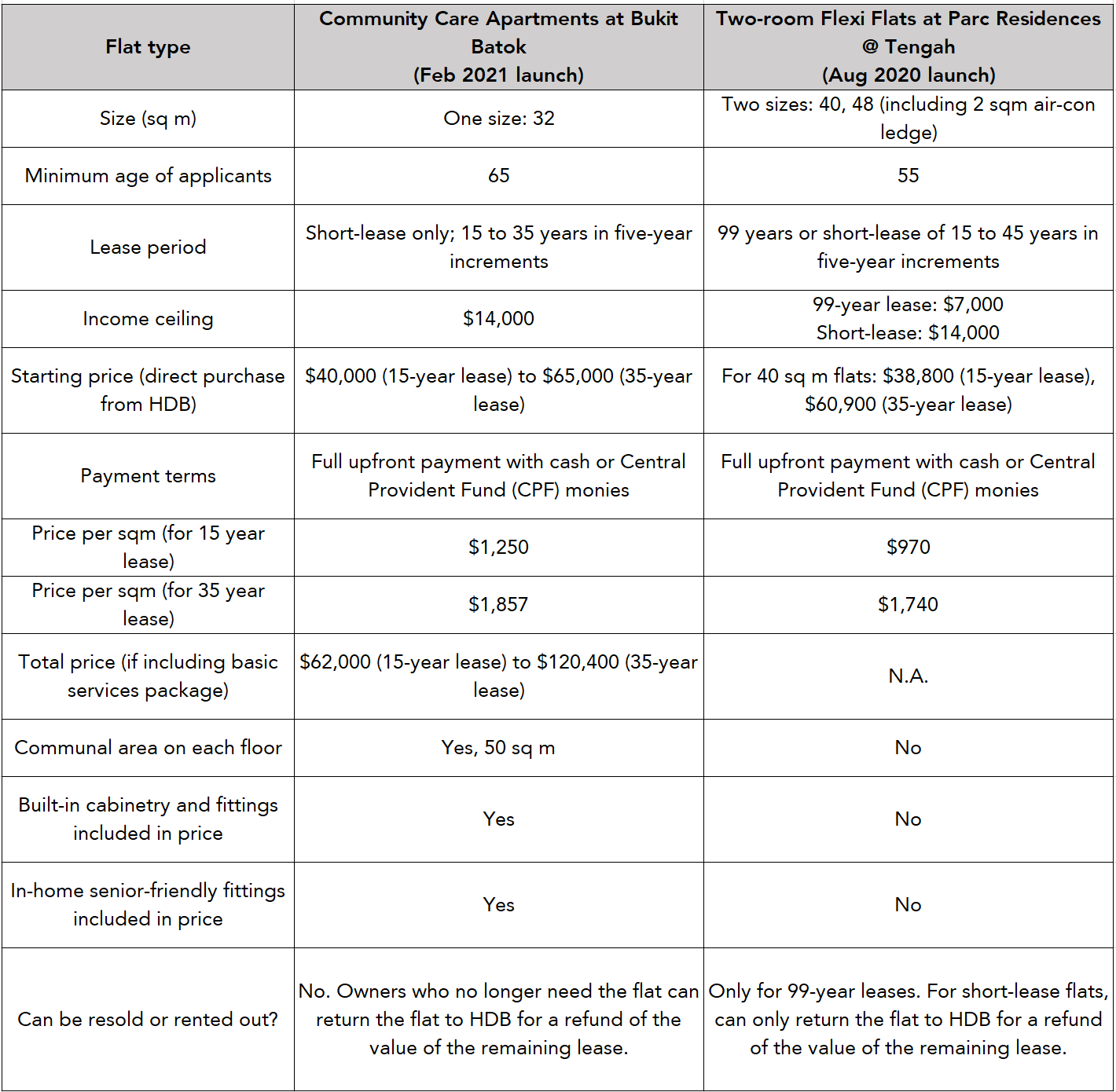 From the above, we can see that, on per square metre basis, the Community Care Apartments are more expensive than two-room flexi flats. That being said, the cost of the basic care package appears reasonable. At $122 to $140 per month, it's more affordable than hiring a live-in helper (about $850/month) or a live-in nurse (about $1,000/month).
And given the current lack of affordable assisted living alternatives in Singapore (private facilities cost at least $3,500/month), it's likely that the Bukit Batok apartments will receive a high number of applications next February. But, before you or your folks decide to apply, consider the following four questions:
Who will determine the appointment of the service provider and how will their performance be evaluated? In some assisted living environments overseas, residents get to be decision-makers and decide by vote who to appoint as their service provider for a fixed term of, say, three years. If the service provider does not meet the residents' expectations, they can get voted out. Having this system will increase the seniors' sense of belonging to the community and also increase accountability and the standard of care and service for residents.
If HDB is in charge of determining the service provider, how will it do so? HDB should avoid a situation where the lowest bidder gets the contract, and should ensure transparency in its process of selecting a service provider.
While residents who wish to move out can return the apartments to the HDB in return for value of the remaining lease, what about getting a pro-rated refund for the service packages they've paid in advance for? If they are ineligible for a refund, or are left to fend for themselves against the service provider in this situation, then that's plain unfair (there's no way of sugarcoating this).
How will the design of the flats allow for the provision of personal care services, but still allow for an environment that feels like a residential development (as opposed to a hospital)? Within the building, HDB can consider incorporating dedicated care corridors for healthcare workers and nursing-home staff, with service lifts that can possibly accommodate stretchers.
We feel that HDB needs to answer these questions to give Singaporeans peace of mind and help them decide whether to spend their golden years in a Community Care Apartment, or stick to options like rightsizing to a two-room flexi flat. Each has its own plus points, and more affordable housing options for seniors is always good news.
For those who have more questions for HDB, they can visit a life-sized showcase of the communal space, along with scale models of the block and flat, at the HDB Hub atrium at Lorong 6 Toa Payoh from 14 December 2020 to 31 March 2021. The full showroom of the flat will open from 4 January 2021 onwards.
(Attendance is by-appointment only. To visit the exhibition, make your booking via HDB InfoWeb.)
Will you consider living in a Community Care Apartment, or recommend someone to do so? Let us know in the comments below.
If you found this article helpful, check out Lease Buyback vs Rightsizing to a 2-Room Flexi HDB flat: Which is better for retirement? and Is HDB's Silver Housing Bonus scheme worth considering?
Looking for a property? Find your dream home on Singapore's most intelligent property portal 99.co!
The post HDB's new Community Care Apartments vs Two-room Flexi Flats: Which is better? appeared first on 99.co.