The year 2020 will indeed be one to remember for property owners.
For one, the construction delays and ensuing backlog due to Singapore's "circuit breaker" period, where many non-essential activities were halted; plus the COVID-19 clusters in the foreign worker dormitories that saw a peak of 1,369 new confirmed cases on 20 April. Thankfully, affected homebuyers could seek reimbursement from developers. In addition, flat-viewings were limited to online only, and condo showflats were closed until 18 June.
Related article: How Real Estate Trends From Singapore's Last Recession Could Inform Property Predictions In 2020
Did we mention that there's an ongoing recession in Singapore due to the worldwide coronavirus outbreak? The Singapore government expects the economy to drop by 5% to 7% this year, surpassing the record 2.2% contraction posted in 1998. It also marks the worst recession since the city-state's independence in 1965.
Despite this, there's been resilient property demand in the face of COVID-19 and recession. In our PropertyGuru Singapore Property Market Index Report Q3 2020, we observed trends such as a slight growth in property asking prices, and a preference for new launches over resale condos. In our PropertyGuru Singapore Property Market Index Q4 2020, we gleaned similar insights — there were 15.6% more new launches than resale condos sold (+5% quarter-on-quarter, or QoQ) and almost 40% of the properties transacted were in the $1 million to $1.5 million price range. 
Related article: Undeterred By COVID-19, Singaporeans On Property Buying Binge
As we welcome 2021, let's take a look back at the new condo launches of 2020 — which were the top-sellers, what were their individual launch performance and why were these particular new launch condos so popular?
Top Selling New Launch Condos in 2020
These new launch condos were literally hot property — looking at how quickly they sold at launch, you'd think 2020 was a bumper year and not one fraught by the global scourge that is COVID-19. Arranged by launch date in ascending order, here are the top performing new condo launches this year:
1. Parc Canberra EC — 64% Sold During Launch Weekend
| | |
| --- | --- |
| Parc Canberra EC |   |
| Launch date | 15 Feb 2020 |
| Developer | Hoi Hup Sunway Canberra |
| Average price | $1,085 psf |
| Location | Canberra Walk Singapore 757063, Sembawang / Yishun (D27) |
| Completion  | 2023 |
| Total units | 495 |
During this executive condo (EC) launch, COVID-19 was well underway. There were precautionary measures at the showflat such as temperature taking, noting down info for contact tracing and staggering the drop-off of ballot tickets.
What's stellar about this EC is that it's located in the up-and-coming area near Canberra MRT, where a slew of developments such as an integrated sports and community hub are coming up. This, coupled with the existing amenities and proximity to the MRT station (just 300m away), make it a top pick.
Related article: Parc Canberra Review: Is this the most accessible EC ever launched?
In addition, Parc Canberra EC is very tech and design-centric, with all units integrated with sophisticated smart home technology and sleek Bosch kitchen appliances, Duravit sanitary wares, Hansgrohe sanitary fittings and Nespresso coffee machines. While channeling a "casual Aussie hipster cafe aesthetic", Parc Canberra EC also sports water cascades and green roofs.
Another benefit is that, being an EC, property buyers could enjoy a CPF housing grant of up to $30,000 and could opt for a deferred payment scheme.
Find out more about Parc Canberra EC.
2. The M — 70% Sold During Launch Weekend
| | |
| --- | --- |
| The M condo |   |
| Launch date | 22 Feb 2020 |
| Developer | Wing Tai Asia |
| Average price | $2,450 psf |
| Location | Middle Road, 188940, Beach Road / Bugis / Rochor (D07) |
| Completion  | 2024 |
| Total units | 522 |
When The M opened for public preview on 15 Feb, a week before bookings opened, it saw over 2,000 visitors. This was partly due to the fact that The M was the first major private residential development that opened for public preview since COVID-19 hit our shores.
Related article: 3 Key Reasons Why The M Condo Was a Success, Despite the Coronavirus Outbreak
Located in the heart of Singapore at Middle Road, The M will be located in the Ophir-Rochor Corridor, a prime location that is quickly becoming a vibrant, mixed-use and soon-to-be car-lite district. It is close to Bugis MRT interchange (350m), Esplanade MRT Station (600m) and City Hall MRT Station (700m).
The design concept of Home/Work for The M's studio and one-bedroom units makes perfect sense in an era where work-from-home is the new normal — living areas can be converted into workspaces and vice versa with innovative touches such as a multi-function kitchen table/work desk and a sliding wardrobe/workspace storage solution.
In addition, the amenities in the area are top-notch, with shopping malls, major medical facilities, performance arts venues and the central business district close by. For the area, The M — where units are priced from below $1 million for a studio — has potential to provide good rental yield.
The M was also named Best Private Condo Interior Design (Singapore) 2020 and Best Residential Smart Building Development (Singapore) 2020 in the annual PropertyGuru Asia Property Awards.
Find out more about The M.
3. Forett at Bukit Timah — 30% Sold During Launch Weekend
| | |
| --- | --- |
| Forett at Bukit Timah condo |   |
| Launch date | 8 Aug 2020 |
| Developer | Qingjian Perennial (Bukit Timah) Pte Ltd |
| Average price | $1,880 psf |
| Location | Toh Tuck Road, 596710, Clementi Park / Upper Bukit Timah (D21) |
| Completion  | 2024 |
| Total units | 633 |
Virtual balloting for Forett at Bukit Timah was indeed one for the books in 2020. Conducted via Zoom and streamed on Facebook Live, the event — attended by over 23,000 viewers, some based as far as the US — was hosted by Singapore artiste Irene Ang alongside deputy general manager of Qingjian Realty Yen Chong.
Related article: One-Third Of Forett At Bukit Timah Sold Since Launch
The novelty and entertainment value of the launch event aside, Forett at Bukit Timah, being a freehold property, attracted many buyers. About 90% are Singaporeans and many are owner-occupiers; some purchases were also made by parents who purchased multiple units for their adult children, as well as family members/siblings who wanted to stay close to each other.
For those wanting to stay in the prestigious Bukit Timah area, Forett also offers attractive amenities and transport links. The condo is located close to the Bukit Timah Nature Reserve, Bukit Batok Nature Reserve, the Rail Corridor and its residents will benefit from the future Beauty World Integrated Transport Hub.
Forett at Bukit Timah also clinched multiple awards at the 2020 PropertyGuru Asia Property Awards — it was named winner in categories Best Private Condo Development (Singapore), Best Private Condo Landscape Architectural Design (Singapore); and was highly commended for Best Private Condo Architectural Design (Singapore) and Best Sales Gallery Architectural Design (Singapore).
Find out more about Forett at Bukit Timah.
4. NoMa — 66% Sold During Early Bird Sales Weekend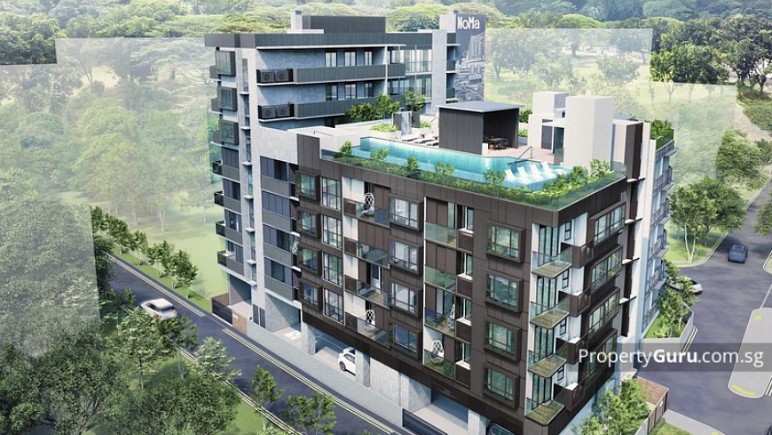 | | |
| --- | --- |
| NoMa condo |   |
| Launch date | 29 Aug 2020 |
| Developer | Macly Group |
| Average price | $1,644 psf |
| Location | Guillemard Road, 399756, Eunos / Geylang / Paya Lebar (D14) |
| Completion  | 2023 |
| Total units | 50 |
You probably have heard about this particular development on the news or seen images on social media — just like in the animated movie Up, 2 terrace house owners stubbornly refused to sell their units. In this case, NoMa developer Macly Group has no choice but to build around their homes. Hence, Macly Group had to drastically change the project's design.
Funny news aside, many units were snapped up during the early bird sales weekend in August. In fact, 62% of the units were sold within just an hour of their release. By noon on the same day, all of NoMa's one-bedroom units had been snapped up.
Related article: NoMa Project Review: Is Geylang the new place to be?
Interestingly enough, the early bird sales event was conducted virtually via Zoom, and buyers were not physically present at the showflat.
The popularity of NoMa could be in part due to the exclusivity of the units — with just 50 units available, the limited supply could have inflated demand. It's also located in a central area, Geylang, which saw many areas under rezoning from residential to commercial by the Urban Redeveloped Authority.
NoMa, inspired by New York City's NoMad district (short for North of Madison Square Park), is a trendy and vibrant area that was revamped from a cluster of wholesale stores to one of the coolest places to be seen. There you'll find the swankiest hotels, popular drinking holes and restaurants. Just like how Geylang used to be a notorious red-light district, it's becoming popular with yuppies, foodies and real estate.
Find out more about NoMa.
5. Verdale — 50% of 78 Released Units Sold During Launch Weekend
| | |
| --- | --- |
| Verdale condo |   |
| Launch date | 19 Sept 2020 |
| Developer | COLI Singapore and CSC Land Group (Singapore) |
| Average price | $1,741 psf |
| Location | De Souza Avenue, 599458, Clementi Park / Upper Bukit Timah (D21) |
| Completion  | 2023 |
| Total units | 258 |
On 19 Sept, half of Verdale's 78 released units were snapped up. The development has a total of 258 units. Given that it's a 99-year leasehold property in the same district as Forett at Bukit Timah, Verdale did well despite the competition.
According to the developers, sales momentum was "driven by a mix of demand from buyers in the immediate vicinity and other districts, drawn to the tranquil surroundings of the nearby nature parks, as well as the potential and heightened connectivity of the future Beauty World Integrated Transport Hub (ITH)".
Related article: Verdale Project Review
The condo, with its lush and tranquil surrounds, also features a Forest Bathing concept, made popular by the Japanese who believe that spending time immersed in greenery and connecting with nature could have positive effects on one's physical and mental health.
Price-wise, one-bedroom units were going from $791,000 to $878,000, a steal in the expensive neighbourhood of Bukit Timah. The condo also includes smart space solutions, smart fittings and furnishings, and high-quality appliances for residents.
Find out more about Verdale.
6. Penrose — 60% Sold During Launch Weekend
| | |
| --- | --- |
| Penrose condo |   |
| Launch date | 26 Sept 2020 |
| Developer | Hong Leong Holdings Limited and City Developments Limited |
| Average price | $1,600 psf |
| Location | Sims Drive, 387395, Eunos / Geylang / Paya Lebar (D14) |
| Completion  | 2025 |
| Total units | 566 |
Another virtual event in light of the COVID-19 outbreak, balloting and booking of Penrose units were done via Zoom. For the location, a short walk to Aljunied MRT station and close to major expressways, prices were close to market rate, with a one-bedder starting from $788,000 and up to $2.11 million for a four-bedroom apartment. Located on the city fridge, the project is also close to town and the CBD.
Related article: Penrose Project Review: Well-Priced, Well-Designed and Well-Situated
Designed by award-winning architecture firm P&T Group and given CDL's focus on sustainable living, Penrose features open lawn areas integrated with a full suite of full condo facilities. The interior also features three forest themes, and residents will have a panoramic view of the surrounding Sims Drive area and Singapore's iconic city skyline from the condo's Sky Garden or from selected units.
What's up-and-coming for the Kallang area is Kallang Alive, six sport developments that will be built to complement Singapore Sports Hub.
Find out more about Penrose.
7. The LINQ @ Beauty World — 96% Sold at Launch
| | |
| --- | --- |
| The LINQ @ Beauty World condo |   |
| Launch date | 14 Nov 2020 |
| Developer | BBR Holdings (S) Ltd  |
| Average price | $2,175 psf |
| Location | Upper Bukit Timah Road, 588173, Clementi Park / Upper Bukit Timah (D21) |
| Completion  | 2023 |
| Total units | 120 |
Of all the new launch condos, The LINQ @ Beauty World was probably one of the best-selling projects (if not the best) in 2020 by percentage. The mixed-use development, which is also freehold, will have two floors of shops and a direct link to Beauty World MRT station.
Related article: The LINQ @ Beauty World Project Review: Urban Living Surrounded by Convenience
As practical as its transport links, location and price for the area, balloting and bookings for the units were done online, via digital booking platform Showsuite. Another factor that drove demand is likely the fact that many buyers had been waiting for the launch since the en bloc sale of Goh & Goh Building in 2017 by BBR subsidiary Alika Properties. The original asking price for the 2,868.3 sqm freehold site in Upper Bukit Timah Road was $120 million but the sale was closed at $101.5 million.
On launch day, the 15 one-bedders that were priced above $990,000 were the first to be snapped up, followed by the 45 two-bedders and 15 four-bedders.
Find out more about The LINQ @ Beauty World.
8. The Landmark — Over 90% of 120 Released Units Sold on Launch Day
| | |
| --- | --- |
| The Landmark condo |   |
| Launch date | 28 Nov 2020 |
| Developer | Landmark JV Pte Ltd (Joint Venture by ZACD Group Limited, MCC Land and SSLE Development) |
| Average price | $2,250 psf |
| Location | Chin Swee Road, 169878, Alexandra / Commonwealth (D03) |
| Completion  | 2025 |
| Total units | 396 |
The Landmark's unbeatable views and iconic address of Chin Swee Road made it such an attractive project for property buyers. Another factor is that one of the developers, SSLE Development, is the property development division of Sin Soon Lee Group, the company that constructed the HDB blocks located off Chin Swee Road.
Related article: The Landmark Project Review: City Fringe Living With Great Convenience
Named after Landmark Tower, which overlooked Pearl's Hill City Park on the building site, The Landmark condo will, too, feature breathtaking views of the Singapore skyline and its location in the heart of Singapore means that amenities and transport links are aplenty. It's also near to the upcoming Greater Southern Waterfront, stations on the Thomson-East Coast MRT line as well as Singapore General Hospital, which is undergoing expansion.
During the launch event, which was held virtually across five locations, buyers snapped up one-bedroom units priced from $1,955 psf. Other features of The Landmark will be five decks of lifestyle facilities at various heights and a carpark that spans three basement levels.
Find out more about The Landmark.
Other Top Selling Condos in 2020
In addition to the above, new condos in previous years that have yet to obtain their Temporary Occupation Permit (TOP) are still seeing good sales.
Treasure at Tampines

JadeScape

Parc Clematis

The Florence Residences

Affinity at Serangoon 
Treasure at Tampines (TOP 2023) is still going strong as units in the development are well-priced from $625,000 for a one-bedder. You might also want to consider JadeScape (TOP 2023) for its excellent location along Shunfu Road (and there's no other new launch in that area currently).
Parc Clematis (TOP 2023) located in Clementi is an award-winning development in the private residential estate of Jalan Lempeng yet close to key transport nodes. The Florence Residences (TOP 2023), close to Kovan MRT station, in addition to its good location, has features such as 12 uniquely-themed clubs and an impressive 128 different facilities that include everything from detoxifying salt pools and karaoke theatre to a high ceiling dining suite and community gardens.
Last but not least is Affinity at Serangoon (TOP 2024), close to popular shopping mall Nex, Serangoon Gardens and Chomp Chomp Food Centre.
Most of these condos are also located in the suburban regions of Singapore so their starting prices for a one-bedder are in the $600,000 region, with the exception of JadeScape, which is approaching $800,000.
What will the new condo launches of 2021 hold? Well, we're definitely eyeing the freehold projects and the upcoming ECs. Find out more about the upcoming projects here: 19 New Launch Condos and ECs in 2021: Which to Buy?
For more property news, resources and useful content like this article, check out PropertyGuru's guides section. 
Are you looking to buy a new home? Head to PropertyGuru to browse the top properties for sale in Singapore.  
Already found a new home? Let PropertyGuru Finance's home finance advisors help you with financing it.
This article was written by Mary Wu, who hopes to share what she's learnt from her home-buying and renovation journey with PropertyGuru readers. When she's not writing, she's usually baking up a storm or checking out a new cafe in town.