Many of us are familiar with the uniquely Singaporean 'proposal' that goes something like, "Want to BTO?"
For young couples, Build-to-Order (BTO) flats are an affordable first home that many aim for. Besides the subsidised flat prices, they're also offered more time to save up to finance the flat.
However, HDB resale flats are increasingly popular these days, especially given the longer waiting times for BTO flats.
Trouble is, unlike BTOs, HDB resale flats are not subsidised. Additionally, HDB resale flat prices have been on the rise – the HDB Resale Price Index (RPI) has risen quarter-on-quarter for at least a year! We'd say that's pretty amazing, especially considering that we're amid a recession and pandemic.
Buying an HDB Resale Flat in Your 20s
For couples in their 20s, purchasing a resale flat as a first home may seem difficult to achieve. If you're in that boat and would appreciate some tried-and-tested tips, here's the story of how one couple managed to pull this off.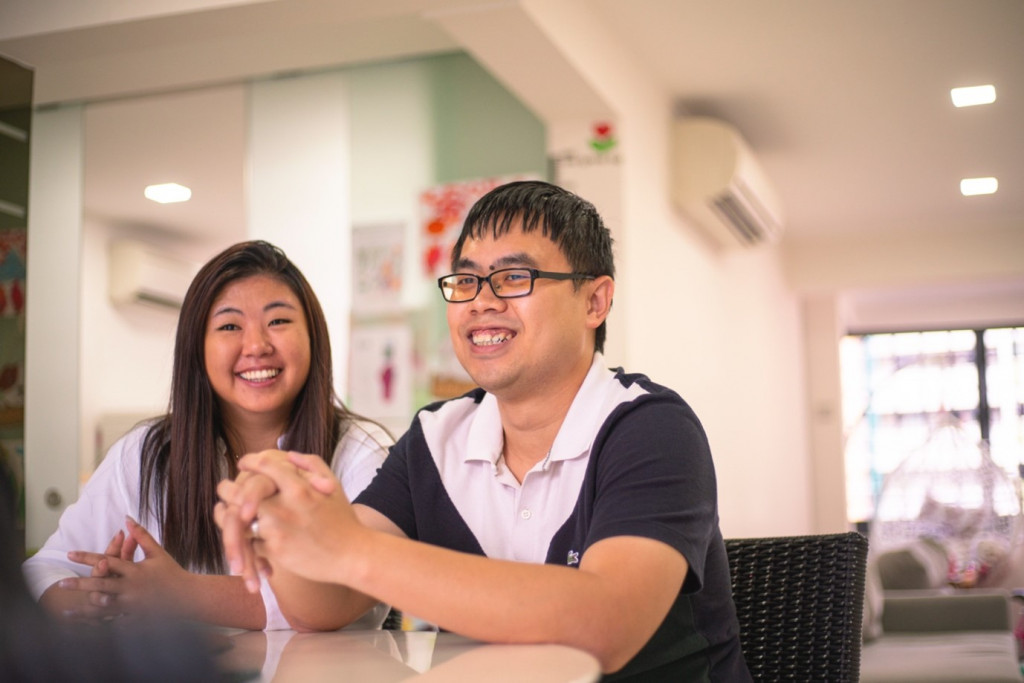 James Wong and Christella Lim have been married for nearly five years, and together they raise two young daughters in their 5-room resale flat in Bedok. The pair was 26 and 27 years old when they tied the knot in 2016, and were in for a whirlwind year in 2017 — they discovered Christella was pregnant in March. By July, they'd managed to secure their flat, had sufficient time for renovations and furnishing, and were ready to move in by the time their elder daughter was born.
While they both chalk it up to being extremely lucky, it's clear that there are nuggets of wisdom to learn from their experience. They share with us six useful tips that helped them in their home purchasing journey.

Tip #1: Have a Game Plan
Planning makes everything easier. With James and Christella, it's evident that they had discussed and laid out plans for the future well in advance, and were able to quickly move through the home buying process swiftly and efficiently.
For instance, the couple had already decided on the kind of housing they were looking for. While their pregnancy provided some urgency in their resale flat purchase, James and Christella had always known they didn't want a BTO flat despite most of their peers gearing towards applying for BTO.
"We heard comments (from those who were buying BTO) about how they have to wait longer," Christella shares. "Even if they wanted to plan for kids early, where were they going to stay? A lot of them changed their minds about having kids earlier because of this."
On top of having eliminated BTO as an option, the pair also knew from experience that renting a flat or staying with their parents were not ideal alternatives either.
"Prior to getting a place, we'd tried renting a place together, and we even tried staying with my parents," James says. 
"We decided to get a place of our own so that we can raise the kids without disturbing people, and the kids have more space to run around. While staying with my parents, there were limitations with so many people in the same house."
"It's also a bit complicated when you're renting," he adds, "There are a lot of rules that you have to go through with the landlord, a lot of approvals to get, things like that."
With that first difficult decision out of the way, how then did they decide on where to move to?
Tip #2: Know Your Priorities, and Weigh the Pros and Cons
While the broader decisions had already been made early on, it's still important to have their priorities in order, especially when it came to choosing which estate to live in, and what sort of flat to go house hunting for. These were impacted by different variables, and the couple had to weigh the pros and cons against their key priorities.
With Christella's parents mostly based in Malaysia, looking for a home near James' family was a practical choice, just in case the couple needed extra help with the kids. But there were other things up for consideration as well.
"We were looking at the schools in the area and the amenities. We wanted to have supermarkets and hawker centres around," James shares. The couple began their search around Eunos where James' parents live, and branched out to explore the eastern side of Singapore in earnest when they couldn't find a flat that fit their requirements.
With a growing family in mind, the pair focused their search on 4- and 5-room flats, which would be big enough for the children to move around and enjoy themselves. Unfortunately, the flats in Eunos were not only older, but they were also smaller.
After checking out the adjacent Kembangan area, they eventually settled on a 5-room unit in Bedok North, which they found through PropertyGuru's listings. An ideal situation would have been that additional caretakers were within reasonable distance, the home was spacious enough for the kids to grow and play, and the neighbourhood was well equipped with different amenities. But while the flat met most of their needs, including being just one expressway exit away from his parents, the flat's location was outside the range to qualify for the Proximity Housing Grant.
James laughs at the irony, but the couple nonetheless agree that meeting their children's needs took higher priority when they settled on the 5-room flat.
Tip #3: Be Aware of the Schemes and Grants that Apply to You
Particularly when it comes to purchasing a HDB flat, knowing which schemes you'd be purchasing your flat under would give you more information, not only on the kind of flats you are eligible to buy, but also the grants you can receive.
As first-time applicants, James and Christella were eligible for the Family Grant, which provides up to $40,000 if the husband and wife are Singapore Citizens. However, at the time of purchase, Christella was a new Permanent Resident (PR), and so the grants they were eligible to receive was a reduced $30,000.
With the Proximity Housing Grant out of reach and the Family Grant reduced by $10,000, the unexpected reduction in grants could have really put a damper on their financial plans.
Luckily for the couple, they were still able to proceed – thanks to James' CPF savings. Which brings us to our next point…
Tip #4: Build Up Your CPF, and Pick the Loan that's Best for You
When purchasing property in Singapore, there will be certain upfront payments that can be paid using your CPF Ordinary Account (OA) balance, while other payments such as the Option-To-Purchase (OTP) fee will need to be footed in cash. The question you would need to consider is, how much cash do you have available compared to your CPF, and what's the best course of action based on your circumstances?
For James and Christella, having a baby on the way meant that having available cash to spend on renovations and necessities was important.
"At that point in time, we wanted to spend as little cash as possible, and maintain the cash flow as we were starting a new family," he shares. He shares with us the breakdown of his flat's downpayment, and revealed that besides the $5,000 OTP fee paid in cash, they managed to pay for everything else using CPF.
| | |
| --- | --- |
| Bedok North 5-Room Resale Flat |   |
| Seller's Asking Price | $580,000 |
| Agreed Price | $535,000 (less $45,000) |
| HDB's Market Valuation | $535,000 |
| Cash-Over-Valuation (COV) | $0 |
|   |   |
| Downpayment | $60,330 (paid with CPF) |
| Mortgage (HDB Loan 87.7% LTV, 2.6% p.a., 25 years) | $469,300 |
| Option-to-Purchase (OTP) Fee | $5,000 (paid in cash) |
| Stamp Duty Fees | $11,226 (paid with CPF) |
| Conveyance Fees | $1,256 (paid with CPF) |
|   |   |
| Total Grants Received | $30,000 |
| Total Paid with CPF | $72,812 |
| Total Paid in Cash | $5,000 |
As a Singapore Citizen, James had been contributing to his CPF, and accumulated a substantial amount thanks to his stable career in the healthcare sector. And so, despite not qualifying for many grants due to their total incomes exceeding that of the income ceiling, they were able to afford the flat downpayment.
For the remaining mortgage, James shares that they decided on a HDB loan. He used whatever he could from his CPF OA, and managed to get almost 90% loan.
Compared to the HDB loan, bank loan at a 75% LTV ratio would have required a downpayment total of $133,750 — over $80,000 more than the HDB loan downpayment. Although the interest rates are indeed lower, the couple knew it wasn't an ideal situation since they wanted to maintain more cash flow; James would have had to not only pay $107,000 from his CPF, but also pay the remaining 5% of the downpayment (amounting to $26,750) in cash.
"With the HDB loan, I wiped out my CPF Ordinary Account," he shares. "It was Christella's first year as PR at that time and so her contributions were just 5%."
This situation is typical for many young home buyers. Ideally, everyone wants to opt for the lowest interest rates (usually bank loans), but the truth is, the smaller minimum downpayment requirement for HDB loans (10%, as opposed to 25%) is often more manageable for those in their 20s. To minimise interest costs in the long run, you can always refinance a few years later, when you have more savings and better earning power.
Here's an example: "We Always Knew We Were Paying More": After 9 Years, This Couple Finally Decided to Refinance their HDB Loan
#5: Do Your Research, and Don't be Afraid to Negotiate
With so many facets to home buying, it can be easy getting lost in the sea of information, especially if you don't know where to start. However, getting well acquainted with the entire process is nevertheless a necessary step.
But don't worry, according to James, it's not as tedious or 'chim' as you might think.
"There are a lot of things that you need to meticulously read through — the terms and conditions — before you can apply for anything," he advises. "There are various steps, but though it's long, it's doable and manageable."
He does offer a word of caution when it comes to seeking advice from others, even from friends who are property agents: "The policies are ever-changing, and when we ask people what the steps we need to do are, sometimes the steps advised are obsolete, or there maybe additional steps missed."
Nonetheless, they'd managed to handle all the documentation themselves without the help of a property agent, in order to save on agent commission fees, which would have cost him an estimated $5,000.
Bonus tip: We don't charge for expert advice!
If you need guidance on your home loan, you can always chat with PropertyGuru Finance home loan advisors. We can help assess your finances and recommend the best mortgage packages for you – based on all the latest regulations and mortgage rates, of course. Our service is completely free, and we offer only 100% unbiased, expert advice (we're partnered with all major banks in Singapore).
Not going through an agent also meant that they had direct contact with the seller, and were able to persuade the unit's previous owner to sell the flat to them at a much lower price from the original $580,000 asking price. The agreed-upon $535,000 was coincidentally HDB's market valuation of the unit, which meant that James and Christella did not have to pay any Cash-Over-Valuation (COV). Buying the flat at market value is also what helped them keep the cash expenditure to a minimum.
Related article: How to Estimate COV When Negotiating Price
Four years and two children later, James and Christella find that they have no regrets about the decisions they'd made in their house purchase. But what are their thoughts on the next few years?
#6: Always Plan for the Future
True to form, the forward-thinking pair already have upgrading plans in mind.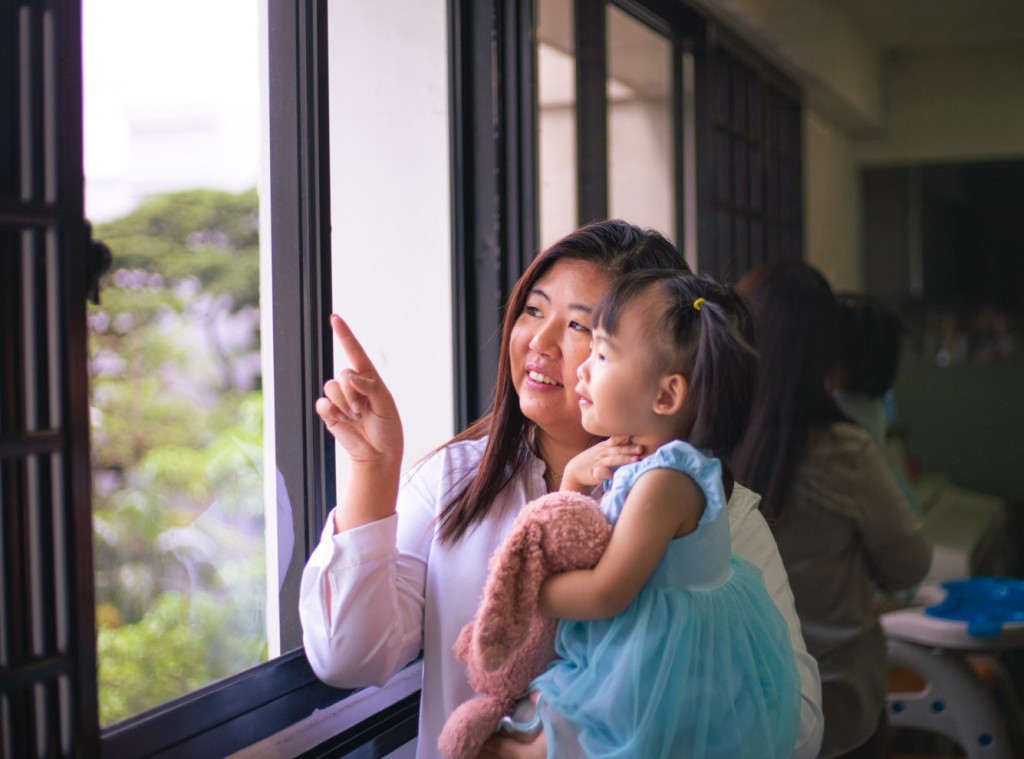 For the foreseeable future, James tells us that they plan to do some light renovations this coming August now that the kids are a little older. With a modest $20,000 budget, they plan on saving up on rental by continuing to live in the house while renovations are ongoing, and perhaps take a short staycation when there's hacking to be done.
What about further into the future then?
"It's comfortable now, but the last we discussed, we had a five-year plan," James says. "We want to decide and see if we can upgrade further to a bigger space, or even to private property."
And while they admit that newer condominium units are quite small, Christella says that the real toss-up is between having amenities or space, mostly with the children in mind.
"The kids are young now, and at this age, space is important, but as they grow, amenities are something we want to look into," she adds, as most private condos offer at least swimming and gym facilities, amongst other things.
Good Luck, Good Timing, Good Foresight
At the end of the day, James and Christella still consider themselves very lucky. After all, they'd managed to secure a flat that met most of their needs with just a few months of searching, and were able to finance the downpayment in a straightforward manner.
However, it's also evident that their purchase could only be so timely because they'd had the foresight to plan a few steps ahead, even before getting married. While their circumstances and experiences are unique, we can learn from them that with enough planning and a good amount of effort, buying a home before your thirties is well within the realm of possibility.
If you need guidance on your home financing journey, PropertyGuru Finance can help. Just speak with our home loan advisors and they'll provide objective and transparent advice and recommendations, fully tailored to your personal needs and preferences. Don't worry – our service comes at zero charge to you (i.e., it's free)!
Disclaimer: Information provided on this website is general in nature and does not constitute financial advice.
PropertyGuru will endeavour to update the website as needed. However, information can change without notice and we do not guarantee the accuracy of information on the website, including information provided by third parties, at any particular time.
Whilst every effort has been made to ensure that the information provided is accurate, individuals must not rely on this information to make a financial or investment decision. Before making any decision, we recommend you consult a financial planner or your bank to take into account your particular financial situation and individual needs.
PropertyGuru does not give any warranty as to the accuracy, reliability or completeness of information which is contained in this website. Except insofar as any liability under statute cannot be excluded, PropertyGuru, its employees do not accept any liability for any error or omission on this web site or for any resulting loss or damage suffered by the recipient or any other person.
All images featured in this article are owned by PropertyGuru and should not be used without permission.